125 Years After the Pullman Uprising, We Could Be on the Verge of Another Sympathy Strike Wave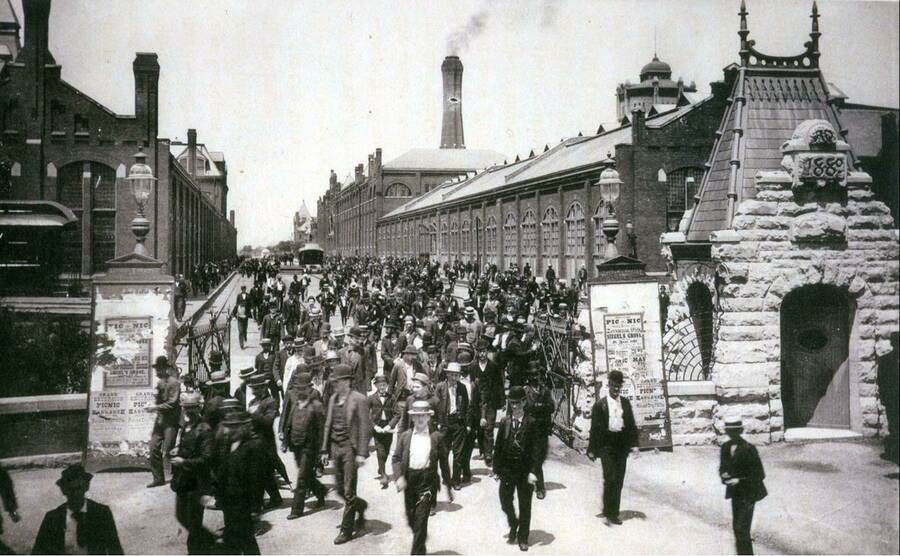 Roam­ing the sleepy streets of Pull­man on Chicago's South­east Side, it's dif­fi­cult to imag­ine a time when it was the chaot­ic cen­ter of work­er strug­gle in the Unit­ed States.
Many of the hand­some red brick homes in the cen­ter of Pull­man — once a bustling com­pa­ny town and now a Chica­go neigh­bor­hood — are occu­pied and well-main­tained, but the shut­tered lux­u­ry hotel hasn't host­ed a guest in decades, the skele­tal fac­to­ry build­ings are locked behind a chain-link fence, and the hands of the derelict clock­tow­er that helped gov­ern the work­ing lives of thou­sands of men and women remain frozen in time.
But in the spring of 1894, a com­pa­ny-wide walk­out at the site's fac­to­ries snow­balled into a two-month long nation­wide ​"sym­pa­thy strike" that, at its peak, gal­va­nized as many as 250,000 men and women in 27 states and ter­ri­to­ries. A sym­pa­thy strike, or sol­i­dar­i­ty action, is when work­ers strike in sup­port of oth­ers involved in a labor dis­pute in a dif­fer­ent com­pa­ny, but often in the same or a relat­ed industry.
Lat­er known as the Pull­man Strike, the strug­gle became the largest-ever orga­nized work stop­page and the most sig­nif­i­cant demon­stra­tion of union strength in Amer­i­can his­to­ry, up until the Great Steel Strike of 1919.
In 2019, 125 years after the mon­u­men­tal strike at Pull­man, the area's phys­i­cal infra­struc­ture con­tin­ues to crum­ble. But the revi­tal­iza­tion of sym­pa­thy strikes and mass labor orga­niz­ing all across the coun­try in recent years — from teacher walk­outs to the work stop­page threat by flight atten­dants that helped end the gov­ern­ment shut­down — sug­gests that the lega­cy of the Great Pull­man Strike remains very much alive today.
In a fiery speech to a group of labor lead­ers and vis­i­tors at the 125th-anniver­sary cel­e­bra­tion of the Great Pull­man Strike on May 11, Asso­ci­a­tion of Flight Atten­dants pres­i­dent Sara Nel­son said, ​"Look at how unions band­ed togeth­er dur­ing the Pull­man Strike. The pres­i­dent of the Chica­go Fed­er­a­tion of Labor said at the time. ​'We all feel that in fight­ing any bat­tle against the Pull­man Com­pa­ny, we're aim­ing at the very head and front of monop­oly and plutocracy.'
"This is again a time when peo­ple have a grow­ing con­scious­ness of the rul­ing class and those with an insa­tiable need for more mon­ey, pow­er and con­trol," she con­tin­ued. ​"Work­ing peo­ple are just now under­stand­ing the pow­er they have when they stand togeth­er and claim our share of the prof­its we create."
"Well-wish­ing feudalism"
The Great Pull­man Strike was like­ly a shock to out­side observers who had vis­it­ed what appeared to them to be a cap­i­tal­ist utopia.
"Here, indeed, seems to be the com­ing par­adise of labor," read one an arti­cle in an 1882 edi­tion of The Rail­way Age Month­ly. The Lon­don Times declared Pull­man ​"the most per­fect town in the world."
George Pull­man, the town's mas­ter­mind, cer­tain­ly saw it that way.
The indus­tri­al­ist made his for­tune in the mid-19th cen­tu­ry by cor­ner­ing the mar­ket on upscale train cars for the wealthy at a time when the rail­road indus­try held a stran­gle­hold over the economy.
In 1877, Pull­man built a lux­u­ri­ous man­sion on swanky Prairie Avenue amidst Chicago's elite, like depart­ment store mag­nate Mar­shall Field. Three years lat­er, Pull­man pur­chased 4,000 acres of swamp-cov­ered land near Lake Calumet and invest­ed an esti­mat­ed $5 mil­lion to build a series of fac­to­ries, along with hun­dreds of hous­es to be rent­ed to up to 10,000 work­ers. He also approved the con­struc­tion of school build­ings, parks, a library, a the­ater and the Midwest's first indoor shop­ping mall.
Named after its founder, Pull­man was to be a com­pa­ny town: a planned com­mu­ni­ty in which an indi­vid­ual cor­po­ra­tion owns all of the busi­ness­es and hous­ing, in the name of cen­tral­iz­ing production.
Hun­dreds of com­pa­ny towns have exist­ed in the U.S. in some form or anoth­er, from the poor­ly con­struct­ed shan­ty towns of the min­ing or lum­ber indus­tries to Mil­ton S. Hershey's grandiose amuse­ment park-like mod­el town built for his choco­late fac­to­ry work­ers in Pennsylvania.
Like Her­shey, Pull­man intend­ed his vil­lage to serve as a shin­ing alter­na­tive to the squalor of urban indus­tri­al slums. The streets were paved and out­fit­ted with mod­ern sew­ers, every house had indoor plumb­ing and thou­sands of trees and flow­ers were planted.
"I want the peo­ple who work at Pull­man to have the advan­tages of see­ing the best," Pull­man said. ​"I want no cheap, crude, inartis­tic work in any depart­ment. I have faith in the edu­ca­tion­al and refin­ing influ­ences of beau­ty and beau­ti­ful and har­mo­nious sur­round­ings, and hes­i­tate at no rea­son­able expen­di­ture to secure them."
In oth­er words, Pull­man believed he could to increase his prof­its while also respond­ing to the poor con­di­tions of ten­e­ment hous­ing that accom­pa­nied rapid indus­tri­al­iza­tion. Pro­tect­ing his work­ers from alco­hol, dis­ease and vice was good for them — and him.
"He gen­uine­ly had a vision for the future in which work­ers wouldn't have to live in the slums of Chica­go and they'd have this beau­ti­ful mod­el town," said Jack Kel­ly, the author of the recent book The Edge of Anar­chy: The Rail­road Barons, the Gild­ed Age, and the Great­est Labor Upris­ing in Amer­i­ca. ​"His employ­ees would have a bet­ter life and in turn would be more pro­duc­tive work­ers because they'd be sober, edu­cat­ed, and have short­er com­mutes. He saw it as a win-win."
Many jour­nal­ists agreed, espe­cial­ly after see­ing it in per­son dur­ing the 1893 World's Columbian Expo­si­tion. ​"Future gen­er­a­tions will bless his mem­o­ry," pre­dict­ed the Chica­go Times. Pro­gres­sives also not­ed that African Amer­i­cans worked as porters on the company's ​"Palace Cars," and Pull­man became the largest employ­er of freed slaves in the country.
But while the press may have extolled Pullman's virtues, crit­ics claim that the ameni­ties and bucol­ic sur­round­ings of his com­pa­ny town served as win­dow dress­ing for his pater­nal­ism and greed.
"The church he built was very telling," not­ed Kel­ly. ​"He want­ed to charge so much rent for it that no one could afford it and it just sat there emp­ty, for decoration."
No African Amer­i­can was allowed to live in the bound­aries of Pull­man, and black work­ers were paid low­er wages than whites. Pull­man also forced res­i­dents to fol­low a set of dra­con­ian rules. For instance, he report­ed­ly required ten­ants to place dec­o­ra­tive flow­ers in their win­dowsills and to wipe their feet on door­mats before they entered their own apart­ments. Tav­erns — an impor­tant fea­ture of work­ing-class life at the time — were out­lawed, and the only bar in town (locat­ed in the hotel named for Pullman's daugh­ter Flo­rence) was strict­ly for visitors.
No one could vote to change these rules because no demo­c­ra­t­ic town gov­ern­ment was put in place.
To pre­vent any­one from union­iz­ing the com­pa­ny, accord­ing to Kel­ly, com­pa­ny spies were plant­ed across the town to report on any attempts to organize.
Not every out­sider was tak­en in by Pullman's vision. Writ­ing for Harper's in 1885, econ­o­mist Richard Ely called Pullman's sys­tem ​"benev­o­lent, well-wish­ing feu­dal­ism, which desires the hap­pi­ness of the peo­ple, but in such a way as shall please the authorities."
"It went back to that idea that the Lord of the Manor knows best," said Kel­ly. ​"And the prob­lem is that Pullman's strict rules built all sorts of resent­ments among the work­ers that only got worse over time."
The Pull­man Strike
These resent­ments were exac­er­bat­ed by an eco­nom­ic cri­sis in 1893 that plunged the nation into a depres­sion. Pull­man respond­ed to the company's falling rev­enue by cut­ting his work­ers' wages five times — includ­ing a sin­gle 30 per­cent cut — with­out reduc­ing rents, while con­tin­u­ing to pay stock­hold­ers the same pre-depres­sion div­i­dends. By April of 1894, some fam­i­lies liv­ing in Pullman's town were on the brink of starvation.
"There were guys who almost faint­ed on the job because they hadn't eat­en in days because they couldn't afford it," said Kel­ly. ​"One guy got a pay­check of two cents — he didn't even cash it — he just had it framed. That real­ly showed the con­tempt that Pull­man had for work­ing people."
The work­ers had tried to nego­ti­ate. Form­ing a union was against the law, but some of them orga­nized a 46-mem­ber griev­ance com­mit­tee in secret in a near­by neigh­bor­hood out­side of Pull­man. The committee's lead­ers met twice with com­pa­ny offi­cials — includ­ing Pull­man him­self dur­ing the sec­ond meet­ing — to demand that he reverse the wage cuts and reduce the rents.
The com­pa­ny refused. Pull­man argued that ​"arbi­tra­tion always implies acqui­es­cence in the deci­sion of the arbi­tra­tor, whether favor­able or adverse." Six days lat­er, on May 12, 1894, thou­sands of work­ers walked off the job. The two-month-long strike had begun. ​"We struck at Pull­man," the work­ers lat­er tes­ti­fied, ​"because we were with­out hope."
The strike may have been eas­i­ly defeat­ed or gone rel­a­tive­ly unno­ticed out­side of Chica­go if not for the Amer­i­can Rail­way Union (ARU), the pow­er­ful cross-trade rail­road labor group found­ed the pre­vi­ous year and led by Eugene Debs. ​"Before you had these broth­er­hoods, these craft unions that bick­ered, com­pet­ed and under­cut each oth­er," said Kel­ly. ​"The ARU was different."
In April 1894, just one month pri­or to the Pull­man work­ers' unrest, the ARU suc­cess­ful­ly led Great North­ern Rail­road work­ers through a dif­fer­ent dis­pute. Vol­un­tary arbi­tra­tion had resolved the strike, and three-fourths of the Great North­ern Railroad's wage cut had been restored. In the fol­low­ing weeks, 35 per­cent of Pullman's work­ers joined the ARU hop­ing that the new union could per­haps do the same for them.
"Pull­man, both the man and the town, is an ulcer on the body politic," the Pull­man work­ers told the ARU in a state­ment at the union's first-ever nation­al con­ven­tion in Chica­go in June 1894. ​"He owns the hous­es, the school­hous­es and church­es of God in the town he gave his once hum­ble name. The rev­enue he derives from these, the wages he pays out with one hand — the Pull­man Palace Car Com­pa­ny, he takes back with the oth­er — the Pull­man Land Asso­ci­a­tion. … And thus the mer­ry war— the dance of skele­tons bathed in human tears — goes on, and it will go on, broth­ers, for­ev­er, unless you, the Amer­i­can Rail­way Union, stop it; end it; crush it out."
Debs' response was ruth­less in its crit­i­cism of George Pull­man, call­ing him ​"the plu­to­crat with a soul so small that a mil­lion of them could dance on the lit­tle end of a hornet's stinger." He called for the ARU to sup­port Pull­man work­ers with a sym­pa­thy strike because it was not just a sin­gle fight but part of a greater move­ment for work­ers' uni­ver­sal rights to high­er wages, safer work­ing con­di­tions and oth­er basic protections.
"The forces of labor must unite. The sal­va­tion of labor demands it," Debs said at the con­ven­tion on June 12. ​"The divid­ing lines must grow dim­mer day by day until they become imper­cep­ti­ble, and then labor's hosts, mar­shaled under one con­quer­ing ban­ner, shall march togeth­er, vote togeth­er, and fight togeth­er until work­ing­men shall receive and enjoy all their fruits of their toil."
It was a water­shed moment for sym­pa­thy strikes. ​"Eugene Debs knew we all need­ed to stick togeth­er," said Joe Burns, the author of the book Reviv­ing the Strike: How Work­ing Peo­ple Can Regain Pow­er and Trans­form Amer­i­ca, ​"It was the hope and future of labor unions — class wide solidarity."
On June 22, 1894, the del­e­gates of the ARU agreed to boy­cott Pull­man cars until the strike was set­tled. Despite threats from rail­road com­pa­nies that any work­er who refused to han­dle Pull­man cars would be fired, the sym­pa­thy strike offi­cial­ly began on June 26.
With­in a mat­ter of days, rail­roads west of Detroit were frozen for more than a month as work­ers either refused to touch Pullman's cars or unhitched them from trains. Sud­den­ly pas­sen­gers were strand­ed, the price of food bal­looned, pow­er plants and fac­to­ries ran out of resources and mines and lum­ber mills were forced to close.
The rever­ber­a­tions of the sym­pa­thy strike were felt all over the coun­try — espe­cial­ly after the strike stopped the deliv­ery of U.S. mail. For Debs, an out­right strug­gle between the upper and low­er class­es appeared immi­nent as the strike, ​"has devel­oped into a con­test between the pro­duc­ing class­es and the mon­ey pow­er of this country."
U.S. Attor­ney Gen­er­al Richard Olney, also a rail­road lawyer and friend of Pullman's, declared that Amer­i­ca had reached ​"the ragged edge of anar­chy." Olney asked the fed­er­al courts to ban the ARU boy­cotts, and on July 2 he received an injunc­tion to end the strike. Pres­i­dent Grover Cleve­land deployed fed­er­al troops from Fort Sheri­dan north of Chica­go to Pull­man to enforce the court's ruling.
On July 4, a thou­sand troops arrived and set up camp, join­ing thou­sands of armed police and guards­men to break the strike while mass­es of unarmed strik­ers crowd­ed the rail­road yards. Over the next three days, riots broke out and hun­dreds of rail­cars were burned. Vio­lence erupt­ed after a rail­road agent shot one of the boy­cotters and 26 civil­ians were killed in the weeks-long may­hem that followed.
The sol­diers and rail­road work­ers got the trains mov­ing again and in the fol­low­ing weeks, Debs and oth­er agi­ta­tors were jailed for ​"order­ing, direct­ing, aid­ing, assist­ing, or abet­ting" the rebel­lion. The strike was offi­cial­ly bro­ken on August 2.
Pull­man won the bat­tle, but the indus­tri­al king­dom he built would soon fall. His rep­u­ta­tion was ruined among gov­ern­ment offi­cials, his fel­low tycoons and those like Jane Addams — the famous activist and social jus­tice advo­cate who had tried to help arbi­trate the strike.
"She con­sid­ered Pull­man to be like a King Lear fig­ure," said Kelly.
Pres­i­dent Cleve­land ordered a com­mis­sion to dis­cov­er the caus­es of the strike, and the final report blamed the boss. ​"The aes­thet­ic fea­tures are admired by vis­i­tors, but have lit­tle mon­ey val­ue to employ­ees, espe­cial­ly when they lack bread," the report stated.
In 1898, the Illi­nois State Supreme Court ordered that Pull­man either divest itself of the com­pa­ny or the res­i­den­tial prop­er­ty. He chose his com­pa­ny. In 1889, Pull­man was annexed by the city of Chicago.
By the time George Pull­man died in 1897, he was so despised that his fam­i­ly buried him under thick lay­ers of rein­forced con­crete so that no one could descre­crate his grave. ​"It is clear the fam­i­ly in their bereave­ment was mak­ing sure the son of a bitch was­n't going to get up and come back," not­ed jour­nal­ist Ambrose Bierce at the time.
Mean­while, Debs, who would lat­er found the Social­ist Par­ty, became a pop­ulist hero while in jail. Six months after being locked away, he re-emerged in Chica­go tri­umphant — with 100,000 sup­port­ers cheer­ing him on. By 1912, when a mil­lion Amer­i­cans vot­ed for Debs as pres­i­dent, both the Repub­li­cans and Democ­rats began to embrace pro­gres­sive reforms advo­cat­ed by Debs and oth­er social­ists: anti-trust and child labor laws, women's suf­frage, min­i­mum wages and the eight-hour work day.
The return of solidarity
One-hun­dred and twen­ty five years after Debs' speech to the ARU, Sara Nel­son sound­ed ready to con­tin­ue where the great social­ist labor leader left off.
Nel­son told the crowd gath­ered in the Pull­man visitor's cen­ter about her call for a gen­er­al strike in Jan­u­ary, dur­ing the Trump administration's month-long gov­ern­ment shut­down over fund­ing for his bor­der wall. After some air traf­fic con­trollers in key facil­i­ties called in sick, Nel­son warned that flight atten­dants were ​"mobi­liz­ing imme­di­ate­ly" to strike. Hours lat­er, Trump reached a deal to reopen the government.
"Our entire country's econ­o­my was on the line, our safe­ty and secu­ri­ty were on the line. If we could just com­mu­ni­cate that to the pub­lic, and say what we were will­ing to do — we could end this [shut­down]," said Nel­son. ​"The won­der­ful news is that no one knew what a gen­er­al strike was, but it scared the piss out of them. It worked."
Over the last two years, mass work stop­pages have spread across the coun­try. Accord­ing to the Bureau of Labor Sta­tis­tics, only 25,000 work­ers were involved in major work stop­page in 2017, but that num­bered sky­rock­et­ed to 485,000 in 2018. These actions range from the wild­cat strikes of hun­dreds of thou­sands of teach­ers and edu­ca­tion work­ers in four Repub­li­can-dom­i­nat­ed states to tens of thou­sands of hos­pi­tal work­ers strik­ing in 2018. The first half of 2019 has also seen major work stop­pages, includ­ing the recent strike of 31,000 employ­ees of the gro­cery chain Stop & Shop across three north­east­ern states — one of the largest pri­vate sec­tor strikes in years.
These large-scale strikes helped bring vic­to­ries for both work­ers and the labor move­ment as a whole. But Nel­son believes that gen­er­al and sym­pa­thy strikes are the log­i­cal next step in secur­ing more sig­nif­i­cant wins.
Today, most sol­i­dar­i­ty strikes are ille­gal, says Burns, due to leg­is­la­tion rang­ing from the Nation­al Labor Rela­tions Act of 1935 to the 1947 Taft-Hart­ley Act. That's part of the rea­son why they've fall­en out of fash­ion since the days of the Great Pull­man Strike.
But the flight atten­dant union's suc­cess­ful threat of a walk­out — as well as the wild­cat teach­ers' strikes — are proof that the law can be beat­en by mass sol­i­dar­i­ty, says Burns. ​"Labor law is set up for work­ers to lose and it's going to change through the courts," he said. ​"It will only change with work­ers com­ing togeth­er and fight­ing for the right to strike and free speech."
For Nel­son, sym­pa­thy strikes don't have to rep­re­sent the labor movement's anti­quat­ed past. Today's new Gild­ed Age is pop­u­lat­ed by a new gen­er­a­tion of rob­ber barons, and the Great Pull­man Strike could help illu­mi­nate a path for­ward for Amer­i­can workers.
In what could be a hint of what's to come, the Unit­ed Mine Work­ers of Amer­i­ca threat­ened a sym­pa­thy strike in sup­port of West Vir­ginia teach­ers in ear­ly June. The teach­ers are fight­ing state Repub­li­cans' pro­posed retal­i­a­tion to their 2018 walk­out by cre­at­ing new penal­ties for teach­ers who go on strike. Cecil Roberts, the inter­na­tion­al pres­i­dent of the Unit­ed Mine Work­ers of Amer­i­ca, said, ​"Let me make this very clear: If our state's edu­ca­tion work­ers believe they need to take to the streets once again, we will be there with them. And if some­one comes to arrest them, they will have to go through us first."
A large-scale gen­er­al strike may not hap­pen tomor­row, but Nel­son believes it may not be as far off as we think.
"We're not quite there yet, but when I called for a gen­er­al strike dur­ing the gov­ern­ment shut­down, I absolute­ly expect­ed peo­ple to say, ​'You're crazy lady, you can't do that!' Instead what I got was, ​"What are we wait­ing for? Yeah, let's go!'"
Ryan Smith
is a Chica­go-based jour­nal­ist. His work has appeared in The Guardian, Jacobin Mag­a­zine, Chica­go Sun-Times, Chica­go Read­er, Belt Mag­a­zine and oth­er publications.