When ICE Comes for Their Neighbors, These Community Defense Brigades Will Be Ready
In the era of Trump, communities are organizing foot and bike patrols to protect their neighbors against immigration raids.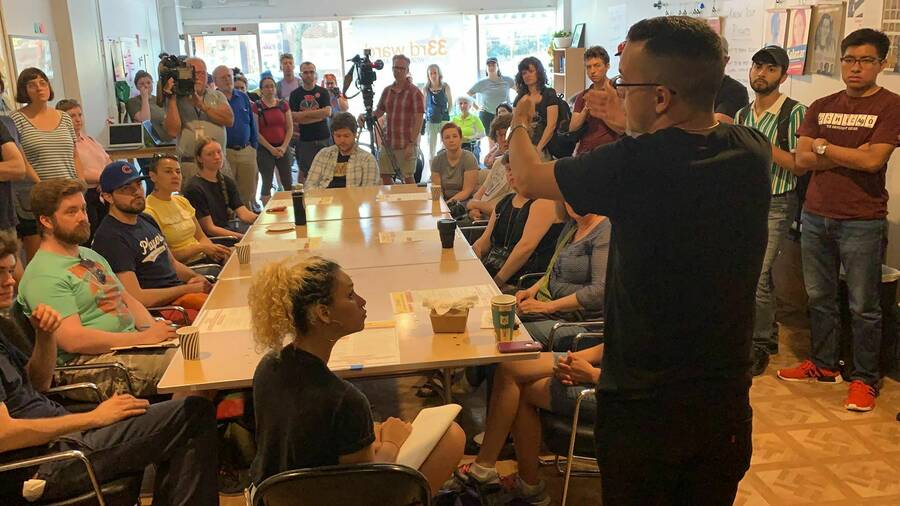 Faced with pres­i­dent Don­ald Trump's esca­la­tion of some of the country's worst immi­gra­tion poli­cies — mas­sive Immi­gra­tion and Cus­toms Enforce­ment (ICE) raids, the Mus­lim ban, and tear­ing migrant chil­dren from their fam­i­lies at the country's south­ern bor­der — activists and com­mu­ni­ty orga­niz­ers have ral­lied behind immi­grant com­mu­ni­ties. One key ele­ment of the fight­back is the com­mu­ni­ty defense patrol, a rapid response tac­tic designed to quick­ly react to ICE activ­i­ty. Fol­low­ing the recent mass work­place ICE raid in Mis­sis­sip­pi, in which 680 peo­ple were arrest­ed, the crit­i­cal need for com­mu­ni­ty edu­ca­tion and rapid response to ICE is all the more evident.
While patrols aren't ubiquitous at this point, various forms of rapid response have become more common in the Trump era in large cities and smaller suburban and rural areas as well.
Although the specifics of the tac­tic may vary at dif­fer­ent times, com­mu­ni­ty defense patrolling involves groups of activists walk­ing, bik­ing or dri­ving around spe­cif­ic loca­tions where peo­ple endure high risk of being arrest­ed by ICE. With the threat of ICE ever-present in immi­grant com­mu­ni­ties, patrol par­tic­i­pants orga­nize to mon­i­tor areas where raids and arrests may hap­pen. Their phys­i­cal pres­ence in vul­ner­a­ble locales facil­i­tates a rapid response to help defend peo­ple tar­get­ed by ICE. Com­mu­ni­ty defense patrols have been com­mon his­tor­i­cal­ly, though new instances of these patrols are emerg­ing again in response to Trump's repeat­ed threats of large-scale ICE raids this summer.
On July 14, after the Trump admin­is­tra­tion threat­ened mas­sive ICE raids in major cities, locals patrolled neigh­bor­hoods the north and south sides of Chica­go. In the Albany Park neigh­bor­hood, the office of 33rd Ward Alder­woman Rossana Rodríguez-Sanchez, a Demo­c­ra­t­ic Social­ist, and neigh­bor­hood groups such as Orga­nized Com­mu­ni­ties Against Depor­ta­tions (OCAD) and the Albany Park Defense Net­work, joined togeth­er to orga­nize com­mu­ni­ty defense brigades. In Chicago's Pilsen neigh­bor­hood, local groups — among them Pilsen En Defen­sa and the Pilsen Alliance—also orga­nized patrols. In each neigh­bor­hood, orga­niz­ers cre­at­ed a vol­un­teer sched­ule with three shifts, ensur­ing that crews patrolled the areas for most of the day.
Lil­ia Esco­bar, the neigh­bor­hood ser­vices coor­di­na­tor for Rodríguez-Sanchez in the 33rd Ward, says that the office want­ed to have an ​"imme­di­ate response to an attack" on peo­ple who live in the neigh­bor­hood. Locals who signed up to par­tic­i­pate in the patrols were giv­en a train­ing host­ed by the group 33rd Ward Work­ing Fam­i­lies, divid­ed into small­er groups, and sent to walk or bike around spe­cif­ic sec­tions of the neigh­bor­hood to mon­i­tor for ICE activ­i­ty. No ver­i­fied ICE activ­i­ty was spot­ted that day, but par­tic­i­pants were instruct­ed to record any inci­dent involv­ing ICE, alert the 33rd Ward Work­ing Fam­i­lies Office and an Illi­nois hot­line des­ig­nat­ed for report­ing sus­pect­ed ICE activ­i­ty, and also to inform any­one being arrest­ed of their rights if possible.
"The most imme­di­ate goals of the defense patrols is to inform the com­mu­ni­ty of their rights and to build a trained net­work of com­mu­ni­ty mem­bers on stand­by to mon­i­tor and respond to any poten­tial ICE, Home­land Secu­ri­ty Inves­ti­ga­tions or Cus­toms and Bor­der Pro­tec­tion activ­i­ty as quick­ly as pos­si­ble at all times," Diego Morales, an orga­niz­ing mem­ber of Pilsen En Defen­sa, tells In These Times. ​"We want to ease the fears of our undoc­u­ment­ed neigh­bors by show­ing them that the com­mu­ni­ty they live in has their backs."
This tac­tic has also been used this sum­mer in New York City. One orga­niz­er with the rapid response group OPER­A­TION ICE POP, who wished to remain anony­mous, says that they have been help­ing to put com­mu­ni­ty defense patrols togeth­er to counter ICE acti­vity because ​"stand­ing around and doing noth­ing is no longer an option" giv­en the Trump administration's height­ened anti-immi­grant policies.
In ear­ly June, the group had patrols mon­i­tor­ing for ICE activ­i­ty in all five of the city's bor­oughs. Mem­bers of the patrols used var­i­ous means of trans­porta­tion includ­ing dri­ving in cars, rid­ing on pub­lic tran­sit, walk­ing around the streets and even cruis­ing around on skate­boards. The orga­niz­er says that on one occa­sion dur­ing this time, ICE agents attempt­ed to arrest peo­ple, but failed to do so because the tar­gets of the arrest assert­ed their right not to allow ICE inside their res­i­dence. After the com­mu­ni­ty was alert­ed to the pres­ence of ICE, mem­bers of the New Sanc­tu­ary Coali­tion, a group that offers var­i­ous kinds of sup­port such as accom­pa­ny­ing immi­grants to court dates and rapid response, arrived to the scene to hand out flyers.
In the Pilsen neigh­bor­hood of Chica­go, Morales tells In These Times that ​"much of the inspi­ra­tion for these patrols was tak­en from the cop-watch­ing neigh­bor­hood patrols the Black Pan­ther Par­ty of Chica­go orga­nized in the 60's to pro­tect their peo­ple from racist police brutality."
Indeed, com­mu­ni­ty defense patrolling has been a pop­u­lar tac­tic for mar­gin­al­ized groups under siege in the past. In the 1960s the Black Pan­ther Par­ty—orig­i­nal­ly named the Black Pan­ther Par­ty for Self-Defense — famous­ly orga­nized armed patrols in cities from Oak­land, Cal­i­for­nia and Philadel­phia, Penn­syl­va­nia to defend Black peo­ple against police bru­tal­i­ty. Mem­bers of Queer Nation lat­er cre­at­ed the Pink Pan­ther Patrol of New York City, also inspired by the Black Pan­thers, to deter anti-gay vio­lence in the city's East and West Vil­lage neigh­bor­hoods in the 1990s. This patrol mod­el spread to San Fran­cis­co as well.
Com­mu­ni­ty patrolling has also late­ly been in use abroad in response to depor­ta­tions. The Anti Raids Net­work in the UK facil­i­tates an expand­ed ver­sion of com­mu­ni­ty defense patrolling. Rather than using orga­nized groups that take shifts patrolling spe­cif­ic loca­tions, this mod­el encour­ages vig­i­lance against depor­ta­tion forces at all times. The Net­work main­ly con­sists of a web­site and a Twit­ter account, the lat­ter of which is set up so that any­one who sees an immi­gra­tion vehi­cle can alert the account, which then blasts the infor­ma­tion out on social media. The Anti Raids Net­work has pub­lished a num­ber of reports from bicy­clists who have suc­cess­ful­ly thwart­ed depor­ta­tion activ­i­ty in the last few years.
Broad edu­ca­tion around how to inter­vene dur­ing arrests or raids at any time is an impor­tant com­po­nent for the sus­tain­abil­i­ty of the com­mu­ni­ty defense patrolling. It's not nec­es­sar­i­ly fea­si­ble to always have large enough groups of peo­ple in every vul­ner­a­ble area at all times, but it is pos­si­ble to orga­nize and edu­cate com­mu­ni­ties so that a vast num­ber of peo­ple will know what to do in the moment when raids or oth­er arrests occur, announced or otherwise.
Chica­go orga­niz­ers have an eye toward expand­ing com­mu­ni­ty defense in sim­i­lar ways. Chris Pou­los, the chief of staff for Rodríguez-Sanchez, explains that their office wants to grow the def­i­n­i­tion of neigh­bor­hood ser­vices so that it includes things like a rapid response to ICE activ­i­ty. In the Pilsen neigh­bor­hood, Morales says that Pilsen En Defen­sa wants to increase the use of com­mu­ni­ty patrolling to the extent that it becomes com­mon prac­tice when­ev­er some­one is out and about in a vul­ner­a­ble area. ​"With a siz­able amount of the com­mu­ni­ty edu­cat­ed on rapid response as part of our net­work, a walk to the bode­ga becomes a patrol. A morn­ing com­mute becomes a patrol. A bar­be­cue at the park becomes a look­out," he says.
While patrols aren't ubiq­ui­tous at this point, var­i­ous forms of rapid response have become more com­mon in the Trump era in large cities, and small­er sub­ur­ban and rur­al areas as well. Around the coun­try, immi­grant rights orga­ni­za­tions have estab­lished hot­lines that peo­ple can call if they are sub­ject­ed to or wit­ness ICE activ­i­ty. In Wash­ing­ton State, the Wash­ing­ton Immi­grant Sol­i­dar­i­ty Net­work (WAISN), a coali­tion of immi­grant rights orga­ni­za­tions and activists, estab­lished a hot­line for report­ing ICE activ­i­ty. Since the cre­ation of the hot­line, the coali­tion has trained peo­ple in ver­i­fy­ing ICE activ­i­ty and address­ing the sit­u­a­tion accordingly.
Ann Reeves, a board mem­ber of Pacif­ic Coun­ty Immi­grant Sup­port (PCIS) in south­west Wash­ing­ton, says that 28 mem­bers of the orga­ni­za­tion have par­tic­i­pat­ed in train­ings with WAISN so that they can pro­vide a rapid response to activ­i­ties report­ed to the WAISN hot­line. Beyond rapid response, PCIS sup­ports immi­grants and the fam­i­lies of immi­grants who are suf­fer­ing due to anti-immi­gra­tion poli­cies. The Trump administration's ever-chang­ing and accel­er­at­ed attacks on immi­grants has pre­sent­ed immi­grant com­mu­ni­ties and their allies with sig­nif­i­cant chal­lenges. But Reeves says, ​"See­ing the large out­pour­ing of sup­port and good wish­es from the com­mu­ni­ty gives us hope for the future."