Defending Immigrants When Their Landlords Use ICE Against Them
Here's how Illinois tenants are fighting back.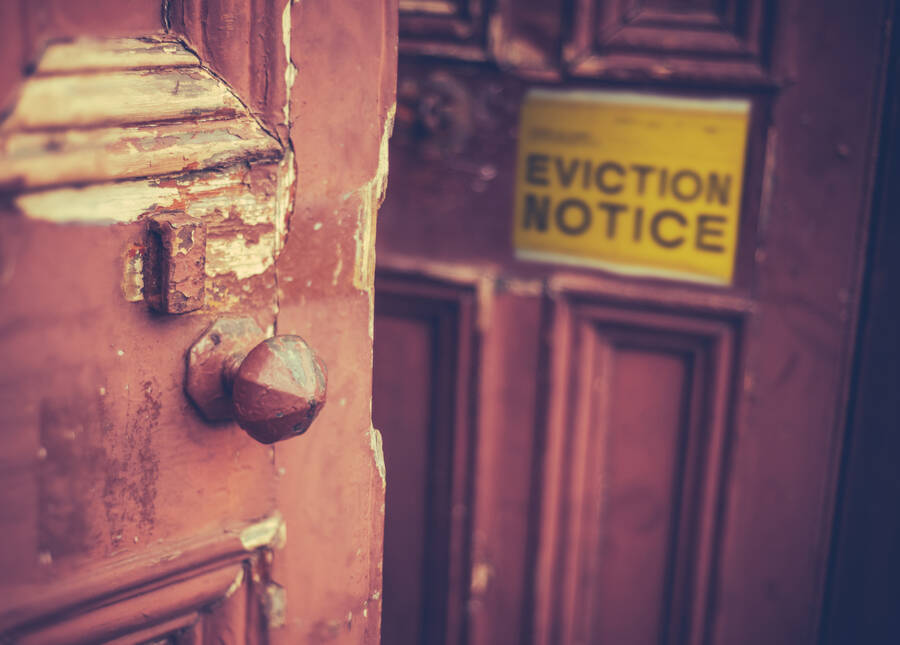 While the Trump admin­is­tra­tion has orches­trat­ed a bru­tal crack­down on immi­grant rights, Demo­c­ra­t­ic politi­cians have passed laws that pro­vide some man­ner of pro­tec­tion to undoc­u­ment­ed immi­grants. In Illi­nois, Gov­er­nor J.B. Pritzk­er recent­ly signed the Immi­grant Ten­ant Pro­tec­tion Act (ITPA), which makes it ille­gal for land­lords to retal­i­ate against ten­ants on the basis of their immi­gra­tion sta­tus and allows ten­ants to sue if land­lords dis­crim­i­nate against them on those grounds. The law, passed in late August, went into effect imme­di­ate­ly, mak­ing Illi­nois the sec­ond state after Cal­i­for­nia to pass a law pro­tect­ing undoc­u­ment­ed renters.
The law states that ​"the immi­gra­tion or cit­i­zen­ship sta­tus of any per­son is irrel­e­vant to any issue of lia­bil­i­ty or rem­e­dy in a civ­il action involv­ing a tenant's hous­ing rights." If a ten­ant makes a com­plaint about their hous­ing in good faith, the law says land­lords may not use a tenant's immi­gra­tion sta­tus to evict the ten­ant or car­ry out any back­lash against them. The law also allows ten­ants to sue land­lords if they vio­late the ITPA.
The law is an acknowl­edge­ment of the ways that some land­lords see immi­grant ten­ants, espe­cial­ly those who are undoc­u­ment­ed, as eas­i­ly exploitable because of how vul­ner­a­ble they are to state violence.
Many immi­grants in Chica­go have report­ed that their land­lords have harassed or oth­er­wise dis­crim­i­nat­ed against them over their immi­gra­tion sta­tus. Rocio Velazquez Kato is the senior immi­gra­tion pol­i­cy ana­lyst for the Lati­no Pol­i­cy Forum (LPF), one of the orga­ni­za­tions that advo­cat­ed for the Illi­nois ITPA, along with the Mex­i­can Amer­i­can Legal Defense and Edu­ca­tion­al Fund and the Shriv­er Cen­ter on Pover­ty Law. She says that she has heard of numer­ous cas­es of dis­crim­i­na­tion against immi­grant ten­ants in her work. Most of these inci­dents involve the land­lord black­mail­ing ten­ants while allud­ing to their immi­gra­tion sta­tus, or the sta­tus of their fam­i­ly mem­bers, accord­ing to Velazquez Kato.
"A lot of peo­ple think it's because the Trump admin has stirred things up and embold­ened peo­ple in gen­er­al and land­lords would be sus­cep­ti­ble to being embold­ened about their dis­like of immi­grants," says Velazquez Kato. ​"But the truth is what we've seen is this has been hap­pen­ing for years and years well before the Trump admin."
In one case, Velazquez Kato says a woman called the LPF's hot­line to report that her land­lord effec­tive­ly threat­ened to call immi­gra­tion agents on her fam­i­ly after the woman request­ed to add her teenage daugh­ter to her lease. After the ten­ant asked to amend the lease to include her child, who was com­ing from the family's home coun­try to live in the apart­ment, ​"The land­lord asked for a lot more mon­ey per month," Velazquez Kato says. ​"And [the land­lord] allud­ed to call­ing immi­gra­tion offi­cials, and brought up a sus­pi­cion that some of the fam­i­ly mem­bers may be undocumented."
Velazquez Kato calls this behav­ior ​"black­mail," and says that it is the ​"sort of harass­ment we've seen hap­pen a lot."
Velazquez Kato adds that, gen­er­al­ly speak­ing, undoc­u­ment­ed immi­grants who con­tact the LPF because they need help with issues of hous­ing dis­crim­i­na­tion do not want many details of the inci­dents shared pub­licly. This is because they fear that any addi­tion­al atten­tion that is brought to the fact that they are liv­ing in the U.S. with­out doc­u­ments may bring about gov­ern­ment reprisal, which could lead to depor­ta­tion. Fear of reper­cus­sion for speak­ing out pub­licly regard­ing injus­tices is a com­mon fear for undoc­u­ment­ed immi­grants that adds fur­ther bar­ri­ers to seek­ing justice.
Land­lord neglect makes ten­ants vulnerable
Anto­nio Gutiér­rez, a co-founder of the Autonomous Ten­ants Union (ATU), an all-vol­un­teer Chica­go col­lec­tive that orga­nizes ten­ants large­ly in the Albany Park neigh­bor­hood, says that undoc­u­ment­ed com­mu­ni­ty mem­bers in the neigh­bor­hood can be more vul­ner­a­ble to Immi­gra­tion and Cus­toms Enforce­ment (ICE) arrests in their apart­ments due to land­lord neglect. The orga­niz­er says that there have been mul­ti­ple occa­sions when ICE agents have gained access to build­ings where undoc­u­ment­ed immi­grants live because land­lords have failed to put prop­er locks on out­side gates or front doors.
This is a seri­ous con­cern in Albany Park, which is home to one of the largest pop­u­la­tions of undoc­u­ment­ed immi­grants in the city and has his­tor­i­cal­ly been the site of apart­ment raids. For exam­ple, between late 2013 and ear­ly 2014, ICE agents raid­ed one Albany Park build­ing ​"at least four times," accord­ing to a 2014 press release from Orga­nized Com­mu­ni­ties Against Depor­ta­tions (OCAD), an anti-depor­ta­tion orga­ni­za­tion in Chica­go. Once inside on one occa­sion, the agents approached a num­ber of apart­ments, lead­ing to the deten­tion of one man from Guatemala, a father named Ani­bal Fuentes Aguilar. Gutiér­rez, who is also a mem­ber of OCAD, says that nei­ther the doors nor the out­er gate for the apart­ment com­plex where Aguilar lived at the time actu­al­ly locked. Nei­ther the name of the land­lord or build­ing man­ag­er for the apart­ment com­plex nor the spe­cif­ic address of the com­plex were nev­er made pub­lic, and OCAD could not share that information.
Sce­nar­ios such as this one are poten­tial­ly eas­i­er for ICE agents to accom­plish if main entrances to apart­ment build­ings lack ade­quate locks because they can gain access to the build­ings with­out being let in by residents.
As such, main entrance locks are a prac­ti­cal issue that the ATU is orga­niz­ing around. Gutiér­rez says that the ATU is cur­rent­ly work­ing with immi­grant ten­ants in an Albany Park build­ing where there have been major secu­ri­ty breach­es, includ­ing rob­beries due to inad­e­quate locks, Accord­ing to Gutiér­rez, the land­lord has been unre­spon­sive to the ten­ants' requests for secu­ri­ty improve­ments, like­ly because the ten­ants are immigrants.
The tenant's bur­den to fight discrimination
The ATU wel­comed the news of the ITPA's pas­sage in Illi­nois. But Gutiér­rez says that while the ITPA allows undoc­u­ment­ed ten­ants to take action against dis­crim­i­na­to­ry land­lords, the bur­den of cor­rect­ing the dis­crim­i­na­tion still falls entire­ly on the tenants.
"If you're undoc­u­ment­ed and low-income, how are you going to get the mon­ey to sue your land­lord?" Gutiér­rez says. ​"We need to have a dia­logue around how [these poli­cies] get imple­ment­ed and how ten­ants can make those grievances."
The fact that many undoc­u­ment­ed peo­ple do not want to call any addi­tion­al atten­tion to them­selves for fear of being detained and deport­ed could be a bar­ri­er to pur­su­ing legal action against a land­lord under the ITPA. Velazquez Kato says that, hope­ful­ly, the ITPA will act as a deter­rent that dis­cour­ages land­lords from dis­crim­i­nat­ing against undoc­u­ment­ed renters in the first place.
In terms of fur­ther pol­i­cy, ATU orga­niz­ers advo­cate for a ​"just cause" law for the city of Chica­go. Present­ly, Chica­go land­lords are legal­ly per­mit­ted to evict ten­ants for any rea­son — or no rea­son at all. This presents obvi­ous issues for many ten­ants, and for immi­grant ten­ants, it means they would only be able to demon­strate the type of dis­crim­i­na­tion that would be suable under the ITPA if the land­lord is explic­it about their bias. Under a just cause law, land­lords would be required to prove that their ten­ants are in vio­la­tion of their lease agree­ment in order to evict them.
While the ATU works with ten­ants to build and lever­age their col­lec­tive pow­er, some pro­gres­sive local politi­cians are work­ing on poli­cies that would make undoc­u­ment­ed ten­ants safer in their homes.
Demo­c­ra­t­ic Social­ist alder­man for the 35th Ward, Car­los Ramirez-Rosa, says that undoc­u­ment­ed com­mu­ni­ty mem­bers in his ward have report­ed dis­crim­i­na­tion on the part of land­lords. In par­tic­u­lar, Ramirez-Rosa tells In These Times that he's heard from undoc­u­ment­ed immi­grants that poten­tial land­lords have request­ed a social secu­ri­ty num­ber on apart­ment appli­ca­tions, and some have said that land­lords have refused to rent apart­ments to them on the basis of their immi­gra­tion status.
To help rem­e­dy issues of safe­ty in apart­ment build­ings where immi­grants live, Ramirez-Rosa says that he wants to pass an ordi­nance that would require land­lords to install self-lock­ing doors at the entrances to apart­ment build­ings. He fur­ther says that his office wants to ​"build a deep work­ing rela­tion­ship with mem­bers of the undoc­u­ment­ed com­mu­ni­ty" so that undoc­u­ment­ed immi­grants in the ward feel safe com­ing to his office for help regard­ing hous­ing discrimination.