Ballpark Workers Ask Giants Fans Not To Cross Picket Lines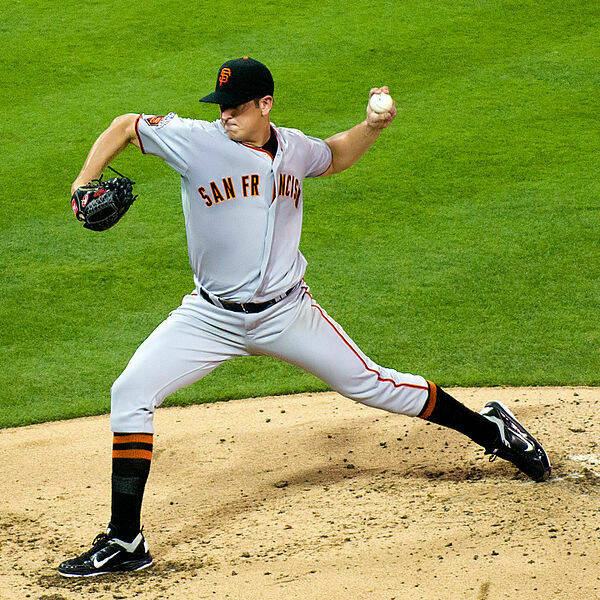 We wanted to make sure you didn't miss the announcement of our new Sustainer program. Once you've finished reading, take a moment to check out the new program, as well as all the benefits of becoming a Sustainer.

Baseball may be America's pastime, but concessions workers in the San Francisco Giants' ballpark say it's past time for a new contract. After negotiations last week, officials with Unite Here Local 2, which represents the workers, said little progress was being made on the bigger ​"sticking points" and that no new negotiations are scheduled. Workers at AT&T Park have already voted to strike for up to five game days if Centerplate, the company that operates the concession stands at AT&T Park, can't agree to a contract with their union.
​"This is a clear message that we're sending to Centerplate and the Giants," says Billie Feliciano, a long-time worker at the park. ​"We're serious."
The Giants have home games scheduled on May 24, May 25, May 26, May 29 and May 30.
World Series success in two of the past three years has brought giant profits to the franchise, but workers, like Feliciano, say they haven't been able to share in any of it. Since 2009, the last time that concessions workers received a pay raise, the Giants' value has increased by more than 60 percent, and they're now the seventh-most valuable franchise in baseball, according to Forbes. Feliciano says Centerplate and the Giants can afford to share some of that wealth ​"so that we can continue to do the good work that we do for the guests, for the Giants and for Centerplate."
Major League Baseball has seen labor strife before, most famously a players' strike in 1994 that led to the cancellation of that year's World Series. But if the concessions workers in San Francisco do decide to strike, it would be the first time in Feliciano's memory that they have taken such action. She's been a member of the union since she started working concessions in 1978, when the team still played at Candlestick Park. A lot has changed since then, says Feliciano, not least the increased prices on everything from hot dogs to beer, but ​"we've always been there for them, no matter what, even when there were 14 innings or more." Feliciano says she hopes that their struggle will bring concessions workers in other ballparks respect, because ​"the concessions workers make the money, they bring in the revenue."
Centerplate, which operates at hundreds of other venues around the country, would not reveal the terms of the contract they're offering. But union officials say their proposal includes a $0.25 per hour raise for 2013 and 2014 and a $500 bonus for workers, while they also want retroactive wage increases for the last three years.
​"They're trying to have people live off poverty wages, to keep as much money in their pocket as possible," says Nischit Hegde, a spokesperson Local 2.
Hegde says the company is also proposing to make health insurance less accessible by raising the number of games employees must work in order to qualify for coverage. She says it's already difficult for workers to qualify for healthcare if there aren't enough home games in a given month. ​"People travel two hours just to come to work because that's the only job they can find that will provide healthcare for them and their families," she says.
Centerplate spokesperson Gina Antonini says the company ​"values their employees" and wants to ​"maintain them as some of the highest-paid employees in the industry with some of the best benefits." According to Antonini, workers have already benefited from the Giants' success by taking home more in tips. She says the company doesn't anticipate labor action, but that if it comes to a strike, the work would be covered by ​"management and other staff." She would neither confirm nor deny that Centerplate was trying to recruit new workers to cover the strike, but on the same day the union voted to authorize strike action, a Craigslist posting purporting to be from the company appeared online.
Local 2 members say they want job security in case the Giants replace Centerplate with another subcontractor. On Tuesday, Centerplate launched a lawsuit claiming that by demanding this so-called ​"successorship clause," Local 2 was violating labor law.
For its part, the union is asking Giants fans not to cross the picket line if the concessions workers do go on strike, by not buying food or drink from replacement workers. Does Feliciano think the fans will back them?
​"We would love for the fans to support us," she says, adding with a smile, ​"that ballpark is full of union people."
Be a Sustainer
We surveyed thousands of readers and asked what they would like to see in a monthly giving program. Now, for the first time, we're offering three different levels of support, with rewards at each level, including a magazine subscription, books, tote bags, events and more—all starting at less than 17 cents a day. Check out the new Sustainer program.
George Lavender
is an award-winning radio and print journalist based in Los Angeles. Follow him on Twitter @GeorgeLavender.