Yanis Varoufakis: Confessions of a Troika Dropout
Greece's former finance minister and "inconsistent Marxist" discusses his new tell-all from his time in Europe's halls of austerity.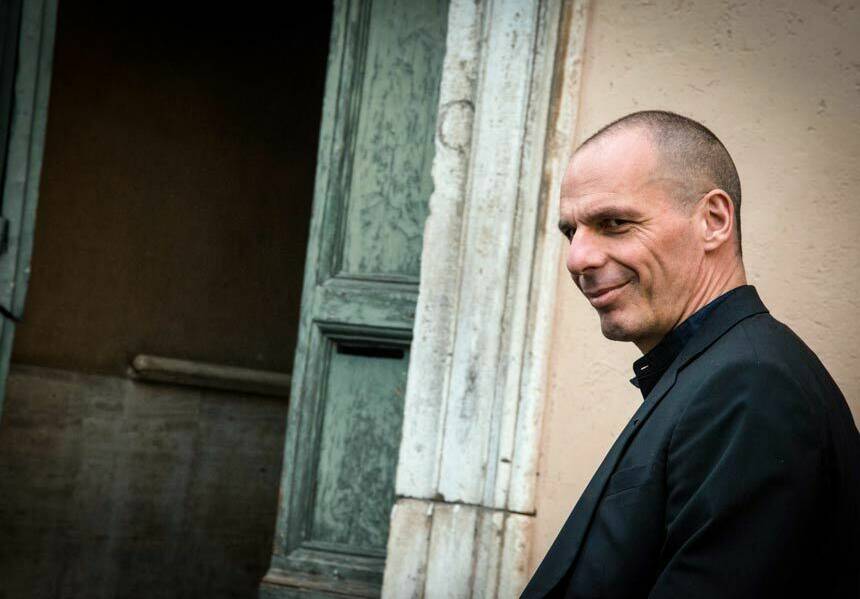 In 2015, the left-wing Greek par­ty Syriza surged to vic­to­ry with promis­es of a rad­i­cal rene­go­ti­a­tion of Greece's debts and an end to aus­ter­i­ty. The man tasked with lead­ing those nego­ti­a­tions was new finance min­is­ter Yanis Varo­ufakis, who only months before had been an aca­d­e­m­ic — a pro­fes­sor of eco­nom­ics at the Uni­ver­si­ty of Texas at Austin. Varo­ufakis quick­ly made a name for him­self by clash­ing with Euro­pean lead­ers of the so-called troi­ka (the Euro­pean Com­mis­sion, the Inter­na­tion­al Mon­e­tary Fund and the Euro­pean Cen­tral Bank) and rid­ing his motor­cy­cle to meetings.
There is profound difference between saying we should not have gotten in the E.U. and saying we should get out.
The nego­ti­a­tions were not a suc­cess. Euro­pean lead­ers insist­ed that Greece con­tin­ue to cut pen­sions, food and med­ical care in order to pay back the very banks respon­si­ble for the finan­cial cri­sis. Prime Min­is­ter Alex­is Tsipras even­tu­al­ly signed a deal tying Greece to a future of painful aus­ter­i­ty and ongo­ing debt pay­ments. By that time, Varo­ufakis had resigned.
Varo­ufakis' new mem­oir, Adults in the Room: My Bat­tle with the Euro­pean and Amer­i­can Deep Estab­lish­ment, is an account of those nego­ti­a­tions. He seeks to expose the sys­tem of elite con­trol he blames for the eco­nom­ic night­mare wrought on coun­tries like Greece. The mem­oir will be con­tro­ver­sial for those who fol­low Greek pol­i­tics: This his­to­ry is not dis­tant enough for ques­tions of blame to be set­tled, and Varo­ufakis is very much the hero of his own sto­ry. Even so, the book offers a rare and valu­able glimpse behind doors Euro­pean lead­ers would pre­fer kept closed. Varo­ufakis spoke with In These Times by tele­phone from Greece.
When Syriza restart­ed nego­ti­a­tions, it was pret­ty clear from talk­ing to any econ­o­mist what the troi­ka was ask­ing for was lit­er­al­ly impos­si­ble non­sense. You can't increase GDP or stim­u­late growth with­out invest­ment. What do you think under­lies that illogic?
The beau­ty of those five months in gov­ern­ment was, for the first time in my life as an aca­d­e­m­ic, I did not have to the­o­rize. Because they told me. Peo­ple like the head of the Inter­na­tion­al Mon­e­tary Fund, Chris­tine Lagarde, and [U.S. Trea­sury Sec­re­tary] Jack Lew and Ger­man finance min­is­ter [Wolf­gang Schäu­ble], peo­ple who under­stood all this, were com­ing to me and ask­ing me to adopt a pol­i­cy which they were telling me was not going to work.
How did we get to that? This I sus­pect is the essence of your ques­tion. Because Thatch­er, Rea­gan, those neolib­er­als, they real­ly thought trick­le-down would work. They were wrong, but they believed it. Where­as the peo­ple I was deal­ing with were telling me in pri­vate that they didn't believe it, but they were locked in.
The answer is 2008. The world of finance col­lapsed under their feet. They had not seen it com­ing. Hank Paul­son, Tim Gei­th­n­er, Lar­ry Sum­mers, they had not seen it com­ing. And they start­ed mak­ing it up as they were going along. What I call the ​"deep estab­lish­ment," in a state of pan­ic, rushed in to save the bankers, by any means pos­si­ble, and to shift most of the costs of the col­lapse of finan­cial­iza­tion onto the shoul­ders of the weak­est, our cit­i­zens. The Oba­ma admin­is­tra­tion, by the way, despite the fine rhetoric of its leader, was very guilty of that. Instead of deliv­er­ing a New Deal, it was a new deal for bankers, while the mass­es lan­guished in per­ma­nent­ly depressed labor markets.
So in Europe, they com­mit­ted one crime, and like in Mac­beth, they had to com­mit anoth­er crime to cov­er up the first crime. After they saved the banks in France and Ger­many by giv­ing the insol­vent Greek state the largest loan in his­to­ry — which is crazy — they say oops. The Greek gov­ern­ment can­not repay the loan, so they had to give a sec­ond loan, but in order to pass it through their par­lia­ments, they had to blame the fail­ure of the first loan on the Greeks. All they were doing is cov­er­ing the first crime. Then, of course, they end up with a cri­sis which is unman­age­able. And then, like Tac­i­tus once said, ​"They make a desert and call it peace." Greece became a desert.
At what point did you decide to quit?
When Chris­tine Lagarde tells you, ​"You're com­plete­ly right, now you've got to sub­mit," what is there for me to add, except that I'm not going to sub­mit? They're like the Borg: Resis­tance is futile.
In your book, you sug­gest that their behav­ior toward Greece trig­gered Brexit.
Yes, I believe it did. The neolib­er­al­ism of Ronald Rea­gan and Mar­garet Thatch­er in the ​'80s was a polit­i­cal project of gain­ing legit­i­ma­cy through appeal­ing to Rea­gan Democ­rats, the work­ers, and try­ing to con­vince them of the trick­le-down effect. In the state of pan­ic in 2008, the pow­ers that be weren't even inter­est­ed in that. Brute force became the order of the day. We moved to what I call ​"mil­i­tant lib­er­al­ism," or a lib­er­al, gross­ly author­i­tar­i­an and incom­pe­tent estab­lish­ment. Par­tic­u­lar­ly in Europe, begin­ning in Greece, we have this com­plete dis­re­gard for even keep­ing up appear­ances of lib­er­al democracy.
I cam­paigned all over Britain against Brex­it, and I was privy to the way in which our treat­ment by the troi­ka, by the Eurogroup, by the Euro­pean Union, put off a lot of peo­ple, pri­mar­i­ly Labour sup­port­ers in work­ing-class areas, who said, ​"Look, we've been dis­card­ed now for 20 to 25 years any­way, by Lon­don, by the estab­lish­ment, by every­one. But at least we're hold­ing on to the hope that we still have democ­ra­cy. And what these guys did to you is unac­cept­able. We can­not vote to stay in this E.U."
What did you tell them in response?
The slo­gan that I used was ​"in and against": in the E.U., against this E.U. The rea­son I had sway is because no one can take me seri­ous­ly as a lap dog of Brus­sels, giv­en that I had real­ly felt the brunt of the author­i­tar­i­an incom­pe­tence of Brus­sels, and of Frank­furt, and of Berlin. Now, as a very young per­son, I was in every demon­stra­tion against the entry of Greece into the Euro­pean Com­mon Mar­ket. And as a not-so-young per­son in the late 1990s, I was again cam­paign­ing against Greece's entry into the Euro­zone. But there is pro­found dif­fer­ence between say­ing we should not have got­ten in and say­ing we should get out.
It's a bit like Indi­ana Jones run­ning over a bridge. The bridge is crum­bling behind him and if he tries to reverse his path, he's not going to end up where he was, he's going to fall off a cliff. If the Euro­pean Union dis­in­te­grates, we're not going back to cozy lit­tle demo­c­ra­t­ic nation-states. We're going to cre­ate the cir­cum­stances for a Great Depres­sion. Imag­ine if the Euro were to break down tomor­row. The deutsche mark is going to go through the roof, and this increase is going to cause mass unem­ploy­ment. That's the begin­ning of very nasty polit­i­cal reper­cus­sions — peo­ple even worse than Trump, with­out the checks and bal­ances of the Amer­i­can Constitution.
So what I say to my com­rades on the Left is: Beware what you wish for. This is why we're going for the project of democratization.
This is the slo­gan of your cur­rent move­ment, Democ­ra­cy in Europe 2025, right?
Yes. ​"The E.U. will democ­ra­tize or it will dis­in­te­grate." Now, is it fea­si­ble? In truth, I real­ly don't know. At the same time, I don't care. Because I believe an attempt to cre­ate a move­ment that is pan-Euro­pean, transna­tion­al, gen­uine­ly anti-nation­al­ist, in order to democ­ra­tize the Euro­pean Union, in itself is going to bring togeth­er all those peo­ple in Europe who will stem the rise of the var­i­ous Trumps, Le Pens, and neo­fas­cists. If we suc­ceed, good. If we fail, good. Because at least we'll be together.
When Syriza won, there was a big tent and there was a rep­re­sen­ta­tive from every left par­ty all singing togeth­er. It was a beau­ti­ful scene. Is that sort of tra­di­tion­al left inter­na­tion­al­ism what you're talk­ing about?
I was in that tent, extreme­ly hap­py and joy­ful. But you see, you and I were not the only ones watch­ing this. Schäu­ble and the troi­ka were watch­ing, because they were so bloody deter­mined to crush us.
What you described, a coali­tion of left-wing par­ties, was a con­fed­er­a­cy. We had very lit­tle to do with each oth­er except good feel­ings. We loved Podemos, Podemos loved us. Did we have a pol­i­cy for Europe? No.
This is the conun­drum of the Left gen­er­al­ly. We talk about inter­na­tion­al­ism, work­ers of the world unite, and all that. But we're not unit­ed. Cap­i­tal is. The troi­ka is. They have an inter­na­tion­al­ist view, a glob­al­ized view, which is to crush any­one who oppos­es them any­where, with remark­able sol­i­dar­i­ty amongst themselves.
Even more impor­tant is that the main prob­lems we face are a lit­tle bit like cli­mate change. A com­mon prob­lem which requires local action and a glob­al, inter­na­tion­al­ist approach. Invest­ment can­not be boost­ed in one coun­try, but it can be boost­ed through­out Europe. So not only is it impor­tant that we are more unit­ed, but also that we have a com­mon policy.
I think of what you're describ­ing post-finan­cial cri­sis as a form of class war, of extrac­tion: poor peo­ple pay­ing into these for­eign banks.
I'm a Marx­ist. An incon­sis­tent Marx­ist, because I believe the only way of being tru­ly dialec­ti­cal and true to Marx is to be incon­sis­tent. Giv­en that I'm a Marx­ist, of course I agree with you. But we of the Left have to come to terms with the fact that our lan­guage, which is fine lan­guage, puts peo­ple off. We lost the game in 1991. The lan­guage of the Left became wood­en and unwieldy and par­tic­u­lar­ly unap­peal­ing to most peo­ple once the Sovi­et Union came down. If I wrote my book in terms of class war, cap­i­tal accu­mu­la­tion, cap­i­tal­ism, peo­ple would sim­ply switch off. And I think we have a duty as left­ists: If our mal­let doesn't work, change our mallet.
This was def­i­nite­ly what was suc­cess­ful about Bernie Sanders in the U. S. (who I was amused to see was the first Amer­i­can politi­cian to call you when you took office).
I have anoth­er book com­ing out soon in the Unit­ed States in May, which has the sub­ti­tle ​"a brief his­to­ry of cap­i­tal­ism." I make a point in it of not using the word cap­i­tal­ism once.
What future do you see for Greece?
If we stay on the present course, we are going to become a Koso­vo on the Mediter­ranean. It's a pro­tec­torate run by a com­mis­sion­er of some pre­fect from the Euro­pean Union. There's no indus­try and the only export is young peo­ple. We're also going to become the Mia­mi of Europe in the sense that we'll be col­o­nized by very large-scale hotels and old folks' homes, while the Greeks liv­ing here eat out of dust­bins, garbage bins. Greece can­not free itself from this fate unless we lib­er­ate Europe from its fate.
Sarah Leonard
is fea­tures edi­tor at The Nation and edi­tor-at-large at Dis­sent. She is co-edi­tor of The Future We Want: Rad­i­cal Ideas for the New Century.