In the grip of win­ter, the North Amer­i­can prairies can look decep­tive­ly bar­ren. But many wild ani­mals have evolved through harsh win­ters on these open grass­lands, for­ag­ing in the snow and shel­ter­ing in dens from cold tem­per­a­tures and bit­ing winds.
Today most of our nation's prairies are cov­ered with the amber waves of grain that Katharine Lee Bates laud­ed in ​"Amer­i­ca the Beau­ti­ful," writ­ten in 1895. But sci­en­tists know sur­pris­ing­ly lit­tle about today's rem­nant bio­di­ver­si­ty in the grass­lands – espe­cial­ly the sta­tus of what we call ​"big small mam­mals," such as bad­gers, fox­es, jackrab­bits and porcupines.
Land con­ser­va­tion in the heart­land has been under­whelm­ing. Accord­ing to most esti­mates, less than 4% of the tall­grass prairie ecosys­tem that once cov­ered some 170 mil­lion acres of North Amer­i­ca is left. And when native grass­lands are altered, pop­u­la­tions of endem­ic species like prairie dogs shrink dra­mat­i­cal­ly.
Togeth­er, we have more than 60 years of expe­ri­ence using field-based, hypoth­e­sis-dri­ven sci­ence to con­serve wildlife in grass­land sys­tems in North Amer­i­ca and across the globe. We have stud­ied and pro­tect­ed species rang­ing from prong­horn and bison in North Amer­i­ca to saiga and wild yak in Cen­tral Asia. If sci­en­tists can iden­ti­fy what has been lost and retained here in the U.S., farm­ers, ranch­ers and com­mu­ni­ties can make more informed choic­es about man­ag­ing their lands and the species that depend upon them.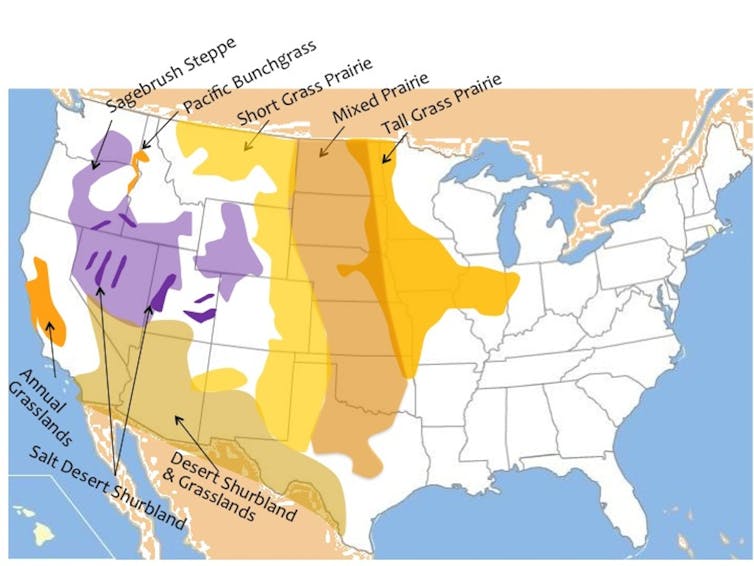 This maps shows the major types of North Amer­i­can grass­lands. (Graph­ic coun­rtesy of Karen Launchbaugh/​Wikimedia Com­mons)
Two harsh cen­turies of settlement
North America's prairies stretch north from Mex­i­co into Cana­da, and from the Mis­sis­sip­pi Riv­er west to the Rocky Moun­tains. Grass­lands also exist in areas far­ther west, between the Rock­ies and Pacif­ic coastal ranges.
When Thomas Jef­fer­son approved the Lewis and Clark Expe­di­tion in 1803, this ter­ri­to­ry was home to Native Amer­i­cans and abun­dant wildlife. Vast, unbro­ken hori­zons of con­tigu­ous grass­lands sup­port­ed mil­lions of prairie dogs, prong­horn, bison and elk, and thou­sands of bighorn sheep. Birds were also numer­ous, includ­ing greater prairie-chick­ens, mul­ti­ple types of grouse and more than 3 bil­lion pas­sen­ger pigeons.
Lewis and Clark kept detailed records of the plants and ani­mals they encoun­tered on their three-year jour­ney. Their jour­nals describe griz­zly bears and wolves, black-foot­ed fer­rets and bur­row­ing owls, sage grouse and prairie chick­ens. Sources like this and John James Audubon's ​"Birds of Amer­i­ca," pub­lished between 1827 and 1838, con­firm that before Euro­pean set­tle­ment, North America's prairies teemed with wildlife.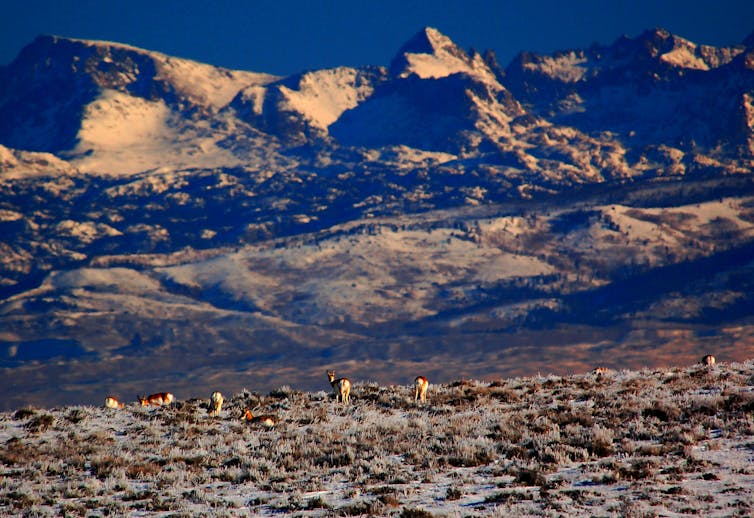 Prong­horn, which Lewis and Clark called ​'Speed goats,' graze on the prairie beneath Wyoming's Wind Riv­er Range. (Pho­to by Joel Berg­er, CC BY-ND)
That changed as Euro­pean immi­grants moved west over the next hun­dred years. Mar­ket hunt­ing was one cause, but set­tlers also tilled and poi­soned, fer­til­ized and fenced the land, drained aquifers and dam­aged soils.
As humans altered the prairies, bison dis­ap­peared from 99% of their native range. Prairie dogs, black-foot­ed fer­rets, wolves and griz­zly bears fol­lowed the same sad course.
In the mid-20th cen­tu­ry, con­ser­va­tion­ists began fight­ing to pro­tect and restore what remained. It isn't sur­pris­ing that wildlife agen­cies and con­ser­va­tion orga­ni­za­tions focused on tar­gets that were big, famous and eco­nom­i­cal­ly impor­tant: Birds for hunt­ing, deer for din­ner and fish­eries for food and sport.
Some efforts suc­ceed­ed. Mon­tana has retained every species that Lewis and Clark observed there. In 2016 Con­gress passed leg­is­la­tion declar­ing bison the U.S. nation­al mam­mal, fol­low­ing var­i­ous restora­tion ini­tia­tives in places such as the Wichi­ta Moun­tains of Okla­homa and the Tall­grass Prairie Pre­serve in the Flint Hills of Kansas. Prong­horn ante­lope, which Lewis and Clark called ​"speed goats," have rebound­ed from few­er than 20,000 in the ear­ly 20th cen­tu­ry to some 700,000 today, rang­ing across grass­lands from north­ern Mex­i­co and Texas to North Dako­ta, Mon­tana and south­ern Canada.
But elk remain rare on the grassy savan­nas, as do prairie dogs and wild bison. North Amer­i­can grass­land birds – larks and pip­its, curlews and moun­tain plovers – are in decline or seri­ous col­lapse. Intro­duc­tion of non­na­tive exot­ic fish, reduced water flows in prairie rivers and streams due to agri­cul­ture, and declines in water qual­i­ty and quan­ti­ty have dec­i­mat­ed native fish species and aquat­ic inver­te­brates, such as fresh­wa­ter mus­sels, in the water­ways of grass­land ecosystems.
Where the ani­mals still roam
In con­trast to North Amer­i­ca, oth­er regions still have large intact grass­lands with func­tion­al ecosys­tems. White-tailed gazelles and khu­lan (Asi­at­ic wild ass) still move hun­dreds of miles across the vast unfenced steppes of Mon­go­lia. White-eared kob, a sub-Saha­ran ante­lope, trav­el hun­dreds of miles every year across a North Dako­ta-sized swath of south­ern Sudan in one of Africa's longest land migra­tions.
Chiru (ante­lope) and kiang (large wild ass­es) main­tain their his­tor­i­cal move­ments across the vast Tibetan plateau. Even war-torn Afghanistan has des­ig­nat­ed two nation­al parks to ensure that snow leop­ards, wolves and ibex can con­tin­ue to roam.
Some parts of the North Amer­i­can prairies could sup­port this kind of bio­di­ver­si­ty again. The Flint Hills of Kansas and Okla­homa, Nebraska's Sand­hills and Montana's Rocky Moun­tain Front all retain areas that have nev­er been plowed, rang­ing from 1 mil­lion to 4 mil­lion acres. Pub­lic agen­cies and non­prof­it con­ser­va­tion groups are already work­ing in these areas to pro­mote con­ser­va­tion and sup­port grass­land ecosystems.
Knowl­edge gaps impede conservation
Con­serv­ing native species on Amer­i­can grass­lands has moved slow­ly because this region has been so com­pro­mised by land con­ver­sion for farm­ing and devel­op­ment. What's more, despite tech­no­log­i­cal inno­va­tions and pow­er­ful ana­lyt­i­cal tools, sci­en­tists don't have real­is­tic esti­mates today of abun­dance or pop­u­la­tion trends for most ver­te­brate species, whether they are mam­mal, bird or fish.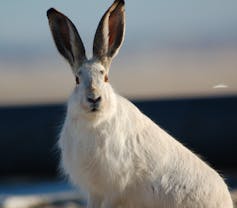 This pho­to shows a white-tailed jackrab­bit in Wyoming. (Pho­to by Joel Berg­er, CC BY-ND)
Mea­sur­ing rem­nant diver­si­ty is a first step toward decid­ing what to pri­or­i­tize for pro­tec­tion. One way we're doing this is by pos­ing sim­ple ques­tions to fam­i­lies who've lived out on these lands for mul­ti­ple gen­er­a­tions. One Mon­tana ranch­er told us the last por­cu­pine he saw was – well, he couldn't remem­ber, but they used to occur. Anoth­er, in Wyoming, said it had been per­haps two decades since he had last seen white-tailed jackrab­bits, a species once com­mon there.
From Col­orado to New Mex­i­co and the Dako­tas to Utah, respons­es are sim­i­lar. Across the region, the sta­tus of species like fox­es, por­cu­pines, white-tailed jack rab­bits, beavers, bad­gers and mar­mots is punc­tu­at­ed by ques­tion marks. Con­ti­nent-wide trends remain a mystery.
The good news is that nation­al parks have inven­to­ry and mon­i­tor­ing pro­grams that make it pos­si­ble to assess trends more com­pre­hen­sive­ly for some of these species. Cit­i­zen sci­en­tists are help­ing by report­ing occur­rences of species such as black-tailed jackrab­bits. As sci­en­tists delve fur­ther into data­bas­es, pat­terns of species reten­tion or loss should become clearer.
For exam­ple, our work on white-tailed jack rab­bits revealed that decades ago they were abun­dant in the val­leys in and around the Tetons of north­west Wyoming and spanned Yel­low­stone Nation­al Park's north­ern range. How­ev­er, by the year 2000 they were absent from the Tetons and occu­pied only a small area of Yellowstone.
The U.S. has a his­to­ry of pro­tect­ing its majes­tic moun­tains and deserts. But in our view, it has under­val­ued its bio­log­i­cal­ly rich grass­lands. With more sup­port for con­ser­va­tion on the prairies, wildlife of all sizes – big and small – could again thrive on America's fruit­ed plains.
Edi­tor's Note: This arti­cle is repub­lished from The Con­ver­sa­tion under a Cre­ative Com­mons license. Read the orig­i­nal arti­cle.