As the Trump Admin. Gives Fossil Fuels Industry the Floor at COP23, Hundreds of Protesters Shut Out
Representatives from fossil fuels companies were invited to speak on a panel alongside White House officials.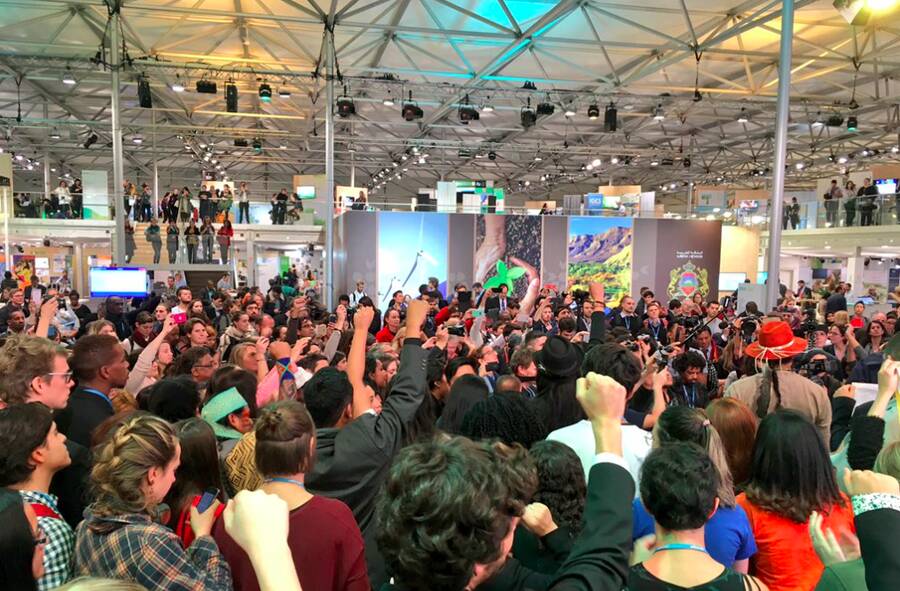 The U.S. government's pres­ence at this year's U.N. cli­mate nego­ti­a­tions — COP23 — has been rel­a­tive­ly small. For the most part, career U.S. diplo­mats have been cooped up in a tiny office away from pub­lic view. There was a notable excep­tion, how­ev­er. The Trump admin­is­tra­tion invit­ed rep­re­sen­ta­tives from fos­sil fuel com­pa­nies to speak on a pan­el with White House offi­cials pro­mot­ing access to fos­sil fuels.
The pan­el prompt­ed what might have been the loud­est demon­stra­tion yet with­in the halls of the con­ven­tion center.
Well in advance of the event — as hun­dreds lined up out­side — del­e­gates with the Indige­nous Envi­ron­men­tal Net­work (IEN) and oth­er rep­re­sen­ta­tives from the U.S. People's Del­e­ga­tion led a prayer pro­ces­sion toward the event space with signs out­side read­ing, ​"We Are Still Here" and ​"Keep It In the Ground." This was an effort to counter the panel's pitch for increased reliance on nat­ur­al gas, nuclear pow­er and so-called clean coal technologies.
"Nuclear pow­er is not clean and it is not a solu­tion to cli­mate change," said Leona Mor­gan, an anti-nuclear orga­niz­er who is Diné (Nava­jo), accord­ing to a live stream from IEN. ​"If Trump and the Unit­ed States want to push a nuclear agen­da, we are here and we will fight back and resist this nuclear imperialism."
"As Indige­nous Peo­ples with a close rela­tion­ship to nature, the expan­sion of fos­sil fuels extrac­tion and com­bus­tion will cause fur­ther dis­rup­tion to the har­mo­ny of life as we know it," Tom Gold­tooth, exec­u­tive direc­tor of IEN, said in a state­ment. ​"The dan­gers and risks of cre­at­ing a nuclear chain reac­tion, split­ting of atoms and from this so-called nuclear ener­gy, is the cre­ation of nuclear waste that could end up being dumped in sacred Indige­nous Peo­ples treaty lands."
Entry into the pan­el was selec­tive, and hun­dreds of peo­ple who were shut out joined a sit-in and sev­er­al rounds of anti-fos­sil fuel chants.
About 20 min­utes into Mon­day night's pan­el, the mid­dle sec­tion of the room — rough­ly 100 peo­ple cor­ralled large­ly by mem­bers of Sus­tai­nUS, a U.S. youth del­e­ga­tion — stood up and start­ed singing to the tune of Lee Greenwood's ​"God Bless the USA," rewrit­ten into a mes­sage against the promi­nent role of the coal indus­try in Amer­i­can pol­i­tics ("So you claim to be an Amer­i­can / But we see right through your greed"). Sev­er­al peo­ple held up a sign read­ing, ​"We the Peo­ple" before being escort­ed out by secu­ri­ty, and join­ing hun­dreds out­side for a ​"People's Pan­el" on the impact of fos­sil fuels on native com­mu­ni­ties and young people.
"When we heard this was hap­pen­ing, we knew we had to do some­thing about it," Kari­na Gon­za­les, who is co-lead­ing the Sus­tai­nUS del­e­ga­tion, told In These times. ​"Our inten­tion was to silence their lies with the truth, and to silence their greed with beau­ty and with love…We know we can't have fos­sil fuels because we've per­son­al­ly expe­ri­enced their effects." Gon­za­les' fam­i­ly is Purepecha, indige­nous to Latin Amer­i­ca. She says, before she was born, her fam­i­ly was dis­placed by fos­sil fuel devel­op­ment there.
Sus­tai­nUS sends a year­ly del­e­ga­tion to the COP, with this being the first since the Trump admin­is­tra­tion announced its inten­tion to get the Unit­ed States out of the Paris Agree­ment. Since Syr­ia decid­ed to join last week, the Unit­ed States is now the only out­lier. ​"By the time it's imple­ment­ed," she said of the nego­ti­a­tions, ​"we'll ide­al­ly have a new pres­i­dent. In the mean­time, it is more ide­al for the U.S. not to be involved, because they'll prob­a­bly obstruct a lot of the progress that will be made here."
Fol­low­ing the inter­rup­tion, the room was large­ly filled with press and Trump admin­is­tra­tion insid­ers. Voic­es from the back spo­rad­i­cal­ly heck­led the speak­ers, a line-up that includ­ed an aide to Vice Pres­i­dent Mike Pence, an engi­neer with Peabody Ener­gy and Trump cli­mate and ener­gy advi­sor George David Banks. Pan­elists who spoke after the direct action start­ed their remarks with a pitch for hear­ing both sides of the debate. Chants from out­side could be heard through the length of the event, and sev­er­al of the press and atten­dees who remained inside asked con­fronta­tion­al question.
In the last ques­tion, Amy Good­man of Democ­ra­cy Now! asked each of the pan­elists to state whether they sup­port­ed the Trump administration's deci­sion to pull out of the Paris Agree­ment, which was announced in June. None of the pan­elists offered an imme­di­ate ​"yes," and two — includ­ing a for­mer Oba­ma staffer now work­ing for a nat­ur­al gas com­pa­ny — said they didn't sup­port the president's deci­sion to with­draw from the land­mark cli­mate deal.
Orga­niz­ers with Sus­tai­nUS report­ed that the Secretariat's office, which over­sees COP events, agreed in advance of the action not to de-badge pro­test­ers who par­tic­i­pat­ed in Mon­day night's protest, as would nor­mal­ly be expect­ed after large-scale disruptions.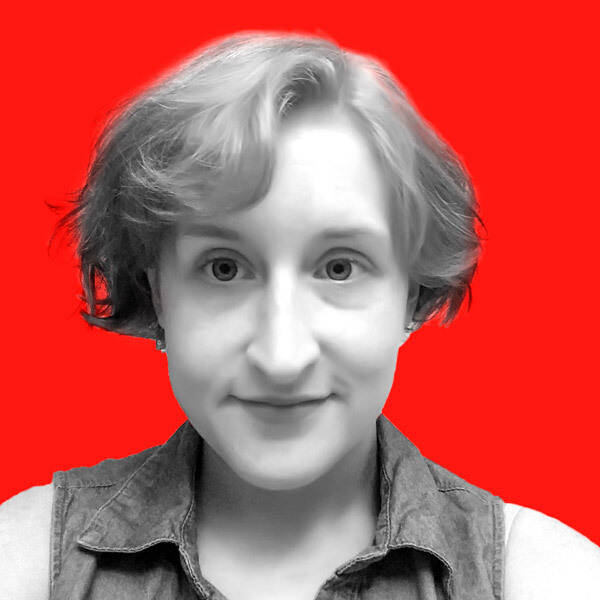 Kate Aronoff
is a Brook­lyn-based jour­nal­ist cov­er­ing cli­mate and U.S. pol­i­tics, and a con­tribut­ing writer at The Inter­cept. Fol­low her on Twit­ter @katearonoff.