Corporate Democrats Have Been in the Driver's Seat for 30 Years. Not Anymore.
In Tuesday's debate, Bernie Sanders and Elizabeth Warren obliterated the corporate Democratic Party consensus. It's about damn time.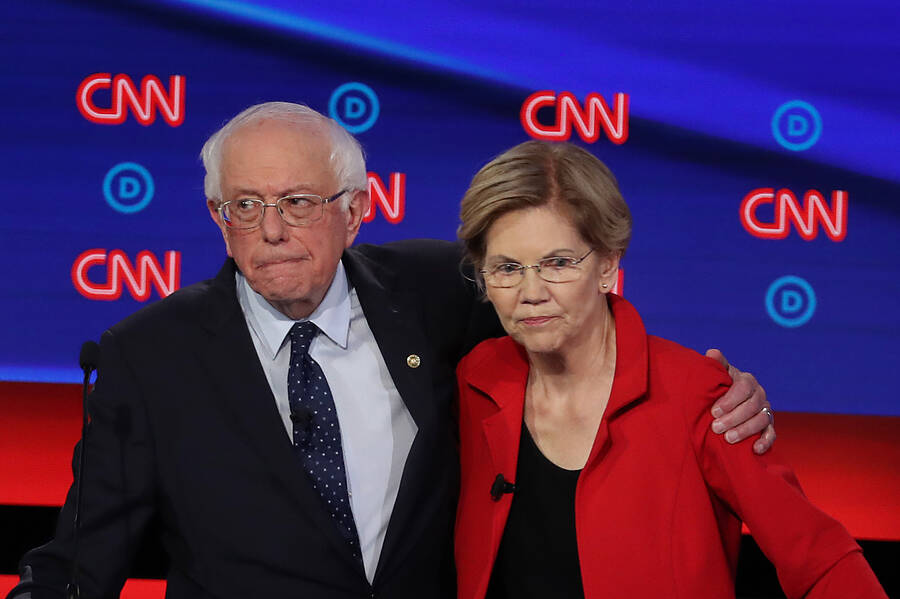 For the past three decades, the Demo­c­ra­t­ic Par­ty has been liv­ing with a debil­i­tat­ing trau­ma that's left it a shell of what it once was. But if Tues­day night's debate is any indi­ca­tion, the Democ­rats may final­ly be mov­ing into the home stretch of a long, painful recovery.
Both Sanders and Warren tied signature policies like Medicare for All, a wealth tax, free tertiary education and student debt cancellation to their broader vision of political change, rebuking Democrats' three-decade-long strategy of scurrying in fear at the sight of their own shadow.
Rather than stick­ing to the long­time script of Democ­rats pan­der­ing to the cen­ter, the two high­est polling can­di­dates on the stage — Bernie Sanders and Eliz­a­beth War­ren — artic­u­lat­ed a clear-eyed left-wing vision of the direc­tion the par­ty should take. Sanders railed against the ​"rul­ing class" while advo­cat­ing enshrin­ing uni­ver­sal eco­nom­ic rights, as War­ren warned that ​"we're not going to solve the urgent prob­lems we face with small ideas and spine­less­ness." Sanders agreed, claim­ing: ​"I get a lit­tle bit tired of Democ­rats afraid of big ideas."
Ever since the Clin­ton years of the 1990s, the party's offi­cials and appa­ratchiks have inter­nal­ized the belief that being too bold or too far left is a tick­et to polit­i­cal obliv­ion. After enjoy­ing a near-unbro­ken hold on the White House from 1932 to 1968, the fol­low­ing 24 years saw Demo­c­ra­t­ic pres­i­den­tial nom­i­nee after nom­i­nee go down in land­slides against ever more right-wing Repub­li­can oppo­nents. Peace can­di­date George McGov­ern, who called for pulling troops out of Viet­nam with­in 90 days in 1972, had been too far left to win, went the con­ven­tion­al wis­dom. So had Wal­ter Mon­dale and Michael Dukakis in 1984 and 1988, respec­tive­ly, con­ve­nient­ly ignor­ing the real­i­ty that both had cam­paigned as cen­trists pledg­ing to cut the deficit and reform welfare.
This set of lessons, com­bined with Bill Clinton's two pres­i­den­tial vic­to­ries, led the par­ty to an increas­ing­ly ruinous set of choic­es. Clinton's ​"tri­an­gu­la­tion" — col­lab­o­rat­ing with Repub­li­cans to dereg­u­late banks, cut social pro­grams and empow­er large finan­cial insti­tu­tions — helped hol­low out unions and work­ing-class sup­port for the par­ty, while set­ting the stage for the 2008 finan­cial cri­sis. The Democ­rats' choice of safe ​"mod­er­ate" can­di­date John Ker­ry in 2004 saw a vul­ner­a­ble George W. Bush return to the White House for anoth­er four years. And Barack Oba­ma fin­ished the job Clin­ton had begun, with his fear of appear­ing too rad­i­cal or—heav­en for­bid—a ​"social­ist," lead­ing to a less-than-aggres­sive response to the finan­cial cri­sis. This cri­sis, in turn, cre­at­ed a wipe­out of black work­ing-class wealth and a slug­gish eco­nom­ic recov­ery that helped Pres­i­dent Trump ride a wave of rage and apa­thy to the White House in 2016.
Par­a­lyzed by cau­tion, and its worst instincts jus­ti­fied through a grad­ual takeover by cor­po­rate inter­ests, the Demo­c­ra­t­ic Par­ty has in many ways been its own worst ene­my. Rather than propos­ing far-reach­ing redis­trib­u­tive poli­cies, nation­al Democ­rats have by and large moved to the right while push­ing means-test­ed, tepid pro­pos­als meant not to offend cor­po­rate back­ers or scare off myth­i­cal ​"Rea­gan Democ­rats." The result has been a par­ty that's failed to inspire its core con­stituen­cy — work­ing-class vot­ers — to show up at the polls. Just look at the Oba­ma years, dur­ing which the par­ty lost over 1,000 seats nationwide.
Yet Tues­day night's bat­tle between, on one side, Sanders and War­ren — the two most pro­gres­sive can­di­dates in the field — and, on the oth­er, the con­ser­v­a­tive Democ­rats mis­lead­ing­ly labeled ​"mod­er­ates" by much of the media, sug­gest things may be final­ly changing.
The debate saw a con­ser­v­a­tive onslaught on the ideas of the party's surg­ing left wing. Sanders and War­ren — both tri­bunes for pro­gres­sive pol­i­tics dur­ing the Oba­ma years — faced right-wing attacks and skep­ti­cism from not just their con­ser­v­a­tive oppo­nents, but CNN's pan­el of mod­er­a­tors as well.
For­mer Mary­land Rep. John Delaney opened the debate by deri­sive­ly refer­ring to Sanders and Warren's ​"bad poli­cies" and ​"impos­si­ble promis­es" of Medicare for All and ​"free every­thing," ques­tion­ing why the Democ­rats were being ​"the par­ty of tak­ing some­thing away from peo­ple," in this case, pri­vate health insur­ance. Ohio Rep. Tim Ryan sug­gest­ed that Sanders' Medicare for All bill would make things worse for union mem­bers. For­mer Col­orado Gov. John Hick­en­loop­er stressed that incre­men­tal reform ("evo­lu­tion, not rev­o­lu­tion") and giv­ing Amer­i­cans ​"choic­es" promised a bet­ter way for­ward. Mod­er­a­tor Jake Tap­per demand­ed to know if War­ren and Sanders planned on rais­ing tax­es for the mid­dle class.
The two sen­a­tors respond­ed com­bat­ive­ly, bat­ting away the attacks in an often fiery fash­ion. ​"I don't under­stand why any­body goes to all the trou­ble of run­ning for pres­i­dent of the Unit­ed States just to talk about what we real­ly can't do and shouldn't fight for," an exas­per­at­ed War­ren told Delaney. ​"You're wrong," Sanders said, respond­ing to Delaney's charge that Medicare for All was ​"polit­i­cal suicide."
War­ren point­ed out to Hick­en­loop­er that incre­men­tal reforms had already been tried to no avail, and admon­ished the oth­er can­di­dates for ​"using Repub­li­can talk­ing points." Sanders lev­eled the same accu­sa­tion at Tap­per before charg­ing that ​"the health care indus­try will be adver­tis­ing tonight on this pro­gram … with that talk­ing point," a pre­dic­tion that came at least par­tial­ly true: PhRMA, the phar­ma­ceu­ti­cal industry's lob­by­ing arm, was one of a num­ber of phar­ma­ceu­ti­cal enti­ties to air ads dur­ing sub­se­quent com­mer­cial breaks.
And this was all dur­ing just the first half-hour. Health­care reared its head again lat­er in the debate once the con­ver­sa­tion turned to immi­gra­tion, with the mod­er­a­tors sug­gest­ing that Sanders' plan to allow undoc­u­ment­ed immi­grants to access care under Medicare for All would encour­age a del­uge of migrants. A num­ber of oth­er ques­tions implied that Sanders was too rad­i­cal to beat Trump, or, as one put it, that he was indis­tin­guish­able from the far-right pres­i­dent because they both said they want­ed to end wars. At one point, the mod­er­a­tors pushed the can­di­dates to affirm they would main­tain the Unit­ed States' first-use of nuclear weapons, a stance War­ren brave­ly reject­ed, par­al­lel­ing UK Labour leader Jere­my Corbyn's own stance on the matter.
Per­haps most sig­nif­i­cant­ly, both Sanders and War­ren tied sig­na­ture poli­cies like Medicare for All, a wealth tax, free ter­tiary edu­ca­tion and stu­dent debt can­cel­la­tion to their broad­er vision of polit­i­cal change, rebuk­ing Democ­rats' three-decade-long strat­e­gy of scur­ry­ing in fear at the sight of their own shad­ow. War­ren thun­dered that the Democ­rats need to be the par­ty ​"of big, struc­tur­al change." Sanders argued that ​"to win this elec­tion and to defeat Don­ald Trump … we need to have a cam­paign of ener­gy and excite­ment and of vision. We need to bring mil­lions of young peo­ple into the polit­i­cal process in a way that we have nev­er seen." For his part, Delaney fell back on the Demo­c­ra­t­ic establishment's clas­sic warn­ing that McGovern's 1972 loss showed mov­ing to the left was the elec­toral equiv­a­lent of drink­ing rat poison.
Mean­while, War­ren and Sanders' crit­i­cisms of their con­ser­v­a­tive chal­lengers were root­ed in more than a ker­nel of truth. Sanders' charge that Delaney, while oppos­ing Medicare for All, ​"made mon­ey off of health­care" wasn't wrong. Besides being a con­ser­v­a­tive ​"New Demo­c­rat" who, while in the House, sup­port­ed the Trans-Pacif­ic Part­ner­ship and backed Obama's enti­tle­ment-cut­ting Bowles-Simp­son com­mis­sion, Delaney was one of the rich­est mem­bers of Con­gress thanks to his career at the head of a com­pa­ny that lent mon­ey to the health­care sec­tor. As Sludge has report­ed, his lat­est finan­cial dis­clo­sure, filed in 2019, shows Delaney has $3.2 mil­lion invest­ed in the health­care sec­tor and funds with hold­ings in the industry.
The same goes for Warren's sug­ges­tion that the can­di­dates assail­ing Medicare for All lacked the ​"polit­i­cal will" to fight for it, which Hick­en­loop­er emphat­i­cal­ly denied. Yet in 2016, as gov­er­nor of Col­orado, he — along with fel­low 2020 can­di­date, Col­orado Sen. Michael Ben­net — opposed Amend­ment 69, a bal­lot mea­sure that would have insti­tut­ed a sin­gle-pay­er sys­tem in the state. At the time, Hick­en­loop­er claimed that it was ​"pre­ma­ture" to reform the health­care sys­tem. Behind closed doors, he told the Col­orado Forum, an assem­bly of busi­ness lead­ers and polit­i­cal oper­a­tives that com­prised one of Colorado's most pow­er­ful lob­bies, that a ​"cou­ple large health­care-relat­ed com­pa­nies that are look­ing at mov­ing their head­quar­ters to Col­orado" had ​"paused" when they learned about the measure.
While post-debate polling is still to come, it's been clear that the unam­bi­tious, con­ser­v­a­tive approach cham­pi­oned by fig­ures like Delaney and Hick­en­loop­er is no longer wel­come among the Demo­c­ra­t­ic grass­roots. Both can­di­dates were booed at the Cal­i­for­nia Demo­c­ra­t­ic Con­ven­tion this year for rebuk­ing sin­gle-pay­er health­care and social­ism. In most polls, both can­di­dates are rank­ing some­where between 0 and 1 per­cent. Hick­en­loop­er, whose cam­paign began hem­or­rhag­ing staff in ear­ly July, recent­ly cel­e­brat­ed tri­umphant­ly when he hit a mere 2 per­cent, in one of this election's most unin­ten­tion­al­ly hilar­i­ous tweets so far: ​"You did this. This cam­paign is gain­ing seri­ous momen­tum and we're just get­ting started."
The Demo­c­ra­t­ic Party's recov­ery from their 30-year trau­ma isn't over yet. After all, Joe Biden, one of the orig­i­nal neolib­er­al Democ­rats who aban­doned the New Deal in the 1980s and is cur­rent­ly run­ning a cam­paign based on attack­ing Medicare for All while being lav­ished with cor­po­rate mon­ey, is still the frontrunner.
But War­ren and Sanders' per­for­mance in Tues­day night's debate, cou­pled with the crowd's rau­cous cheers for their defi­ant retorts to the party's with­er­ing con­ser­v­a­tive wing, hints that the heal­ing process is well underway.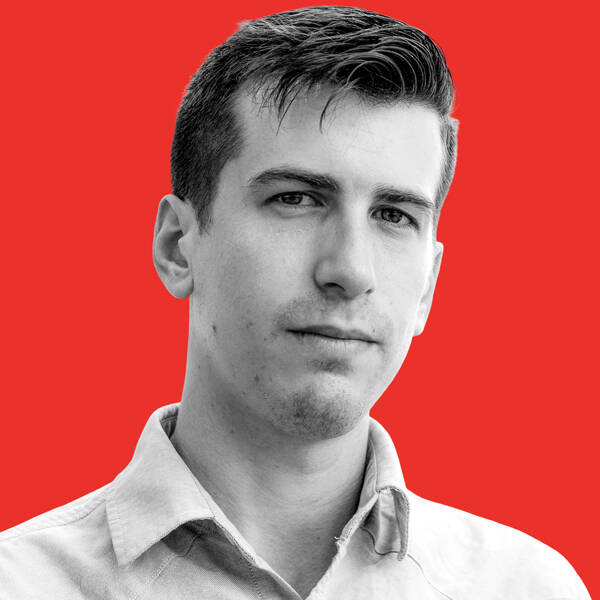 Branko Marcetic
is a staff writer at Jacobin mag­a­zine and a
2019
 – 
2020
Leonard C. Good­man Insti­tute for Inves­tiga­tive Report­ing fel­low. He is work­ing on a forth­com­ing book about Joe Biden.