Individuals Working for Wall Street, Private Equity and Big Pharma Love to Donate to Cory Booker
Booker has sworn off corporate PAC contributions, but his biggest donors work in fields whose interests run counter to progressive priorities.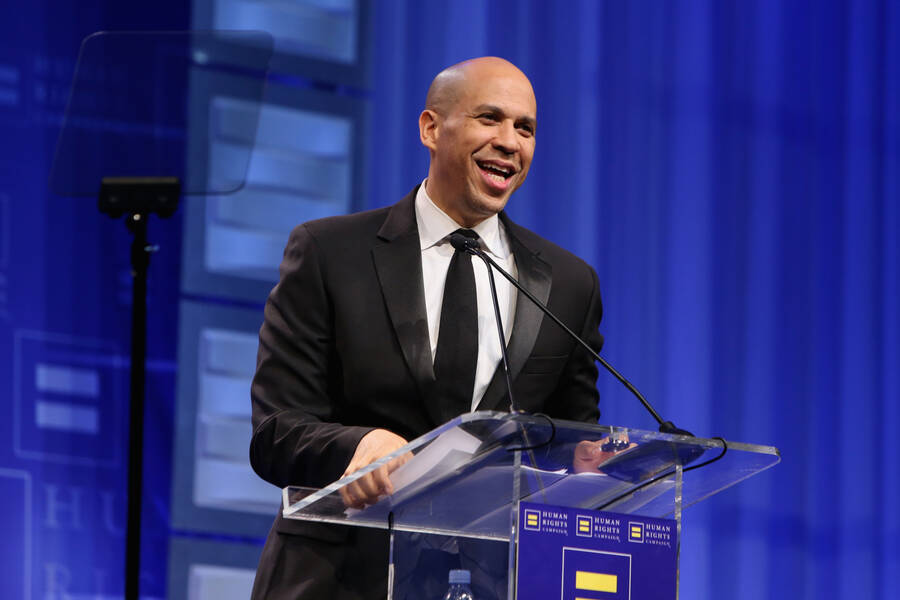 Back in 2012, then Newark, New Jer­sey may­or Cory Book­er went on Meet the Press and defend­ed Mitt Rom­ney from crit­i­cisms over the Repub­li­can pres­i­den­tial candidate's career at Bain Cap­i­tal, urg­ing Pres­i­dent Oba­ma and oth­er Democ­rats to ​"stop attack­ing pri­vate equi­ty" and call­ing such attacks ​"nau­se­at­ing."
Since that infa­mous appear­ance, Book­er has done much to refine his image. Soon after, he took to YouTube to walk back his com­ments shield­ing pri­vate equi­ty. Upon tak­ing office in the Sen­ate, he has vot­ed against Wall Street inter­ests, pledged his sup­port for Bernie Sanders' Medicare For All plan and sworn off cor­po­rate PAC mon­ey. And dur­ing his 2020 pres­i­den­tial run he has styled him­self as an unabashed progressive.
Yet the sources of Booker's cam­paign fund­ing for his sen­a­to­r­i­al cam­paign com­mit­tee dur­ing the most recent cycle sug­gest he still has a long way to go to con­vince skep­ti­cal pro­gres­sive vot­ers that he's real­ly turned over a new, pop­ulist leaf. Even as Book­er was pub­licly repo­si­tion­ing him­self as a stal­wart pro­gres­sive, he con­tin­ued to receive mon­ey from firms and orga­ni­za­tions that lob­by, work for, or are oth­er­wise con­nect­ed to the very indus­tries he would, in the­o­ry, have to chal­lenge as president.
Despite reject­ing cor­po­rate PAC mon­ey in Feb­ru­ary 2018, he still received large amounts of con­tri­bu­tions that year from indi­vid­u­als work­ing in indus­tries and lob­by­ing firms whose inter­ests run counter to many pro­gres­sives' most cher­ished pol­i­cy goals. Among his cur­rent top con­trib­u­tors were indi­vid­u­als from major Wall Street firms such as Gold­man Sachs, Mor­gan Stan­ley, Pru­den­tial Finan­cial and pri­vate equi­ty firm Apol­lo Glob­al Management.
His top source of fund­ing, New York-based cor­po­rate law firm Paul, Weiss, Rifkind, Whar­ton and Gar­ri­son, receives much of its busi­ness from the finan­cial sec­tor, par­tic­u­lar­ly Cit­i­group. The firm Paul, Weiss, Rifkind, Whar­ton and Gar­ri­son has worked with Cit­i­group for more than a decade, includ­ing behind-the-scenes maneu­ver­ing in 2010 to pres­sure the SEC to drop fraud claims against a Cit­i­group exec­u­tive. One of the firm's for­mer part­ners, Mark Pomer­antz, argued in 2014 that the fees the Jus­tice Depart­ment forced finan­cial insti­tu­tions to pay in the wake of the 2008 cri­sis were ​"gross­ly exces­sive" and ​"non­sen­si­cal."
Indi­vid­u­als from sev­er­al top lawyer-lob­by­ing firms have also been among Book­er's biggest back­ers. One is Sul­li­van & Cromwell, which has lob­bied for cor­po­rate enti­ties such as Bar­clays, UBS and the Pri­vate Equi­ty Coun­cil. In 2017 and 2018, Sul­li­van & Cromwell rep­re­sent­ed both Gold­man Sachs
and the Salt Lake City-based Zions Nation­al Bank, lob­by­ing on behalf of the firms in sup­port of Pres­i­dent Trump's suc­cess­ful roll-back of
the Dodd-Frank finan­cial regulations.
Anoth­er top Book­er sup­port­er has been law firm Green­berg Trau­rig, which in 2018 lob­bied on behalf of groups includ­ing Bankers Finan­cial Cor­po­ra­tion, phar­ma­ceu­ti­cal giant Bay­er, the Busi­ness Round­table, Life­point Hos­pi­tals and the Insti­tute for Legal Reform — the lat­ter being the U.S. Cham­ber of Com­merce's ​"tort reform" branch that fights to weak­en the abil­i­ty of ordi­nary peo­ple to seek legal recourse for cor­po­rate malfeasance.
A less rec­og­niz­able name is the polit­i­cal­ly con­nect­ed Gib­bons P.C., ranked for nine straight years by the New Jer­sey Elec­tion Law Enforce­ment Com­mis­sion as the state's top lawyer-lob­by­ing firm. Book­er received $134,375 from the firm dur­ing the 2018 cycle, a com­bi­na­tion of indi­vid­ual and PAC dona­tions, but his con­nec­tion to the firm extends beyond its dona­tions. In 2015, Book­er held a fundrais­er for a local Assem­bly­woman L. Grace Spencer at the fir­m's offices, where his staff have also met with local con­stituent groups before.
Accord­ing to its most recent state fil­ing, Gib­bons lob­bied in 2017 for the Amer­i­can Coun­cil of Life Insur­ers, Visa and phar­ma­ceu­ti­cal com­pa­nies Alk­er­mes and Sanofi-Aven­tis, among oth­ers. In 2016, it also lob­bied for health insur­er Hori­zon Blue Cross Blue Shield of New Jer­sey. In a 2011 op-ed by the right-wing think tank Amer­i­can Enter­prise Insti­tute, one of the fir­m's part­ners railed against an exec­u­tive order issued by for­mer Pres­i­dent Oba­ma that forced those bid­ding for fed­er­al con­tacts to dis­close their last two years of polit­i­cal dona­tions, liken­ing it to Richard Nixon's ene­mies list.
Nor­PAC, Book­er's sec­ond biggest con­trib­u­tor behind Paul, Weiss, Rifkind, Whar­ton and Gar­ri­son, is sim­i­lar­ly lit­tle known. Describ­ing itself as ​"the largest pro-Israel PAC," Nor­PAC also lists among its pri­or­i­ties leg­is­la­tion com­bat­ing the Boy­cott, Divest­ment and Sanc­tions move­ment and impos­ing sanc­tions on Iran. Nor­PAC has also giv­en gen­er­ous­ly to fig­ures such as Sens. Robert Menen­dez (D‑NJ), Ted Cruz (R‑TX) and Joe Manchin (D‑WV). Although Book­er vot­ed for the Iran Deal after much pub­lic ago­niz­ing, he also went against the Oba­ma admin­is­tra­tion's wish­es in 2014 by vot­ing to impose sanc­tions on Iran at a key point in U.S.-Iranian rela­tions, and co-spon­sored 2017 leg­is­la­tion pro­hibit­ing US com­pa­nies from join­ing inter­na­tion­al boy­cotts of Israel.
Despite Book­er's more pop­ulist posi­tion­ing in recent years, this donor pro­file sug­gests that some of the coun­try's most pow­er­ful mon­eyed inter­ests con­tin­ue to view Book­er as an ally, and some­one worth show­er­ing with great sums of cam­paign cash.
Booker's rep­u­ta­tion as a friend of finance is also backed up by the speak­ing fees he has dis­closed over the years. From 2014 to 2017, Book­er received thou­sands of dol­lars from exec­u­tives and rep­re­sen­ta­tives of pri­vate equi­ty, law and invest­ment firms includ­ing Sagewind Cap­i­tal, Win­ston & Strawn, Ener­gy Cap­i­tal Part­ners and Tril­li­um Man­age­ment. One pay­ment came from Ron Piervin­cen­zi, a for­mer part­ner at the con­tro­ver­sial McK­in­sey & Com­pa­ny where he worked for its Glob­al Phar­ma­ceu­ti­cal and Med­ical Prod­ucts Prac­tice, before mov­ing on to Bio­gen, a multi­na­tion­al phar­ma­ceu­ti­cal and biotech com­pa­ny. That mon­ey was paid out to an undis­closed charity.
A seem­ing­ly less trou­bling source of sup­port for Book­er is for­mer class­mate Steve Phillips, a wealthy San Fran­cis­co-based lawyer and Cen­ter for Amer­i­can Progress fel­low. Phillips, who has pledged to raise $10 mil­lion for Book­er, was involved in var­i­ous left-wing caus­es dur­ing his col­lege years, earn­ing him the ire of the Right. He has long crit­i­cized the Demo­c­ra­t­ic Par­ty's shaft­ing of minor­i­ty vot­ers, and finan­cial­ly backed Stacey Abrams and Ben Jeal­ous in their guber­na­to­r­i­al cam­paigns last year. Through the Pow­er­PAC+ that he co-found­ed, Phillips also ​"con­duct­ed the largest inde­pen­dent vot­er mobi­liza­tion effort back­ing Barack Oba­ma, Cory Book­er, and Kamala Har­ris," accord­ing to its web­site. (Pow­er­PAC+ gave $5,000 to Book­er for his 2014 race).
So where does Phillips' Pow­er­PAC+ get its mon­ey? In 2018, near­ly $2 mil­lion of its funds came from Herb San­dler, Phillips' father in law and Demo­c­ra­t­ic donor who also funds the news out­let ProP­ub­li­ca. San­dler also secret­ly paid Clin­ton cam­paign chair­man John Podes­ta $7,000 a month for con­sult­ing work dur­ing the 2016 cam­paign. PowerPAC+'s oth­er major con­trib­u­tor is the Black Eco­nom­ic Alliance PAC, which con­tributed $350,000 and whose founders have pre­vi­ous­ly met with Book­er and Harris.
The Black Eco­nom­ic Alliance is an enti­ty cre­at­ed by a coali­tion of busi­ness exec­u­tives and hosts a board of direc­tors that includes cur­rent and for­mer exec­u­tives and board mem­bers in indus­tries like real estate man­age­ment, weapons man­u­fac­tur­ing, invest­ment bank­ing and telecom­mu­ni­ca­tions. It is co-chaired by Tony Coles, a biotech firm exec­u­tive and for­mer CEO of Onyx Pharmaceuticals.
The Black Eco­nom­ic Alliance's PAC has received dona­tions from rep­re­sen­ta­tives of orga­ni­za­tions like Cit­i­group, Mor­gan Stan­ley and Black­stone, a pri­vate equi­ty firm that has prof­it­ed from the finan­cial cri­sis by buy­ing up fore­closed homes, act­ing as a vir­tu­al slum lord, and evict­ing its ten­ants at sky-high rates. Some of the big names on its advi­so­ry board include for­mer RNC chair­man Michael Steele, for­mer Nation­al Secu­ri­ty Advi­sor Susan Rice, for­mer Gold­man Sachs co-CEO and Clin­ton Trea­sury Sec­re­tary Robert Rubin (per­haps best known for spear­head­ing the Clin­ton admin­is­tra­tion's dereg­u­la­tion of Wall Street), and Steve Schmidt, who ran John McCain's 2008 pres­i­den­tial cam­paign and is cur­rent­ly work­ing on Star­bucks bil­lion­aire Howard Schultz's run.
The Alliance has engaged in such ini­tia­tives as fund­ing screen­ings of Sel­ma at schools around the coun­try and rais­ing mon­ey for a police reform plan in the wake of police shoot­ings. But its pre­scrip­tions for ​"black eco­nom­ic progress," as out­lined by its exec­u­tive direc­tor Akun­na Cook, rely pri­mar­i­ly on poli­cies such as invest­ment in STEM fields, voca­tion­al schools and appren­tice­ships, down-pay­ment assis­tance and sup­port for fair-hous­ing and more gov­ern­ment sup­port for minor­i­ty-owned busi­ness­es. While these may be wor­thy endeav­ors, they fall far short of what many black pro­gres­sive groups, such as the Move­ment for Black Lives, have demand­ed, includ­ing Medicare for All, a fed­er­al jobs pro­gram and expan­sive work­er protections.
How much influ­ence might all these estab­lish­ment inter­ests have on Book­er's cam­paign and poten­tial pres­i­den­cy? We've already seen that, besides
sup­port­ing the Iran Deal, Book­er has stead­fast­ly sided with Israel-backed leg­is­la­tion in Con­gress. At the same time, he's also con­sis­tent­ly vot­ed against Wall Street dereg­u­la­tion in Con­gress. On health­care, his record is mixed: Book­er noto­ri­ous­ly vot­ed against an amend­ment in 2017 urg­ing the fed­er­al gov­ern­ment to allow Amer­i­cans to buy cheap­er pre­scrip­tion drugs from Cana­da, and though he signed on to Sanders' Medicare For All leg­is­la­tion, he has already seem­ing­ly begun to mod­u­late his posi­tion on the stump, con­flat­ing uni­ver­sal health care with a pub­lic insur­ance option.
The fact that Book­er has refused to dereg­u­late Wall Street despite its sup­port for him is encour­ag­ing. But the next Demo­c­ra­t­ic pres­i­dent should have far more ambi­tious goals than just pro­tect­ing exist­ing finan­cial reg­u­la­tions: pass­ing uni­ver­sal health­care, break­ing up monop­o­lies, stark­ly lim­it­ing cor­po­rate influ­ence, and imple­ment­ing a Green New Deal, to name a few. Such poli­cies won't just require rais­ing tax­es on the wealth­i­est to come to fruition, but mak­ing a mas­sive dent in the sky-high prof­its of cor­po­rate America.
The ques­tion is, can a can­di­date whose fund­ing comes from that same cor­po­rate Amer­i­ca real­ly bite the hand that feeds him? We may soon get an answer.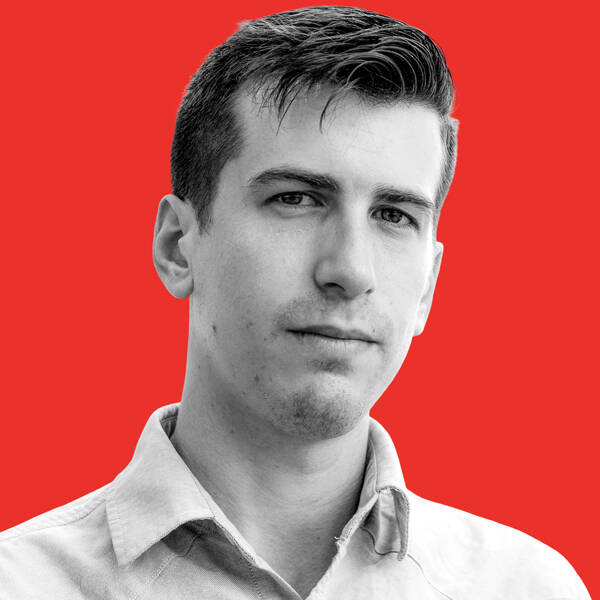 Branko Marcetic
is a staff writer at Jacobin mag­a­zine and a
2019
 – 
2020
Leonard C. Good­man Insti­tute for Inves­tiga­tive Report­ing fel­low. He is work­ing on a forth­com­ing book about Joe Biden.