Counting the Costs
With no end in sight, the price for Iraq continues to skyrocket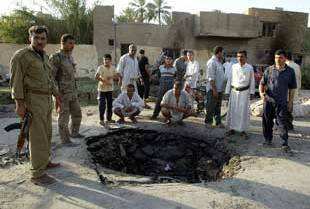 When U.S. pro­con­sul Paul Bre­mer left Bagh­dad with what one of his own assis­tants called ​"his tail between his legs," he left behind a still-occu­pied coun­try and a gov­ern­ment com­plete­ly reliant eco­nom­i­cal­ly, mil­i­tar­i­ly and polit­i­cal­ly on U.S. back­ing. The Amer­i­can tax­pay­ers' tab for this quag­mire is steadi­ly mount­ing, as are the many oth­er human, envi­ron­men­tal and oth­er costs of this war to Iraq, the Unit­ed States and the world.
Bremer's fake han­dover of sov­er­eign­ty real­ly meant a trans­fer of con­trol from Pen­ta­gon author­i­ty to a grow­ing State Depart­ment-CIA col­lab­o­ra­tion to run the coun­try after June 28. There's no end in sight to U.S. occupation.
We are pay­ing far too high a price for fail­ure in Iraq. And 15 months on, too few Amer­i­cans have any real sense of the costs of this war. Many Amer­i­cans and many more peo­ple around the world already know that the Bush administration's cen­tral claims for launch­ing this war were lies. Iraq didn't pos­sess weapons of mass destruc­tion, there were no mobile weapons labs and, despite a few insignif­i­cant con­tacts, Iraq lacked mean­ing­ful ties to al Qae­da. Still, a gen­er­al lack of aware­ness regard­ing the price the world is pay­ing for the war has squelched informed debate.
While most Amer­i­cans are gen­er­al­ly aware that the death toll for U.S. sol­diers already has climbed past 870, most do not know that the num­ber of Iraqi civil­ians killed is more than 10 times that number.
The enor­mous finan­cial bur­den faced by so many U.S. mil­i­tary fam­i­lies gets scant atten­tion, and few U.S. tax­pay­ers real­ize how the bil­lions spent on the war are expand­ing the already huge bud­get deficit.
There are sta­tis­tics that clear­ly doc­u­ment the many costs to the Unit­ed States, Iraq and the world for a war that has failed to make us safer or bring democ­ra­cy to Iraq.
Here are some of the num­bers from a com­pre­hen­sive new study by the Insti­tute for Pol­i­cy Stud­ies and For­eign Pol­i­cy In Focus titled Pay­ing the Price: The Mount­ing Costs of the Iraq War:
U.S. mil­i­tary deaths between the start of war and July

6

,

2004

:

870

. Besides the more than

5

,

000

U.S. troops wound­ed direct­ly in com­bat, an esti­mat­ed

16

,

000

addi­tion­al U.S. sol­diers have been wound­ed or sick­ened in Iraq. We still don't know the num­bers of those who have and will suf­fer psy­cho­log­i­cal wounds that may nev­er heal.
Iraqi civil­ians killed so far:

11

,

430

to

13

,

096

. The Pen­ta­gon refus­es on prin­ci­ple to track the num­bers of Iraqis killed; these fig­ures are the high and low esti­mates of the Iraq Body Count team of British aca­d­e­mics, who mon­i­tor the widest array of inter­na­tion­al media reports to ver­i­fy their figures.
Detainee deaths dur­ing U.S. inter­ro­ga­tion:

34

.
Local U.S. police depart­ments miss­ing offi­cers due to Iraq deploy­ments:

44

percent.
The bill to U.S. tax­pay­ers so far is $126.1 bil­lion, plus $25 bil­lion more autho­rized for the rest of 2004. Econ­o­mist Doug Hen­wood esti­mates that three more years of occu­py­ing Iraq at $50 bil­lion a year will cost every U.S. house­hold an aver­age of $3,415. That fig­ure doesn't include the increase in the fed­er­al bud­get deficit and pay­ments on the debt that will plague the next gen­er­a­tion for decades to come.
If the U.S. hadn't gone to war, here are some of the things we could have paid for with that same $151 bil­lion, accord­ing to the Nation­al Pri­or­i­ties Project:
Health­care for

27

mil­lion unin­sured Amer­i­cans, or

3

mil­lion new teach­ers, or
Class­es for

20

mil­lion Head Start students.
If we do the same sub­sti­tu­tions on an inter­na­tion­al scale, the calami­ty of this war is even more breath­tak­ing. If, instead of going to war in Iraq, the U.S. had spent the same $151 bil­lion on inter­na­tion­al assis­tance, we could have paid for:
Food for half the hun­gry peo­ple in the world for two years, and
A com­pre­hen­sive glob­al AIDS pro­gram, and
Clean water and san­i­ta­tion for those lack­ing it in the entire devel­op­ing world, and
Child­hood immu­niza­tions for every child in the devel­op­ing world.
Such a spend­ing pol­i­cy would like­ly have laid the ground­work for mak­ing the whole world a safer place. Instead, the Unit­ed States, and the rest of the world, have become less, not more, secure. Once the State Department's ​"mis­take" in cal­cu­lat­ing last year's Pat­terns of Glob­al Ter­ror­ism report was out­ed, Sec­re­tary of State Col­in Pow­ell final­ly admit­ted that there were more ​"sig­nif­i­cant" inci­dents of inter­na­tion­al ter­ror­ism in 2003 than any oth­er time in the his­to­ry of these records.
Around the globe, anti-Amer­i­can sen­ti­ment has sky­rock­et­ed. Desta­bi­liza­tion result­ing from the inva­sion cre­at­ed a ter­ror­ist haven in Iraq that didn't pre­vi­ous­ly exist. Accord­ing to the influ­en­tial Inter­na­tion­al Insti­tute of Strate­gic Stud­ies in Lon­don, the pri­ma­ry impact of the Iraq war on al Qae­da has been ​"accel­er­at­ed recruitment."
The U.S. mil­i­tary is so over­stretched that there is talk of reviv­ing the draft. Reserve troops and Nation­al Guard are being called up in enor­mous num­bers (364,000 are now deployed around the globe, includ­ing about one-third of the Iraq occu­pa­tion force) and spend­ing long tours in Iraq that often last 20 months at a time. The U.S. Army plans to recall to active duty as many as 5,600 vet­er­ans who are not even mem­bers of the Reserve to help fill gaps in Iraq and Afghanistan, accord­ing to news reports.
The war has left Amer­i­cans less secure at home, too. Accord­ing to a recent sur­vey by the U.S. Con­fer­ence of May­ors, few­er than one quar­ter of sur­veyed cities have received any of the promised Home­land Secu­ri­ty funds designed to assist state and local ​"first respon­ders" — police, fire­fight­ers and emer­gency med­ical per­son­nel, many of whom also are among the reservists now post­ed to Iraq. Mil­i­tary fam­i­lies at home face hard­ships asso­ci­at­ed with the loss of a bread­win­ner, includ­ing bank­rupt­cy, hunger, unem­ploy­ment and poor hous­ing con­di­tions. Not sur­pris­ing­ly, a U.S. Army poll showed more than half of U.S. sol­diers in Iraq had low morale. And a report­ed 50 per­cent said they would not reenlist.
We should lis­ten to the peo­ple of Iraq, in whose name the Bush admin­is­tra­tion launched this war. In May 2004 polls con­duct­ed by U.S. occu­pa­tion author­i­ties, 55 per­cent of Iraqis say they would feel safer if all U.S. occu­pa­tion troops left their country.
Phyl­lis Ben­nis is a fel­low of the Insti­tute for Pol­i­cy Stud­ies. Her books include Under­stand­ing ISIS and the New Glob­al War on Ter­ror: A Primer (Inter­link,
2015
).