If coun­try music is real­ly music from ​"the country"―as in rur­al spaces any­where between Port­land, Ore­gon and Port­land, Maine―why does near­ly every coun­try per­former, liv­ing or dead, sing with a south­ern accent, regard­less of where they came from?
Since we're hav­ing a ​"yee­haw moment" as a nation, thanks to the new Ken Burns doc­u­men­tary ​"Coun­try Music," let's dig into this question―because the answer might change how we think about coun­try music, where it comes from, and who, so to speak, owns it.
The south­ern accent itself has, puz­zling­ly, tak­en on a sec­ond life as the voice of uni­ver­sal rural­i­ty. Why? Rural­i­ty clung on longer in the South than oth­er places because of poverty―a pover­ty that was the result of the evils of slav­ery, the destruc­tion of total war, and an ensu­ing era of bru­tal white suprema­cy and eco­nom­ic strife. The des­ti­tu­tion of the for­mer Con­fed­er­a­cy served to pre­serve the use of instru­ments and melodies that were com­mon in every cor­ner of this coun­try, until the tide of indus­tri­al­iza­tion swept over these old­er music forms almost every­where else, inad­ver­tent­ly iso­lat­ing and enshrin­ing the haunt­ing songs of yes­ter­year in old Dixie.
The for­got­ten cor­ners of the south­east har­bored peo­ple singing and play­ing songs from dis­tant cen­turies and even more dis­tant con­ti­nents. The seem­ing­ly incon­gru­ent tra­di­tions of Gael­ic Europe, Native Amer­i­ca, West Africa, Hawaii, Latin Amer­i­ca and French Cana­da col­lid­ed to cre­ate a kalei­do­scope of ver­nac­u­lar music forms that coa­lesced into what we know today as blues, jazz, rag­time, Cajun, zyde­co, blue­grass and, yes, coun­try. By the time this music reached the ears of the rest of Amer­i­ca in the ear­ly 20th cen­tu­ry, crack­ling from prim­i­tive phono­graph records and fledg­ling radio sta­tions, these acci­den­tal­ly pre­served rem­nants of speech pat­terns and musi­cal tra­di­tions seemed archa­ic and novel.
This is an over­sim­pli­fi­ca­tion of a com­pli­cat­ed exchange but it lays out at least the bones of the sto­ry. The far-flung south­ern diaspora―refugees from Jim Crow along with the occa­sion­al waves of dis­placed peo­ple dri­ven out­ward by crop fail­ures and dust bowls―carried with them a nos­tal­gic desire for the music of the region they had escaped. As detailed in the Ken Burns film, record com­pa­nies and radio sta­tions broad­ened their audi­ence by pur­pose­ful­ly rebrand­ing the ver­nac­u­lar musi­cal tra­di­tions of the south­east as the sound­track to every rur­al space of this coun­try. The com­mod­i­fi­ca­tion of this cul­tur­al nos­tal­gia for a rur­al way of life is plain as day in the very phrase ​"Coun­try Music." What were once called ​"hill­bil­ly" records were re-mar­ket­ed as ​"Coun­try and West­ern." (Though the rebrand­ing wasn't seamless―Hank Williams, the patron saint of ​"coun­try music" insist­ed that he was a ​"folk singer.") In pop­u­lar cul­ture, the south­ern accent―the accent of a region that his­tor­i­cal­ly per­pet­u­at­ed racial vio­lence and oppression―became under­stood as the uni­ver­sal accent of rural­i­ty. Rather than acknowl­edge the diverse and com­pli­cat­ed ori­gin of these unique­ly Amer­i­can musi­cal forms, the audi­ence was guid­ed toward the illu­sion of a shared nation­al iden­ti­ty in rur­al white­ness. The con­se­quences of this white­wash­ing can still be heard and felt in the radio coun­try of today.
Con­sid­er this: The ori­gins and for­ma­tive musi­cians of what we now call the blues are entire­ly as rur­al and South­ern as any­thing that's ever come out of Nashville, yet because of the lega­cy of the ​"race records" of the 1920's and 1930's, ear­ly black per­form­ers and what became ​"coun­try music" were segregated―presented and mar­ket­ed as entire­ly sep­a­rate and whol­ly incom­pat­i­ble par­al­lel gen­res rather than over­lap­ping and com­pli­cat­ed tra­di­tions that bor­rowed heav­i­ly from one anoth­er. The com­fort with which white record­ing inter­ests have his­tor­i­cal­ly stolen cre­ative prop­er­ty from black Amer­i­ca is well doc­u­ment­ed. Elvis's unac­knowl­edged pla­gia­rism of ​"Hound Dog" from Big Mama Thor­ton is mir­rored by the radio coun­try of today, which increas­ing­ly resem­bles con­tem­po­rary hip-hop and pop-music in both style and pro­duc­tion, pre­sum­ably as an effort to gar­ner rel­e­vance in an Amer­i­ca that is increas­ing­ly less white. The cher­ished steel gui­tar audi­ble in every hit coun­try song is the descen­dant of a Hawai­in instru­ment. The gui­tar itself is a rel­a­tive new­com­er, enter­ing the sto­ry of Amer­i­can music by way of cities and the Latin South­west. What­ev­er way you cut it, white Amer­i­ca did not cre­ate coun­try music―and yet that's exact­ly what we're led to believe.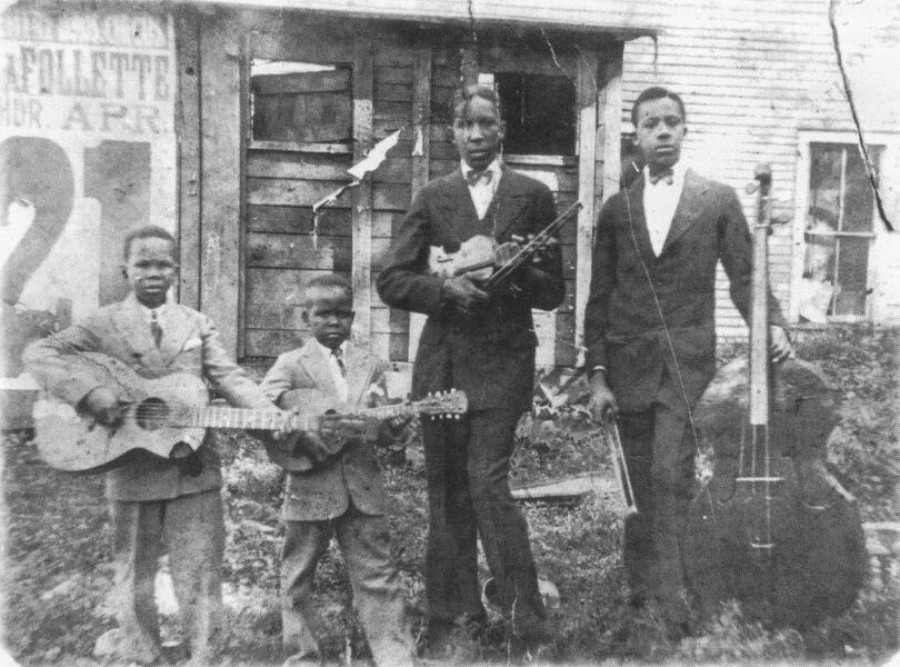 Fid­dler Howard Arm­strong, sec­ond from right, was one of many black string band musi­cians and coun­try-music fore­bears who played for both black and white audi­ences in the 1920s and 1930s. Record com­pa­nies, how­ev­er, chose to seg­re­gate ​"black music" (the blues) from ​"white music" (coun­try).
This reflects a larg­er prob­lem: The sto­ry we tell of ​"Rur­al Amer­i­ca" in this coun­try is a large­ly white sto­ry, and the rebrand­ing and pro­lif­er­a­tion of coun­try music to fit a uni­ver­sal rur­al audi­ence inevitably white­washed its diverse his­to­ry and ignored the fact that much of the rur­al south is any­thing but white. Take, for exam­ple, the life-sto­ry of the most Amer­i­can of instru­ments. What we call a ban­jo today is an amal­ga­ma­tion of West African gourd instru­ments that made their way here in the hands of forcibly enslaved peo­ple brought to the U.S. in its colo­nial infan­cy. Once an instru­ment of the most oppressed rung of Amer­i­can soci­ety, the ban­jo gained nation­al expo­sure when racial­ly demean­ing black-face min­strel shows toured the coun­try, singing and play­ing music from the south­ern can­non by way of par­o­dy, inad­ver­tent­ly cre­at­ing a nation­al craze for the instru­ment. Decades after this fad had waned, the major­i­ty of ban­jo play­ers that were doc­u­ment­ed by the folk­lorists of the 1930's and on were white play­ers in the upland South, where rugged iso­la­tion and pover­ty had pre­served aspects of ver­nac­u­lar ban­jo tra­di­tions root­ed in their dis­tant African ori­gin. This selec­tive doc­u­men­ta­tion cre­at­ed the last­ing and base­less con­no­ta­tion of the ban­jo with rur­al white­ness, ignor­ing the nuance and real­i­ty of the actu­al meet­ing between Euro­pean melod­ic struc­tures and the rhythms and mechan­ics of West African music.
As a result of this white­wash­ing, our cul­ture has large­ly sur­ren­dered coun­try music to the domain of white con­ser­vatism. This asso­ci­a­tion cre­ates an under­stand­able view of coun­try music fans as right wing mil­i­tants, blind patri­ots and adamant racists or, more gen­er­al­ly, cel­e­bra­tors of nos­tal­gia and rigid whiteness―in short, an image that gar­ners sus­pi­cion and mis­trust from coastal con­tem­po­raries and right­ful­ly wary minorities.
The band Flori­da Geor­gia Line per­forms dur­ing the 2017 Coun­try Music Awards Music Fes­ti­val in Nashville, Ten­nessee in June, 2017. (Pho­to by Richard Gabriel Ford/​Getty Images)
What we think of as ​"tra­di­tion­al coun­try" did not orig­i­nate with white con­ser­v­a­tive men — far from it. And yet, as a con­se­quence of mar­ket­ing, that is the dom­i­nant per­cep­tion peo­ple have of the genre: That it's not made for every­one and that it stands not for com­bat­ing dis­en­fran­chise­ment but for pre­serv­ing it.
The accent of the for­mer con­fed­er­a­cy, as spo­ken both by black and white south­ern­ers, is born in part of past vio­lence and iso­la­tion, and so it is prob­lem­at­ic when those from out­side the region try to adopt it, no mat­ter how benign or per­for­ma­tive the inten­tion. Fak­ing what we refer to as ​"the south­ern dialect" isn't just a form of pover­ty drag; the racial and class impli­ca­tions are over­looked by most peo­ple involved in the genre today, regard­less of polit­i­cal lean­ing. Long per­pet­u­at­ed clas­sist stereo­types about the region are root­ed in a real­i­ty cre­at­ed by fan­tas­ti­cal­ly trag­ic cir­cum­stances, dark his­to­ries that were ever present to those who grew up con­fronting every day both the mod­ern rur­al south and the tense real­i­ty of its sin­ful past.
The basic impres­sion I want to leave is this: Amer­i­can tra­di­tion­al music doesn't belong to any­one exclu­sive­ly and nev­er will, least of all white male south­ern­ers like myself.
That being said, this music and its region of ori­gin deserve more than stale nos­tal­gia and con­de­scen­sion from acad­e­mia. It needs to be weaponized against the dis­en­fran­chise­ment it was born from and wield­ed con­scious­ly by peo­ple who care about his­to­ry over mock­ery. I see it hap­pen­ing by the hands of my con­tem­po­raries every day. There's a pletho­ra of young per­form­ers reimag­ing old­er music forms to fit a chang­ing world, and among these, a wave of con­tem­po­rary black per­form­ers that have cho­sen to reclaim the ban­jo and fid­dle from the clutch­es of revi­sion­ist his­to­ry and make the instru­ments' use more than nov­el and aca­d­e­m­ic, but a part of the nation­al con­ver­sa­tion about coun­try music. The def­i­n­i­tion of ​"Amer­i­can tra­di­tion­al music" is grow­ing to include the voic­es of more than white Appalachiaphiles and to more accu­rate­ly intro­duce Native and immi­grant his­to­ries into the con­scious­ness of tra­di­tion­al­ist cir­cles. In New Orleans, I'm priv­i­leged enough to two-step and yodel in the most vibrant and least white coun­try-music scene in the Unit­ed States, and it makes me proud to love this genre, despite the dark­ness. There's a ton of work left to do to make this unique music form more acces­si­ble and more wel­com­ing to peo­ple out­side of the white rur­al expe­ri­ence, but we've come a long way.
I've cho­sen to own and car­ry on this tra­di­tion in my own music out of oblig­a­tion to its ele­va­tion, not alle­giance to a false mythol­o­gy. But I don't expect this lev­el of aware­ness from any­one who ever want­ed to sing a sad coun­try song.
That's my own absurd effort to rec­on­cile. You're wel­come to write songs about trac­tors, just don't buy the bull­shit: It's the echoes that are worth keep­ing, not the rocks they bounce off of.