As the Pandemic Shakes Commodity Markets, Battered Ecosystems Get an Eerie Reprieve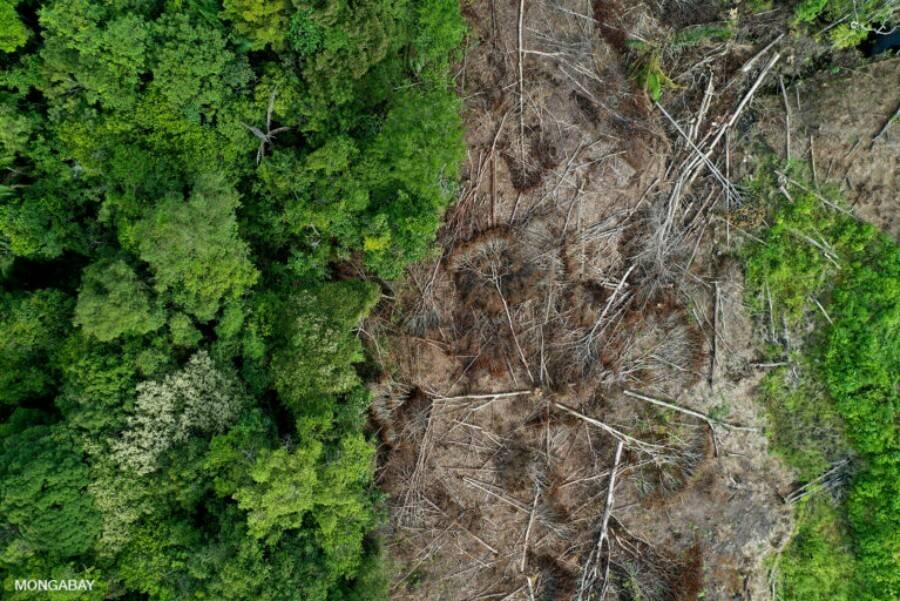 Edi­tor's Note: This arti­cle was orig­i­nal­ly pub­lished by Mongabay News and is repub­lished here under a Cre­ative Com­mons license.
The images are stark. Smog­less skies over Los Ange­les. A drop in air pol­lu­tion over north­ern Italy that's so sharp it can be seen from space. Emis­sions from vehi­cles in New York City are down near­ly 50%. For a bat­tered plan­et, the inter­na­tion­al coro­n­avirus pan­dem­ic has so far been — at least tem­porar­i­ly — an eerie reprieve.
Across the world, coun­tries are vir­tu­al­ly shut­ting down in hopes that severe restric­tions on move­ment and com­mer­cial activ­i­ty inside their bor­ders will slow the spread of the dis­ease. The eco­nom­ic impact of these mea­sures has already led some econ­o­mists to pre­dict a cri­sis to fol­low that could rival the 2008 reces­sion — or worse.
Com­mod­i­ty mar­kets are already start­ing to feel the squeeze, as pro­duc­ers antic­i­pate an eco­nom­ic down­turn that could last for months or longer. And econ­o­mists say it may only be the beginning.
"It is obvi­ous­ly a lit­tle ear­ly to tell," Sven Wun­der, prin­ci­pal sci­en­tist at the Euro­pean For­est Insti­tute, said in an email to Mongabay. ​"Just one month ago, we were still at all-time US stock mar­kets highs. But we could well see a game-chang­ing 1929 type of water­shed moment for the world economy."
Eco­nom­ic crises have his­tor­i­cal­ly had a major impact on the envi­ron­ment. Reduced demand for com­modi­ties like tim­ber, veg­etable oil, and beef can alle­vi­ate pres­sure on forests, and extrac­tive indus­tries are less like­ly to invest in explo­ration or new projects dur­ing a reces­sion. The pre­cip­i­tous decline in oil prices this year, for exam­ple, has already cut explo­ration bud­gets in Brazil by 20%.
So far, the effects of the coro­n­avirus pan­dem­ic on com­mod­i­ty mar­kets have been mixed. The price of tim­ber dropped by near­ly half in March on expec­ta­tions of a slow­down in con­struc­tion, and palm oil is down by near­ly 15% since the begin­ning of 2020, part­ly due to a dra­mat­ic decline in oil prices that has reduced demand for bio­fu­els. On April 2, the U.N. Food and Agri­cul­ture Orga­ni­za­tion said that food prices have dropped over­all, includ­ing a 12% decline in the veg­etable oil price index.
"Even­tu­al­ly, [there will be] less com­mod­i­ty-led agri­cul­tur­al defor­esta­tion and tim­ber-led for­est degra­da­tion, as aggre­gate demand in export mar­kets is reduced," Wun­der said.
But the price of beef, anoth­er key dri­ver of defor­esta­tion, has increased slight­ly since the start of the year, and so far agri­cul­tur­al com­modi­ties have only seen slight declines.
This phoro shows Ama­zon rain­for­est and cat­tle pas­ture. Defor­esta­tion and land use change extend­ing south from the Amazon's south­ern lim­its influ­ences local and dis­tant cli­mate, a recent study shows. Pho­to by Rhett A. But­ler / Mongabay
"We still aren't see­ing changes in agri­cul­tur­al com­mod­i­ty prices sig­nif­i­cant enough to affect glob­al defor­esta­tion," said David Kaimowitz, senior advis­er at the Cli­mate and Land Use Alliance.
The price of gold rebound­ed after a sharp drop mid­way through March, and is up slight­ly since the start of the year. High gold prices can increase incen­tives for destruc­tive min­ing in the Ama­zon and oth­er frag­ile ecosys­tems, but Wun­der says if the eco­nom­ic cri­sis deep­ens he expects them to fall.
"In the 2008 cri­sis, gold ini­tial­ly went high, then it went down quite strong­ly because peo­ple were look­ing for liq­uid­i­ty," he said.
The impact of an eco­nom­ic down­turn on forests could also be deter­mined by what hap­pens in cur­ren­cy exchange mar­kets. If trop­i­cal coun­tries see their nation­al cur­ren­cies crater rel­a­tive to the dol­lar, com­mod­i­ty prices list­ed in those cur­ren­cies could rise, cre­at­ing incen­tives for increased production.
What hap­pens to the envi­ron­ment in the wake of the pan­dem­ic will large­ly depend on the scale of the eco­nom­ic dam­age it caus­es. So far, food pro­duc­tion has large­ly been unin­ter­rupt­ed, but if sup­ply chains are dis­rupt­ed by out­breaks in coun­tries like Chi­na, there could be knock-on effects in export mar­kets for beef and oth­er products.
This pho­to shows the effects of gold min­ing in Indone­sian Bor­neo. Pho­to by Rhett A. Butler
World lead­ers say they hope that stim­u­lus pack­ages will be able to stave off the worst effects of the cri­sis, but Wun­der says they should brace for a poten­tial­ly dev­as­tat­ing peri­od that could fun­da­men­tal­ly reorder the glob­al economy.
"This eco­nom­ic fall­out may become much more dra­mat­ic than the 2008 finan­cial cri­sis, and the return to any kind of nor­mal­i­ty much more dis­tant than we as envi­ron­men­tal­ists and respon­si­ble nat­ur­al resource man­agers would bar­gain for," he wrote in a blog post on March 25.
Such a col­lapse would be wreak hav­oc on soci­eties across the world, with mil­lions like­ly to slip into pover­ty. But it would also reduce pres­sure on forests as tim­ber har­vest­ing and oth­er extrac­tive activ­i­ties slow down.
Wun­der says that could be an oppor­tu­ni­ty for the world to re-eval­u­ate the scale of destruc­tion that those activ­i­ties have caused in recent decades.
"I think that a cri­sis is always a chance for struc­tur­al change," he said.