'Cowboy Indian Alliance' Takes a Stand Against Keystone XL
Ranchers, tribal communities, allies and activists camp out in Washington to protect their land.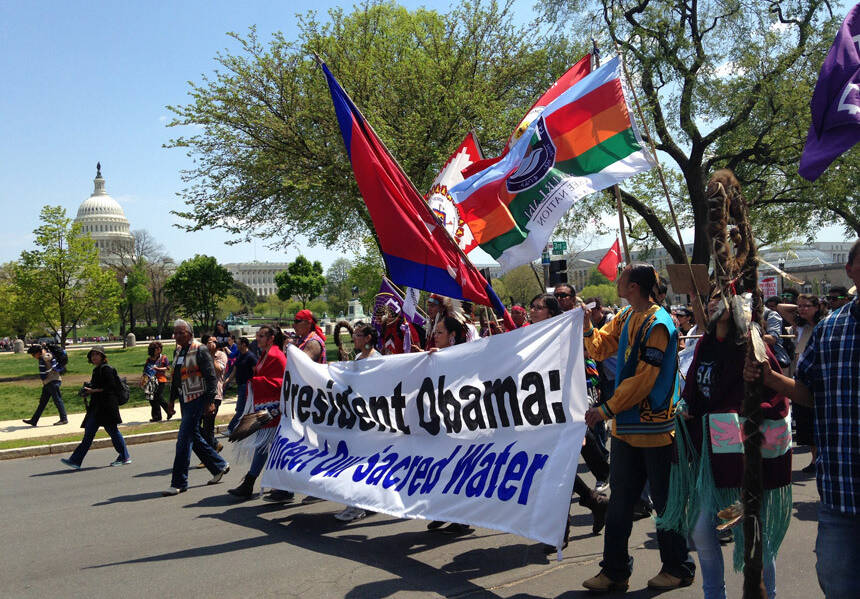 Cliv­en Bundy wasn't the only ranch­er to air his griev­ances against the fed­er­al gov­ern­ment last week.
'Water is the giver of life for everything. You, me, for every person on this planet. It's all about water. And where they're trying to put that pipeline is right above one of the largest freshwater sources in the country. So we've got to win it.'
In Wash­ing­ton, D.C., a more inclu­sive, envi­ron­men­tal­ly con­scious and polit­i­cal­ly pro­gres­sive pack of ranch­ers and farm­ers joined up with trib­al com­mu­ni­ties and activist allies to protest the Key­stone XL pipeline. This dis­parate coali­tion set up an encamp­ment on the Nation­al Mall.
Cit­i­zens liv­ing along the route of the pro­posed pipeline formed the ​"Cow­boy Indi­an Alliance" to both strength­en their own ties and to build sol­i­dar­i­ty nation­wide. Dubbed ​"Reject & Pro­tect," the protest cul­mi­nat­ed in a sev­er­al-thou­sand-per­son march on Sat­ur­day, April 26, after­noon and inter­faith prayer cer­e­mo­ny on the fol­low­ing Sunday.
​"Today, boots and moc­casins showed Pres­i­dent Oba­ma an unlike­ly alliance has his back to reject Key­stone XL to pro­tect our land and water," said Jane Kleeb, founder of Bold Nebras­ka, which helped orga­nize the event. Kleeb's group has played a major role in gal­va­niz­ing Nebraskan oppo­si­tion to the pipeline, and it has backed sev­er­al anti-KXL activists in state and local races this fall.
Activists start­ed build­ing their tip­is on the Mall days after the Oba­ma admin­is­tra­tion announced it was — once again — delay­ing its final deci­sion on whether or not approve the pipeline. This time, State Depart­ment offi­cials say they're indef­i­nite­ly extend­ing their final review process until Nebras­ka courts can resolve a dis­pute over a con­tro­ver­sial emi­nent domain law that paved the way for the cur­rent pro­posed route. In Feb­ru­ary, a coun­ty dis­trict judge found that 2012 law to be uncon­sti­tu­tion­al, and the Nebras­ka Supreme Court is now con­sid­er­ing an appeal from the state attor­ney general.
The White House's cold feet did lit­tle to detract from the ener­gy and sense of urgency shared by protesters.
​"Every time Tran­sCana­da gets delayed, it gives us more time to speak up and tell the truth," Meghan Ham­mond, a sixth-gen­er­a­tion Nebras­ka ranch­er, told the crowd on Saturday.
​"Key­stone XL is a death war­rant for our peo­ple," said Oglala Sioux Trib­al Pres­i­dent Bryan Brew­er, who led the pre­sen­ta­tion of a hand-paint­ed tipi to the Nation­al Muse­um of the Amer­i­can Indi­an — the main stop along the march route, which cir­cled around the east­ern edge of the Mall. ​"Pres­i­dent Oba­ma must reject this pipeline and pro­tect our sacred land and water. The Unit­ed States needs to respect our treaty rights and say no to Key­stone XL."
Saturday's actions fea­tured a cross-sec­tion of the bur­geon­ing cli­mate jus­tice move­ment that has unit­ed around oppo­si­tion to TransCanada's Key­stone XL.
​"We're here in sol­i­dar­i­ty with our Sioux rel­a­tives, fight­ing this KXL pipeline, because what hap­pens to them is going to hap­pen to us ulti­mate­ly," says Coreen Roy, an activist with the Min­neapo­lis-based Hon­or the Earth.
Enbridge's pro­posed Sand­piper Project would car­ry oil from Tio­ga, North Dako­ta, across Roy's native White Earth Indi­an Reser­va­tion in Min­neso­ta en route to a ter­mi­nal in Supe­ri­or, Wis­con­sin. Oth­er pipelines would then ship the oil to east­ern Cana­da and the Unit­ed States.
Irv­ing Stand­ing Sol­dier drove to Wash­ing­ton from Colum­bus, Ohio with his girl­friend and two sons. Born and raised on the Pine Ridge Indi­an Reser­va­tion in South Dako­ta, Sol­dier says he came out to ​"sup­port my peo­ple" — the Lakota.
​"No sleep, long dri­ve, cause it's worth it," he says. ​"We have to win this. Failure's not an option. … It's about water. Water is the giv­er of life for every­thing. You, me, for every per­son on this plan­et. It's all about water. And where they're try­ing to put that pipeline is right above one of the largest fresh­wa­ter sources in the coun­try. So we've got to win it. "
​"There's still a lot of racism out there," Sol­dier says. ​"In the bor­der towns [of Nebras­ka and South Dako­ta], there's a lot of racial ten­sion, but this brings us togeth­er. And we agree on one thing. What I liked is the non-Indi­ans said, ​'You guys, now we know what you're talk­ing about. We've got to pro­tect our water.' I love that, oh my god."
Franklin & Mar­shall Col­lege senior Spencer John­son came from Lan­cast­er, Pa., where he helped found his school's fos­sil fuel divest­ment chap­ter. In recent years, hun­dreds of such groups have sprung up on cam­pus­es across the coun­try, demand­ing that their col­leges and uni­ver­si­ties divest from hold­ings in the fos­sil fuel industry.
​"We're all part of this ecosys­tem," John­son says. ​"There's that idea that there is no away — noth­ing ever goes away, it's all just some­where else, some­one else is deal­ing with it. That's the prob­lem we're going to see here. Because D.C.'s going to stay rel­a­tive­ly spot­less, but over in Nebras­ka and along the Key­stone XL route, there's going to be dec­i­ma­tion of sacred land … That's why I'm out here. I'm here because these peo­ple are the ones worth fight­ing for. We want to help them fight their fight. I think it's impor­tant to show respect and not over­step your bound­aries. Meet peo­ple where they're at, just come out togeth­er and hold hands and make change."
By near­ly all accounts, pro­test­ers respect­ed those boundaries.
At one point dur­ing Saturday's ral­ly, speak­er Wiz­ipan Gar­riott asked any pro­test­ers wear­ing face paint to wash it off their faces. Face paint, Gar­riott not­ed, is reserved for bat­tle — not peace­ful protests — and needs to be earned before being worn. Accord­ing to this reporter's unof­fi­cial analy­sis, near­ly all of the cul­prits heed­ed Garriott's call.
Repub­li­cans and pro-KXL Democ­rats have long com­plained about the Oba­ma administration's delay tac­tics. Demo­c­rat Mary Lan­drieu, the new chair of the Sen­ate Ener­gy Com­mit­tee who's up for re-elec­tion in oil-and-gas-rich Louisiana, called the deci­sion ​"irre­spon­si­ble, unnec­es­sary and unac­cept­able," and vowed to use her pow­er as com­mit­tee chair to push through approval. Oth­ers, like Tran­sCana­da, accuse the White House of pan­der­ing to environmentalists.
If that's the case, America's cli­mate rad­i­cals do not feel the love.
​"It's a delay tac­tic," says Spencer John­son, when I ask what he thinks about the State Department's lat­est exten­sion of the review process. ​"It shows our gov­ern­ment is inac­tive on cli­mate change."
He points to last year's report from the Inter­na­tion­al Ener­gy Agency (IEA), which warned that cur­rent fos­sil fuel con­sump­tion trends will lead to run­away cli­mate change — in oth­er words, a long-term aver­age tem­per­a­ture increase in the range of 3.6 and 5.3 degrees Cel­sius above pre-indus­tri­al lev­els, well above the 2 degree lim­it that cli­mate sci­en­tists and pol­i­cy experts have agreed on. The IEA report called for a trans­for­ma­tion in ener­gy generation.
​"They always say now is the time," John­son says. ​"But now is real­ly the time. It's time to crack down. It's time to esca­late, it's time to get arrest­ed, it's time to fight, stand up for what you believe in."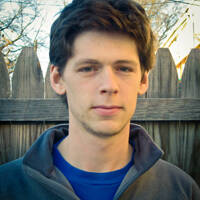 Cole Stan­gler
writes about labor and the envi­ron­ment. His report­ing has also appeared in The Nation, VICE, The New Repub­lic and Inter­na­tion­al Busi­ness Times. He lives in Paris, France. He can be reached at cole[at]inthesetimes.com. Fol­low him
@colestangler
.