We Can Fight Climate Change and Still Eat Beef
How grass-fed cattle can sequester carbon and rebuild soil.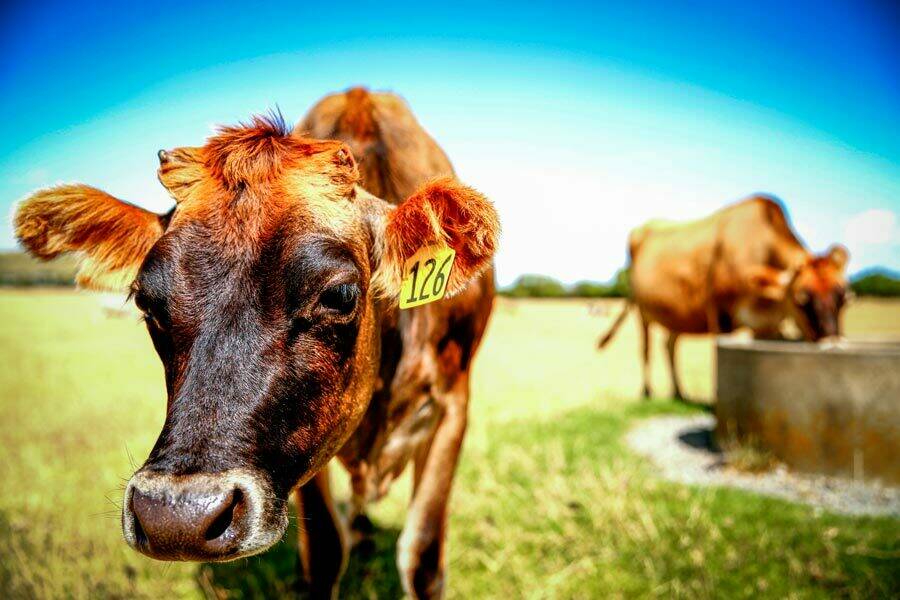 For oth­er per­spec­tives, read ​"Cli­mate Friend­ly Beef is a Myth. Don't Buy It." and ​"Any­thing Cows Can Do, Elk Can Do Better."
By focusing only on greenhouse gas emissions, we ignore all other ecosystem services that arise from these practices—for example, increasing soil health and resistance to droughts and floods.
Meat has received a renewed wave of scruti­ny from envi­ron­men­tal­ists since the Octo­ber UN cli­mate change report. Beef is paint­ed espe­cial­ly poor­ly in this nar­ra­tive, with claims that cat­tle dis­rupt the cli­mate, destroy ecosys­tems, dri­ve defor­esta­tion and make us unhealthy all at once.
Cam­paigns such as ​"Meat­less Mon­day" and ​"Eat Less Meat" advo­cate for indi­vid­ual con­sump­tion changes to reduce agriculture's impact. But that solu­tion is too sim­plis­tic: Not all ani­mal agri­cul­ture is made the same. Green­house gas emis­sions from beef vary by geo­graph­ic region, pro­duc­tion sys­tem and even man­age­ment prac­tices with­in these sys­tems. While some prac­tices are harm­ful, oth­ers can be good for the envi­ron­ment, pro­vide impor­tant nutri­ents and even sequester car­bon in soil, help­ing fight cli­mate change. ​"How" these ani­mals are pro­duced is at least as impor­tant as ​"how much."
Cat­tle pro­duc­tion in the Unit­ed States hap­pens pri­mar­i­ly in two ways: on grass or on grain. All cat­tle start out graz­ing on pas­ture or range­land; ​"grass-fed" keep graz­ing until sent to slaugh­ter, but most U.S. beef cat­tle spend the end of their lives in feed­lots, where they are fed grain to spur rapid weight gain. As you can imag­ine, the two sys­tems' envi­ron­men­tal impacts can be very different.
Beef from grain-fed cat­tle is well known to be detri­men­tal. Feed­lots are some of the worst water pol­luters (includ­ing con­t­a­m­i­nat­ing water from manure lagoons), and con­tribute to antibi­ot­ic resis­tance and poor air qual­i­ty.
Feed­lots — rough­ly tied with ethanol—com­mand more U.S.-grown grain than any oth­er use, exac­er­bat­ing the neg­a­tive impacts of indus­tri­al, com­mod­i­ty crop pro­duc­tion, includ­ing intense soil ero­sion, high green­house gas emis­sions and nitro­gen leach­ing. In many ways, the prob­lem is the corn, not the cow.
By con­trast, a grow­ing body of research shows that grass­fed beef from sus­tain­able graz­ing sys­tems can sequester sub­stan­tial soil car­bon (off­set­ting some or most of the emis­sions), main­tain wildlife habi­tats, improve water fil­tra­tion and pro­duce healthy food from oth­er­wise unus­able land — most graz­ing land can't be used for oth­er crops. Because so much land is used to grow grain for cat­tle, mov­ing toward grass­based sys­tems could free up one-quar­ter of all arable land on Earth for pro­duc­ing crops direct­ly for human con­sump­tion, for rewil­d­ing, or for oth­er pur­pos­es. And grass-fed beef can be a crit­i­cal com­po­nent of healthy diets: One study from Vir­ginia Tech and USDA sci­en­tists even sug­gests that, with­out ani­mals, our food sup­ply would be ​"inca­pable of sup­port­ing the U.S. population's nutri­tion­al requirements."
But if grass-fed sys­tems offer so many ben­e­fits, why do some stud­ies say oth­er­wise? Part­ly, it's because we haven't been study­ing beef pro­duc­tion holis­ti­cal­ly. By focus­ing only on green­house gas emis­sions, we ignore all oth­er ecosys­tem ser­vices that arise from these prac­tices — for exam­ple, increas­ing soil health and resis­tance to droughts and floods. Many stud­ies only look at sys­tems where cat­tle con­tin­u­ous­ly graze the same land, which can lead to over­graz­ing, soil ero­sion and high methane emissions.
By con­trast, well-man­aged rota­tion­al graz­ing sys­tems are designed to mim­ic the nat­ur­al migra­to­ry pat­terns of rumi­nants that evolved along with grass and range­land ecosys­tems. The ani­mals are grazed intense­ly and moved quick­ly, which pre­vents over­graz­ing, increas­es pro­duc­tion, low­ers emis­sions, sequesters more car­bon and is done with­out any of the pes­ti­cides, fer­til­iz­ers or tillage used in con­ven­tion­al crop production.
The his­tor­i­cal con­ver­sion of grass and range­land ecosys­tems for crop­ping, and dis­place­ment of native graz­ing ani­mals on these lands, has destroyed top­soil and released huge amounts of car­bon diox­ide into the atmos­phere. It doesn't make sense not to restore the use of cat­tle (or oth­er rumi­nants), as it can rebuild lost soil car­bon, on mar­gin­al land at a very low oppor­tu­ni­ty cost.
If we're real­ly going to step up to the cli­mate chal­lenge, the U.S. gov­ern­ment needs to sep­a­rate itself from the influ­ence of agribusi­ness and — among oth­er things — roll back the com­mod­i­ty corn sub­si­dies that sus­tain high lev­els of indus­tri­al meat pro­duc­tion. Instead of telling peo­ple sim­ply to eat less beef, it would be bet­ter to tell them not to eat grain-fed beef. Ani­mals can play an inte­gral role in sus­tain­able agriculture.
For oth­er per­spec­tives, read ​"Cli­mate Friend­ly Beef is a Myth. Don't Buy It." and ​"Any­thing Cows Can Do, Elk Can Do Better."
Paige Stan­ley
is a doc­tor­al researcher in envi­ron­men­tal sci­ence, pol­i­cy and man­age­ment at the Uni­ver­si­ty of Cal­i­for­nia Berke­ley. Her research focus­es on beef pro­duc­tion and the tran­si­tion toward sus­tain­able and humane ani­mal agriculture.