We Watched the GOP Debate So You Didn't Have To. Here Are All the Ridiculous Things That Were Said.
A crib sheet on Thursday evening's exhibition for everyone too busy (or too terrified) to watch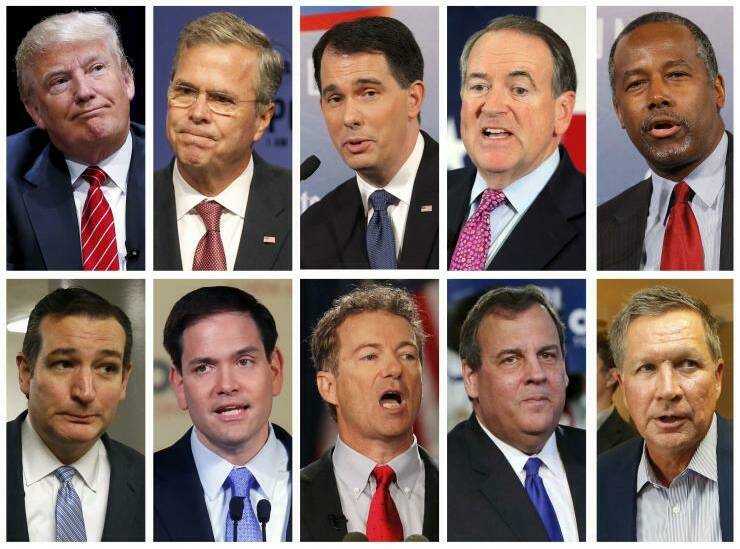 Last night, the first Repub­li­can debates took place. Like any good Amer­i­can, I stocked up on wine, turned on Twit­ter and set­tled in to watch three gov­er­nors, two for­mer gov­er­nors, three sen­a­tors, a busi­ness­man and a neu­ro­sur­geon tell me why they should be my Com­man­der in Chief.
Walker: I may have failed in my promises to my states, but that's just because I aim high.
Fox tele­vised the event, and the mod­er­a­tors were Chris Wal­lace, Meg­yn Kel­ly and Bret Baier's tan.
For those of you who couldn't watch it, because you were busy, because you're one of the many Amer­i­cans who don't have or can't afford cable (not Repub­li­cans' tar­get audi­ence) or because you care about your men­tal health, I took notes.
The debate start­ed out with a bang, as Don­ald Trump bucked tra­di­tion right out of the gate. They asked for a show of hands for the can­di­dates who would promise to sup­port the win­ner of the pri­maries if they lost and not run against them. Trump was like, nope.
The mod­er­a­tors feigned sur­prise, and those at home were all, ​"Of course he's run­ning no mat­ter what. If he had to have vot­ers carve his name into squash and send it via car­ri­er pigeon, he would."
But where do these men — for­mer Flori­da Gov. Jeb Bush, Wis­con­sin Gov. Scott Walk­er, for­mer Arkansas Gov. Mike Huck­abee, New Jer­sey Gov. Chris Christie, Ohio Gov. John Kasich, Texas Sen. Ted Cruz, Flori­da Sen. Mar­co Rubio, Ken­tucky Sen. Rand Paul, neu­ro­sur­geon Ben Car­son, and Don­ald Trump, for those of you who like a lot of names all in a row — fall on the impor­tant issues fac­ing our nation?
Let's see.
**Ques­tions and answers have been para­phrased for clarity**
Kel­ly: Okay, every­one, what makes you qual­i­fied to be president?
Car­son: I have a brain. I also oper­ate on them.
Rubio: I don't like the ques­tion. The most impor­tant job in the nation should not be a resume competition.
Bush: I am not my dad or my broth­er. I'm run­ning with my heart. Also, some peo­ple once called me Veto Corleone.
Cruz (lying through his teeth): I should be pres­i­dent because I tell the truth.
Christie: I upgrad­ed New Jer­sey from sew­er pit back to armpit. (No talk of any bridges).
Kel­ly: The Don­ald, are women people?
Trump: No. Also Rosie O'Donnell lol, and you're mean, Meg­yn Kel­ly. You're fired. Crap, wrong show.
Kel­ly: Walk­er, would you rather let a moth­er die than have an abortion?
Walk­er: Well, I'm pro-life so, yes. (Not sure he under­stands what life means. Or maybe women aren't alive.)
Huck­abee: We have sci­en­tif­ic evi­dence that a fetus is a per­son and there­fore women are mur­der­ers. (No cita­tion given.)
Kel­ly: Kasich, you expand­ed Med­ic­aid, even though Fox hates that. Why?
Kasich: I might actu­al­ly care about the longterm out­come of peo­ple strug­gling. And for my fel­low Repub­li­cans, also, REAGAN.
TOP­IC 1: IMMIGRATION
Bush: There should be a path to earned legal sta­tus. (Yay!) Also, I wrote a book on this. (Yay?)
Trump: I invent­ed ille­gal immi­gra­tion. You're wel­come. We shall build an enor­mous wall with a beau­ti­ful door to fix it. You're welcome.
Rubio: God, Trump, you are so ridicu­lous. We don't need a wall. We need a FENCE.
Walk­er: I changed my mind about help­ing immi­grants earn legal sta­tus because Tea Party.
Cruz: I have nev­er sup­port­ed the notion that immi­grants are people.
TOP­IC 2: TERRORISM
Christie: The only way to keep Amer­i­ca safe is to give me all your phone records.
Paul: Respect­ful­ly, Christie, FOURTH AMENDMENT.
Christie: But how are we—
Paul: AMEND­MENT. I said good day, sir.
Christie: But EVERY­ONE could be a terrorist!
Paul: You hugged Barack Oba­ma. End scene.
Cruz: I will defeat ISIS in three months with my truth-telling. And dic­ta­tor­ship is pret­ty awe­some. Truth!
Bush: I called every victim's fam­i­ly I could find and said, ​"sor­ry, bro."
Car­son: Bring back water­board­ing and don't tell the Amer­i­can pub­lic about it.
TOP­IC 3: OBAMACARE
Trump: I give a lot of mon­ey to lib­er­als and every­one does what I want because mon­ey. We're not friends, guys. It's been my polit­i­cal ploy all along. Also, did you know I have a lot of mon­ey? (In terms of the top­ic: Against arti­fi­cial lines around states in terms of free-mar­ket, pri­vate insur­ance. For lit­er­al wall around country.)
Walk­er: Blame Hillary Clinton.
TOP­IC 4: BIG GOVERNMENT
Huck­abee: Stop tax­ing income. Tax con­sump­tion. Tax all peo­ple who need to buy things, no mat­ter how much or lit­tle mon­ey they have.
Car­son: Tithing is the way to go.
TOP­IC 5: EDUCATION
Bush: **brags, mys­ti­fy­ing­ly, about Florida's edu­ca­tion­al system**
Rubio: It's the feds try­ing to make every­one do what they want.
TOP­IC 6: HILLARY CLINTON
Kasich: My father was a mailman.
Car­son: The Democ­rats are ruin­ing this country.
TOP­IC 7: ECONOMY
Bush: Get rid of Oba­macare and replace it with jobs.
Walk­er: I may have failed in my promis­es to my states, but that's just because I aim high.
Rubio: Low­er tax­es for all businesses.
Fox News: How about enti­tle­ment reform, guys?
Author of this piece: ​"Enti­tle­ment" reform? That's not what it's called. Invalid. Next question.
Huck­abee: Wait! My answer is too good to ignore. Tax the pros­ti­tutes and pimps. And ille­gals. Prob­lem solved.
Fox: Trump, you filed for bank­rupt­cy four times.
Trump: I did not. I used the law four times. The bank­rupt­cy laws. Stop slan­der­ing me.
TOP­IC 8: IRAN (AKA EVIL)
Walk­er: When I was a kid, I tied a rib­bon around a tree for the hostages in Iran. Let's not do busi­ness there.
Paul: Rea­gan, Rea­gan, Rea­gan, Rea­gan, strength, Reagan.
Huck­abee: Rea­gan said, trust but ver­i­fy. Oba­ma is all, trust but vil­i­fy. (High five, me. Niiiiiiice.)
TOP­IC 9: ABORTION
Rubio: The con­sti­tu­tion. Also, I believe that every per­son has the right to pro­tec­tion under our laws, ​"whether they have a birth cer­tifi­cate or not." (Oh, wait.)
Trump: Yeah, I was pro-choice, but then I knew a fetus once and it became a super­star. Now I'm pro-life.
TOP­IC 10: RELI­GION AND THE GAYS
Kasich: I'm old fash­ioned. But I have a friend who's gay.
TOP­IC 11: FOR­EIGN POLICY
Trump: If Iran was a stock, you should buy it.
Cruz: Iran released hostages the day Rea­gan was sworn into office in 1981.
Car­son: We need more planes.
Walk­er: Hillary Clinton's emails. She is mush. I am steel. What­ev­er you say bounces off me and goes back to — wait, that doesn't work.
Huck­abee: Let's kill peo­ple and break things. More than we already do.
Paul: I use pen­cils and paper.
Christie: Fund­ing Israel will solve the problems.
TOP­IC 12: DOES GOD SPEAK TO YOU (Oh, Fox.)
Cruz: My father left when I was 3. I think because he wasn't reli­gious. When he found Jesus, he came back.
Kasich: My father was a mail­man. God wants Amer­i­ca to succeed.
Walk­er: I have been redeemed by the blood of Jesus Christ.
Rubio: God has blessed the Repub­li­can Par­ty and also America.
Car­son: I am a Black man who doesn't see color.
WRAP UP:
Kasich: I have done many things. Vote for me.
Christie: My dad worked at an ice cream plant. Vote for me.
Paul: I know how to fil­i­buster. I can beat Hillary Clin­ton. Vote for me.
Rubio: My par­ents were born in pover­ty in Cuba. Amer­i­can dream. Vote for me.
Cruz: I will undo every­thing Oba­ma did on day ONE. Vote for me.
Car­son: I still use the term ​"Siamese twins." Vote for me.
Huck­abee: Hillary Clin­ton sucks. Vote for me.
Walk­er: I own a Harley and love my kids. Vote for me.
Bush: My first name isn't George. Vote for me.
Trump: Japan has too many cars com­ing into our coun­try. Vote for me.
The win­ner? Hard to say. But it seems clear the los­er was America.
Dar­lena Cun­ha
is a for­mer tele­vi­sion pro­duc­er. She has writ­ten for
Time
, the
Wash­ing­ton Post
,
The Atlantic
, the
New York Times
,
McSweeney's
and elsewhere.