How Obamacare Is Actually Preventing Americans From Escaping Poverty
Obamacare was intended to alleviate the health cost burdens for the working and middle class. But in practice, it often works differently.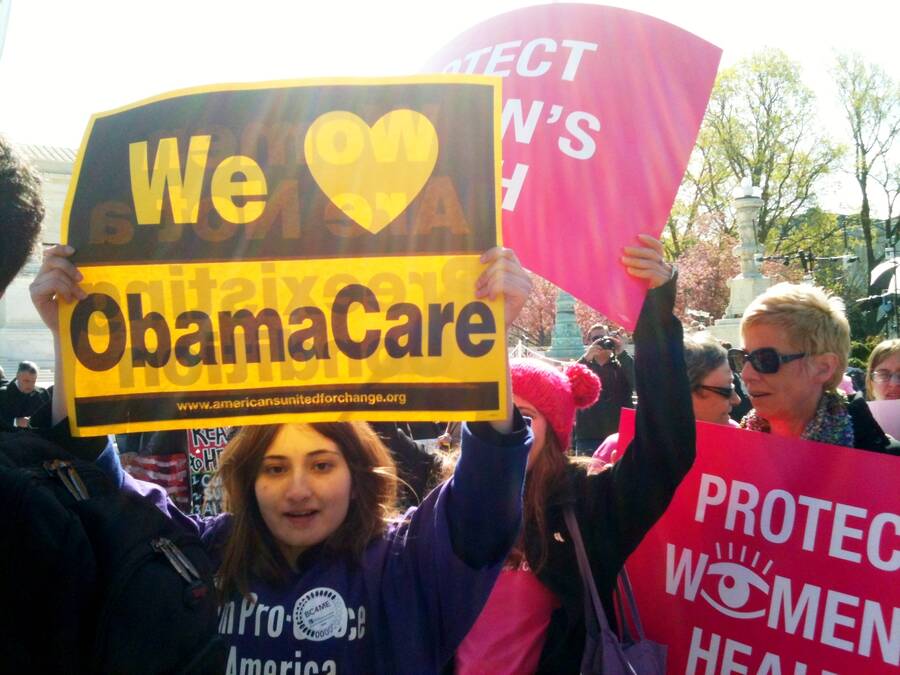 Oba­macare is leav­ing the mid­dle class behind.
The crux of the problem is this: As soon as an individual or family finally moves above the federal poverty line, their insurance premiums and deductibles can skyrocket into the tens of thousands—meaning if they make use of this plan, they may well end up worse off financially than they were when considered impoverished.
Not the liv­ing-in-sub­ur­bia, dri­ving-an-SUV-to-soc­cer-prac­tice mid­dle-class dream (although it affects peo­ple liv­ing that dream neg­a­tive­ly, too), but the new mid­dle class of Amer­i­ca — the ones strug­gling to pull them­selves out of the hole after the eco­nom­ic crash. The mid­dle class that is so close to pover­ty that one wrong move will land them there, but just far enough away from hope­less debt that the states and the fed­er­al gov­ern­ment fig­ure they can fend for them­selves. Which many of them prob­a­bly could have, before the Afford­able Care Act.
This is not because Oba­macare is a bad idea. It's because it is not being allowed to func­tion cor­rect­ly in its attempt to extend afford­able health care cov­er­age to more Americans.
Do a quick inter­net search for the ACA and you'll hap­pen across dozens of arti­cles decked out in hyped-up jar­gon talk­ing about Supreme Court Cas­es, appeal efforts in the leg­is­la­ture, con­vo­lut­ed bat­tles between state and fed­er­al ini­tia­tives and ris­ing pre­mi­ums in sta­tis­ti­cal lan­guage. What you don't see is what is hap­pen­ing to the peo­ple on the plans — and more impor­tant­ly, why the ACA is marred by mul­ti­ple imprac­ti­cal setbacks.
The crux of the prob­lem is this: As soon as an indi­vid­ual or fam­i­ly final­ly moves above the fed­er­al pover­ty line, their insur­ance pre­mi­ums and deductibles can sky­rock­et into the tens of thou­sands — mean­ing if they make use of this plan, they may well end up worse off finan­cial­ly than they were when con­sid­ered impoverished.
Accord­ing to the McK­in­sey Cen­ter for U.S. Health Sys­tem Reform, 70 per­cent of those who make enough not to be eli­gi­ble for Med­ic­aid but who still qual­i­fy for a sub­sidy — a tax cred­it for those with low­er incomes — will like­ly see their pre­mi­ums go up in the com­ing year. The clos­er to mid­dle class a fam­i­ly becomes as they try to dig out from pover­ty, the high­er the hit in health care, mak­ing it near­ly impos­si­ble for hard­work­ing fam­i­lies to move for­ward financially.
Take Bree Cas­son, for exam­ple. Cas­son is a sin­gle moth­er of three who works part-time at a fast food chain and goes to school in Maine. Her fam­i­ly is cov­ered by Med­ic­aid, but if she makes any more mon­ey, they'll be kicked off that plan and forced to buy insur­ance she can't afford. Know­ing this, Cas­son makes sure she doesn't work more than 30 hours a week, effec­tive­ly keep­ing her income low enough to afford her health coverage.
Under a dif­fer­ent sys­tem, she said, like sin­gle pay­er, she could start mov­ing her way up, work­ing more hours, becom­ing self-suf­fi­cient and inde­pen­dent. ​"A sin­gle-pay­er health­care sys­tem would give us more choic­es and bet­ter care, and keep us cov­ered longer" Cas­son said. ​"Right now, my fam­i­ly is cov­ered, but I just got anoth­er raise, and soon I'll make too much to qual­i­fy for Med­ic­aid. Oth­er than my son with a dis­abil­i­ty, we'll all be kicked off the plan, and even mak­ing the high­est salary at my cur­rent job, I absolute­ly can­not afford even the cheap­est of health plans."
Where things stand now, Cas­son can­not afford to try to make the jump to mid­dle class. She must choose to be poor to be able to feed her family.
The fuzzy math is this: Say some­one with two chil­dren makes $35,000 a year, gross. They give about $6,000 of that back in tax­es, anoth­er $12,000 for rent or mort­gage, $2,500 for house main­te­nance bills, and about $7,500 for gro­ceries. This means they have earned, that year, $7,000.
For argu­ment, let's say nor­mal­ly insur­ance costs them $200 a month. Their take-home pay for the year now becomes $4,600. This is doable. It's not great, but it is sur­viv­ing with­out gov­ern­ment help.
Now say pre­mi­ums jump to $400 a month, which they have for many peo­ple. Their take-home pay for the year is now $2,200. Deductibles on some of the sil­ver ACA plans range any­where from $2,800 to well over $12,000, depend­ing on where you live and who you are. Even the low­est deductible on that plan puts the fam­i­ly on it in the red for the year. Do that for a few years, and that fam­i­ly is now in debt, even while they seemed to be mak­ing ends meet on paper.
While it's impos­si­ble to gen­er­al­ize the expe­ri­ence across the nation as rents vary, tax­es vary, bills vary and how peo­ple file varies, many indi­vid­u­als, despite their dis­parate cir­cum­stances, all share a sim­i­lar sto­ry. In fact, the Con­gres­sion­al Bud­get­ing Office pro­ject­ed ear­li­er this year that 2015 will see 36 mil­lion peo­ple left out of the program .
Mike Marg­erel­li is a sin­gle man in his twen­ties work­ing in Con­necti­cut. He's cho­sen to go with­out insur­ance and pay the price. The year­ly penal­ty for being unin­sured is either 2 per­cent of your tax­able income or $325 per per­son with a max of $975 per fam­i­ly, whichev­er is higher.
"I make too much mon­ey for Husky," Marg­erel­li says, refer­ring to Connecticut's Med­ic­aid plan, ​"but not enough to afford the adjust­ed plan, at $230 a month with a $3,500 deductible. The state's health Mar­ket­place reject­ed my request for hard­ship, based on my bills. In my opin­ion, the flaw in the sys­tem lays in the fact that they place you in a plan based on income, not real­iz­ing that peo­ple still have to pay for stuff with that income. This is my sec­ond year with no health insurance."
Going unin­sured is noth­ing new. Healthy, sin­gle peo­ple in their 20s like Marg­erel­li have been doing so with lit­tle con­se­quence since well before Oba­macare. They bet against the insur­ance com­pa­nies that they will not need med­ical care. But what hap­pens when those 20-some­things start hav­ing children?
Judith Hunt­ley lives in Flori­da with her hus­band and young daugh­ter. She works in real­ty and her hus­band waits tables. Nei­ther have insur­ance options through their employ­ers; they shop for their insur­ance through the ACA Mar­ket­place. They can­not afford her health plan, so her fam­i­ly goes without.
"For my hus­band and I, plus a two year old, the cheap­est plan is $625 a month with $12,500 deductible," Hunt­ley said. ​"So, we would pay them $7,500 this year and the first $12,000 and hope our health­care expens­es cost us more than $20,000 this year to make it all worth it? No. I'd rather pay any tax penal­ty they throw at us and pay out of pock­et like we nor­mal­ly do for her phys­i­cals and our ran­dom strep or sinus infection."
Pres­i­dent Obama's orig­i­nal plan out­lined a sin­gle-pay­er sys­tem, which means the gov­ern­ment must pro­vide insur­ance to its pop­u­la­tion regard­less of income lev­el. It's a social­ized med­ical sys­tem that was met by much balk­ing on either side of the polit­i­cal aisle, though one that has been suc­cess­ful in coun­tries like Cana­da.
Because of intense lob­by­ing by pri­vate insur­ance com­pa­nies, Oba­ma had to mod­i­fy his plan, not least by allow­ing those who want­ed to keep their pri­vate insur­ances to do so. This led to mixed pol­i­tics and unmatched sys­tems in that for a short time, some healthy, young indi­vid­u­als remained exempt from pay­ing into a sys­tem that caters to all peo­ple. It also allowed gaps in poli­cies, like insur­ance plans which didn't cov­er mater­ni­ty costs, to remain. By allow­ing peo­ple to keep the insur­ance they pre­vi­ous­ly loved, and not stream­lin­ing the cov­er­age with hard and fast rules, those pri­vate insur­ances were forced to change their plans any­way due to free-mar­ket pres­sure, and yet were still allowed to inflate costs and cut cor­ners to max­i­mize their profits.
With the com­pro­mised sys­tem of pri­vate and pub­lic health insur­ance, in addi­tion to the man­date that every­one must be insured and with a scale rest­ing on income alone, the healthy mid­dle class mem­bers are now pay­ing for the priv­i­lege to pay for their med­ical care by them­selves — as in, they pay their pre­mi­ums every month, then nev­er hit the deductible cap and so pay for their med­ical costs out of pock­et any­way. And if their income is more than they expect­ed, they can expect to be taxed for it.
​"One word of warn­ing that we pro­vide peo­ple with respect to ACA is that the sub­sidy you receive through the mar­ket­place is actu­al­ly a tax cred­it," said Kate Hut­ton, who works in human resources for Pow­er Spe­cial­ists Asso­ci­a­tion in Con­necti­cut, a pri­vate insur­er that oper­ates through the Mar­ket­place. ​"So if your income increas­es after you've signed up for ACA, and you don't report it to the mar­ket­place, at tax time you may find your­self with unfore­seen tax liabilities."
To break that down a bit, when you receive a sub­sidy from the gov­ern­ment to coun­ter­act pro­hib­i­tive costs, it doesn't come with­out caveats. The amount a fam­i­ly receives in sup­ple­men­tal help depends direct­ly on the amount of mon­ey that fam­i­ly is bring­ing home. Should that num­ber go up dur­ing the year, the fam­i­ly who thought they were being helped may end up hav­ing to pay back the sub­sidy mon­ey through their taxes.
Then there are the peo­ple who are suf­fer­ing a stum­ble in their finances. The ACA as it stands can be crip­pling for them.
Tiffany Yusup is a sin­gle woman liv­ing in Con­necti­cut who recent­ly lost her job and applied for free health care through Med­ic­aid while on unem­ploy­ment. She didn't qual­i­fy and will have to pay for her coverage.
"Even with the sub­sidy cred­it, for me to have decent insur­ance would still cost me $100 per month. I can't afford that on unem­ploy­ment with my oth­er bills," Yusup said. ​"So basi­cal­ly my choic­es are to not have health insur­ance or to default on my stu­dent loans. And if I don't find a new job with insur­ance soon, I'll be fined for not hav­ing insur­ance when I file my tax­es next year."
This isn't to say the ACA is a bad idea in the­o­ry, or even in prac­tice. There are many, par­tic­u­lar­ly poor Amer­i­cans, who are now ben­e­fit­ting great­ly from the plan.
Sarah Campil­lo-Laugh­lin resides in Wash­ing­ton and her income varies as an artist, but she makes lit­tle enough to be cov­ered under extend­ed Med­ic­aid. She said for the first time in her life, she is able to afford both the med­ical and den­tal atten­tion she needs, includ­ing expen­sive medications.
Alli­son Williams lives in Michi­gan and said the ACA has helped her immea­sur­ably due to how lit­tle she makes.
"It is the first time in my life that going to the doc­tor does­n't leave me humil­i­at­ed and weep­ing about how I'm going to pay for it," Williams said. ​"Depres­sion pills, birth con­trol and self esteem. I hope we go to sin­gle pay­er because every­one should have this. It has changed my life."
The ACA helps fam­i­lies in need, too. Sarah Yarnes works for the Depart­ment of Vet­er­ans Affairs in Con­necti­cut and doesn't get insur­ance through her employ­er, so she and her daugh­ter rely on Husky Med­ic­aid to make it through. Like many, for Yarnes, the stig­ma of assis­tance is still strong.
"It's an amaz­ing­ly gen­er­ous plan," she said, ​"but the shame of need­ing gov­ern­ment assis­tance still weighs on me."
With so many in need ben­e­fit­ing from expand­ed Med­ic­aid options and the Children's Health Insur­ance Pro­gram, to say that Oba­macare is fail­ing, full stop, would be wrong. But it is marred by the com­pro­mis­es leg­is­la­tors made in con­struct­ing it. By allow­ing insur­ances to remain most­ly intact while still imple­ment­ing a forced health­care plan on the Amer­i­can peo­ple, we've left the prof­it motive intact as a cen­tral con­cern in our health care sys­tem. If we allow it to remain, we will con­tin­ue to let our society's vul­ner­a­ble fall through the cracks.
What we need is an expan­sion of the Med­ic­aid ben­e­fits to those attempt­ing to work their way above the Fed­er­al Pover­ty Line, not a repeal of the pro­gram or more cling­ing to the free mar­ket insur­ance plans of old. We need a com­plete embrace of fed­er­al­ly avail­able insur­ance for all cit­i­zens — not so the gov­ern­ment has more con­trol over us, but so we have more con­trol over our own health.
Oba­macare was put into place to solve the mas­sive prob­lems Amer­i­ca faces in terms of med­ical costs; those costs are the num­ber one rea­son for bank­rupt­cy claims. But as the work­ing and mid­dle class con­tin­ue try­ing to claw their way into finan­cial secu­ri­ty, and the pro­gram that is sup­posed to be help­ing them by alle­vi­at­ing health costs bur­dens is all too often actu­al­ly push­ing them back into poverty.
Dar­lena Cun­ha
is a for­mer tele­vi­sion pro­duc­er. She has writ­ten for
Time
, the
Wash­ing­ton Post
,
The Atlantic
, the
New York Times
,
McSweeney's
and elsewhere.