Cross Culture
Uncivil civility, unfunny comedy, and the search for self at the RNC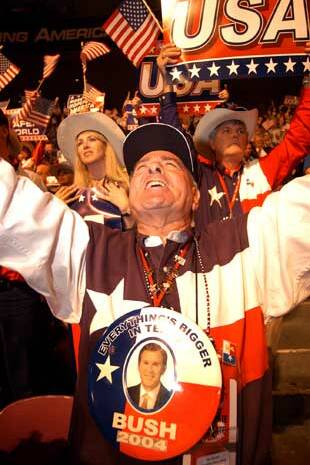 Steven Gus­tave has a shaved head, Vin Diesel mus­cles and a black-leather bik­er out­fit, and is wav­ing a red flag embla­zoned with the defi­ant Che Gue­vara. Gus­tave is, in short, your typ­i­cal Ker­ry vot­er at the big August 29 march protest­ing the Repub­li­can Con­ven­tion. Repub­li­cans had hoped, and Democ­rats had feared, that such an appari­tion would her­ald 1968-style con­ven­tion vio­lence, with atten­dant con­ser­v­a­tive back­lash. But Gus­tave, a fash­ion design­er from Man­hat­tan, turns out to be a genial, thought­ful man, ready to lay aside his ​"red anar­chism" and ​"proud­ly march with soc­cer moms from Con­necti­cut" for the ben­e­fit of a pro-war liberal.
The march is a sign both of the uni­fy­ing pow­er of anti-Bush ani­mus and the strange con­tor­tions of pol­i­tics and cul­ture in an era when the left orga­nizes pissed-off radio talk shows and the right spits on a Viet­nam veteran's medals. It's now com­mon­place that, from Rea­gan Democ­rats to Hol­ly­wood lib­er­als, the elec­torate votes its cul­tur­al affini­ties, not its pock­et­book, and par­ty con­ven­tions occu­py cen­ter stage in the effort to repack­age polit­i­cal inter­ests as trib­al and demo­graph­ic alle­giances. This year the Repub­li­cans even trot­ted out the Bush twins. Like a distaff Beav­is and Butthead, they chuck­led moron­i­cal­ly at their grandmother's sex­u­al stodgi­ness, as if they feared estate-tax repeal was not hip enough to make the Paris Hiltons of the world feel at home in the party.
A mot­ley tribe
Protest march­es, of course, are noth­ing if not chant­i­ng, drum­ming cul­tur­al bond­ing rit­u­als, which is prob­a­bly why so many clash­ing plac­ards can peace­ful­ly coex­ist. Kerry/​Edwards sup­port­ers march shoul­der-to-shoul­der with the Nader/​Camejo con­tin­gent and the ​"Oppose Bush, Ker­ry, Nad­er and all cap­i­tal­ist politi­cians" stal­wart. The bliss­ful ​"Make Love Not War" floats along­side the piti­less ​"Destroy All Forms of Clas­sism." And the con­sen­sus that we should ​"Sup­port Our Troops — Bring Them Home" makes room for the Inter­na­tion­al Bol­she­vik Tendency's (sic) ​"Mil­i­tary Vic­to­ry to the Iraqi Resistance."
The only inas­sim­i­l­able idea sur­faces amid a knot of Repub­li­can counter-demon­stra­tors on the side­walk. Their sign says ​"Sup­port Pres­i­dent Bush — Trust Jesus!" below which are black sil­hou­ettes of weapons — an M‑16 rifle, an attack heli­copter, a bomb — along with the line from Hebrews 9:22: ​"And almost all things are by the law purged with blood." Irate left­ists con­verge on the sign, chant­i­ng ​"What would Jesus bomb?", a slo­gan that used to sound like glib sar­casm but sud­den­ly seems an inci­sive and trou­bling ques­tion. I ask the bronzed fire­plug of a man hold­ing the sign what mes­sage he's try­ing to send. He con­sid­ers it self-evi­dent: ​"Don't be such a left­ist com­mie pinko!" As he is speak­ing, a woman holds up two fin­gers behind his head to make rab­bit ears. Catch­ing her, the man turns to her hus­band and barks, ​"Con­trol your woman!" The hus­band sput­ters in a British accent and the counter-demon­stra­tor taunts, ​"Most men con­trol their women in this coun­try. Or maybe you're the more female!" A cop comes over and tells the woman to stop mak­ing rab­bit ears.
No, fun­ny strange
After the march I head to a com­e­dy show spon­sored by Amer­i­cans for Tax Reform, fea­tur­ing a line­up of Repub­li­can con­gress­men, jour­nal­ists and oper­a­tives doing stand-up. The show promis­es anoth­er tableau of dis­so­nant polit­i­cal cul­ture. Since Mort Sahl's hey­day, stand-up has been a left-lib­er­al pre­serve — its hip, iron­ic, sex­u­al­ly provoca­tive tone anath­e­ma to the GOP tra­di­tion of sten­to­ri­an square­ness. But with ​"The Dai­ly Show with Jon Stew­art" recent­ly win­ning a Tele­vi­sion Crit­ics Asso­ci­a­tion Prize for news com­men­tary, the line between pub­lic affairs and com­e­dy seems obso­lete, and Repub­li­cans can no longer do with­out killer material.
There are a lot of tax-relief punch lines ("If 10 per­cent is good enough for God, it's good enough for gov­ern­ment!") but some acts are smoother. GOP mas­ter­mind Grover Norquist takes on Amer­i­cans' fabled inabil­i­ty to find oth­er coun­tries on the map. ​"Have you ever need­ed to find France?" he asks the audi­ence, get­ting a rau­cous ​"No!" in response. Only air­line pilots do, says Norquist, and he does a bit about a clue­less pilot ask­ing his pas­sen­gers where France is, final­ly segue­ing from geog­ra­phy to riffs on oth­er use­less school sub­jects like alge­bra and the met­ric sys­tem. Norquist's tim­ing and deliv­ery are excel­lent and the France-bash­ing goes over big. If he seems to be advanc­ing an Every Child Left Behind agen­da, with learn­ing parceled out on a strict need-to-know basis, that view sits well with a lib­er­tar­i­an crowd used to think­ing of edu­ca­tion as a pro­sa­ic human-cap­i­tal investment.
Norquist is fol­lowed by Rep. Jack Kingston (R‑Ga.), whose rou­tine fea­tures doc­tored pho­to slides of Ker­ry and Bush. Child­hood pho­tos por­tray Ker­ry the effete Fauntleroy — play­ing the piano, read­ing a his­to­ry of France — while Bush wears a goofy grin and rides a cow. Slides of Kerry's Viet­nam ser­vice fol­low: His bar­racks is a man­sion, his Swift boat a lux­u­ry yacht. The pho­tos send the audi­ence into hys­ter­ics. Kingston doesn't show any slides of Bush from the Viet­nam era.
GOPAC's brass tacks
To probe the authen­tic cul­ture of the Repub­li­can Par­ty, and not what's por­trayed on TV, there's no bet­ter place to go than a train­ing sem­i­nar run by GOPAC, the polit­i­cal con­sult­ing orga­ni­za­tion charged with build­ing the par­ty from the grass­roots lev­el. Here, two strik­ing­ly dif­fer­ent mes­sages com­pete. One is the ​"par­ty of ideas" theme sound­ed by head­lin­ers like Newt Gin­grich. He paints the GOP as the van­guard of his­to­ry itself, ready to deal with the blind­ing ​"pace of change," the demo­graph­ic cri­sis of retir­ing baby boomers, a 70-year war on ter­ror and the loom­ing four-cen­tu­ry strug­gle with the surg­ing economies of India and Chi­na. The oth­er is a marked­ly less high-mind­ed take on Repub­li­can prax­is offered by a slew of sec­ond-tier oper­a­tives. After pay­ing lip ser­vice to ideas, GOPAC field train­er Rick Tyler reminds the audi­ence that ​"cam­paigns are nev­er the time to edu­cate the pub­lic; your job is to win." And win­ning, he makes clear, requires full immer­sion in the sleaze, spin and sophistry of Repub­li­can gut­ter pol­i­tics. Ideas can be any­thing — Tyler once ran a win­ning cam­paign sole­ly on the removal of local speed-bumps — as long as they are framed in ​"good vs. bad" terms: ​"Their vision is pimps and pros­ti­tutes and peo­ple deal­ing drugs in the park; my vision is peo­ple tak­ing their fam­i­lies to the park." He rec­om­mends intro­duc­ing Gen Y‑ers to con­ser­vatism by point­ing to the FICA tax deduct­ed from their pay­check and telling them ​"You'll nev­er see that mon­ey again." And because ​"peo­ple will nev­er read your brochure, ever," you must ​"use pic­tures to tell sto­ries" — pic­tures of your smil­ing fam­i­ly and, above all, your dog.
As the sem­i­nar pro­ceeds, pro­found dif­fer­ences between Repub­li­cans and the left emerge that go beyond cul­tur­al trap­pings. Take their diverg­ing atti­tudes to the Con­sti­tu­tion. Among the left-lib­er­al protest gath­er­ings are a read­ing of the Con­sti­tu­tion by Hol­ly­wood stars and a revival meet­ing led by anti-con­sumerism cru­sad­er Rev­erend Bil­ly that cli­maxed in a group recita­tion of the First Amend­ment. The left loves the Constitution's glo­ries, but the right loves its warts — its jury-rigged machin­ery of divid­ed gov­ern­ment, labyrinthine fed­er­al­ism and elec­toral indi­rec­tion, which GOPAC exploits in its climb to pow­er. GOPAC Direc­tor John Mor­gan lays out a four-stage process for tak­ing Repub­li­can state cau­cus­es from ​"laugh­able minor­i­ty" to ​"sus­tain­able major­i­ty." These machi­na­tions have paid off with a com­fort­able Repub­li­can lead in state leg­is­la­tures and gov­er­nor­ships. In turn, the ger­ry­man­der­ing of con­gres­sion­al dis­tricts by Repub­li­can state­hous­es has lever­aged the party's major­i­ty in Con­gress. The pres­i­den­cy also is tied in, Mor­gan asserts, as Florida's Repub­li­can leg­is­la­ture would have returned a slate of Bush elec­tors in the 2000 elec­tion had the Supreme Court not squelched the bat­tle. GOPAC's par­ty-build­ing embod­ies a vast and sub­tle tele­ol­o­gy link­ing the hum­blest coun­ty board race to the Oval Office, an aston­ish­ing ful­fill­ment of the left chest­nut about act­ing local­ly and think­ing globally.
It also bespeaks a right-wing absorp­tion in the nit­ty-grit­ty of pol­i­tics that the left sim­ply can't match. ​"It's not nor­mal, it's a sick­ness," Tyler says of GOPAC activists' obses­sion with pol­i­tics that goes well beyond that of the elec­torate. By con­trast, left­ists dream of a rev­o­lu­tion­ary cathar­sis that will end pol­i­tics for­ev­er by abol­ish­ing class divi­sions. The anar­chists hand out leaflets extolling an essen­tial­ly apo­lit­i­cal future with ​"a new form of democ­ra­cy that makes vot­ing irrel­e­vant." Repub­li­cans don't expect a cathar­tic end to pol­i­tics — at least not until the Rap­ture. Like the busi­ness class they serve, for whom life is the dai­ly wring­ing out of mar­gin­al prof­its that may some­day amount to a for­tune, they embrace a pol­i­tics of end­less claw­ing for tiny advan­tages that may one day add up to a big fat tax cut. That atti­tude gives the right extra­or­di­nary for­ti­tude in its creep­ing takeover of government.
Indi­rect action
I go straight from the GOPAC meet­ing to Her­ald Square. There protest groups have promised a night of ​"direct action" as a cathar­tic alter­na­tive to the elec­toral pol­i­tics at which GOPAC excels. The police already have shut down the inter­sec­tion, but rest­less crowds are gath­er­ing on the cor­ners, among them a hand­ful of col­lege kids who link arms and mut­ter con­spir­a­to­ri­al­ly. I ask them what their game plan is, since I can't imag­ine how they'll retake the streets from the enor­mous police cor­don, but they remain tight-lipped. A moment lat­er, when the cops start push­ing back the crowd from the curb, their game plan turns out to con­sist of vault­ing the police bar­ri­ers and dash­ing into the inter­sec­tion, where the cops instant­ly tack­le them and haul them off.
These kids have guts, for the police are fear­some and their hold­ing pens foul, but it's all a far cry from the gold­en age of direct action dur­ing the civ­il rights move­ment. Then, activists invad­ed the pub­lic space of lunch coun­ters and vot­er reg­is­tra­tion offices sim­ply to eat lunch and reg­is­ter to vote. The repres­sion they pro­voked indeli­bly marked Jim Crow as a vio­lent and ille­git­i­mate dis­rup­tion of any civ­i­lized moral order. Now, direct action has degen­er­at­ed into block­ing traf­fic and fight­ing mean­ing­less turf bat­tles with the cops.
One of its few dubi­ous tri­umphs occurred when a grou­plet used moun­taineer­ing tech­niques to hang a giant anti-Bush ban­ner from a Mid­town hotel. This enthu­si­asm for pol­i­tics as Xtreme sport is a par­tic­u­lar­ly baf­fling cul­tur­al tic of the protest left. The per­pe­tra­tors proud­ly told reporters they had spent months dan­gling in a Brook­lyn loft prac­tic­ing the action, and it did make a splash for half an hour until police tore down the ban­ner. Their suc­cess will doubt­less inspire many cam­pus left­ists, con­vinced that rock-climb­ing has some­thing to do with polit­i­cal orga­niz­ing, to sharp­en their rap­pelling skills at the next Ruckus Soci­ety camp. Mean­while, col­lege Repub­li­cans will join the debate team.
Down and dirty
Why don't Repub­li­cans hold huge protest march­es? I put the ques­tion to a small, sub­dued crowd at yet anoth­er GOP com­e­dy show, this one by pro­fes­sion­al con­ser­v­a­tive comics at the Laugh Fac­to­ry. ​"Repub­li­cans are too civ­i­lized," har­rumphs a mid­dle-aged man. A col­lege Repub­li­can con­curs. He has just come from a demo, where his sign — ​"Help Keep Amer­i­ca SHIT-FREE Please Flush the Johns" [i.e., Ker­ry and Edwards] — pro­voked the expect­ed inci­vil­i­ty from protesters.
Repub­li­can civil­i­ty is some­thing con­ser­v­a­tive comics wres­tle with, giv­en it inhibits their use of the shock effects that mod­ern stand-up relies on. Head­lin­er Jeff Wayne, a florid man with a jol­ly, beefy face, drops a few F‑bombs right off the bat, to mod­est laugh­ter. Then he tries an edgy gay mar­riage riff. ​"If I found some [man] to take care of me, went to work while I stayed home, bought me things" — he grows so ner­vous that he flubs the punch line ("and all I had to do was let him blow me once a week") and backs off with an embar­rassed ​"Maybe I've gone too far for you." He returns to safer ground with a rem­i­nis­cence about the 1968 Chica­go con­ven­tion: ​"Oh, they beat the hell out of those peo­ple!" Wayne tells me that the demands of con­ven­tion week wore him down, espe­cial­ly that morning's list­less, squeaky-clean break­fast per­for­mance for the Min­neso­ta delegation.
Com­ic Chris War­ren, stand­ing on a stage flanked by red vel­vet cur­tains that evoke the club's pre­vi­ous incar­na­tion as a 42nd Street porno palace, is deter­mined to shat­ter civil­i­ty con­straints. He launch­es into a mid­night-blue rou­tine that wan­ders from Iraqi ​"piss-holes" to the promise and pit­falls of enter­ing Par­adise with 72 vir­gins. And the Repub­li­cans laugh.
He clos­es with a lengthy riff about lib­er­al hyp­ocrites who ride bikes and refuse to eat meat but don't admit that bikes indi­rect­ly use up oil and that plants have a right to live. The tru­ly con­sis­tent lib­er­al, he con­tends, would end up naked and starv­ing, shiv­er­ing in a cave so squalid that no ani­mal wants it, while the con­ser­v­a­tive, at peace with his posi­tion atop the food chain, hap­pi­ly dri­ves his SUV and savors a thick, juicy sir­loin. The bit drips with Niet­zchean irony, under­scor­ing that pris­sy lib­er­al efforts to mit­i­gate the world's cru­el­ty mere­ly dis­place that cru­el­ty to less con­spic­u­ous locales. And it offers a glimpse into a cer­tain vari­ant of the Repub­li­can id, one that believes free­dom, at some irre­ducible lev­el, is always and every­where the free­dom to exploit.