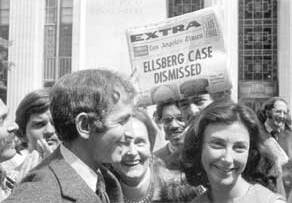 With each new cor­po­rate scan­dal remind­ing us how far out of the loop we are, Amer­i­cans are obsessed with insid­ers. We are con­vinced that inside infor­ma­tion is supe­ri­or to pub­lic infor­ma­tion, and lion­ize whis­tle-blow­ers who lay bare the hid­den work­ings of pow­er. But strange­ly, when rev­e­la­tions come, they invari­ably do no more than affirm what is already com­mon knowl­edge. When the secret tobac­co com­pa­ny files sur­faced in the ​
'
90
s, a devel­op­ment hyper­bolized in the movie
The Insid­er,
the rev­e­la­tion they con­tained was that — steady, now — cig­a­rettes are addic­tive and bad for your health. And if Con­gress ever suc­ceeds in pry­ing loose the secret files of Dick Cheney's Ener­gy Task Force, will any­one be shocked by the dis­cov­ery that Enron was rewrit­ing the nation's ener­gy regulations?
One touch­stone of the cult of insid­erism — the idea that what the pub­lic knows is a smoke­screen of lies, that what's real­ly going on goes on behind the closed doors of insti­tu­tion­al secre­cy — is the Pen­ta­gon Papers. When this top-secret gov­ern­ment study of U.S. pol­i­cy in Viet­nam through
1968
was leaked, the leg­end goes, it told the real sto­ry — the inside sto­ry — of Viet­nam, doc­u­ment­ing the cal­lous­ness of pol­i­cy-mak­ers' cal­cu­la­tions and the duplic­i­ty with which they were sold to a gullible Con­gress and pub­lic. The rev­e­la­tions pro­voked unprece­dent­ed acts of cen­sor­ship. The Nixon admin­is­tra­tion went to court to try to bar news­pa­pers from pub­lish­ing the doc­u­ments, mak­ing the Papers a
cause célèbre.
The con­tro­ver­sy set a tem­plate — a con­spir­a­cy of the pow­er­ful, unmasked by a cru­sad­ing press that rous­es an enraged pop­u­lace from its slum­ber — that would inform pop­ulist iconog­ra­phy for a gen­er­a­tion to come.
But like oth­er insid­erist leg­ends, this tale is a myth. To be sure, the Papers doc­u­ment, across
23
years and four pres­i­den­cies, four con­stants of U.S. pol­i­cy: that the unpop­u­lar South Viet­namese régime was nev­er any­thing but the crea­ture of the Unit­ed States; that Viet­namese inter­ests always took a back­seat to the impe­r­i­al goal of secur­ing America's ​
"
rep­u­ta­tion as a guar­an­tor"; that the U.S. blocked nego­ti­a­tions among the Viet­namese that might lead to ​
"
neu­tral­ism" or ​
"
accom­mo­da­tion" with the Com­mu­nists; and that the U.S. gov­ern­ment con­sis­tent­ly mis­rep­re­sent­ed its agenda.
Although the Papers stood the offi­cial sto­ry on its head, they had vir­tu­al­ly no effect on Amer­i­cans' per­cep­tions of the war. For all the com­mo­tion sur­round­ing their pub­li­ca­tion in June
1971
, they were yesterday's news. By that time, six years of stale­mat­ed fight­ing had dis­cred­it­ed the government's claims of progress. TV news­casts had broad­cast the dev­as­ta­tion of South Viet­nam by U.S. bomb­ing and search-and-destroy mis­sions. A huge anti-war move­ment had grown up to con­test the government's pro­nounce­ments on the con­duct and motives of the war. ​
"
We had to destroy the town to save it" had become the war's absur­dist epi­taph. By June
1971
, the Tet Offen­sive had dri­ven John­son from office, the My Lai mas­sacre had made the front pages, stu­dents had been shot at Kent State, Jane Fon­da had been to Hanoi and a major­i­ty of Amer­i­cans were telling poll­sters the war was moral­ly wrong. There was no one left to disillusion.
— —  —  — –
That's the unin­tend­ed irony of
Secrets,
a mem­oir by Daniel Ells­berg, the man who leaked the Pen­ta­gon Papers. His premise is that ​
"
secrets of the great­est import … can be kept reli­ably for decades by the exec­u­tive branch, even though they are known to thou­sands of insid­ers," to the detri­ment of democ­ra­cy. It's a dubi­ous claim that's hard­ly borne out by the evi­dence in his book, and it's part of a wrong­head­ed but still influ­en­tial idea on the left — that the Amer­i­can peo­ple are inno­cents whose inchoate anti-impe­ri­al­ism will erupt once the facts about the government's inter­ven­tion­ist schemes are exposed. These mis­ap­pre­hen­sions mar Ellsberg's often very per­cep­tive account of the times, caus­ing him to gross­ly inflate the rel­e­vance of inside infor­ma­tion to the forces that shaped the Viet­nam era. Worse, although he was immersed in it, he miss­es the big­ger sto­ry of the vast politi­co-cul­tur­al effort by the left to con­vince Amer­i­cans of a pol­i­tics of anti-imperialism.
Ells­berg went from high-lev­el berths at the Pen­ta­gon and the Rand Cor­po­ra­tion, advis­ing the likes of Robert McNa­ma­ra and Hen­ry Kissinger, to cen­ter-stage in the peace move­ment, get­ting maced by cops while march­ing shoul­der-to-shoul­der with Noam Chom­sky. Along the way, he spent two years in Viet­nam, nom­i­nal­ly with the civil­ian paci­fi­ca­tion pro­gram, but real­ly as a stu­dent-at-large of the war. He wit­nessed the antag­o­nism between the cor­rupt and bru­tal South Viet­namese régime and the peas­antry, who turned to the Viet Cong as much for pro­tec­tion as out of polit­i­cal sym­pa­thy. An ex-Marine, Ells­berg tagged along on Amer­i­can com­bat patrols and even led an assault on a Viet Cong machine-gun nest. He watched the guer­ril­las dodge air strikes and run cir­cles around the plod­ding GIs, who start­ed shoot­ing up and torch­ing ran­dom vil­lages in frustration.
— —  —  — –
Ells­berg was an insid­er at the Pen­ta­gon, in the rice pad­dy and on the pick­et line. The breadth of his expe­ri­ence is prob­a­bly unique and gives him, at times, a sharply insight­ful per­spec­tive. His take on the Pen­ta­gon bureau­cra­cy, while strong­ly crit­i­cal, nev­er laps­es into Strangelov­ian clichés and stays alive to the human foibles of the pol­i­cy-mak­ing appa­rat. He has enough of the Corps in him to con­demn the U.S. mil­i­tary as much for its unsol­dier­ly slack­ness and incom­pe­tence as for its overkill, and enough of the Rand ana­lyst to avoid grunts-eye-view sen­ti­men­tal­i­ty and pin­point larg­er flaws in mil­i­tary doc­trine. His chap­ters from Viet­nam, in par­tic­u­lar, are some of the best ever writ­ten on the war.
But insid­erism has its dis­con­tents. By the time he returned from Viet­nam in
1967
, Ells­berg says, the pol­i­cy estab­lish­ment agreed with him that the war was a lost cause; but despite his and oth­ers' argu­ments for de-esca­la­tion, the war dragged on. (Ells­berg joined the Pen­ta­gon Papers project to try to under­stand this conun­drum.) And there was a deep­er prob­lem, which Ells­berg points out to Kissinger:
It will become very hard for you to learn from any­body who doesn't have [super-secret] clear­ances. Because you'll be think­ing as you lis­ten to them: ​

"

What would this man be telling me if he knew what I know?" … You'll give up try­ing to assess what he has to say. …
You'll become some­thing like a moron … inca­pable of learn­ing from most peo­ple in the world, no mat­ter how much expe­ri­ence they may have.
As insid­ers stopped lis­ten­ing to the world, the world stopped lis­ten­ing to insiders.

Much of Secrets is an account of Ellsberg's efforts to escape this hall of mir­rors. As his frus­tra­tion over the war mount­ed, he grav­i­tat­ed to the peace move­ment and began to expe­ri­ence the par­a­digm shift that was rad­i­cal­iz­ing so many oth­ers. Indeed, his was a clas­sic ​'60s jour­ney of pro­tract­ed con­scious­ness-rais­ing. ​"She was … beau­ti­ful," he stam­mers of one Indi­an paci­fist who stayed up all night with him dis­cussing Gand­hi. Leav­ing the the­ater after see­ing Easy Rid­er, anoth­er date stuns him with the news that she is smug­gling draft dodgers to Cana­da. A speech by a draft resister pro­vokes a full-blown con­ver­sion expe­ri­ence: ​"My sob­bing sound­ed like laugh­ing, at oth­er times like moan­ing. … It was as though an ax had split my head and my heart broke open."

The ten­sion between his insid­er and out­sider per­spec­tives led to what was clear­ly an intel­lec­tu­al­ly and emo­tion­al­ly trau­mat­ic break with the Rand-Pen­ta­gon elite. His leak­ing of the Papers may have been on some lev­el an atone­ment for his past asso­ci­a­tion with it.

But Ells­berg has nev­er quite left the blink­ered mind­set of the insid­er behind, and it con­tin­ues to dis­tort his under­stand­ing of the Pen­ta­gon Papers. His work on the project was a typ­i­cal insid­er strat­e­gy — more inside infor­ma­tion would illu­mi­nate the fail­ure of insid­ers — and the analy­sis of them in Secrets is in part a vin­di­ca­tion of insid­ers. The files Ells­berg read demol­ished the ​"quag­mire the­o­ry" that the Unit­ed States had been drawn by well-inten­tioned mis­cal­cu­la­tions into an unwinnable conflict.

— —  —  — –

Instead, he found that pol­i­cy-mak­ers under­stood from the out­set that South Viet­nam was unsal­vage­able, that U.S. inter­ven­tion would require upwards of a mil­lion troops (and pos­si­bly nuclear weapons), and that even then vic­to­ry would be doubt­ful. Rather than being mis­led by bad advice, pres­i­dents from Eisen­how­er to John­son had gone against the insid­er con­sen­sus, drag­ging the Amer­i­can peo­ple along through manip­u­la­tion and fraud. Ells­berg there­fore decid­ed to breach the wall of secre­cy shield­ing ​"inor­di­nate, unchal­lenged exec­u­tive pow­er" from account­abil­i­ty for its ​"des­per­ate, out­law behav­ior" in Vietnam.

The some­what prim les­son Ells­berg draws from this — of the need to but­tress the con­sti­tu­tion­al sep­a­ra­tion of pow­ers to hob­ble pres­i­den­tial war-mak­ing — is unob­jec­tion­able, but inad­e­quate for under­stand­ing Viet­nam pol­i­cy. His por­trait of an exec­u­tive branch run amok is no more ten­able than the quag­mire the­o­ry. It down­plays seri­ous dis­agree­ments among advis­ers about the prospects for inter­ven­tion and gives short shrift to the polit­i­cal con­text of pres­i­den­tial decision-making.

Domes­tic opin­ion was nev­er uni­form­ly dovish (Ells­berg admits that the pub­lic were usu­al­ly more hawk­ish than the insid­ers), and pres­i­dents act­ed with an eye to pow­er­ful pro-war con­stituen­cies. Kennedy's advis­ers warned of ​"bit­ter domes­tic con­tro­ver­sies" that would ​"divide the coun­try and harass the admin­is­tra­tion" if South Viet­nam fell; as late as the sum­mer of 1967, Sen­ate hawks held hear­ings demand­ing an esca­la­tion of the air war. Far from a ​"des­per­ate, out­law" tan­gent, pres­i­den­tial pol­i­cy per­sis­tent­ly aligned itself with domes­tic polit­i­cal pressures.

Even the Tonkin Gulf inci­dent, exhib­it A in Ellsberg's indict­ment of exec­u­tive branch decep­tion, tells more about con­gres­sion­al acqui­es­cence than pres­i­den­tial per­fidy. Ells­berg quotes Sen. William Prox­mire say­ing he would not have vot­ed for the Tonkin Gulf Res­o­lu­tion had he known the inci­dent was a fraud, but lets this self-serv­ing excuse pass with­out ask­ing why Prox­mire felt a blood­less patrol-boat skir­mish jus­ti­fied writ­ing a blank check to the pres­i­dent for unlim­it­ed war. Instead of prob­ing con­gres­sion­al sup­port for the war, he offers a moral­i­ty play about a Machi­avel­lian exec­u­tive and a bam­boo­zled legislature.

One could argue that the pub­lic would have been more dovish had they pos­sessed inside infor­ma­tion; that's Ellsberg's ratio­nale for leak­ing the Papers. But secre­cy nev­er imped­ed a sub­stan­tive anti-war cri­tique, as Ellsberg's own expe­ri­ence shows. Writ­ing of an anti-war demo in April 1965, just weeks after Amer­i­can ground troops land­ed in Viet­nam, he notes that the speak­ers ​"were on sol­id ground, even if they didn't have inside infor­ma­tion." They had their own sources, no less (and per­haps more) informed than the Pen­ta­gon; jour­nal­ists like Jonathan Schell had writ­ten har­row­ing exposés quite ear­ly in the war. Indeed, Ellsberg's own keen­est insights into the war's ille­git­i­ma­cy, he tells us, came from read­ing French his­to­ri­ans, not the Papers. The truth was out there — the­o­rized by intel­lec­tu­als, report­ed by jour­nal­ists, con­firmed by vet­er­ans, pro­pound­ed by activists — from the start, even if it took a while to sink in.

— —  —  — –

Because Ells­berg still sees the war as a strug­gle between pol­i­cy fac­tions argu­ing over intel­li­gence esti­mates, this larg­er pic­ture eludes him. Viet­nam was not the pet project of a rogue pres­i­dent or a coterie of plan­ners; it was a prod­uct of the Cold War con­sen­sus. It was the long, twi­light strug­gle Kennedy promised us, a reprise of con­flicts over Korea or Berlin of the sort the coun­try had decid­ed it would fight with­out a clear-cut vic­to­ry. Insid­er pes­simism was matched by a con­vic­tion, wide­ly shared by the body politic and policed by anti-com­mu­nist ide­o­logues, that the effort was worth it.

The war would there­fore end not with the rev­e­la­tion of secrets but with a rev­o­lu­tion in con­scious­ness that repu­di­at­ed the Cold War con­sen­sus — one ground­ed in pub­lic weari­ness with the mate­r­i­al and moral costs of ​"twi­light strug­gles" and swayed by the New Left's overt anti-impe­ri­al­ism and non­vi­o­lence. Ellsberg's own change of heart on the war was a micro­cosm of how that rev­o­lu­tion reori­ent­ed pub­lic atti­tudes. The rev­o­lu­tion pen­e­trat­ed the Pen­ta­gon Papers them­selves. ​"A feel­ing is wide­ly and deeply held," wrote Assis­tant Defense Sec­re­tary John McNaughton, ​"that ​'the Estab­lish­ment' is out of its mind … that we are try­ing to impose some U.S. image on dis­tant peo­ples we can­not under­stand (any more than we can the younger gen­er­a­tion here at home)."

The Papers were an anti-cli­max. The war con­tin­ued; six months after their pub­li­ca­tion, Ells­berg glum­ly notes, they had accom­plished ​"noth­ing." Thus Ellsberg's hopes that the Papers would help thwart Nixon's secret inten­tions to expand the war in Indochi­na proved illu­so­ry. (Although he tries to jus­ti­fy them with this tor­tured causal chain: in try­ing to smear Ells­berg after the Papers came out, the Nixon admin­is­tra­tion ordered the bur­glary of his psychiatrist's office, which came to light and added fuel to the Water­gate scan­dal, which deplet­ed Nixon's polit­i­cal cap­i­tal so much that when Con­gress final­ly cut off fund­ing for the bomb­ing of Indochi­na, Nixon did not veto the measure.)

But the Papers' effects were illu­so­ry large­ly because Nixon's plans were not secret — even the ​"secret" bomb­ing of Cam­bo­dia was rather prompt­ly report­ed in the New York Times—and not out of line with pub­lic opin­ion. Indeed, the Nixon admin­is­tra­tion, for all its skul­dug­gery, shows quite dra­mat­i­cal­ly the irrel­e­vance of insid­erism. Nixon delib­er­ate­ly cul­ti­vat­ed a rep­u­ta­tion for des­per­ate out­lawry to fright­en the Com­mu­nists. Unlike the Papers, his secret tapes, which Ells­berg gen­er­ous­ly quotes, are unset­tling to this day:
Nixon: I still think we ought to take the [North Viet­namese] dikes out now. Will that drown people?
Kissinger: About two hun­dred thou­sand people.
N: … I'd rather use the nuclear bomb. Have you got that, Henry?
K: That, I think, would just be too much.
N: The nuclear bomb, does that both­er you? … I just want you to think big, Hen­ry, for Christsakes.

Nixon set­tled for con­ven­tion­al bomb­ing, with the pro­vi­so that ​
"
we're gonna bomb those bas­tards all over the place. Let it fly, let it fly." But despite his deranged bunker men­tal­i­ty, his over­all pol­i­cy was one of duti­ful de-esca­la­tion and with­draw­al — can­ni­ly cal­i­brat­ed to under­cut oppo­si­tion to the war and win re-elec­tion in a land­slide. As much as he longed to, he could not ignore the new con­sen­sus that the coun­try would not bear any bur­den or oppose any foe, and that some things would just be too much — the unfin­ished rev­o­lu­tion in con­scious­ness we call the ​
"
Viet­nam syndrome."
— —  —  — –
By focus­ing pub­lic ire on cor­po­rate evil­do­ers and cor­rupt politi­cians, by deflect­ing atten­tion from bad pol­i­cy to the coverup of bad pol­i­cy, the cult of insid­erism has left a per­ni­cious lega­cy. Take the
2000
pres­i­den­tial elec­tion, a text­book case of an insid­er cabal — the Jeb Bush-Kather­ine Har­ris cabal, the Supreme Court Five cabal, take your pick — thwart­ing the pop­u­lar will, and also a text­book case of insid­erist obtuse­ness. The firestorm over a few hun­dred Flori­da bal­lots took the spot­light off Gore's extra half-mil­lion bal­lots; while in the debate over which gang had betrayed the Con­sti­tu­tion, the Constitution's betray­al of democ­ra­cy by way of the Elec­toral Col­lege was swept under the rug. Thus an oppor­tu­ni­ty for sys­temic reform, embed­ded in a price­less teach­able moment of con­sti­tu­tion­al cri­sis, was dis­si­pat­ed in a triv­ial search for villains.
Even worse are the insid­i­ous long-term effects of insid­erism. By derid­ing the machin­ery of demo­c­ra­t­ic gov­er­nance as a sham that dis­guis­es the behind-the-scenes machi­na­tions of insid­ers, it implies that demo­c­ra­t­ic gov­ern­ment is for suck­ers, that democ­ra­cy is inescapably the cap­tive of well-con­nect­ed inter­ests at odds with the pub­lic good. The result is to fur­ther a polit­i­cal cul­ture of irre­spon­si­bil­i­ty and unin­volve­ment that lets every­one off the hook — leg­is­la­tors, who rat­i­fy bad pol­i­cy behind feigned igno­rance and belat­ed out­rage, and the pub­lic at large, who retreat from the hard work of polit­i­cal engage­ment into free-float­ing cynicism.
Ellsberg's con­cerns about the con­sti­tu­tion­al sep­a­ra­tion of pow­ers and abus­es by the exec­u­tive branch are per­ti­nent today, as an unde­clared war gath­ers under the most venal and secre­tive admin­is­tra­tion in recent his­to­ry. The Repub­li­cans' whole­sale auc­tion of pol­i­cy to cam­paign donors, their lock­down on for­mer­ly pub­lic infor­ma­tion and their pen­chant for incog­ni­to deten­tions make such anx­i­eties plau­si­ble again. And unlike the witch hunts of the Clin­ton years, sus­pi­cions about the Bush admin­is­tra­tion are well-found­ed in real dam­age done to the pub­lic weal.
But it would be a mis­take to revive the cult of insid­erism. All of Bush's mis­deeds are done in the glare of press cov­er­age, with the informed con­sent of Con­gress. And they are in no way a depar­ture from our nation­al cul­ture of heed­less, oil-addict­ed crony cap­i­tal­ism. Bush comes from Texas; Texas doesn't come from Bush. What we need is not secret infor­ma­tion, but a rev­o­lu­tion in con­scious­ness that will, as in the ​
'
60
s, chal­lenge the nation­al con­sen­sus in far-reach­ing ways.