Cuba's Performance Problem
Havana closes down an open mic.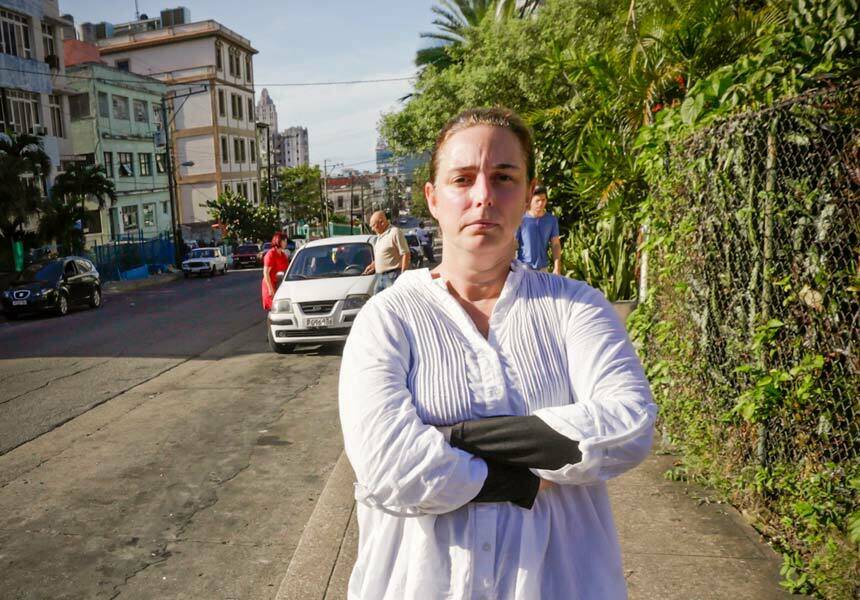 In the aftermath of the December 17, 2014 pronouncements by Barack Obama and Raúl Castro about a rapprochement between Cuba and the United States, the Cuban artist Tania Bruguera published a public letter to the two presidents and Pope Francis in which she proposed relocating her performance Tatlin's Whisper #6 to Havana's Revolution Square, offering an open mic to the Cuban citizenry to express their views about their country's future. (Tatlin's Whisper #6, first performed at the 2009 Havana Biennial, featured exhibition viewers taking the stage to speak for one uncensored minute, after which they were escorted away by actors in military uniforms.)
The Cuban government's control over culture, media and public discourse has been absolute for more than five decades, and vague promises of change are not tantamount to actual modifications in law or policing practices.
Bruguera then traveled to Havana and met with with the director of the National Council of the Fine Arts, Rubén Del Valle, who made it clear that she would not receive authorization or support from official cultural channels. His position was made public in an interview released after the December 27 meeting, as was the Cuban artist and writers' union's repudiation of Bruguera's performance. On December 29, Bruguera tried to obtain authorization from the National Revolutionary Police to use the plaza. Her request was denied.
Bruguera made public her intent to continue with the performance without official support, and was detained on the morning of December 30. Several dissidents who had expressed solidarity with Bruguera's project were either detained or placed under house arrest at the same time. Among them were blogger Yoani Sanchez and her husband Reinaldo Escobar, and members of the activist group The Ladies in White. Artist Luis Trápaga and filmmaker Boris González were arrested at the plaza. Bruguera was released the next day, but has been ordered to remain in Cuba until law enforcement determines whether or not to charge her with disrupting public order and resisting police.
The international outcry over Bruguera's detention does not associate it with the December 24, 2014 arrest of another artist, Danilo Maldonado Machado aka El Sexto, who was apprehended on his way to stage a performance in Havana's Parque Central involving two pigs named Fidel and Raul. El Sexto has not been released and he was not granted an interview with state representatives prior to his arrest. This is probably due to the fact that he is not a member of the Cuban artist and writers' union and does not command the international press attention that would lead to a rash of unfavorable articles such as those generated by the censorship of #Yo Tambien Exijo.
Media coverage of Bruguera's performance, including an editorial in the New York Times, expressed disappointment that freedom of expression was not respected and that opponents of the Cuban government continue to be threatened, harassed and detained. For those who follow Cuban politics, these actions come as no surprise. The Cuban government's control over culture, media and public discourse has been absolute for more than five decades, and vague promises of change are not tantamount to actual modifications in law or policing practices.
Deeper consideration of Bruguera's situation involves whether an artwork can effect political changes in the realm of civil rights and how an artwork might catalyze collective political action. The capacity for manifestations of ​"people power" to effect change depends on the participation of people in large numbers, and no artist or dissident group currently operating on the island has the capacity to marshal the citizenry. Cuba supporters content that this is because of mass support for the country's existing government, while critics argue that political will is suppressed by an authoritarian state. One of the main obstacles to organizing collective political action outside state channels is technical.
Any attempt to convene a large-scale public gathering in Cuba is thwarted from the onset, not only by the country's highly effective security apparatus, but also by the fact that the vast majority of Cubans lack access to the Internet, cell phones and home-based landlines. Bruguera's reliance on the Internet to convene the Cuban public has thus provoked a certain degree of skepticism from critics about her intentions.
While art world cognoscenti have been venting on Facebook and circulating petitions regarding Bruguera's detention, little commentary has emerged from Cuban artists on the island. Cuban National Arts Prize winner Lázaro Saavedra issued the lengthiest public statement so far via his Galería I-mail on December 30, in which he critiqued Bruguera's performance as a miscalculated attempt at ​"aRtivist action" that preaches to Cubans about something they already know too well, and allows the artist to advance herself professionally with minimal risk, since she resides abroad and enjoys a media coverage that serves as a protective shield.
Saavedra rightfully draws a distinction between the meaning and effect of Bruguera's performance in and outside Cuba. But the island's culture does not exist solely for local consumption. Cuba draws thousands of foreigners to its cultural events each year, and the functioning of its promotional machinery depends on approval from and alliances with foreign institutions, benefactors, art world luminaries and tourists. Cuban artists living on the island rely on income from sales to foreigners. In light of the fact that artists and arts professionals invited to biennials in São Paulo and Sydney have recently exercised political will by opposing financing from governments and corporate sponsors whose practices they consider unethical, it may be time for art world cognoscenti who have for so long been charmed by Cuba's eccentricities, anti-imperialist rhetoric and relatively cheap art prices to consider what, beyond the convention of indignant public letters, might serve as a valid response to a state that imposes draconian measures to enforce its hegemonic control over public space and discourse.
Adapted from an article in e-flux journal no. 60, December 2014.
Coco Fusco
is an interdisciplinary artist and an associate professor at Columbia University's School of the Arts. Her most recent publication is
Only Skin Deep: Changing Visions of the American Self
(Abrams,
2003
).