The Culinary Workers Run Vegas. The Politicians Are Just Visiting.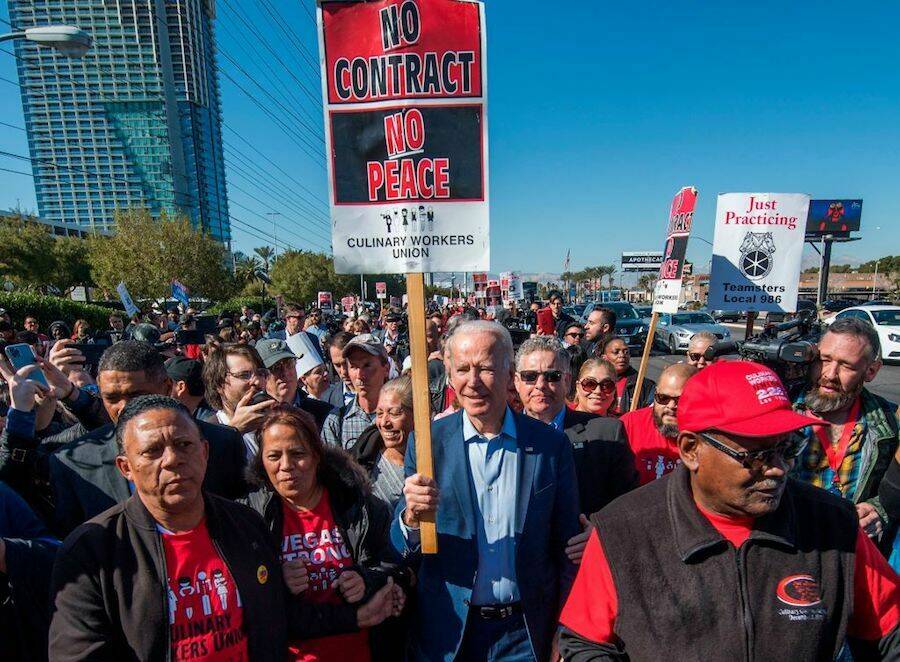 LAS VEGAS — It was the politi­cians that turned the pick­et line chaot­ic. Not the work­ers. The work­ers knew just what they were doing. Hun­dreds and hun­dreds of them, in their red Culi­nary Union T‑shirts, stretched out down West Flamin­go Road in front of the Palms Casi­no, just off the Vegas Strip last Wednes­day. They marched a few hun­dred yards and back in an order­ly if bois­ter­ous cir­cle, guid­ed by a bat­tal­ion of bull­horn-wield­ing chant lead­ers. They'd done this before.
Then the pres­i­den­tial can­di­dates showed up.
One by one, each tak­ing their turn in the spot­light, and each accom­pa­nied by a seething scrum of press, they plowed their way down the the pick­et line like speed­boats slic­ing through a riv­er. Cam­era­men walk­ing back­wards tripped over curbs; micro­phone-wav­ing reporters bumped into strik­ers; union staffers had to join arms and form human shields around the more pop­u­lar can­di­dates, just to keep the march mov­ing. Some of the can­di­dates, like Eliz­a­beth War­ren and Amy Klobuchar, looked nat­ur­al, famil­iar with the rhythm of pick­ets. Oth­ers, like Pete Buttigieg and Joe Biden, looked awk­ward and ner­vous, pale, spec­tral wonks in white Oxford shirts dropped into a seething horde of human­i­ty and forced to car­ry ​"No Jus­tice, No Peace" signs, unable to quite pull off the angry work­ing-class look. And some, like Tom Stey­er, accom­pa­nied by a sin­gle staffer and ignored by most of the press, just looked hap­py to be invit­ed. (Bernie Sanders was con­spic­u­ous­ly absent.)
But all of them, one after the oth­er, messed up the flow of the pick­et line. Their pres­ence was some­thing to be tol­er­at­ed. This was all part of a sys­tem that has been per­fect­ed over decades. The reporters come to trail the politi­cians. The politi­cians come to pay homage to the Culi­nary Union. The Culi­nary Union puts them all to use by march­ing them up and down a pick­et line for a fight against Sta­tion Casi­nos, a grind­ing fight that has been drag­ging on for years and years.
For a few days, the nation­al spot­light is here in Las Vegas, for the Neva­da Cau­cus. But after the spot­light moves on, the Culi­nary Union and its 60,000 work­ers will still be here, try­ing to win con­tracts in the face of crim­i­nal intran­si­gence, try­ing to pull thou­sands of work­ing peo­ple into the mid­dle class through sheer force of sol­i­dar­i­ty and stub­born­ness. It is this dynam­ic that always gets twist­ed in the whirl­wind of the nation­al media around a pres­i­den­tial elec­tion. The union does not exist to serve the politi­cians. The politi­cians exist to serve the union. The union has built a won­drous machine to ensure that it stays that way.
That machine is a sim­ple vir­tu­ous cir­cle. It begins and ends with orga­niz­ing, which nev­er stops. Orga­niz­ing is pro­pelled by the fact that the union demon­stra­bly improves the lives of its mem­bers. Build­ing that array of mem­ber ben­e­fits, from health care to pay to job pro­tec­tions to a train­ing acad­e­my to dis­counts on rental cars, nev­er stops either. These things pro­vide a large num­ber of extreme­ly engaged peo­ple. The union can offer the sup­port of this moti­vat­ed and well-orga­nized force to politi­cians who back the union's goals. These union mem­bers can do every­thing from phone bank to fli­er to knock on doors to pro­duce scream­ing ral­lies on short notice. Their sup­port is high­ly prized, and their oppo­si­tion is feared. The polit­i­cal allies they earn help to clear the omnipresent polit­i­cal obsta­cles to more orga­niz­ing, and the cycle continues.
The Culi­nary Union has spent more than 80 years becom­ing what it is today, which is one of America's most effec­tive social and eco­nom­ic jus­tice orga­ni­za­tions. Its mem­bers are most­ly women and most­ly Lati­no. They work in casi­nos, mak­ing the food, clean­ing the rooms, serv­ing the drinks, doing the laun­dry, car­ry­ing the bags. They are the work force that makes Las Vegas run, and the mem­bers of that work force have mid­dle class wages and health insur­ance and job pro­tec­tions and the back­ing of local and state and nation­al elect­ed offi­cials as a direct result of the work of the union. The Culi­nary Union oper­ates in the heart of the most gild­ed indus­try in an unnat­ur­al city built of mon­ey, and it is the one and only rea­son why the peo­ple who do the work of that indus­try are not exploit­ed to the hilt.
They have pulled off this feat with their cycle of orga­niz­ing, improv­ing people's lives and exer­cis­ing polit­i­cal pow­er. Nev­er is this method more evi­dent than dur­ing Neva­da cau­cus week, when it is put on dis­play for the entire world. This year, it came with more than a lit­tle extra drama.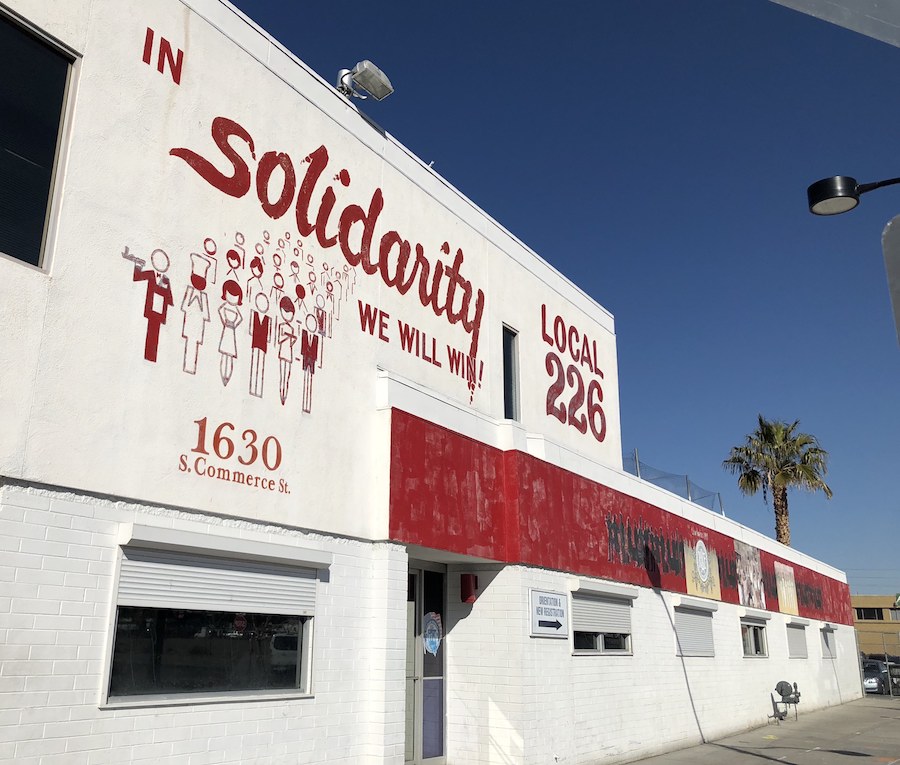 The head­quar­ters of the 60,000-member Culi­nary Work­ers Union sits just north of the Vegas Strip​. (Pho­to by Hamil­ton Nolan)
The union's head­quar­ters is a squat, sprawl­ing two-sto­ry white con­crete build­ing just north of the Vegas Strip, in the shad­ow of the Stratos­phere spire, with ​"In Sol­i­dar­i­ty We Will Win!" embla­zoned in red on its wall. The vis­i­tors who pass through the lob­by on an aver­age week­day morn­ing pro­vide a sam­pling of the union's sprawl­ing oper­a­tions. A young woman drag­ging two way­ward tod­dlers is check­ing on a griev­ance. Work­ers are here to sign up for job train­ing. A team of Stey­er staffers wants to know if Tom can come in and talk. Some­one from the Mex­i­can embassy would like to set up a meeting.
In back, a war­ren of cubi­cles had been cleared out for vol­un­teer get-out-the-vote phone bank­ing, which con­tin­ued for a sol­id week before the Feb­ru­ary 21 cau­cus­es. It was the least com­bat­ive phone bank­ing I've ever wit­nessed — not a grum­ble from any­one who picked up the phone, after they heard it was the union calling.
Marc Mor­gan, a mid­dle-aged bell­man at the D Hotel and six-year mem­ber of the union, sat patient­ly dial­ing from a list, telling callees the time of the cau­cus (Sat­ur­day at 10 a.m.) and the exact loca­tion of their cau­cus site at their work­place. He remind­ed them to get per­mis­sion from their super­vi­sors and to alert a shop stew­ard if the super­vi­sors ille­gal­ly refused. With­in an hour, at least a half dozen peo­ple who were not plan­ning to cau­cus — includ­ing one who said, ​"Cau­cus? What does that mean?" — promised to turn out. Mul­ti­ply that by many peo­ple call­ing for many hours for many days, and you start to get a sense of why the Culi­nary Union is a sought-after polit­i­cal ally for Democ­rats. Thou­sands more mem­bers vot­ed ear­ly as well, anoth­er process the union encour­ages and supervises.
Mor­gan, a shop stew­ard, is, like many union mem­bers, a prac­ti­cal man more than a fire-breath­ing ide­o­logue. His attach­ment to the union was moti­va­tion enough for him to vol­un­teer to spend hours call­ing fel­low mem­bers, just out of a sense of duty. That attach­ment was root­ed in per­son­al expe­ri­ence. ​"I can see the neces­si­ty — the man­agers, oh my god," he said. He had been through a bit­ter con­tract fight at his own casi­no in 2018, and had seen the pet­ty retal­i­a­tions that work­ers suf­fered. ​"Employ­ers want to test the bound­aries. They'll con­tin­ue to test those bound­aries until you pull them back in. It's like par­ents and children."
Despite being cov­et­ed mad­ly by every­one run­ning for pres­i­dent, the Culi­nary Union did not issue an endorse­ment this year. The union endorsed Oba­ma in 2008, but he lost to Hillary Clin­ton in Neva­da any­how. It didn't endorse in the 2016 pri­maries. Much has been made in recent weeks of its spat with Bernie Sanders, which became a huge polit­i­cal news item after the union issued a pur­port­ed­ly edu­ca­tion­al fli­er to mem­bers warn­ing them that Sanders, if elect­ed, would ​"end Culi­nary health­care" — a rather mis­lead­ing char­ac­ter­i­za­tion wide­ly inter­pret­ed as a dec­la­ra­tion of oppo­si­tion to Medicare For All.
This mush­roomed into an entire news cycle pit­ting the union against Sanders, and even drove a round of ques­tion­ing in last week's pres­i­den­tial debate. Mod­er­ate Democ­rats seized on the oppor­tu­ni­ty to frame their oppo­si­tion to Medicare For All as a pro-union posi­tion, a devel­op­ment that cer­tain­ly pleased the health insur­ance indus­try and drove pro­gres­sives in the labor move­ment mad.
There was much spec­u­la­tion that the union decid­ed not to endorse any­one because they were pret­ty sure Bernie was going to win, and they couldn't endorse him because of the con­flict they'd start­ed, but didn't want to endorse some­one who would lose, and so decid­ed to sit on their hands. But offi­cial­ly, they sim­ply chose to endorse their own ​"goals."
The con­flict over this issue — with­in indi­vid­ual unions, and with­in orga­nized labor as a whole — is very real. The Culi­nary Union runs its own health­care cen­ter for mem­bers, and uses its health­care ben­e­fits as a key recruit­ing tool in a ​"right to work" state. Major unions that are, in effect, in the health care busi­ness them­selves have a nat­ur­al lev­el of con­ser­vatism towards change in the sys­tem. But there is also an influ­en­tial por­tion of the labor move­ment that is strong­ly in favor of Medicare For All, not least because it would free up unions to spend their polit­i­cal cap­i­tal on things oth­er than health care, like bet­ter wages.
Lar­ry Cohen, the for­mer pres­i­dent of the Com­mu­ni­ca­tions Work­ers of Amer­i­ca who now leads the Sanders-affil­i­at­ed group Our Rev­o­lu­tion, says that Medicare For All would amount to a spec­tac­u­lar gain for unions in the long run. By bring­ing down admin­is­tra­tive and phar­ma­ceu­ti­cal costs, he says, nation­al health care would actu­al­ly save employ­ers mon­ey — mon­ey that would be fun­neled to work­ers in the form of bet­ter pay and oth­er ben­e­fits. On top of that, there is the sim­ple fact that free­ing peo­ple from employ­er-based health care would allow them to be less enslaved to bad jobs.
"If you go do some­thing else, you're not cov­ered!" Cohen exclaims. ​"Why would we pos­si­bly want to have a sys­tem where the job is what gives you the health care?"
Culi­nary Union mem­bers and staffers will remind you that their cur­rent health care sys­tem, which is free for mem­bers and pro­vides care for more than 100,000 peo­ple, has been won at the cost of many years of great strug­gle and quite a few strikes, some of which dragged on for years. They con­sid­er it a crown jew­el, and view it with pride. Yet the deci­sion of union lead­er­ship to wade pub­licly and aggres­sive­ly into the Medicare For All debate has put them in the posi­tion of becom­ing a use­ful talk­ing point for for-prof­it health care inter­ests. (It is much more polit­i­cal­ly palat­able for con­ser­v­a­tives to say ​"unions are against pub­lic health care" than ​"insur­ance com­pa­nies want to main­tain profits.")
One union staffer told me, ​"The best way for any work­er to be pro­tect­ed is a union con­tract." That may be true, but all three mil­lion cit­i­zens of Neva­da are unlike­ly to be in the union any time soon, and they still get sick. As Culi­nary Union mem­ber Mar­cie Wells wrote last Decem­ber in a wide­ly shared essay call­ing for Medicare For All, ​"We have to acknowl­edge the real­i­ty that for-prof­it insur­ance asserts that if you don't work you deserve what you get: up to and includ­ing death. Also, sick peo­ple don't deserve jobs."
The oth­er thing that should be said, how­ev­er, is this: For the polit­i­cal left, or sup­port­ers of Bernie Sanders, to view the Culi­nary Union as some sort of ene­my is utter­ly insane. The union has actu­al­ly accom­plished the things that the left says it wants to accom­plish. There is no pop­u­lar polit­i­cal move­ment that could not learn from its suc­cess. Ulti­mate­ly it is incum­bent on the left to bring along the Culi­nary and oth­er unions on the path to Medicare For All, not vice ver­sa. They are nat­ur­al allies. Some peo­ple in the union world say pri­vate­ly that Bernie Sanders is on their side ide­o­log­i­cal­ly, but that he often fum­bles or ignores the stan­dard polit­i­cal busi­ness of pulling in stake­hold­ers and lis­ten­ing to them before he plunges ahead on big issues that affect them. The dif­fer­ences between the two sides, in oth­er words, are fix­able. Fight­ing over such things is a waste of time, when there is still a work­ing class that needs help.
***************
The gen­er­al pub­lic typ­i­cal­ly hears about the Culi­nary Union in rela­tion to elec­toral pol­i­tics. But from the per­spec­tive of the union, elec­toral pol­i­tics is just a means to an end. All of the famous politi­cians stum­bling down the pick­et line think they are there for the sake of their own cam­paigns, but in fact they are there to help draw atten­tion to a near­ly decade-long union orga­niz­ing cam­paign at Sta­tion Casi­nos, the com­pa­ny that owns the Palms and sev­en oth­er casi­nos where work­ers have vot­ed to union­ize in recent years.
The com­pa­ny relent­less­ly fought the orga­niz­ing cam­paigns. Once work­ers at indi­vid­ual Sta­tion Casi­nos began vot­ing to union­ize in 2016, they refused to rec­og­nize the unions, stalled on con­tract bar­gain­ing, and have dragged the entire mess into the bureau­crat­ic mire of the Nation­al Labor Rela­tions Board. Thou­sands of work­ers who should already have union con­tracts have been forced to con­tin­ue their fight against the com­pa­ny for sev­er­al years.
To height­en the con­tra­dic­tions to car­toon­ish lev­els, Sta­tion is owned by the bil­lion­aire Fer­tit­ta broth­ers, who got filthy rich when they sold the Ulti­mate Fight­ing Cham­pi­onship for $4 bil­lion in 2016. The Fer­tit­tas have donat­ed mil­lions of dol­lars to the Trump cam­paign. In 2018, Frank Fer­tit­ta spent $25 mil­lion on his daughter's wed­ding, com­plete with an appear­ance by Bruno Mars. Yet there seems to be no length to which they will not go to pre­vent their house­keep­ers from join­ing a union.
They are unsym­pa­thet­ic fig­ures. A pick­et line feels almost polite, in rela­tion to their con­duct. At the ral­ly at the Palms on Wednes­day, flight atten­dant union leader Sara Nel­son, who had come in sup­port, called them ​"the frit­ta­ta broth­ers." D. Tay­lor, the hard­boiled head of Unite Here — who, in shades, a ball­cap and a fad­ed t‑shirt, resem­bled noth­ing so much as a high school base­ball coach about to yell at every­one to run laps — was even more direct. ​"These guys are scum­bag liars!" he shout­ed. ​"The only way we're going to win is to kick the everlov­ing crap out of them and beat the shit out of them."
That is a col­or­ful way of say­ing: ​"We rec­og­nize the val­ue of con­tin­ued orga­niz­ing." On Fri­day, the day before the cau­cus­es, as the nation­al press corps was still replay­ing two-day-old debate zingers, a group of 17 Culi­nary Union orga­niz­ers involved in the Sta­tion Casi­nos cam­paign met at 9 a.m. in a sec­ond-floor con­fer­ence room at the head­quar­ters build­ing. They were men and women, young and old, Lati­no and black and white, and almost all of them had been as casi­no work­ers and union mem­bers before they were organizers.
For an hour, they reviewed the past week's work. Most impor­tant was the tal­ly of how many union cards each per­son had got­ten signed, with each card earn­ing a round of applause inside the room. (One orga­niz­er who had pulled in five signed cards earned her­self a day off, and the jeal­ousy of every­one else.) After­ward, the orga­niz­ers head­ed out for home vis­its. This is the true, sweaty, grind­ing sub­stance of union orga­niz­ing: a nev­er-end­ing process of talk­ing to peo­ple who are always busy doing oth­er things. A nev­er-end­ing process of refin­ing and updat­ing a mas­ter list of names. With­out this work, unions don't exist.
I set out with Oscar Diaz, a 35 year-old with a shaved head, glass­es, and a goa­tee who had been with the Culi­nary Union for ten years. His father had been a Culi­nary Union shop stew­ard at the West­gate, where he worked for more than 30 years. Diaz's orga­niz­ing work focus­es on Boul­der Sta­tion and Palace Sta­tion, two Sta­tion Casi­nos prop­er­ties that, after years of orga­niz­ing, held suc­cess­ful union elec­tions in 2016.
The fact that he is still deeply engaged in orga­niz­ing them four years lat­er will give you an idea how hard the fight has been. Part of the slog is direct­ly attrib­ut­able to nation­al pol­i­tics. When the com­pa­ny breaks the law, the union files charges against them with the NLRB. But staffing num­bers at the NLRB's Las Vegas office, Diaz says, have been reduced under Pres­i­dent Trump, mean­ing that cas­es take longer to work their way through the bureau­cra­cy. The delays mean the union cards signed a year or two ago have expired; orga­niz­ers must get work­ers to sign again.
Good orga­niz­ers com­bine the tal­ents of a sales­per­son, a pri­vate detec­tive, a moti­va­tion­al speak­er and a long-haul dri­ver. With a print­ed list of work­ers' names, Diaz drove around North Las Vegas, seek­ing out address­es in the expanse of iden­ti­cal sand-col­ored hous­ing devel­op­ments. The work­ers do not know that orga­niz­ers are com­ing, mean­ing that they may be gone, or asleep, or sus­pi­cious about open­ing the door. But Diaz is used to nav­i­gat­ing logis­ti­cal hur­dles. We reached one apart­ment com­plex only to find that we didn't have an access code to open the front gate. Diaz hopped out of the car, peered on top of the key­pad box, and found the code. ​"The FedEx guys will scratch it on top of the box some­times," he said, shrugging.
An orga­niz­er may knock on dozens of doors in a day and have only a few tru­ly pro­duc­tive con­ver­sa­tions. The abil­i­ty to nav­i­gate unknown neigh­bor­hoods with lit­tle infor­ma­tion and track down secu­ri­ty codes and slip seam­less­ly between Span­ish and Eng­lish and read each per­son for signs of bias or dis­hon­esty or con­fu­sion are all just inher­ent in the job. And things used to be even hard­er. At the begin­ning of the cam­paign, Diaz recalls, orga­niz­ers got refer­rals with no names or address­es, just vague descrip­tions: ​"Go up Trop­i­cana, you'll see a house that has a stat­ue of the Vir­gin Mary, knock on the back door."
For the work­er who signed a union card, Diaz will come back again anoth­er day with one of her cowork­ers, to recruit her to get more involved. For the work­ers who didn't answer their doors, he will mark them down, and come back again, how­ev­er many times are nec­es­sary to pull cohe­sion out of this huge group of tired, busy, far-flung peo­ple. He and his fel­low orga­niz­ers will do this tomor­row, and the next day, and the next day. They did this for years already to get an elec­tion, and years more to try to get that elec­tion affirmed, and may do it for years more to win a con­tract. This is what it takes.
"Bust­ing unions is not hard," Diaz says. ​"It's play­ing with people's fears." Dur­ing the long Sta­tion Casi­nos cam­paign, he has seen how much effort it takes to coun­ter­act intran­si­gent boss­es that pos­sess enor­mous advan­tages in time and mon­ey. The peo­ple that they are up against have bil­lions of dol­lars. The Culi­nary Union has Oscar Diaz, and all of the oth­er orga­niz­ers, who will find out where you live and con­vince you to stand up for your­self. With those tools, the Culi­nary Union has orga­nized Las Vegas. Orga­niz­ing beats mon­ey, even if it takes a very, very long time.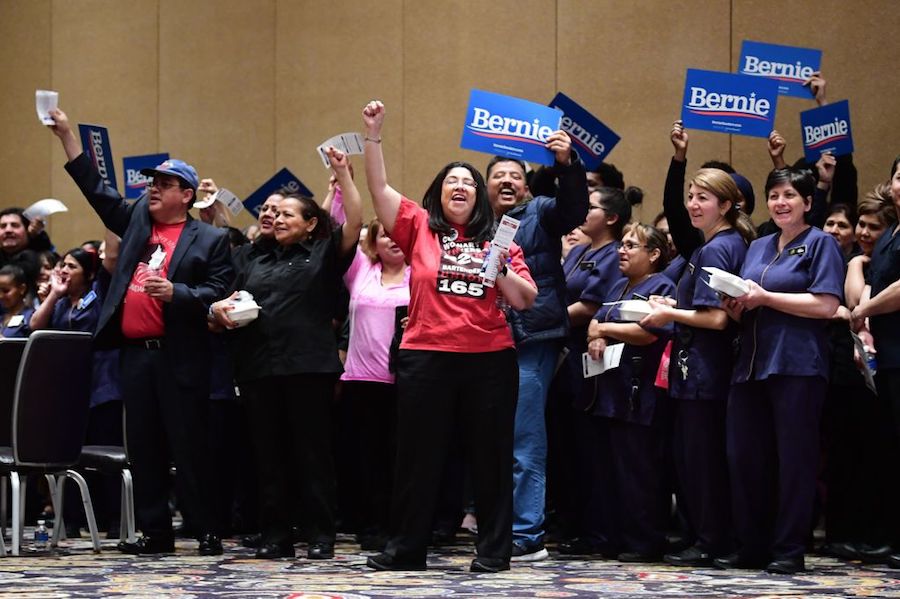 Culi­nary Work­ers Union mem­bers hold Bernie plac­ards before cast­ing their votes dur­ing the Neva­da Demo­c­ra­t­ic cau­cus­es at the Bel­la­gio Hotel in Las Vegas on Feb­ru­ary 22. (Pho­to by Fredric J. Brown/​AFP via Get­ty Images)
Sat­ur­day was cau­cus day. The cau­cus for work­ers at the Bel­la­gio, one of the more opu­lent prop­er­ties on the strip, was held in a ball­room, where 100 chairs were set out on gar­ish pais­ley car­pet under crys­tal chan­de­liers. Around 11 a.m., small groups of house­keep­ers wear­ing their dark blue uni­forms began trick­ling in, tak­ing seats and try­ing to ignore the mass of cam­eras at the back of the room, where every net­work and news out­let had gath­ered to wit­ness this immod­est open demon­stra­tion of democracy.
Most of the cau­cus-goers were women of col­or. A few shared their thoughts as they wait­ed for the pro­ceed­ings to begin. Lau­ra Flo­res, a house­keep­er and 20-year mem­ber of the Culi­nary Union, said she was sup­port­ing Bernie Sanders, because of his posi­tion on health insurance.
More­na Del Cid, anoth­er Culi­nary Union mem­ber, who worked in the pok­er room and had been with the com­pa­ny for 30 years, was par­tic­i­pat­ing in her first cau­cus. She was sup­port­ing Bernie Sanders. ​"Peo­ple have to make a change," she said. Asked about his stance on Medicare For All, she replied, ​"I love that."
Of 123 eli­gi­ble peo­ple in the room to cau­cus, 75 went for Bernie Sanders in the first round, and 39 went for Joe Biden. War­ren got six and Stey­er got three, mean­ing they were not viable. One sup­port­er of each viable can­di­date then had a minute to make their case to the hand­ful of vot­ers whose can­di­dates didn't make the cut. A Bel­la­gio work­er wear­ing a red Culi­nary union t‑shirt spoke for Bernie Sanders, declar­ing, ​"My chil­dren and future gen­er­a­tions should all have health care!" Medicare For All was her pitch.
The final tal­ly was 76 votes for Bernie, 45 for Biden, and two uncom­mit­ted. Bernie ran away with the Bel­la­gio and almost all of the oth­er casi­nos on the Vegas Strip, the very heart of the Culi­nary Union's ter­ri­to­ry. This set up an easy nar­ra­tive about a polit­i­cal vic­to­ry over an entrenched union leadership.
But that nar­ra­tive is mis­lead­ing. A union is the peo­ple in the union. The mem­bers, col­lec­tive­ly, are its heart, its mind and its voice. In a good union, its lead­ers and orga­niz­ers and staffers do what they do in order to give pow­er to its mem­bers. The Culi­nary Union is a good union. Its mem­bers won, so it won.
After the votes had all been count­ed, those who had cau­cused filed out of the room quick­ly, return­ing to work and try­ing to avoid the gaunt­let of media that lined the exits, bom­bard­ing them for quotes. I didn't have the heart to press them any more. They had already spoken.
Get the lat­est news and analy­sis from inside the labor move­ment in your inbox every Fri­day. Sign up for the Work­ing In These Times newsletter.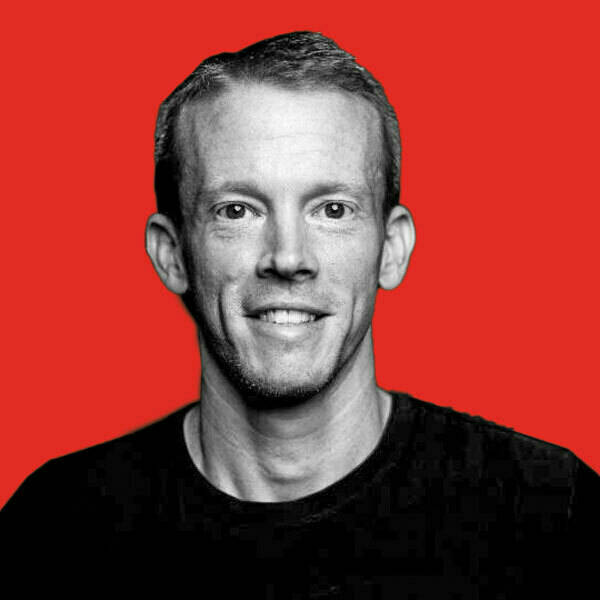 Hamil­ton Nolan is a labor reporter for In These Times. He has spent the past decade writ­ing about labor and pol­i­tics for Gawk­er, Splin­ter, The Guardian, and else­where. You can reach him at Hamilton@​InTheseTimes.​com.