Curriculum Wars
A California State Senator wants to help public schools catch up with history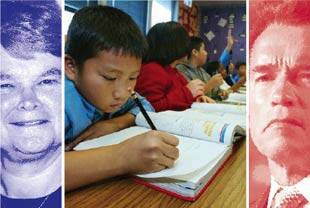 Cal­i­for­nia State Sen. Sheila Kuehl knows the pit­falls of being young and gay first­hand. At 17, she was a tele­vi­sion star, play­ing the role of Zel­da Gilroy, in the week­ly tele­vi­sion sit­com, The Many Loves of Dobie Gillis. She was good enough that CBS filmed four episodes of a spin-off titled Zel­da, only to be shelved when net­work exec­u­tives began to sus­pect that their lead actress might be les­bian. She was also expelled from her soror­i­ty at UCLA after some of her sis­ters dis­cov­ered a let­ter from her girlfriend.
Sheila took her indig­na­tion to Har­vard Law School, then into a suc­cess­ful law career and final­ly to the state house. She was the first open­ly gay mem­ber of the Cal­i­for­nia leg­is­la­ture and has cham­pi­oned issues affect­ing its cit­i­zens as an assem­bly­woman and now a sen­a­tor. In Feb­ru­ary, she intro­duced a Sen­ate bill (SB 1437), hop­ing to help to mit­i­gate the alien­ation that gay teens face in pub­lic schools.
Cal­i­for­nia law cur­rent­ly requires K‑12 social sci­ence instruc­tion to include a study of the role and con­tri­bu­tions of both men and women, Black Amer­i­cans, Amer­i­can Indi­ans, Mex­i­cans, Asians, Pacif­ic Islanders, and oth­er eth­nic groups, with a par­tic­u­lar empha­sis on por­tray­ing the role of these groups in con­tem­po­rary soci­ety. It pro­hibits text­book con­tent, instruc­tion or school-spon­sored activ­i­ties that reflect adverse­ly on race or eth­nic­i­ty, dis­abil­i­ty, nation­al­i­ty and reli­gion. Sim­ply put, SB 1437 adds sex­u­al ori­en­ta­tion and gen­der to that list, spec­i­fy­ing that the infor­ma­tion be pre­sent­ed in an age-appro­pri­ate man­ner. The bill passed the Sen­ate and is head­ed to a vote in the Assem­bly some­time this summer.
The bill is draw­ing Cal­i­for­nia Gov. Arnold Schwarzeneg­ger into a debate that will pit his social­ly pro­gres­sive views against the social­ly con­ser­v­a­tive dog­ma of his polit­i­cal base. Nation­al­ly, it pos­es the ques­tion of whether pub­lic school cur­ricu­lum can catch up with pop­u­lar culture.
Accord­ing to David Hol­la­day, exec­u­tive direc­tor of the Los Ange­les chap­ter of the non­prof­it Gay, Les­bian and Straight Edu­ca­tion Net­work (GLSEN), ​"the only way that gay and les­bian kids can see them­selves in school­books now is in the con­text of the AIDS epi­dem­ic or wear­ing pink tri­an­gles dur­ing the Holo­caust." A 2003 GLSEN sur­vey found that 76.2 per­cent of youth report­ed that les­bian, gay, bisex­u­al and trans­gen­der issues were rarely addressed or dis­cussed in school. The sur­vey fur­ther found that silence and biased mes­sages pro­mote neg­a­tive stereo­types, which can lead to dis­crim­i­na­tion, harass­ment and vio­lence. But when these issues are dis­cussed, gay stu­dents report that they feel safer.
In 2002, GLSEN con­duct­ed a study of 13 texts used in schools around the coun­try. Four texts direct­ly dis­cuss gay and les­bian themes. Two of those four pro­vid­ed pho­to­graph­ic rep­re­sen­ta­tions of gay and les­bian themes. And only two ref­er­ence ​"Gays and Les­bians" and ​"Gays and Les­bian Rights" in their index or table of contents.
The study's author, GLSEN's Direc­tor of Edu­ca­tion Scott Hirschfeld, asks, ​"What are stu­dents to infer, for exam­ple, from a book that defines HIV/AIDS as some­thing that hap­pened to Rock Hud­son dur­ing the Rea­gan years?" (p. 886, Amer­i­can Odyssey: The Unit­ed States in the 20th Cen­tu­ry, 1999). Of 12,530 total pages of text, an aggre­gate of less than one page direct­ly address­es LGBT issues, a shock­ing­ly low .007 per­cent of the total text­book material.
Eliz­a­beth Sevil­la, a high school Eng­lish teacher in Comp­ton, says, ​"If this bill pass­es, my job gets eas­i­er. Kids gig­gle when the word ​'gay' is spo­ken in class, because it is taboo. This dis­tracts from my teach­ing, because I have to stop and chal­lenge the igno­rance. Many of them use it in a neg­a­tive way, mean­ing ​'stu­pid' – ​'You're so gay' – and this makes any­one who might be gay or have a gay fam­i­ly mem­ber or friend uncom­fort­able. But when the kids learn, for instance, that Langston Hugh­es, one of the great poets of the Harlem Renais­sance was gay, they stop using the word as a weapon against one another."
Indeed, it's not just Langston Hugh­es. If SB 1437 becomes law, stu­dents could learn more about the role Bayard Rustin, a top lieu­tenant of Dr. Mar­tin Luther King, Jr., played as prin­ci­pal orga­niz­er of the 1963 March on Wash­ing­ton. Many believe that he stayed behind the scenes to avoid polit­i­cal back­lash from the rev­e­la­tion that he was gay. High school teach­ers could explain the 1969 Stonewall Riots in Green­wich Vil­lage, or the 1978 mur­der of San Fran­cis­co Super­vi­sor Har­vey Milk.
On May 25, two weeks after the Sen­ate passed SB 1437 but before the Assem­bly con­sid­ered it, Schwarzenegger's office broke its rule of reserv­ing com­ment on bills until they arrive for his sig­na­ture. Direc­tor of Com­mu­ni­ca­tions Adam Mendel­sohn announced that the gov­er­nor would veto the bill. The tim­ing is note­wor­thy, with the announce­ment com­ing just days before the begin­ning of Gay Pride month. While the veto announce­ment may lessen the expec­ta­tions for the leg­is­la­tion, it could also gal­va­nize its sup­port­ers, lead­ing increased pres­sure on Schwarzenegger.
Mona Passig­nano, states issues ana­lyst of Focus on the Fam­i­ly, is heart­ened by the stance announced by the governor's office, but not entire­ly sat­is­fied. ​"I real­ly want to hear it straight from him," she says.
Mean­while, the bill's spon­sor, Kuehl, is not accus­tomed to tak­ing ​"no" for an answer. ​"He hasn't made up his mind, I don't care what some under­ling might have said," she says. ​"When it gets to the floor, I expect to talk to the gov­er­nor and I expect to get it through. … There's noth­ing con­tro­ver­sial about it … once peo­ple under­stand what it real­ly does."

John Ire­land
cov­ers pro­gres­sive pol­i­tics and social dynam­ics in the Unit­ed States, explor­ing ​
"
democ­ra­cy in action." He has been pub­lished in numer­ous peri­od­i­cals, includ­ing
Newsweek
, the
San Fran­cis­co Chron­i­cle,
the
Bal­ti­more Sun
and the
Advo­cate
.