Teachers Who Staged 'Sick-outs' Declare Victory Against Detroit Schools' Unelected Emergency Manager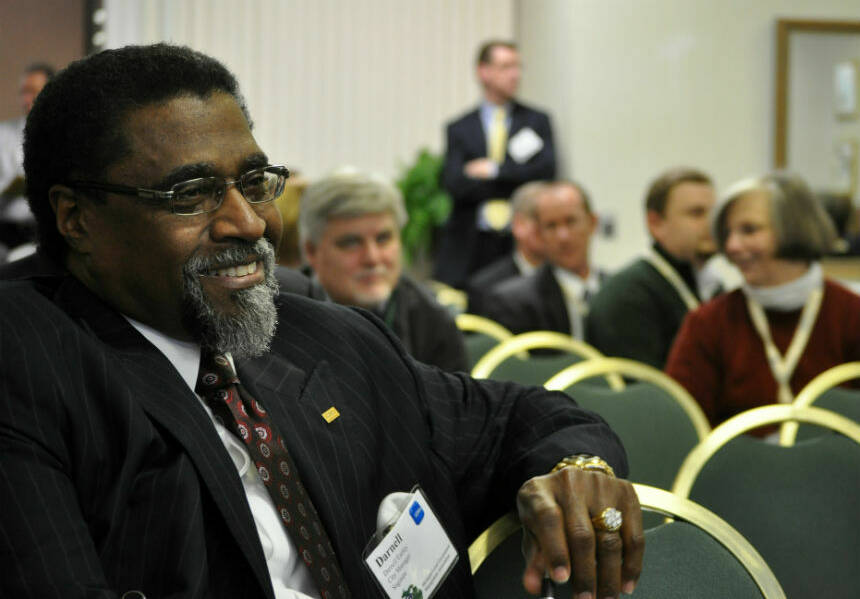 Education activists cheered today as Darnell Earley officially stepped down from his position as emergency manager of Detroit Public Schools (DPS). His departure came after thousands of teachers staged rolling ​"sick-outs" to protest his role as the unelected head of the school system.
Strikes by teachers and other municipal employees are illegal under Michigan law, but more than a dozen times this winter, groups of teachers called in sick to protest frozen wages, ballooning class sizes, decaying buildings and other conditions they say are the result of state-imposed austerity. The largest such action on January 20 forced the temporary closure of 88 of the district's 104 schools. Photos shared by teachers of the hazardous conditions inside their classrooms — black mold, rodents and no heat — went viral.
Earley has an ignominious resume: Before he began managing DPS in January 2015, he was the emergency manager of Flint, Michigan when the city infamously switched water supplies, eventually exposing its residents to lead-contaminated water. Teachers say that Earley's reign in Detroit, likewise, made a bad situation worse. The Detroit Federation of Teachers (DTF), which did not coordinate the sickouts but filed suit against Earley and DPS in February, accused him of allowing the schools to ​"deteriorate to the point of crisis." Earley's departure is a victory for the union and rank-and-file activists who organized the sickouts, but some are adamant that the work is not done until local control is returned to Detroit's schools.
Sick with ​
'

Snyder Flu'

The larger problem, many teachers say, is the string of unelected emergency managers that have presided over Detroit schools for the past seven years. Following decades of structural disinvestment, the city's school system is in an estimated $30 billion in debt. The teacher's union says that a series of four emergency managers have only dug that hole deeper, running up $515 million in debt while implementing mass layoffs and cuts on the backs of educators and students. Governor Rick Snyder has relied heavily on emergency managers to fix the state's fiscal woes, but critics say that the system effectively disenfranchises the majority-black communities that have ended up under the thumb of appointed leaders.

Under emergency management, Detroit's elected school board is effectively powerless. Teachers say this situation forced them to take dramatic action. ​"Having none of the usual forms of democracy, like having no school board meetings to go to where we can voice our opinions – this is what we have to do, mass direct action," Nicole Conaway, a DPS teacher at East English Village, told In These Times.

Earley will be replaced by former U.S. bankruptcy judge Steven Rhodes, who will take over as a ​"transitional emergency manager" – supposedly Detroit's last, under a plan formulated by Governor Snyder in April 2015. Teachers are still wary of this scheme, which would force a bankruptcy-style restructuring on Detroit's school system by splitting the district in two entities – one to hold its bad debt while an entirely new district would perform the actual task of educating the city's children. Teachers are worried about the potential for broad anti-worker policies being implemented in any new district, as well as when exactly the schools will be returned to local control. Various bills modeled on the plan are making their way through the state legislature but the governor has said he expects to pass some form of DPS restructuring to pass by this summer.

"I think there is a heightened sense of fear about our jobs and the security of our jobs. It just kind of caught on, and people just started doing sick outs. We just felt like there was nothing else to lose," says William Weir, a Social Studies teacher at Schulze Academy for Technology and Arts.

Rank-and-file Rebellion

The sickout protests erupted out of an internal tug-of-war between reformers and entrenched union leadership. After the union negotiated a concessionary contract in 2009 with DPS' first unelected emergency manager Robert Bobb, 2,400 DPS employees lost their jobs, 29 schools closed, and charter schools proliferated rapidly. In 2011, reformer Steve Conn challenged the incumbent DFT president Keith Johnson, over these mounting problems, criticizing him for calling for ​"labor peace" in dealing with Bobb.

After losing this initial campaign by a handful of votes, Conn mounted another campaign in January 2015. This time he was successful, ending up fifteen votes ahead of his opponent, a member of Johnson's slate. Throughout his campaigns, Conn had stressed the need for direct action. Following his victory, he and other teachers staged a series of walk-outs and rallies at the Capitol.

But in July, Conn's presidency was cut short when he was dismissed by the DFT's executive board on misconduct charges, allegedly for administrative and leadership failures, something he and his supporters vehemently deny. At a meeting soonthereafter, DFT rank-and-file present voted to reinstate Conn, but did not meet the required two-thirds necessary to overturn the decision.

Interim union president Ivy Bailey says she reached out for help from the American Federation of Teachers, DFT's parent union. Under the ​"voluntary trusteeship" that resulted, DFT's union elections will be suspended until June 2016.

But by then, Conn and his associates within BAMN, a student-teacher coalition for racial justice, organized the first rogue sickouts in response to Governor Snyder's calls to up-end the school district. Since then, other informal groups of grassroot teacher organizers have been planning their own mass sickouts, demonstrating that Conn is not the sole instigator.

"Steve might have been the spark, but … we actually felt like our jobs were in jeopardy," says Weir. He worries that Detroit could end up dominated by charter schools, as has happened in New Orleans. ​"That new school system could wipe out collective bargaining."

While they didn't formally sanction the sickouts, DFT leadership, under direction of AFT administrators, have not wasted the public pressure in wrangling concessions out of the district, says David Hecker, president of AFT Michigan. ​"DFT put forward a series of demands to the emergency manager. The course of action that was decided upon was ​'Let's get what we can get now.' "

In January, DFT negotiated a letter of agreement with the school district on demands related to staff meeting time limits, reassurances of paid sick leave, and a joint labor-management committee to work on curriculum issues.

The DFT and AFT also came together to file a lawsuit against Earley and the district for failing to provide a healthy learning environment for DPS students. Only days later, Earley announced his resignation.

While these are important measures, Conn emphasizes that legal strategies alone won't win the day: ​"The only way we're going to get anywhere in the courts is by continuing the sickouts and the fight," he says.

State legislator Sherry Gay-Dagnogo, a former DPS teacher who currently represents Detroit as a Democrat in the Michigan House of Representatives, says that Detroit is being targeted by Republicans from across the state and hopes the sickout protests will be the catalyst for a political movement to oppose state control of school systems and municipalities.
​"While Darnell Earley has done his share of damage in serving in the role of emergency manager for DPS and Flint, him stepping down does not in any way answer the cry of the teachers to really have support, adequate pay, affordable health insurance, adequate conditions for all of our students" she says. ​"That all still goes directly to the governor."
Mario Vasquez is a writer from southern California. He is a regular contributor to Working In These Times. Follow him on Twitter @mario_vsqz.