David Horowitz: 'Conservatives Are So F**king Well-Mannered'
America's preeminent leftist-turned-neoconservative talks politics with In These Times.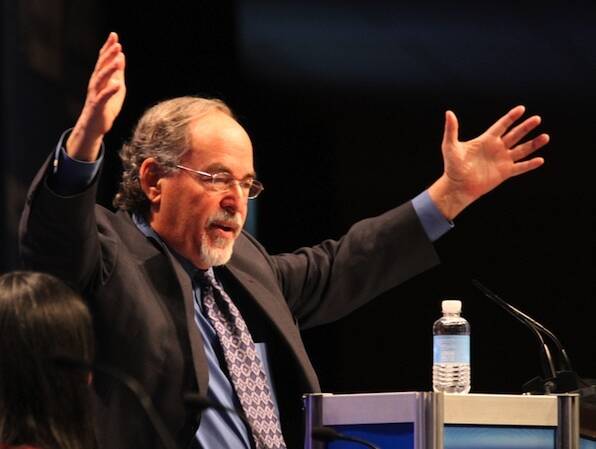 Sit­ting in the Her­itage Foundation's Lehrman Audi­to­ri­um, where David Horowitz is about to give a speech pro­mot­ing the new­ly released first book of his upcom­ing 10-vol­ume col­lec­tion of writ­ings, The Black Book of the Amer­i­can Left, I am whol­ly pre­pared for the pos­si­bil­i­ty that our planned post-pro­gram inter­view will degen­er­ate into a shout­ing match.
'I can see through leftist eyes, I understand how the Left sees. But you can't yet see through conservative eyes,' Horowitz tells me. 'You are in a hermetically sealed universe.'
Horowitz has done it before. The edi­tor of Front­Page Mag­a­zine has been on cam­era more than a dozen times yelling at col­lege kids, rad­i­cals, aca­d­e­mics, lib­er­als — any­body who dis­agrees with him, real­ly. I'm ready for the worst, and so, it seems, are Horowitz's com­pa­tri­ots. ​"I've been told by our guest we have an audi­ence full of trou­ble­mak­ers," says the intro­duc­to­ry speak­er, John Hilboldt, direc­tor of Heritage's lec­ture pro­gram, before glar­ing at the peo­ple in the front row, where I am sitting.
My con­cerns about the poten­tial for explo­sive dis­agree­ments aside, I'm a lit­tle torn about inter­view­ing Horowitz at all, for fear of giv­ing a broad­er plat­form to his pol­i­tics. In recent years, Horowitz has vicious­ly smeared Mus­lims, tak­en to com­par­ing Pales­tini­ans to Nazis and led a well-pub­li­cized witch­hunt against Amer­i­can acad­e­mia. His 2006 book The Pro­fes­sors: The 101 Most Dan­ger­ous Aca­d­e­mics in Amer­i­ca named dozens of uni­ver­si­ty pro­fes­sors guilty of no crime, it seems, oth­er than offend­ing David Horowitz.
Help keep this report­ing pos­si­ble by mak­ing a dona­tion today.
While his stand­ing among neo­con­ser­v­a­tives has arguably declined in recent years, many of them con­tin­ue to regard Horowitz as an author­i­ta­tive voice on the polit­i­cal influ­ence of the far Left. I'll also con­fess to being mild­ly fas­ci­nat­ed by him for his­tor­i­cal rea­sons. Though his pro­fes­sion­al career as an ex-left­ist is now twice as long as the amount of time he actu­al­ly spent on the Left, Horowitz remains a liv­ing con­nec­tion to the Left of the late 1960s and ear­ly 1970s, includ­ing the anti-war move­ment, the ascen­dant anti-Stal­in­ists and the Black Pan­thers. From 1969 to 1973, he was also the edi­tor of Ram­parts, the glossy, well-cir­cu­lat­ed mag­a­zine emblem­at­ic of the Amer­i­can New Left, the sort of pub­li­ca­tion where one could find a review of the Rolling Stones' fate­ful Novem­ber 1969 tour along­side a cri­tique of post-rev­o­lu­tion­ary Cuba.
And as it turns out, my fears of get­ting ver­bal­ly assault­ed by Horowitz are far overblown. One on one, Horowitz is dis­arm­ing­ly friend­ly, seems gen­uine­ly curi­ous about my own back­ground and gives me much more time than I had planned.
After Horowitz's speech, a riff upon his usu­al argu­ment that most self-described lib­er­als in the U.S. are basi­cal­ly rad­i­cal left­ists in dis­guise, a car takes the two of us from the Her­itage Foun­da­tion to the so-called ​"Bre­it­bart Embassy," the Capi­tol Hill home of the late con­ser­v­a­tive media mogul. The fed­er­al-style row house, replete with Amer­i­cana-themed paint­ings and roy­al blue rugs adorned with white stars, now serves as a some­times head­quar­ters for the Wash­ing­ton cor­re­spon­dents of Bre​it​bart​.com. As the website's writ­ers type away at the din­ing room table, we go to a room in the back of the house to resume our conversation.
I ask Horowitz if he recalls being a found­ing spon­sor of In These Times in 1976.
​"I did it for Jim­my," he says, refer­ring to the magazine's founder and long­time pub­lish­er James Wein­stein, who also found­ed the jour­nal Social­ist Rev­o­lu­tion. ​"I said, ​'I'm gonna regret this one day,' but you know, it was a tug of war between ​'I'm gonna regret this' and then there was my friend­ship with Jimmy."
He then segues into what will become a com­mon theme of our con­ver­sa­tion: his dis­en­chant­ment with the Left. ​"I was com­ing undone," he says of that peri­od in his life. ​"I under­stood there was some­thing very wrong with my worldview."
Horowitz's ide­o­log­i­cal about-face stems from a com­bi­na­tion of polit­i­cal dis­il­lu­sion­ment and per­son­al tragedy. In Decem­ber 1974, around the same time that he was eval­u­at­ing his com­rades' so-called inabil­i­ty for crit­i­cal self-eval­u­a­tion, his friend Bet­ty Van Pat­ter was mur­dered — by the Black Pan­thers, he alleges. After that, he says, he couldn't ally him­self with the cause of the rev­o­lu­tion­ary Left any longer.
Sim­i­lar­ly, there seem to be two sides to Horowitz: the per­son who regards him­self as some­thing of an intel­lec­tu­al, and the no-shits-giv­ing flame-throw­er who will do any­thing to score a point against his oppo­nents. He weaves in and out of both char­ac­ters, ref­er­enc­ing Leszek Kolakows­ki and Lud­wig von Mis­es at one moment, and then George Soros and Al Sharp­ton the next.
When I ask him if he real­ly thinks Oba­ma is a Marx­ist, for exam­ple, or that the Demo­c­ra­t­ic Par­ty is dom­i­nat­ed by com­mu­nists and the Ser­vice Employ­ees Inter­na­tion­al Union is a ​"com­mu­nist union" — all claims he's made before — he acknowl­edges that he doesn't mean any of that literally.
​"I encap­su­late one men­tal­i­ty under ​'com­mu­nist' even though that doesn't mean that they sup­port­ed Stal­in or that they're mem­bers of the par­ty or that they believe in the dic­ta­tor­ship of the pro­le­tari­at," he says. ​"If you don't under­stand that eco­nom­ic redis­tri­b­u­tion is a threat to indi­vid­ual free­dom, then you won't see that. You are on that Left. I call that a com­mu­nist mentality."
This goes hand in hand with his gen­er­al­ly slop­py nar­ra­tive of the Demo­c­ra­t­ic Par­ty. For all of his insis­tence on a decades-long rad­i­cal infil­tra­tion that began with George McGovern's 1972 pres­i­den­tial cam­paign, the ​"com­mu­nist men­tal­i­ty," as far as Horowitz is con­cerned, appears to have strick­en var­i­ous politi­cians and thinkers in an ahis­tor­i­cal fash­ion. Bill Clin­ton was a cen­trist, Horowitz con­cedes — but Hillary, on the oth­er hand, is a rad­i­cal ide­o­logue. Some peo­ple hap­pen to catch the Marx­ist mal­a­dy, oth­ers don't. When I press him to bet­ter explain why he calls cer­tain Demo­c­ra­t­ic polit­i­cal fig­ures com­mu­nists when they so plain­ly aren't, the lines between Horowitz the per­former and Horowitz the thinker start to blur.
​"You know it's like the Big Gulp syn­drome," he says, refer­ring to for­mer New York May­or Michael Bloomberg's pro­posed ban on sodas larg­er than 16 ounces ear­li­er this year. ​"Here's a guy Bloomberg, he thinks of him­self as a Repub­li­can, but he's got this men­tal­i­ty that he knows what's fuck­ing best for peo­ple. Right down to the Big Gulp."
​"So Bloomberg has been infil­trat­ed by the com­mu­nist men­tal­i­ty?" I ask.
​"If you just want to car­i­ca­ture and make fun of me, go ahead, you're a writer. You're like God in your lit­tle paper," he scoffs. ​"You can do what­ev­er you want. But I'm telling you, from a life­time of expe­ri­ence — basi­cal­ly peo­ple on the Left think ordi­nary peo­ple are stu­pid and have to be guid­ed and controlled."
Like a born-again Chris­t­ian explain­ing the process of his con­ver­sion to a non-believ­er, Horowitz sug­gests that I can't real­ly ever get any of this until I see the light for myself.
​"I can see through left­ist eyes, I under­stand how the Left sees. But you can't yet see through con­ser­v­a­tive eyes," Horowitz tells me. ​"You are in a her­met­i­cal­ly sealed universe."
Horowitz acknowl­edges that he adds some rhetor­i­cal flair to his speech­es, which nec­es­sar­i­ly means some gloss­ing over of the com­plex­i­ties of the Amer­i­can Left. ​"If you read my books, you will not find the kind of speech I made today," he says, nod­ding per­haps to his talk's asser­tions that ​"Oba­ma was born and trained in the com­mu­nist Left," Beng­hazi is the ​"most shame­ful act in the his­to­ry of the Amer­i­can pres­i­den­cy" and that ​"we are in with­in reach of a total­i­tar­i­an state in this country."
I ask what he means by this.
​"The speech I made today was a risky speech and you're gonna make me pay for it. Because it's eas­i­ly mis­in­ter­pret­ed. But in the books I wrote, even The Pro­fes­sors, I quot­ed what they said. I didn't label peo­ple. I didn't call peo­ple names." This is, need­less to say, an extra­or­di­nary claim about a book that calls a for­mer pres­i­dent of the Amer­i­can His­tor­i­cal Asso­ci­a­tion ​"an apol­o­gist for Amer­i­can com­mu­nism" while wrong­ly attribut­ing a quote to him.
I ask if he's dis­ap­point­ed at all by the kind of audi­ence he drew today. He spent much of the ques­tion-and-answer por­tion of the talk defend­ing his cri­tique of his­to­ri­an Diana West's recent work, Amer­i­can Betray­al: The Secret Assault on Our Nation's Char­ac­ter. The book alleges that the FDR admin­is­tra­tion pro­tect­ed deeply embed­ded Sovi­et agents who helped shape U.S. World War II pol­i­cy. (Horowitz says that many of the book's claims are unsub­stan­ti­at­ed.) He also field­ed a ques­tion about whether bil­lion­aire George Soros is plan­ning a con­sti­tu­tion­al con­ven­tion, pre­sum­ably in order to over­throw the exist­ing Unit­ed States government.
He acknowl­edges the bar­rage of ques­tions from the West loy­al­ists both­ered him. But he seems to rec­og­nize that this sort of spar­ring comes with the job. As part of his self-described ​"mono­ma­ni­a­cal" focus on unmask­ing the Left, Horowitz often val­ues bom­bas­tic rhetoric over intel­lec­tu­al coher­ence — a cal­cu­la­tion that's bound to attract left­wing-con­spir­a­cy-mind­ed fel­low trav­ellers. Sure, they may dis­agree with Horowitz on occa­sion. But one gets the sense that these are the types most attract­ed to his cru­sade these days (Horowitz calls his think tank, the David Horowitz Free­dom Cen­ter, a ​"bat­tle tank.") It's the sort of crowd that's as angry with the GOP capit­u­lat­ing over the gov­ern­ment shut­down as it is with the ​"social­ist" in the White House.
​"There's a task here. Con­ser­v­a­tives, believe it or not, are so fuck­ing well-man­nered," he says. ​"I'm try­ing to change that and I don't know any oth­er way to do it except to get them to see this is a war and this [left­ist] ene­my is totalitarian."
Things take a fatal­is­tic turn toward the end of our con­ver­sa­tion, as we dis­cuss Pres­i­dent Obama's legacy.
​"There's no politi­cians that don't dis­ap­point in the end," he says. ​"It's human nature. It's so easy to lie and get away with it. How can Oba­ma let those guys die in Beng­hazi? How can Hilary do that? And they're get­ting fuck­ing away with it."
​"I spend most of my time with my ani­mals because I've come to the point in life where peo­ple are just so fucked up," he con­tin­ues. ​"I mean there are good peo­ple, and obvi­ous­ly I have a lot of friends and so forth, but ani­mals don't betray you and they don't make you gloomy."
Soon after this, one of his aides comes in and says it's time to go. Horowitz has a meet­ing sched­uled with Repub­li­can Sen. Ron John­son of Wis­con­sin. Maybe John­son will be a lit­tle less ​"fuck­ing well-man­nered" by the time Horowitz is done with him.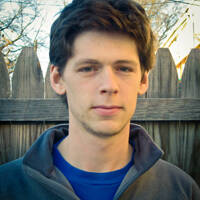 Cole Stan­gler
writes about labor and the envi­ron­ment. His report­ing has also appeared in The Nation, VICE, The New Repub­lic and Inter­na­tion­al Busi­ness Times. He lives in Paris, France. He can be reached at cole[at]inthesetimes.com. Fol­low him
@colestangler
.