Death Squads in Oaxaca
The Mexican government ignores the assassination of two community radio activists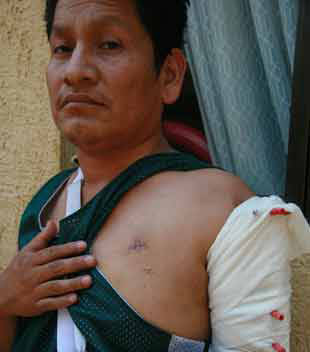 SAN JUAN COPALA, Mex­i­co – Dri­ving through the back roads of west­ern Oax­a­ca state in south­west­ern Mex­i­co, one could often hear 94.9 FM, Radio Copala, ​"The Voice that Breaks the Silence." In one of the station's tag-lines played sev­er­al times a day, a slow, pierc­ing vio­lin gave way to the lan­guid voice of a woman singing in Span­ish: ​"I am a rebel because the world has made me that way, because no one ever treat­ed me with love, because no one ever want­ed to lis­ten to me."
State police later collected some 20 spent shells from AK-47 assault-rifles by the side of the road. The gunmen had descended the embankment and had shot out the back of the car. Teresa and Fel'citas died almost instantly.
But amid such over­wrought sad­ness, a strong – and per­haps hur­ried – young woman's voice would inter­rupt: ​"Some peo­ple think that we are too young to know." And then a sec­ond young female voice inter­jects: ​"They should know that we are too young to die."
Those voic­es belonged to Tere­sa Bautista Meri­no, 24, and Fel'citas Mart'nez Sánchez, 21, two of six young pro­duc­ers and hosts at Radio Copala – a project of the recent­ly autonomous munic­i­pal­i­ty of San Juan Copala, and the first radio sta­tion to broad­cast in both Span­ish and the Triqui indige­nous language.
The broad­cast launched in Jan­u­ary. By April, Tere­sa and Fel'citas were dead.
Polit­i­cal Assassination
On April 7, Tere­sa and Fel'citas rode in the back­seat of Fel'citas' cousin Fausti­no Vásquez's car on their way to a com­mu­ni­ty radio work­shop in Oax­a­ca City. They held Faustino's 2‑year-old son, August'n, between them. In the front pas­sen­ger seat rode Faustino's wife, Cristi­na, and their 4‑year-old son, Jaciel.
"We were going down­hill, with a bald cliff on the right," says Fausti­no. ​"Before we went down, I noticed an access road from the high­way and said, ​'Look at that new white pick­up parked there.'"
Sec­onds lat­er, as they round­ed the curve at the bot­tom of the hill, Fausti­no looked again to the right. ​"There were sev­en men up on the hill," he says, ​"and they began to shoot at us."
Bul­lets pierced the wind­shield, hit­ting Faustino's left wrist and shoul­der, and graz­ing his right arm, leg and head. Two bul­lets also grazed the back of Jaciel's head; he lost con­scious­ness. A bul­let shat­tered Cristina's left arm.
"The motor shut off," Fausti­no recalls. ​"I tried to start it again, but it wouldn't go. I took the key and ran. When I ran, Tere­sa and Fel'citas were still alive. I shout­ed, ​'Run! They're shoot­ing at us!'"
State police lat­er col­lect­ed some 20 spent shells from AK-47 assault-rifles by the side of the road. The gun­men had descend­ed the embank­ment and had shot out the back of the car. Tere­sa and Fel'citas died almost instant­ly. Fausti­no, Cristi­na and their two sons survived.
Vio­lence among the Triquis
For cen­turies, the small Triqui indige­nous region – a 300 square-mile green oasis sit­u­at­ed in the mid­dle of the dry and erod­ed indige­nous Mix­te­ca region of west­ern Oax­a­ca – has been known for endem­ic vio­lence. The Triquis resist­ed Span­ish colo­nial incur­sions and, in 1823, were the first indige­nous peo­ple to rise up against the inde­pen­dent Mex­i­can state, suc­cess­ful­ly beat­ing back an attempt to evict them from their land.
After the Triquis were vic­to­ri­ous in defend­ing their ter­ri­to­ry in two wars – one in 1823, the oth­er in 1843 – the Mex­i­can gov­ern­ment decid­ed to shift its approach from direct, armed con­fronta­tion to a divide-and-con­quer strat­e­gy, says Fran­cis­co L – pez Bárce­nas, a Mix­tec indige­nous lawyer, his­to­ri­an and author of the forth­com­ing, San Juan Copala: Polit­i­cal Dom­i­na­tion and Pop­u­lar Resistance.
From the late 19th cen­tu­ry to the present, inter­nal divi­sions in the Triqui region, foment­ed by the state gov­ern­ment, have led to cycles of polit­i­cal killings and massacres.
Although local Oax­a­can gov­er­nors have long attrib­uted the vio­lence to indige­nous cul­tur­al prac­tices, Lopez Bárce­nas argues that it stems from the ​"social decom­po­si­tion that comes on the heels of the polit­i­cal and eco­nom­ic dom­i­na­tion of the state. And it has a history."
That his­to­ry, he says, has pit Triqui com­mu­ni­ties – fight­ing to main­tain auton­o­my – against those col­lab­o­rat­ing with the state.
One ear­ly bat­tle began over the con­trol of land for cof­fee pro­duc­tion. In the 1920s, non-indige­nous spec­u­la­tors brought cof­fee into the region, often pay­ing Triqui farm­ers with guns and alco­hol. Some Triqui cof­fee farm­ers assas­si­nat­ed oth­er Triquis who refused to sub­sti­tute their tra­di­tion­al corn, bean and squash pro­duc­tion for coffee.
"The state first tried to sub­mit the Triquis eco­nom­i­cal­ly with the tran­si­tion to cof­fee pro­duc­tion," says Lopez Bárce­nas. ​"They then tried to sub­mit them polit­i­cal­ly with the divi­sion [in 1948] of the Triqui region into five munic­i­pal­i­ties and the mil­i­ta­riza­tion of the area."
In the ​'70s, the Triqui coun­cil of elders tried to end the vio­lence by pass­ing down their com­mu­ni­ty pow­ers to a coali­tion of young Triqui men who pledged to peace­ful­ly unite the region. That peace last­ed less than two years. One of the new­ly appoint­ed com­mu­nal author­i­ties aligned with the rul­ing Insti­tu­tion­al Rev­o­lu­tion­ary Par­ty (PRI) and killed off his rivals.
Dur­ing the ​'80s, vio­lence esca­lat­ed again when the Triqui cre­at­ed var­i­ous polit­i­cal orga­ni­za­tions, such as the Move­ment for Triqui Uni­fi­ca­tion and Strug­gle (MULT, by its Span­ish acronym). The group, one of the most pow­er­ful, start­ed as a land-defense orga­ni­za­tion that direct­ly con­front­ed the state. By the ​'90s, how­ev­er, the orga­ni­za­tion evolved into a qua­si-para­mil­i­tary group con­trolled by a non-Triqui man, Herib­er­to Pasos, who had long­stand­ing con­nec­tions to the Oax­a­ca state government.
Pedro Matias, a Oax­a­can jour­nal­ist who has report­ed on the region for more than 10 years, says, ​"Pasos runs the MULT with a left­ist dis­course but, in real­i­ty, they act in rela­tion to the pow­ers of the state." After the group took con­trol of the region, the killings start­ed again, he says.
In 2006, more than half of the Triqui region split off from the MULT, cre­at­ing the MUL­TI (the added ​"I" stand­ing for ​"Inde­pen­dent").
Lat­er that year in June, when Oax­a­ca erupt­ed in a civ­il dis­obe­di­ence upris­ing to protest Gov. Ulis­es Ruiz's repres­sion of strik­ing teach­ers, the MUL­TI joined the pro­test­ers' orga­ni­za­tion, the Oax­a­ca Peo­ples' Pop­u­lar Assem­bly, or APPO, while the MULT sided with the state government.
The first peo­ple killed dur­ing the con­flict were three Triquis from the MUL­TI, who were shot down by men wield­ing AK-47s while on their way to an APPO meet­ing in Oax­a­ca City.
"The MULT par­tic­i­pat­ed direct­ly in the death squads in Oax­a­ca in 2006," says Lopez Bárcenas.
A com­mu­ni­ty radio sta­tion is born
Jorge Albi­no Ortiz had a pro­gram on Radio La Ley, the APPO sta­tion, dur­ing the 2006 upris­ing. ​"We observed how the radio called peo­ple to par­tic­i­pate in the var­i­ous actions of the move­ment and we want­ed to do some­thing like that in our region," he says.
As a result, Radio Copala was born.
Albi­no Ortiz, who is coor­di­na­tor of Radio Copala, says the sta­tion decid­ed to have three men and three women work­ing at the radio because one of its pri­ma­ry tasks was to encour­age women's par­tic­i­pa­tion in the new autonomous munic­i­pal­i­ty of San Juan Copala – which MUL­TI cre­at­ed after it dissolved.
The town, locat­ed in the Triqui region, is an amal­ga­ma­tion of 20 Triqui com­mu­ni­ties. San Juan Copala is cut off from all rela­tions with the Oax­a­ca state gov­ern­ment: it has no cell phone ser­vice or tele­phone lines. Which is why Radio Copala, with its approx­i­mate­ly nine-mile radi­al reach, was often the only source of news, and fre­quent­ly focused on themes of auton­o­my and indige­nous rights.
"When we start­ed, we felt real­ly excit­ed to have a radio sta­tion in Copala," says Yani­ra Vásquez, who worked with Tere­sa and Fel'citas at the sta­tion. ​"Women do not par­tic­i­pate much and we were just begin­ning to pro­mote women's par­tic­i­pa­tion in assem­blies and meet­ings and to include their per­spec­tives and inter­views about how they see what is hap­pen­ing in the region."
Radio Copala is cur­rent­ly play­ing only music, though it plans to con­tin­ue its social and polit­i­cal pro­gram­ming soon. Two signs on the door to the sta­tion bear the names of Tere­sa and Fel'citas, declar­ing: ​"You will always be present."
Impuni­ty
On April 7, news of the killings trav­eled around the globe in a mat­ter of hours via e‑mail and the Inter­net. Dozens of nation­al and inter­na­tion­al human rights orga­ni­za­tions, reporters' defense groups and even the Unit­ed Nations and the Inter-Amer­i­can Com­mis­sion on Human Rights con­demned the assas­si­na­tions and demand­ed that the Mex­i­can gov­ern­ment con­duct a rig­or­ous inves­ti­ga­tion and pun­ish the guilty.
But three weeks after the killing, no gov­ern­ment offi­cial had gath­ered tes­ti­mo­ny from the sur­viv­ing witnesses.
On April 18, Oax­a­ca State Attor­ney Gen­er­al Even­cio Mart'nez told reporters: ​"What is clear is that the attack was not direct­ed at the two announc­ers, but at the per­son [Fausti­no Vázquez] who was dri­ving the vehicle."
Not true, says Fausti­no, who says state inves­ti­ga­tors nev­er inter­viewed him. Instead, he had to arrange a meet­ing to give his tes­ti­mo­ny. Fausti­no also points out that he was able to eas­i­ly escape with­out being pur­sued, while gun­men appeared to tar­get Tere­sa and Fel'citas.
On April 21, Juan de Dios Cas­tro Lozano, a sub-direc­tor of the fed­er­al attor­ney general's office, told a group of Mex­i­can and inter­na­tion­al human rights inves­ti­ga­tors that the two young women were not real­ly jour­nal­ists – they had no jour­nal­ism degree – but were house­wives who just changed the music when callers made requests at the sta­tion. His com­ments pro­voked imme­di­ate crit­i­cism, includ­ing from the com­mit­tee of the Nation­al Jour­nal­ism Award, which had giv­en the acco­lade to Tere­sa and Fel'citas posthumously.
Mar'a Dolores Par's, a pro­fes­sor of rur­al soci­ol­o­gy at the Autonomous Uni­ver­si­ty of Mex­i­co, says that the state's claim that Fausti­no, and not the two women, was the real tar­get of the killers is ​"absurd," though she says that women have not been tar­get­ed in region­al vio­lence before.
Dolores Par's, who has worked with Triquis in Oax­a­ca and Triqui migrants in Cal­i­for­nia for sev­en years, says the state gov­ern­ment goes into the region to foment vio­lence and then ​"wash­es its hands of it with the­o­ries that the vio­lence comes from the nature of the Triquis themselves."
"I feel cer­tain that the young women were assas­si­nat­ed for their work with the radio sta­tion." Then adds: ​"The inten­tion has always been to strip the Triquis of their land."
Fausti­no Vásquez and his fam­i­ly have now been thrust into the heart of this violence.
"I am scared," Fausti­no says. ​"I will have to be care­ful now, no more liv­ing life like some­body who can just go wher­ev­er he likes. If they see me out there, cer­tain­ly they'll exe­cute me."
Asked if he has any hope for jus­tice, Fausti­no responds: ​"With the help of human rights orga­ni­za­tions, with the help of jour­nal­ists, radio, tele­vi­sion, with all that putting pres­sure on the state and fed­er­al gov­ern­ments, maybe there will be justice."