Mexico's Ghost Towns
The other side of the immigration debate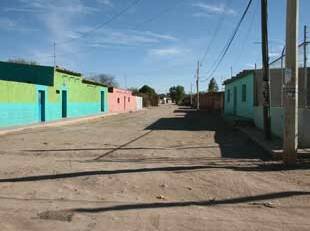 Cer­ri­to del Agua, pop­u­la­tion 3,000, has no paved roads – either lead­ing to it or with­in it. No restau­rants, no movie the­aters, no shop­ping malls. In fact, the small town locat­ed in the cen­tral Mex­i­can state of Zacate­cas has no mid­dle schools, high schools or col­leges; no cell phone ser­vice, no hos­pi­tal. Its sur­round­ing fields are dry and untend­ed. The streets are empty.
The explo­sion of emi­gra­tion to the Unit­ed States over the past 15 years has emp­tied much of cen­tral Mex­i­co, even reach­ing into south­ern­most states like Chi­a­pas and Yucatan. But it has sim­ply dev­as­tat­ed Zacate­cas, a dry, rolling agri­cul­tur­al region locat­ed about 400 miles north­west of Mex­i­co City.
A lit­tle more than half of Zacate­cas' pop­u­la­tion – about 1.8 mil­lion peo­ple – now live in the Unit­ed States, espe­cial­ly in areas sur­round­ing Atlanta, Chica­go and Los Ange­les. Between 2000 and 2005, three out of its four munic­i­pal­i­ties reg­is­tered a neg­a­tive pop­u­la­tion growth. A 2004 state law cre­at­ed two new state leg­isla­tive posts for migrants liv­ing in the Unit­ed States. In 2006, depop­u­la­tion cost the state one of its five con­gres­sion­al districts.
"Well, you've seen what this place is like," says Dr. Manuel Valadez Lopez, ges­tur­ing out the door of his small pri­vate clin­ic when I ask him how emi­gra­tion has affect­ed the town. ​"There has not been even min­i­mal devel­op­ment here. There is not a sin­gle yard of pave­ment. The few peo­ple who have side­walks in front of their hous­es built them them­selves. Most peo­ple defe­cate outdoors."
Lopez, 40, a native of Cer­ri­to del Agua, is one of the few to leave the town and return. All six of his broth­ers now live and work in the Unit­ed States. All four of his sis­ters mar­ried men who left to work in the Unit­ed States.
In his teens, Lopez him­self had moved to Guadala­jara (about a five-hour dri­ve south­west of Zacate­cas) to attend high school and uni­ver­si­ty, then stayed on to study med­i­cine and receive a specialist's train­ing in gyne­col­o­gy. He lat­er returned to Cer­ri­to del Agua for a vis­it and real­ized ​"there was so much work to do here that I stayed," he says.
That was eight years ago.
"The whole cul­ture now is that peo­ple grow up and go to the U.S. – their par­ents, their uncles, their broth­ers and sis­ters, every­one goes," Lopez says. ​"The kids who are strong and smart, they all go to the U.S. There are no basic ser­vices here; the gov­ern­ment has not car­ried out a sin­gle project."
The sit­u­a­tion has been so dire, he says, that the staff at the clin­ic had to install its own sewage sys­tem. ​"There is run­ning water, but it's not clean," he con­tin­ues. ​"Peo­ple get all sorts of infec­tions, a typ­i­cal Third-World situation."
Worst of all, says Lopez, is that ​"peo­ple who could pos­si­bly stay here and do some­thing, they all go."
The new U.S. colony
A Jan­u­ary report by Richard Nadler, pres­i­dent of the con­ser­v­a­tive Amer­i­c­as Major­i­ty Foun­da­tion, found that the strongest state economies in the Unit­ed States are those with high num­bers of migrant work­ers. Nadler writes: ​"An analy­sis of data from 50 states and the Dis­trict of Colum­bia demon­strates that a high res­i­dent pop­u­la­tion and/​or inflow of immi­grants is asso­ci­at­ed with ele­vat­ed lev­els and growth in gross state prod­uct, per­son­al income, per capi­ta per­son­al income, dis­pos­able income, per capi­ta dis­pos­able income, medi­an house­hold income and medi­an per capi­ta income."
Those who are leav­ing Mex­i­co – those whose land goes unplant­ed, whose roads remain unpaved – are labor­ing in the Unit­ed States, build­ing shop­ping malls and fac­to­ries, wash­ing dish­es in restau­rants and cafés, pick­ing grapes and pulling lettuce.
They are cre­at­ing with­in the U.S. econ­o­my pre­cise­ly the goods and ser­vices that their home­towns lack. At the same time, their ane­mic home economies fal­ter on the brink of collapse.
"I think that the U.S.'s plan is to make Mex­i­co into a kind of colony," says Lopez, with a half smile. ​"Peo­ple go to the U.S. to work and earn dol­lars. They come back to Mex­i­co and spend their dol­lars on Amer­i­can prod­ucts. It's a nice, round busi­ness." He con­tin­ues: ​"Every­one here depends on the U.S. If this isn't a colony, then how do you define colony?"
Con­demned to disappear
In the heat­ed debates over U.S. immi­gra­tion pol­i­cy, the press­ing ques­tions seem to be ​"How many immi­grants should be allowed in, if any?" and ​"How should they be processed into the sys­tem?" But rarely con­sid­ered is what this mas­sive influx is doing to Mexico.
With near­ly half a mil­lion Mex­i­cans cross­ing the U.S.-Mexico bor­der every year to look for work, Mex­i­co has become the world's largest exporter of its peo­ple. More peo­ple flee des­ti­tu­tion in Mex­i­co than in Chi­na or India – each with pop­u­la­tions 10 times larg­er than Mexico's.
Their remit­tances – the mon­ey Mex­i­can immi­grants in the Unit­ed States save and send back to their fam­i­lies – equaled $24 bil­lion last year, and made up the third-largest source of rev­enue for the Mex­i­can econ­o­my (after ille­gal drugs and oil).
"The­o­ries of migra­tion always show the inter­ests of the North," says Raul Del­ga­do Wise, direc­tor of the Grad­u­ate School of Devel­op­ment Stud­ies at the Autonomous Uni­ver­si­ty of Zacate­cas and an expert on migra­tion. He says migrants born in Mex­i­co con­tribute 8 per­cent of the U.S. gross domes­tic prod­uct (GDP) – about $900 bil­lion – which is more than Mexico's entire GDP.
Wise is one of sev­er­al researchers study­ing Mex­i­can migra­tion at the Uni­ver­si­ty of Zacate­cas. Togeth­er they pub­lish an inter­na­tion­al jour­nal called Migra­tion and Devel­op­ment and are lay­ing the ground­work for an alter­na­tive think tank to the World Bank, which will be called the Con­sor­tium for Crit­i­cal Devel­op­ment Studies.
"With all of this, we need to see real­ly how much it is cost­ing Mex­i­co, how much Mex­i­co is los­ing," Wise says.
He says that the mass migra­tion from Mex­i­co to the Unit­ed States can­not be ful­ly under­stood with­out con­sid­er­ing the U.S.-Mexico eco­nom­ic inte­gra­tion. Begun in the ​'80s, this inte­gra­tion reached its max­i­mum expres­sion with the North Amer­i­can Free Trade Agree­ment (NAF­TA), which took effect Jan. 1, 1994.
What Mex­i­co real­ly exports, Wise argues, is labor.
The sup­posed growth in Mexico's man­u­fac­tur­ing sec­tor is a ​"smoke­screen," he wrote in a 2005 arti­cle in Latin Amer­i­can Per­spec­tives, a schol­ar­ly jour­nal. Almost half of all man­u­fac­tur­ing exports come from the maquilado­ra assem­bly plants (for­eign-owned fac­to­ries in Mex­i­co) that import pro­duc­tion mate­ri­als and export their final prod­ucts – and their prof­its. Mex­i­co adds only the labor.
Neolib­er­al poli­cies – first imple­ment­ed in the ​'80s, and lat­er through NAF­TA – cut gov­ern­ment invest­ment in pub­lic works and agri­cul­ture, pri­va­tized key state enter­pris­es and cre­at­ed low inter­est rates that attract­ed for­eign cap­i­tal. These poli­cies opened the way for a 25-fold increase in maquilado­ra sales between 1982 and 2003 (though that growth peaked in 2000 and has since fall­en as maquilado­ra own­ers seek ever low­er wages and loos­er envi­ron­men­tal reg­u­la­tions to com­pete with China's abun­dant labor supply).
From 1994 to 2002, Mex­i­co lost more than 1 mil­lion agri­cul­tur­al jobs. And from 1980 to 2002 – the same peri­od maquilado­ra sales soared – migra­tion from Mex­i­co to the Unit­ed States grew by 452 per­cent, with more than 400,000 peo­ple cross­ing each year, on average.
"In Mex­i­co, we have export­ed the fac­to­ry of migrants," says Rodol­fo Gar­cia Zamo­ra, an eco­nom­ics pro­fes­sor who also teach­es at the Grad­u­ate School of Devel­op­ment Stud­ies. Zamo­ra, author of Migra­tion, Remit­tances and Local Devel­op­ment, says Mex­i­co ​"is mort­gag­ing its future" with migra­tion and remit­tances. In the 10 Mex­i­can states with the longest migra­tion his­to­ries, he says, 65 per­cent of munic­i­pal­i­ties have a neg­a­tive pop­u­la­tion growth. ​"This means that in the future," says Zamo­ra, ​"these com­mu­ni­ties will not be able to repro­duce, nei­ther eco­nom­i­cal­ly nor social­ly, because the demo­graph­ics of migra­tion have con­demned them to disappear."
No escape?
"The Unit­ed States econ­o­my demands cheap labor. Mex­i­co has an excess of labor­ers. We com­ple­ment each oth­er," says Fer­nan­do Rob­le­do, direc­tor of the Zacate­cas State Migra­tion Insti­tute, a gov­ern­ment office that admin­is­ters devel­op­ment projects in con­junc­tion with sev­er­al U.S. migrant organizations.
He dis­miss­es talk of depop­u­la­tion and an aban­doned coun­try­side as ​"fatal­ism." ​"Zacate­cas has a 120-year his­to­ry of migra­tion," he says. ​"Migra­tion is historical."
Rob­le­do describes the state government's devel­op­ment pri­or­i­ties as vari­a­tions on the ​"three for one" pro­gram – where local, state and fed­er­al gov­ern­ments match each dol­lar pro­vid­ed by U.S. migrant orga­ni­za­tions for use in local devel­op­ment projects, such as build­ing inter­state high­ways head­ing north and con­struct­ing green­hous­es for grow­ing export crops.
"If you had $50 mil­lion in the bud­get," Rob­le­do says, ​"would you use that to increase pro­duc­tion in the coun­try­side or to build an inter­state high­way? It is a polit­i­cal and eco­nom­ic decision."
Rob­le­do puts pri­or­i­ty on the highway.
But doesn't build­ing super-high­ways toward the Mexico‑U.S. bor­der and chang­ing agri­cul­ture to a cash-crop export repro­duce the very neolib­er­al poli­cies that dis­pos­sess migrants in the first place?
"We do not live in a social­ist coun­try," he responds, ​"where the gov­ern­ment con­trols every aspect of the econ­o­my. We are in a neolib­er­al coun­try. We can­not escape from neolib­er­al economics."
Gar­cia Zamo­ra, who helped write the Zacate­cas state devel­op­ment plan, is uncon­vinced. The main prob­lem, he says, is the lack of real polit­i­cal alter­na­tives to neolib­er­al­ism. Accord­ing to Zamo­ra, ​"there is only one polit­i­cal par­ty in Mex­i­co – the PRI," refer­ring to Mexico's noto­ri­ous­ly cor­rupt Insti­tu­tion­al Rev­o­lu­tion­ary Par­ty, which ruled the coun­try from 1929 to 2000. ​"The PRD gov­ern­ment in Zacate­cas now acts just like a PRI gov­ern­ment," Zamo­ra says, this time ref­er­enc­ing the Par­ty of the Demo­c­ra­t­ic Rev­o­lu­tion, the oppo­si­tion par­ty to the PRI. ​"The same lack of plan­ning and nepo­tism. It spends its time main­ly imple­ment­ing fed­er­al pro­grams. They draft­ed a good devel­op­ment plan, but they … have nev­er car­ried out a seri­ous region­al eco­nom­ic devel­op­ment pol­i­cy that seeks to dimin­ish the mas­sive exo­dus of 40,000 Zacate­cas res­i­dents who aban­don Mex­i­co every year."
Aban­doned by migration
A few years ago, Mario Garc'a left Zacate­cas to work in con­struc­tion in South­ern Cal­i­for­nia, but after about five months he decid­ed to return to El Car­gadero, a tiny town about 50 miles west of the city of Zacate­cas, the state capital.
"I thought, ​'In Mex­i­co, if you work a cou­ple of shifts, you can live OK', " he says. ​"With­out so many lux­u­ries and free­ways, but you can live a more peace­ful life."
Garc'a, in his ear­ly 40s, is a small farmer and munic­i­pal del­e­gate. His wife and three daugh­ters live in El Car­gadero. All nine of his broth­ers and sis­ters, and more than 50 cousins, live in the Unit­ed States.
El Car­gadero, with a pop­u­la­tion of about 350, and a pop­u­la­tion in the Unit­ed States of more than 1,000, is sup­posed to be a suc­cess sto­ry. Most of its roads are fresh­ly paved, and res­i­dents have elec­tric­i­ty and potable water, thanks to remit­tances and the ​"three for one" program.
"There are many points of view, but as you can see here, this is a com­mu­ni­ty aban­doned by migra­tion," Garc'a says. ​"The gov­ern­ment should work to keep peo­ple in the coun­try, to find jobs, bet­ter liv­ing con­di­tions. Here we have pret­ty streets, but where are the people?"
Dri­ving from the city of Zacate­cas to El Car­gadero, mile after mile of emp­ty fields, closed restau­rants and board­ed-up hous­es span the coun­try­side. José Manuel, a taxi dri­ver, who worked in Cal­i­for­nia for four years, wash­ing dish­es and mak­ing sal­ads, accom­pa­nies me on the dri­ve. He says he remem­bers when these roads weren't paved yet, but the fields were full of corn and beans. It is now vast emptiness.
"Nobody works most of this land any­more," he says. ​"The own­ers went to the U.S. and left the land behind."
This is pre­cise­ly what brought Mario Garc'a back. ​"The coun­try­side is bro­ken," he says. ​"The rur­al econ­o­my needs to be reac­ti­vat­ed. But we export one of the most valu­able things: our work­ers. And now we don't pro­duce anything."
The legal­iza­tion debate is mis­guid­ed, he says, because it focus­es, always, on the U.S. econ­o­my: how many immi­grants to allow in and how to stamp their pass­ports. That focus needs to shift to include Mexico.
"Mex­i­co does not need an open bor­der with the U.S. that invites Mex­i­cans to go work there. Peo­ple always talk about legal­iza­tion, but no, what needs to be legal­ized is the Mexican's abil­i­ty to stay [home] so that Mex­i­co can grow and produce."