The GOP Is Exploiting Fears of Rising Suicides to Protect Wall Street Profits
If Republicans really cared about stopping deaths of despair, they'd advocate for a robust social safety net.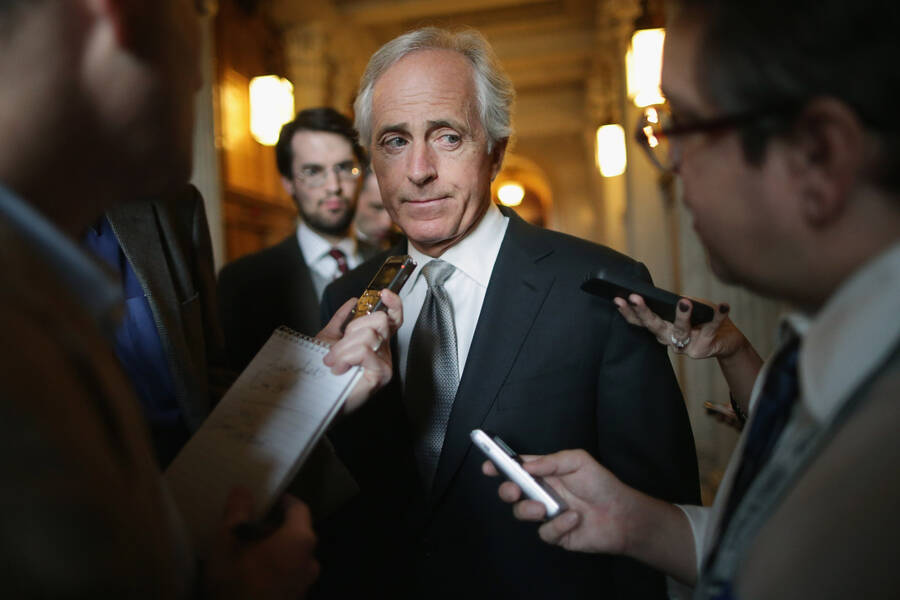 The Trump admin­is­tra­tion and its allies on Wall Street and in Con­gress are increas­ing­ly call­ing for the Unit­ed States to reopen the econ­o­my in the midst of a glob­al pan­dem­ic. Sure, mil­lions of peo­ple could con­tract coro­n­avirus (the CDC pre­dicts as many as 1.7 mil­lion Amer­i­cans could die). But peo­ple also die from the econ­o­my shut­ting down, they say.
Suicides are not a natural disaster. They are not an inevitable consequence of the Dow plummeting.
Here's how Sen. Bob Cork­er (R‑Tenn.) put it March 24 on Twit­ter: ​"I am glad the debate is now bal­anced and the under­stand­ing of the mid- to longer-term health con­se­quences as a result of sui­cides, domes­tic vio­lence, depri­va­tion, and lives of pover­ty as a result of a pro­longed lock down are being tak­en into account."
This echoes the lan­guage that has been used by Pres­i­dent Trump, who recent­ly said he wants the coun­try re-opened by East­er — a move that would cer­tain­ly mean mass death. If the econ­o­my stays shut, Trump said on March 23, ​"You're going to have sui­cides by the thou­sands." He con­tin­ued, ​"Peo­ple get tremen­dous anx­i­ety and depres­sion, and you have sui­cides over things like this when you have ter­ri­ble economies. You have death. Prob­a­bly and — I mean, def­i­nite­ly — would be in far greater num­bers than the num­bers that we're talk­ing about with regard to the virus."
Nev­er mind that Trump is brazen­ly wrong about this claim — there is no evi­dence to sug­gest sui­cides would out­num­ber coro­n­avirus deaths. This talk­ing point allows the very politi­cians who would send work­ers into per­ilous con­di­tions to pos­ture as respon­si­ble pub­lic ser­vants who just want to save lives. Such false brand­ing is espe­cial­ly nefar­i­ous because these same politi­cians oppose the very social pro­grams that are vital­ly need­ed to reduce such deaths of despair dur­ing a recession.
Stud­ies show that strong social pro­grams and spend­ing help reduce the dev­as­tat­ing lethal­i­ty of an eco­nom­ic down­turn. A study pub­lished in Feb­ru­ary in the jour­nal Social Sci­ence & Med­i­cine ana­lyzed wel­fare state poli­cies across all 50 states from 2000 to 2015. It found that high­er par­tic­i­pa­tion in the Sup­ple­men­tal Nutri­tion Assis­tance Pro­gram, or SNAP, ​"is asso­ci­at­ed with low­er over­all and male sui­cide rates." Accord­ing to the study, increas­ing SNAP par­tic­i­pa­tion from 2000 to 2015 ​"could have saved the lives of approx­i­mate­ly 31,600 peo­ple over­all and 24,800 men."
The 2008 reces­sion offers key lessons about the vital­i­ty of social pro­grams. A 2014 study pub­lished in the Euro­pean Jour­nal of Pub­lic Health looked at eight coun­tries in Europe fol­low­ing the 2008 eco­nom­ic reces­sion. It found that ​"the effect of unem­ploy­ment on sui­cide is high­er in coun­tries with low­er social spend­ing." This find­ing was con­sis­tent with anoth­er stark study of sui­cide pat­terns in Japan from 2001 to 2014 that looked at the impact of the 2008 reces­sion, as well as oth­er eco­nom­ic devel­op­ments dur­ing that win­dow of time. The researchers con­clud­ed, ​"Our analy­sis revealed that an increase of 1% in the per capi­ta local gov­ern­ment expen­di­tures was asso­ci­at­ed with a decrease of 0.2% in the sui­cide rates among males and females aged between 40 and 64 and that this cor­re­la­tion was strength­ened as the unem­ploy­ment rate increased, par­tic­u­lar­ly among males."
These trends hold up over broad peri­ods of time. In 2009, the Lancet pub­lished a study that looked the impacts of eco­nom­ic changes, par­tic­u­lar­ly unem­ploy­ment, from 1970 to 2007. The researchers found ​"no con­sis­tent evi­dence across the EU that all-cause mor­tal­i­ty rates increased when unem­ploy­ment rose, although pop­u­la­tions var­ied sub­stan­tial­ly in how sen­si­tive mor­tal­i­ty was to eco­nom­ic crises, depend­ing part­ly on dif­fer­ences in social pro­tec­tion." The researchers did not mince their words: ​"Every U.S. $10 per per­son increased invest­ment in active labour mar­ket pro­grammes reduced the effect of unem­ploy­ment on sui­cides by 0.038%." But the lessons go back fur­ther. A Nation­al Bureau of Eco­nom­ic Research work­ing paper from April 2005 finds that ​"the sig­nif­i­cant rise in relief spend­ing dur­ing the New Deal con­tributed to reduc­tions in infant mor­tal­i­ty, sui­cide rates, and some oth­er caus­es of death."
Mean­while, there is evi­dence that deaths of despair can be tied direct­ly to aus­ter­i­ty. A group of researchers pub­lished a 2015 arti­cle in BMJ Open jour­nal based on a 30-year inter­rupt­ed time-series analy­sis of sui­cides in Greece. The researchers found that ​"the pas­sage of new aus­ter­i­ty mea­sures in June 2011 marked the begin­ning of sig­nif­i­cant, abrupt and sus­tained increas­es in total sui­cides." Reces­sion can, indeed, kill, but aus­ter­i­ty mea­sures wors­en sui­cide deaths, the study indi­cates. ​"Sui­cides by men in Greece also under­went a sig­nif­i­cant, abrupt and sus­tained increase in Octo­ber 2008 when the Greek reces­sion began," the researchers write, ​"and an abrupt but tem­po­rary increase in April 2012 fol­low­ing a pub­lic sui­cide com­mit­ted in response to aus­ter­i­ty con­di­tions." Mean­while, sui­cides by women ​"also under­went an abrupt and sus­tained increase in May 2011 fol­low­ing aus­ter­i­ty-relat­ed events," the study found.
"Our analy­sis points to a sig­nif­i­cant increase in sui­cides fol­low­ing aus­ter­i­ty-relat­ed events in Greece," the researchers note. ​"As future aus­ter­i­ty mea­sures are con­sid­ered, greater weight should be giv­en to the unin­tend­ed men­tal health con­se­quences of these measures."
Repub­li­cans' pre­emp­tive croc­o­dile tears for a pos­si­ble rise in sui­cides among work­ing peo­ple are belied by the fact that a key point of out­rage for pow­er­ful Sen­ate Repub­li­cans was the idea that tem­po­rary unem­ploy­ment, for the low­est wage work­ers, could be slight­ly high­er than what their min­i­mum wage job paid them before. Out­raged Repub­li­can Sens. Lind­sey Gra­ham (S.C.), Ben Sasse (Neb.), Tim Scott (S.C.) issued a joint state­ment and held a press con­fer­ence with Sen. Rick Scott (R‑Fla.) who lament­ed ​"the moment we go back to work, we can­not cre­ate an incen­tive for peo­ple to say, ​'I don't need to go back to work because I can do bet­ter some­place else.'" Ral­ly­ing Sen­ate Repub­li­cans and call­ing a press con­fer­ence to halt the injus­tice that a Taco Bell cashier may pock­et a cou­ple hun­dred more bucks for rent and baby for­mu­la is one of many tells that pre­vent­ing deaths of despair is not the true moti­va­tion behind end­ing shel­ter-in-place orders.
Sui­cides are not a nat­ur­al dis­as­ter. They are not an inevitable con­se­quence of the Dow plum­met­ing. They are tied direct­ly to the fail­ure of social safe­ty nets, a tremen­dous prob­lem here in the Unit­ed States, where 40% of peo­ple don't have enough mon­ey in the bank to weath­er an emer­gency and 27 mil­lion peo­ple don't have health­care. But if we col­lec­tive­ly mus­tered the polit­i­cal will, we could cre­ate robust emer­gency social pro­grams to keep the mil­lions of peo­ple in free fall right now from crash­ing to the pave­ment. What kind of relief and men­tal solace could it bring peo­ple strug­gling with despair if they knew that, dur­ing this cri­sis, they would receive size­able gov­ern­ment checks every month, a mora­to­ri­um on rent and water shut­offs, and free and uni­ver­sal sin­gle-pay­er health­care? Pro­vid­ing these things is with­in our power.
But it is not with­in our pow­er to keep peo­ple from dying if Trump gets his way and restau­rants and bars reopen and schools re-start their class­es come East­er. The worst-case sce­nar­ios are cat­a­stroph­ic. The CDC esti­mates 2.4 mil­lion to 21 mil­lion peo­ple could require hos­pi­tal­iza­tion in the Unit­ed States, but this coun­try only has 925,000 hos­pi­tal beds.
So when politi­cians say they want peo­ple to go back to work in order to pre­vent deaths of despair, it is impor­tant to be clear about exact­ly what they mean: They want to pro­tect their friends on Wall Street, and their wealthy neigh­bors, and their own bot­tom lines. And they are will­ing to accom­plish this by green-light­ing mass deaths that it's with­in their pow­er to prevent.
Izii Carter con­tributed research to this piece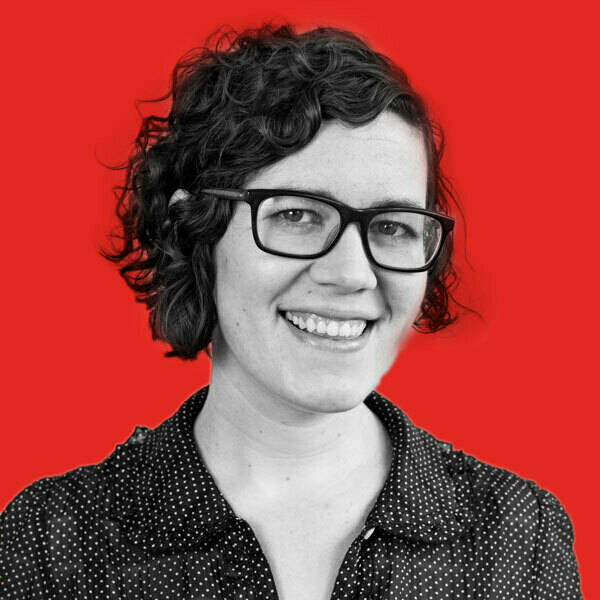 Sarah Lazare is web edi­tor at In These Times. She comes from a back­ground in inde­pen­dent jour­nal­ism for pub­li­ca­tions includ­ing The Inter­cept, The Nation, and Tom Dis­patch. She tweets at @sarahlazare.