This Progressive New Mexican Could Become the First Native-American Woman in Congress
Deb Haaland is running on a platform of Medicare-for-all, marijuana decriminalization, and renewable energy.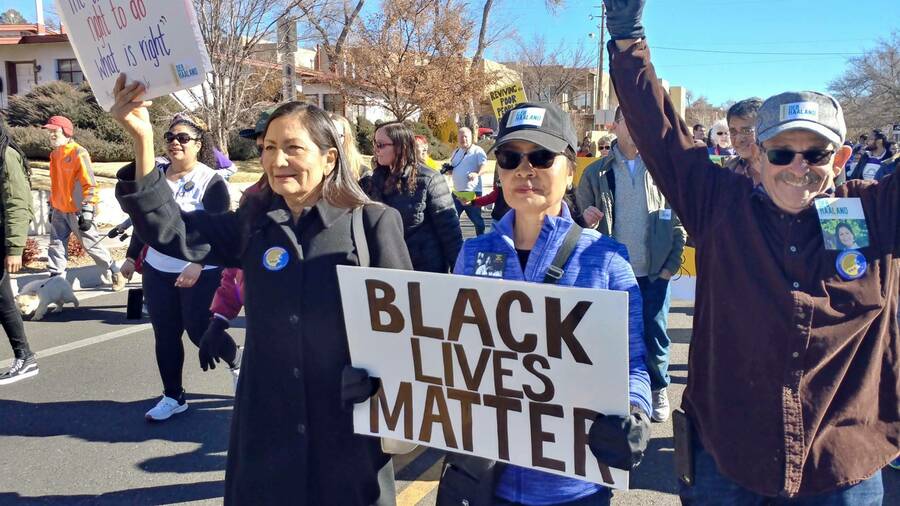 As the pre­vi­ous chair of New Mexico's Demo­c­ra­t­ic Par­ty, Deb Haa­land — an enrolled mem­ber of the Pueblo of Lagu­na and the first native woman in the coun­try to chair a state Demo­c­ra­t­ic Par­ty — helped lead the charge to flip the state house. If she's elect­ed this fall to rep­re­sent New' Mex­i­co's rel­a­tive­ly pro­gres­sive first con­gres­sion­al dis­trict, she will become the first Native-Amer­i­can woman in Congress.
We can create a lot of well-paying jobs in the renewables industry. It's not like people will be out anything. That industry could grow.
Hav­ing gar­nered endorse­ments from sit­ting mem­bers of Con­gress, includ­ing Prami­la Jaya­pal (D‑Wash.) and Bar­bara Lee (D‑Calif.), Haa­land is run­ning a cam­paign­ing on a plat­form that includes Medicare for All, pro­tect­ing DACA, legal­iz­ing mar­i­jua­na and keep­ing fos­sil fuels in the ground. She also aims to scale up renew­able ener­gy as an engine for job cre­ation. On Thurs­day, the cli­mate advo­ca­cy group 350 Action endorsed Haa­land, along with­Mary­land guber­na­to­r­i­al can­di­date and for­mer NAACP head Ben Jeal­ous, in the orga­ni­za­tion's first back­ings of the cycle.
In These Times spoke with Haa­land by phone this week about her cam­paign, her time at Stand­ing Rock and what changes she thinks need to be made to the Demo­c­ra­t­ic Party.
Kate Aronoff: What moti­vat­ed you to run?
Deb Haa­land: I love my state so much. I was chair­woman of the state par­ty, and I fin­ished my term in April of 2017 and announced short­ly after that. I want­ed to con­tin­ue to feel like I was serv­ing the peo­ple of New Mexico.
Kate: Can you talk about your time as chair of state party?
Deb: We have a Repub­li­can gov­er­nor right now, Susana Mar­tinez. She has not done the best job for our state. So, in 2014 I ran for Lieu­tenant Gov­er­nor, and end­ed up being on the tick­et with the Demo­c­ra­t­ic guber­na­to­r­i­al can­di­date who ran against her — Gary King. We lost in the gen­er­al elec­tion, even though she'd been a ter­ri­ble gov­er­nor. We weren't get­ting the mes­sage out well enough.
After that expe­ri­ence — we also lost our state house in 2014 — the morale of Democ­rats across New Mex­i­co wasn't very high. I felt I knew what need­ed to be done for the par­ty, so I ran for the chair seat. I won, and we just got to work. I trav­eled all over the state and real­ly want­ed vol­un­teers who had been work­ing to get our Democ­rats elect­ed to know that the par­ty appre­ci­at­ed them a great deal. Ever since Don­ald Trump had announced his cam­paign, we had been mes­sag­ing about that because he was say­ing so many out­ra­geous things.
By the time Novem­ber came around, every­body was very ener­gized. We flipped our state­house, increased our seats in the Sen­ate, and won two out of three statewide elec­tions. Our pres­i­den­tial nom­i­nee won by 8 points here. I like to think that had a lot to do with what we did as a state party.
Kate: What would you say are the biggest issues fac­ing New Mexico's first Con­gres­sion­al district?
Deb: We have the largest city in New Mex­i­co: Albu­querque. But we also have some won­der­ful rur­al com­mu­ni­ties. We're kind of all in the same boat, although I know rur­al com­mu­ni­ties face a lit­tle bit more of a chal­lenge. We need jobs here in New Mex­i­co. So I'd love to start mak­ing New Mex­i­co a glob­al leader in renew­able ener­gy. That's some­thing that can and should hap­pen. We have close to 300 days of sun per year, and I believe that bring­ing more renew­ables here will cre­ate bad­ly need­ed, sus­tain­able, good jobs and help com­bat cli­mate change. I'd love to see solar pan­els on every build­ing and every house in Dis­trict 1. I think it would save peo­ple a lot of mon­ey, and that our envi­ron­ment would be bet­ter off for it.
Kate: The fos­sil fuel indus­try has a large pres­ence in New Mexico.
Deb: It does, in Dis­trict 2.
Kate: Can you talk about how that influ­ences pol­i­tics in the state? It's not your dis­trict, but is that some­thing you envi­sion your­self com­ing up against?
Deb: Sure. Right now, the indus­try employs a lot of peo­ple, most­ly in south­ern New Mex­i­co but cer­tain­ly else­where. There's a lot of gas and oil in north­ern New Mex­i­co. The last thing I would want to see is any­body lose a job. They're too impor­tant here, and peo­ple need to be able to sus­tain them­selves and their fam­i­lies. I would love to see us move on this renew­able ener­gy track, and start to tran­si­tion off of fos­sil fuels. If every­body paid their fair share of tax­es, there'd be a lot of mon­ey to go around for a lot of things. And I think we need to make sure that work­ers in the fos­sil fuel indus­try are being offered edu­ca­tion­al oppor­tu­ni­ties if they want to change their jobs at a cer­tain junc­ture. We should give them the option to do that.
Kate: Can you talk a bit about your expe­ri­ence at Stand­ing Rock, and how that's influ­enced your campaign?
Deb: In Sep­tem­ber 2016, I decid­ed that I want­ed to go to Stand­ing Rock. For months, I had been post­ing and repost­ing what was hap­pen­ing there. They were mis­treat­ing peo­ple — the water can­nons, all of it. It was a real­ly ter­ri­ble thing to do to a group of peace­ful water pro­tec­tors who just want­ed to pro­tect their land. I felt like I need­ed to go and be a pres­ence there. I wasn't sure what I was going to do when I got there, but I was able to go to the trib­al build­ing and help the tribe gain some crit­i­cal sup­port that they needed.
Kate: And you worked against the Dako­ta Access pipeline for the next sev­er­al months, through the effort to divest from banks that invest in Ener­gy Trans­fer Part­ners, the com­pa­ny behind the pipeline.
Deb: Yeah. Dur­ing the time I was in Stand­ing Rock, I was still state par­ty chair­woman. We divest­ed the party's funds from Wells Far­go when I got back. There were a lot of big banks involved in that pipeline, and a lot of big banks still are. It was a sym­bol­ic move — the state par­ty didn't have a lot of mon­ey — but I felt it was impor­tant to take a stand.
We need to change our think­ing about fos­sil fuels and about the envi­ron­ment. We don't have that much longer left. Cli­mate change is real, and could become the largest threat we could ever imag­ine. It's going to affect poor folks first before any­one else, and we need to pay atten­tion to that. My way of look­ing at it is that we need to rede­fine the mean­ing of wealth. The vast major­i­ty of peo­ple would equate that with mon­ey, but that's not real­ly what wealth is. If we don't have an envi­ron­ment, where would we be? We need that bal­ance. It's sad to me that we know what needs to be done but we're drag­ging our feet on it.
Kate: A lot of politi­cians shy away from talk­ing about cli­mate change. How do you bring it up with voters?
Deb: We can cre­ate a lot of well-pay­ing jobs in the renew­ables indus­try. It's not like peo­ple will be out any­thing. That indus­try could grow. It's a win-win sit­u­a­tion, and peo­ple under­stand that here.
Kate: If elect­ed, you would be the first Native-Amer­i­can woman in Con­gress. Could you talk about what you make of the fact that there hasn't been a Native-Amer­i­can woman in Con­gress yet?
Deb: Right. In 1968, Shirley Chisholm was the first African-Amer­i­can woman to run for fed­er­al office. I imag­ine that once she got in, it fired up an enor­mous num­ber of Black women to run for office. My job, if I get elect­ed, is to make sure that I leave the lad­der down for peo­ple to climb up after me. There's no Native Amer­i­can con­gress­woman I can go to right now to ask for help. Luck­i­ly there are so many women of col­or who have sup­port­ed my cam­paign, and that's helped me a tremen­dous amount. But it would be nice if we had a Con­gress that was more diverse. People's vary­ing back­grounds are what help us find solu­tions to the issues our com­mu­ni­ties face. If you have one kind of per­son — all white males — that's not enough. You need diversity.
Kate: On that note, there's been some con­tro­ver­sy recent­ly around the the Demo­c­ra­t­ic Con­gres­sion­al Cam­paign Committee's endorse­ments. For instance, they haven't endorsed a sin­gle Native-Amer­i­can can­di­date yet this cycle. You've been involved with the state Demo­c­ra­t­ic Par­ty for a long time. Do you think the par­ty needs to change to make itself more diverse, and help more folks get into office?
Deb: Yes, I think that would be a smart move. A lot of the polit­i­cal world runs off data and num­bers and how much mon­ey you've raised. There are a lot of things that peo­ple look at when they're endors­ing a can­di­date, but they don't nec­es­sar­i­ly delve into the com­mu­ni­ty. I don't know what they're bas­ing their cri­te­ria on, but I just know that I'm work­ing super hard. Me and my team — which is very expe­ri­enced in New Mex­i­co pol­i­tics — all of us start­ed as vol­un­teers, work­ing on oth­er cam­paigns. If I win, that'll be the reason.
Kate: There are huge bar­ri­ers to vot­ing rights in many Native-Amer­i­can com­mu­ni­ties. What have you seen in your time as Native Vote direc­tor for the Oba­ma cam­paign in 2012 and oth­er­wise, and are there ways you would hope to address that in Congress?
Deb: I real­ly hon­est­ly wish that every­one could mod­el New Mex­i­co on this. Native Amer­i­cans are over 10 per­cent of our pop­u­la­tion. We have 19 Pueblo Indi­an tribes, three Apache tribes and the Nava­jo Nation, and we enjoy a gen­er­al­ly good rela­tion­ship with the state. Under our last Demo­c­ra­t­ic gov­er­nor Bill Richard­son, he ele­vat­ed the Office of Indi­an Affairs to a cab­i­net-lev­el posi­tion. He also signed into law the State Trib­al Col­lab­o­ra­tion Act. It includes many things, stip­u­lat­ing that tribes have to be con­sult­ed in mat­ters of cer­tain impor­tance that are decid­ed by the gov­er­nor. That goes for edu­ca­tion fund­ing, envi­ron­men­tal issues and more. We have a Native Amer­i­can Elec­tion Infor­ma­tion Pro­gram through the Sec­re­tary of State's office, and right now we have a sec­re­tary of state — Mag­gie Toulouse Oliv­er — who is pas­sion­ate about everybody's right to vote, and is putting great deal of time and effort into mak­ing sure that peo­ple in Indi­an coun­try have every oppor­tu­ni­ty to vote. We strive to have polling loca­tions in every sin­gle Native-Amer­i­can com­mu­ni­ty, so nobody has to walk or dri­ve 50 miles as hap­pens in some states. Here in New Mex­i­co, I do feel like our state offi­cials care about our right to vote.
Native Amer­i­cans couldn't vote in New Mex­i­co until 1948. A man named Miguel Tru­jil­lo fought in World War II as a Marine, and he couldn't vote. So he sued the state and won. We owe so many debts of grat­i­tude to peo­ple have come before us in this coun­try, and he's one of them.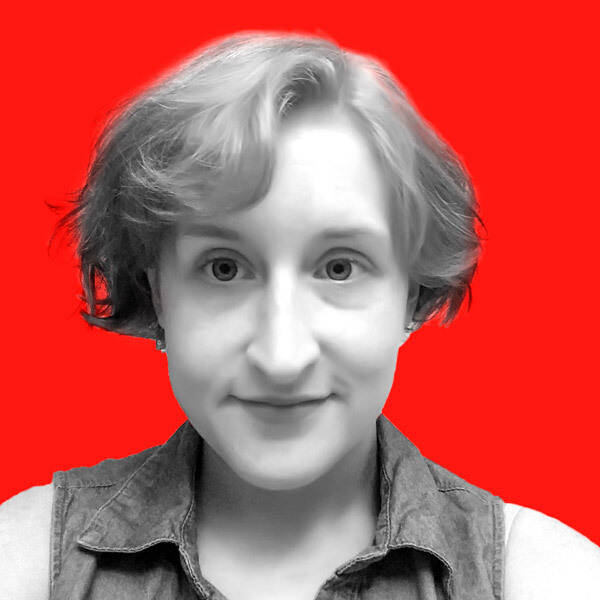 Kate Aronoff
is a Brook­lyn-based jour­nal­ist cov­er­ing cli­mate and U.S. pol­i­tics, and a con­tribut­ing writer at The Inter­cept. Fol­low her on Twit­ter @katearonoff.