Debate Protesters Push Candidates To "Make Detroit the Engine of a Green New Deal"
Activists outside the Detroit debate say that climate policy should put polluted and disinvested communities first.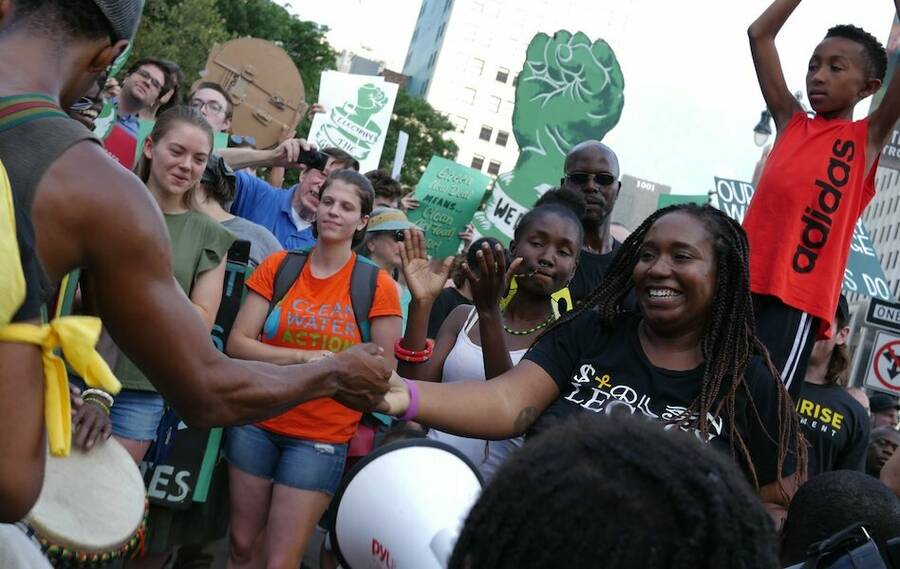 Tues­day after­noon, as the Demo­c­ra­t­ic pres­i­den­tial can­di­dates were get­ting ready to take the stage at the Fox The­ater in Detroit, hun­dreds of peo­ple con­verged on a pub­lic park less than a mile away to ral­ly for a Green New Deal. They put the can­di­dates on notice that there's no time to waste in start­ing a just tran­si­tion from fos­sil fuels, and empha­sized the poten­tial role of pol­lut­ed and dis­in­vest­ed com­mu­ni­ties in Detroit in pow­er­ing a new green economy.
"We have truly been the engine of the world since the industrial age. We have the infrastructure. We have the people. … Give us an opportunity."
Speak­ing at the ral­ly, Varshi­ni Prakash — exec­u­tive direc­tor and co-founder of the youth cli­mate orga­ni­za­tion the Sun­rise Move­ment — made a direct appeal to the can­di­dates. ​"If you want to claim the man­tle of lead­er­ship in this coun­try then you have to embrace a Green New Deal. But not just any Green New Deal — one that stops the water shut­offs, that ends the vio­lence of pris­ons and pover­ty and pollution."
Look­ing out over the crowd of youth, union mem­bers, and black, brown and indige­nous activists liv­ing in com­mu­ni­ties on the front lines of envi­ron­men­tal injus­tice, Prakash declared, ​"Right here we have the coali­tion that will bring Amer­i­ca back from the greed and the hate and the divi­sion of peo­ple like Don­ald Trump."
Since its found­ing two years ago, the Sun­rise Movement's youth activists have chal­lenged pol­i­tics as usu­al in Wash­ing­ton with such urgency, anger and moral indig­na­tion that it has rock­et­ed the loom­ing cli­mate cri­sis into the public's con­scious­ness like nev­er before, mak­ing it the num­ber two pri­or­i­ty among Demo­c­ra­t­ic pri­ma­ry vot­ers (behind health­care). These activists have upend­ed assump­tions not only about what's polit­i­cal­ly pos­si­ble, but about the very com­plex­ion and own­er­ship of the envi­ron­men­tal movement.
"Learn and lis­ten from the com­mu­ni­ties who have been fight­ing for gen­er­a­tions and make Detroit the engine of the Green New Deal!" Prakash exclaimed to cheers.
Tra­di­tion­al­ly, the envi­ron­men­tal move­ment has strug­gled to attract peo­ple of col­or. But yesterday's ral­ly and march show­cased a more diverse and pro­gres­sive move­ment. It brought togeth­er young Sun­rise activists from around the coun­try with a coali­tion of sev­er­al Detroit union, envi­ron­men­tal and social jus­tice orga­ni­za­tions called Front­line Detroit, which took the lead in host­ing the event.
To orga­niz­ers, Detroit is a log­i­cal place to start the brave new exper­i­ments into a Green New Deal. For one, the city is in need of relief from recent eco­nom­ic and envi­ron­men­tal tra­vails, a trait it shares with front­line com­mu­ni­ties around the coun­try. In addi­tion, orga­niz­ers also point to Detroit's fabled his­to­ry of indus­tri­al prowess and rad­i­cal labor movements.
"When we talk about the Green New Deal, we talk about union jobs because that is part of what made Detroit what it is," Kim Hunter, social jus­tice coor­di­na­tor with Engage Michi­gan, said in an inter­view. ​"Rad­i­cal union move­ments fought for racial equi­ty on the shop floor and inside the union."
It's a point Theodor Spencer also pur­sued on stage, revving up the crowd with a round of call and response: ​"Detroit is? Union Town! Detroit is? Union Town!"
Spencer also believes Detroit can lead the way. He is a mem­ber of Sun­rise and the Inter­na­tion­al Broth­er­hood of Elec­tri­cal Work­ers Local 58, who will become a jour­ney­man next summer.
"We have tru­ly been the engine of the world since the indus­tri­al age. We have the infra­struc­ture. We have the peo­ple. We have the pas­sion. We have the courage. We have the pride. Every­thing we build we build it with pride," he told the crowd. ​"Give us an oppor­tu­ni­ty. These are our demands for a Green New Deal."
The same empha­sis was lack­ing on the debate stage — Sun­rise lament­ed in a press release that cli­mate change made up only 12 min­utes of the three-hour debate, call­ing it ​"out­ra­geous and dis­ap­point­ing." Sun­rise and oth­er cli­mate activists have demand­ed a pres­i­den­tial debate exclu­sive­ly address­ing cli­mate change, but so far the Demo­c­ra­t­ic Nation­al Com­mit­tee has refused (although it will vote on August 22). Last week, how­ev­er, CNN announced plans to host a cli­mate cri­sis town hall with eight Pres­i­den­tial can­di­dates and MSNBC and George­town Uni­ver­si­ty announced plans for a mul­ti-day cli­mate forum. Sun­rise wel­comes these devel­op­ments, but con­tin­ues to push for a cli­mate debate.
Part of this urgency stems from the fact that cli­mate, envi­ron­men­tal and social jus­tice con­cerns are real and imme­di­ate for many of those present at the ral­ly. Many in the crowd live on the front lines of pol­lu­tion from Detroit's Marathon Petro­le­um Corps. oil refin­ery and 32 oth­er pol­lut­ing industries.
Nayyi­rah Shar­iff, direc­tor of Flint Ris­ing, remind­ed the crowd that yes­ter­day marked 1,923 days since the water cri­sis began in Flint, a city 68 miles north of Detroit. There is no end in sight, Shar­iff said, not only to the prac­ti­cal mat­ters of replac­ing under­ground pipes and house­hold plumb­ing but the chron­ic health prob­lems caused by drink­ing con­t­a­m­i­nat­ed water.
Oth­ers who came out were moti­vat­ed by envi­ron­men­tal awak­en­ings of their own. For Aisha Soofi, it was the 2014 flood that del­uged her grandmother's Detroit neigh­bor­hood with raw sewage.
"It destroyed every­thing," says Soofi, who remem­bers the piles of trash out­side of every house in the neigh­bor­hood, where sev­er­al oth­er fam­i­ly mem­bers were also flood­ed out. Even­tu­al­ly her grand­moth­er was able to come up with the $35,000 to make the repairs, she says, but most of her neigh­bors couldn't afford a cleanup and end­ed up liv­ing with tox­ic mold and feces in their base­ments. The expe­ri­ence, she says, made her more aware of the envi­ron­men­tal face of social injus­tice. Due to inad­e­quate gov­ern­ment response, she adds, ​"Com­mu­ni­ty mem­bers had to drain the streets them­selves. Neigh­bors had to push cars out of the water."
Now 19 years old, the Ann Arbor res­i­dent is a polit­i­cal sci­ence major at East­ern Michi­gan Uni­ver­si­ty and runs one of Sunrise's 200+ local hubs around the country.
"If we don't do any­thing," she says, such so-called ​"once in a life­time" floods like the one that ruined her grandmother's kitchen ​"are going to just keep on hap­pen­ing. It's going to be a life­time of destruction."
When peo­ple tell her the Green New Deal is a pipedream that will nev­er hap­pen, she asks: ​"Why is aspi­ra­tional such a bad thing?" Besides, she adds, ​"We don't have time. … If we don't do any­thing with­in these next 11 years, there will be irre­versible dam­age to our world."
That was the gen­er­al sen­ti­ment as the crowd picked up their hand­made signs and union plac­ards, hoist­ing ban­ners and a series of giant card­board upraised fists bear­ing cli­mate jus­tice demands, and set off down the road to the Fox The­atre to the puls­ing of drums and the resound­ing sound of a thou­sand voic­es chant­i­ng, ​"I believe that we will win!"
Orga­niz­ers esti­mat­ed the crowd at around 1,200 peo­ple. A group of black and brown activists, includ­ing Rep. Rashi­da Tlaib (D‑Mich.), took the lead.
Once the march reached the gen­er­al vicin­i­ty of the the­ater, they were stopped by police with­in about a block of the the­ater, where oth­er activists clus­tered in small groups — includ­ing Trump sup­port­ers, many hoist­ing bla­tant­ly racist and sex­ist signs, who were being ser­e­nad­ed by a rock-and-roll cov­er band com­prised of a group of gan­g­ly young white guys.
Despite taunts from these and oth­er Trump sup­port­ers — includ­ing a small band of black T‑shirted men who arrived lat­er, march­ing up the street in a mil­i­tary-style pro­ces­sion and wav­ing Amer­i­can flags and Trump ban­ners — the Front­line Detroit group main­tained the joy­ful vibe, even­tu­al­ly mak­ing it past a set of police bar­ri­ers and walk­ing on past the Fox The­atre. Ten­sions flared with police when they tried to turn around to walk back down the oth­er side of the street, direct­ly in front of the the­ater. Even­tu­al­ly, orga­niz­ers direct­ed marchers to return to Cass Park, where the march had begun.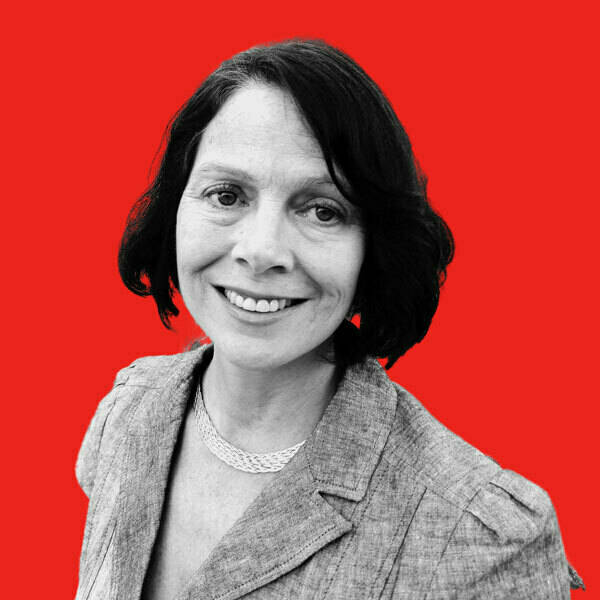 Chris­tine Mac­Don­ald is an inves­tiga­tive reporter and author, whose work focus­es cli­mate change, envi­ron­men­tal sus­tain­abil­i­ty and green­wash­ing. She was a 2019 – 2020 fel­low with the Leonard C. Good­man Insti­tute for Inves­tiga­tive Reporting.