The Other Democratic Socialist From Brooklyn
Community organizer Debbie Medina is running for state Senate on an anti-gentrification platform.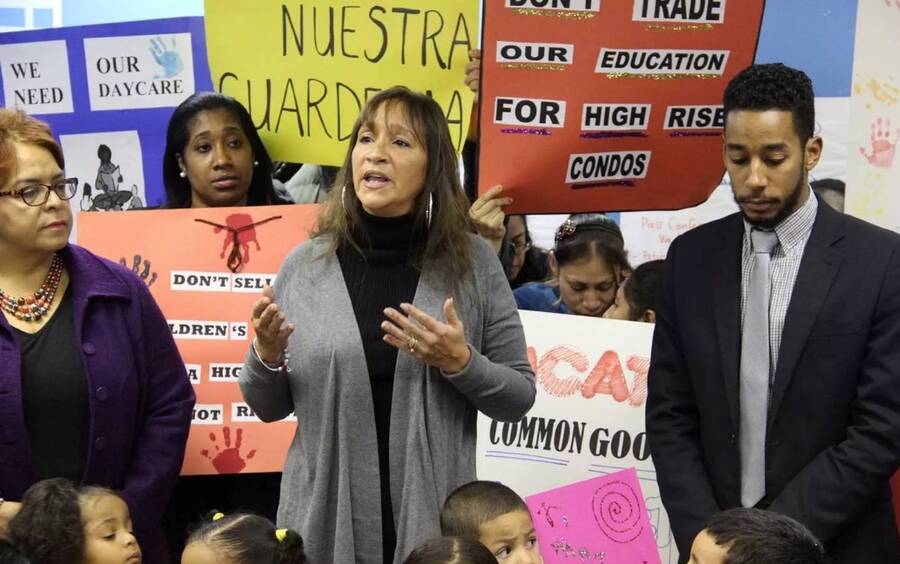 Born and raised in Los Sures, Brooklyn, Debbie Medina worked for 30 years at the affordable housing organization Southside United HDFC - Los Sures before running for New York state Senate as a democratic socialist. Her bid for the Democratic nomination in the 18th district is a push against real estate interests: Her opponent, Martin Malavé Dilan, claims to be anti-gentrification, but has taken at least 60,000 in donations from real estate groups.
'Everyone should have affordable housing. Socialism means that resources belong to the people. Not to the corporations or rich people.'
Against this, Medina has mobilized a multi-ethnic, working class coalition around the one thing that everyone in Brooklyn (except the very rich) is mad about: housing. Medina is in favor of rent control and community land trusts, or CLTs, non-profits that buy property and lease it out for affordable housing. She would finance the CLTs with the ​"mansion tax," currently 1 percent on properties worth $1 million or more — a commitment to resource redistribution that feels distinctly socialist. Fittingly, Medina wants to make New York City's community (CUNY) colleges tuition-free, as they were until 1976, and to roll back subway fares, which have gone up three times in six years.
When she ran for the same state Senate seat in 2014, Medina lost narrowly, receiving 42 percent of the vote. This year, bolstered by Bernie Sanders' socialist campaign and socialist Kshama Sawant's successful 2013 run for Seattle City Council, Medina has been endorsed by U.S. Rep. Nydia Velazquez, New York City Councilman Antonio Reynoso, the New Kings Democrats and the Democratic Socialists of America.
The result of the September 13 New York State primary could be a litmus test of the Left's ability to build a socialist movement beyond the Bernie campaign.
Although Medina has received glowing coverage in the independent press, the corporate media has been less kind. In July, the New York Post reported that Medina's son, Eugenio Torres, had been convicted of killing his girlfriend's 3-year old. In the article, Medina admitted to beating Torres when he was a child. While condemning domestic abuse ​"of any kind," Medina's campaign is hoping to use the article to raise awareness of the chronic stressors (e.g. poverty) that can push people towards violence, and to make mental healthcare available to working class communities. As Medina puts it, ​"that kind of help should be free."
You were a housing organizer in South Brooklyn for 30 years. What were some formative experiences?
When started working at Los Sures, I started going out to different buildings, and I saw the conditions. The stairs didn't have no lights! And urine, and human feces on the stairways. Why do we have to be treated this way?
We had this one particular landlord — voted worst landlord in New York City. And he would go to the building in the nighttime and turn off the boiler and water when it was cold.
We had a tenants association, and residents would take turns guarding and making sure that he didn't come in. When he would, they would chase him out. We had all four of his buildings go on rent strike. And he had to leave. It was one of the biggest victories.
As a state senator, what kinds of housing policies would you push for?
Rent freezes and rent rollbacks. Community land trusts.
I'd close all of the loopholes that landlords are using to evict tenants, like vacancy de-control, which allows landlords to illegally raise the rents once tenants move out, and preferential rent, which landlords use to hide illegally high rents.
I'm also really excited about getting people organized. Bringing community members to community board meetings and tenant associations, organize rent strikes, meet with housing authorities and tell them, this is what we want from you. The government belongs to the people. When you vote for all elected officials, you're voting for the person who is speaking for you. And if they are not saying what you want them to say, then you will remove them.
I want people to realize how much power they have. And I'm going to do that by bringing my organizer tactics into office — going into buildings, holding meetings at night so that people can come after work. Politics shouldn't just be for people who have time to participate.
How would you keep big developers out of neighborhoods?
De Blasio's ​"affordable housing" plan has this 80-20 law: if developers want to build, then 80 percent can be luxury and 20 percent has to be affordable. And I don't think that's right.
The reverse should be true: if developers want to come into our community, it should be 70 percent affordable and 30 percent for your luxury.
That would keep them away.
That sounds great. And also very socialist.
Everyone should have affordable housing. Socialism means that resources belong to the people. Not to the corporations or rich people.
Gentrification is the opposite of socialism. It takes affordable housing and everything that comes with it — job security, good health — and makes them into things that fewer and fewer people can have. And my competitor, Dilan — that's what he wants to do. He gets thousands of dollars from real estate companies.
And I think that's what makes my policies socialist — because they're about saying, no: the people should have access to all of this.
Like, look at what happened with my son. My son started smoking angel dust. And I was desperate. There was four times that he was arrested, and I would have to leave my job and go out searching for him every now and then. I went out to drug dealers with a poster of my son, and I put all my information in it, and said, look. I'm the mother. Don't sell drugs to this boy.
I'm a poor person. I was working full-time. I had four kids. I could not afford to pay to send him to a good rehab place. But what if I could've? What if good mental healthcare was something that people could actually afford?
For me, socialism would also mean socialist mental healthcare, mental health programs that are free. And not just for addicts, but for their families, so that it doesn't get to the extreme of what I was doing. Because I don't think beating your child is right.
How do your constituents and people in your community feel about socialism?
Socialism isn't just a political party or movement — it's a form of community living that we've practiced all our lives.
People think of socialism as a Western, European thing, but it isn't. There is a history of Puerto Rican socialism — just look at the Puerto Rican Socialist Party [a Marxist-Leninist independence party that was influential in the 1960s and 1970s].
Or look at the Young Lords. People think of it as a gang, but they were actually doing things for the community, forcing the city to do garbage pick-up, or protesting childhood lead and racist hospital treatment. That was great.
As for the people who say they're against socialism — if they're poor, and then they start seeing what socialism starts doing for them — getting them healthcare, housing — they'll be for that movement, whatever it's called.
For a limited time: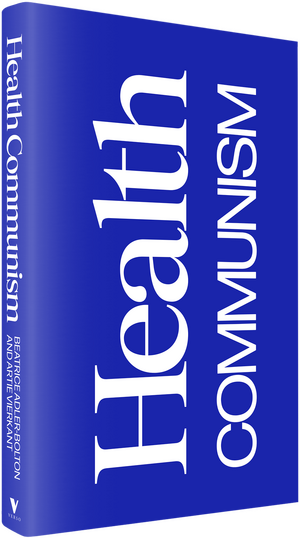 Donate $25 or more to support In These Times and we'll send you a copy of Health Communism.
A searing analysis of health and illness under capitalism from hosts of the hit podcast "Death Panel," Health Communism looks at the grave threat capitalism poses to global public health, and at the rare movements around the world that have successfully challenged the extractive economy of health.
"This is a book you should read before you die, because the ideas synthesized by Adler-Bolton and Vierkant could save our collective lives." –Jon Shaffer