Democratic Candidates Flake on Detroit Environmental Justice Forum
Most candidates tout a just transition for "frontline communities" like Detroit, but only Jay Inslee showed up to meet with residents. Four candidates backed out, and 15 others snubbed the event entirely.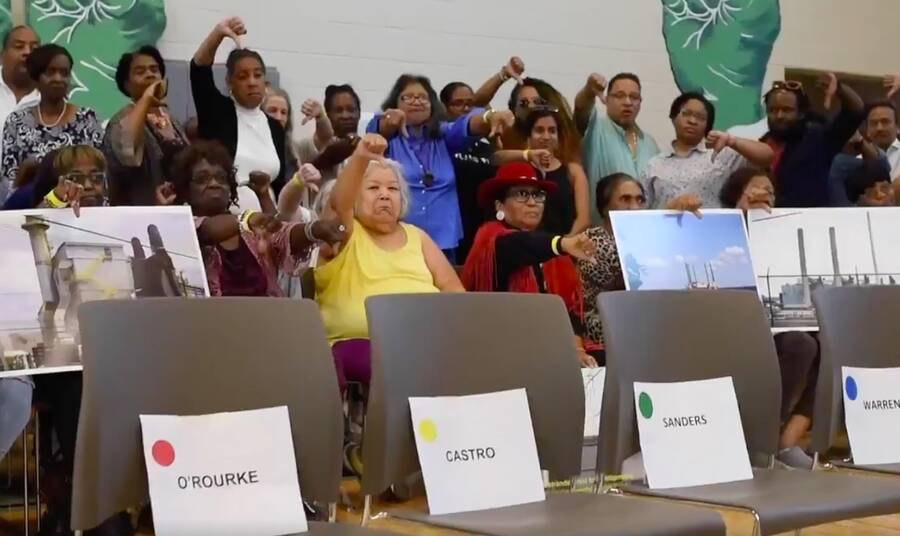 Marathon Petro­le­um Cor­po­ra­tion​'s refin­ery lurch­es across 250 acres of South­west Detroit like a low-rise steel city of sil­very pipes and smoke­stacks. It looms over Keme­ny Recre­ation Cen­ter, where neigh­bor­hood chil­dren play, get­ting exposed to pol­lu­tion with every breath and every turn on the grass out­side. The refin­ery, part of the Ohio-based Marathon's oil and gas explo­ration and pro­duc­tion empire, has a long his­to­ry of exceed­ing legal lim­its on tox­ic emis­sions, con­tribut­ing to what makes this ZIP code — 48217 — Michigan's most polluted.
The fact that only one candidate showed up is "quite frankly unacceptable and unstrategic," says Anthony Rogers-Wright, policy coordinator with Climate Justice Alliance.
"We're on the front lines of cli­mate change right here," says retired auto plant work­er-turned-com­mu­ni­ty activist There­sa Lan­drum, emphat­i­cal­ly tick­ing off a list of indus­tri­al pol­lu­tants such as sul­fur diox­ide, ozone (which cre­ates smog) and oth­er tox­ic chem­i­cals that have too often been released here in quan­ti­ties that exceed the legal lim­its, putting the com­mu­ni­ty at risk for res­pi­ra­to­ry dis­eases, can­cer and oth­er ail­ments and devel­op­men­tal delays in chil­dren that can be linked to pol­lu­tion expo­sure. Lan­drum, a can­cer sur­vivor, said she's seen too many friends and loved ones die of can­cer and oth­er pol­lu­tion-linked causes.
Detroit's 48217 could be the poster child for the ​"front­line com­mu­ni­ties" bear­ing the brunt envi­ron­men­tal expo­sures from heavy indus­try — com­mu­ni­ties often invoked by this year's Demo­c­ra­t­ic pres­i­den­tial candidates.
So a coali­tion of Detroit and nation­al envi­ron­men­tal jus­tice activists threw down the gaunt­let in advance of the Demo­c­ra­t­ic pres­i­den­tial debates and invit­ed the 20 can­di­dates to skip a few posh fundrais­ers and vis­it 48217 instead to see ​"the front­lines" for them­selves. A team of activists even crashed an Eliz­a­beth War­ren cam­paign event in Detroit to urge her to come.
After weeks of pres­sure, Julián Cas­tro, Jay Inslee, Beto O'Rourke and War­ren said they would attend. The Bernie Sanders cam­paign promised to send an emis­sary, Har­vard Pro­fes­sor and racial jus­tice activist Cor­nel West.
But only one can­di­date was there at the Keme­ny Recre­ation Cen­ter on July 31 to meet with res­i­dents and activists: Wash­ing­ton Gov. Jay Inslee, who has cen­tered his entire cam­paign around the need address cli­mate change.
O'Rourke, Cas­tro and West had pulled out at the last minute. War­ren had waf­fled and even­tu­al­ly canceled.
The fact that only one can­di­date showed up is ​"quite frankly unac­cept­able and unstrate­gic," says Antho­ny Rogers-Wright, pol­i­cy coor­di­na­tor with Cli­mate Jus­tice Alliance, a nation­al umbrel­la group of cli­mate and envi­ron­men­tal jus­tice orga­ni­za­tions around the coun­try. Cli­mate Jus­tice Alliance helped push can­di­dates to attend, as did Rep. Rashi­da Tlaib (D‑Mich.) and the Sun­rise Move­ment (which also joined the local orga­ni­za­tions that spear­head­ed the Front­line Detroit pre-debate ral­ly and march on July 30.)
Inslee not only attend­ed the meet­ing on July 31, he vis­it­ed the neigh­bor­hood three times, unveil­ing his Com­mu­ni­ty Cli­mate Jus­tice Plan in a July 29 press con­fer­ence out­side the Keme­ny Recre­ation Cen­ter, with the Marathon refin­ery as the back­drop. He also took a tour of the 48217 ZIP code. Once the area was home to even more indus­try, before the auto industry's decline prompt­ed many com­pa­nies to pull out, leav­ing pol­lut­ed land behind.
Life in
48217
More than 8,000 peo­ple live in the 48217 ZIP code, pre­dom­i­nant­ly work­ing-class peo­ple of col­or liv­ing amid indus­tri­al prop­er­ties in gov­ern­ment-financed hous­ing and sin­gle-fam­i­ly Crafts­man bun­ga­lows. Many have nice­ly tend­ed gar­dens out front and children's bikes lying on the lawns. This ZIP code and oth­er high­ly pol­lut­ed ones near­by were set­tled decades ago by African Amer­i­cans who moved into this iso­lat­ed area on Detroit's south­west­ern lim­its from the Jim Crow South.
Grow­ing up here, There­sa Lan­drum watched as a fam­i­ly gas sta­tion expand into the mam­moth Marathon refin­ery that process­es 140,000 bar­rels of crude oil into gaso­line and oth­er prod­ucts each day. Envi­ron­men­tal jus­tice activists have sound­ed the alarm for years. Nev­er­the­less, Marathon has con­tin­ued to grow with the bless­ing of state and local offi­cials, while activist demands go unattended.
Marathon, which staunch­ly defends its oper­at­ing record and says its refin­ery con­tributes just 3% to area emis­sions, is one of 26 indus­tri­al oper­a­tions res­i­dents live with every day, accord­ing to a report by the the 48217 Mon­i­tor­ing Group. With­in 48217 and its neigh­bor­ing ZIP codes sit steel mills, a salt mine, a Marathon tank farm and DTE Ener­gy Co's coal-fired plant, com­plete with the kind of coal ash stor­age ponds that have burst their banks and con­t­a­m­i­nat­ed water sup­plies with arsenic, mer­cury, sele­ni­um and oth­er com­pounds in North Car­oli­na and oth­er states. The 48217 ZIP code is home to more than half of those oper­a­tions, with the rest dot­ting both sides of Detroit's South­west city limits.
Heavy trucks tra­verse neigh­bor­hood streets night and day, car­ry­ing away the tar sands oil from the Marathon refin­ery, slag from steel mills, and indus­tri­al waste from the myr­i­ad oth­er pol­lut­ing oper­a­tions. An indus­tri­al stench per­me­ates the air, a tes­ta­ment to the pol­lu­tion peo­ple breathe in night and day. In addi­tion to res­i­dents' reports of high can­cer rates, a Michi­gan state report asth­ma rates are off the charts in Detroit, com­pared to the rest of Michi­gan; a fact Lan­drum and her neigh­bors know all too well through first­hand experience.
"This com­mu­ni­ty mir­rors com­mu­ni­ties across the nation," Lan­drum says. ​"Black and brown peo­ple are being exposed to an enor­mous amount of chemicals."
Walk­ing the talk
The 2020 race has seen unprece­dent­ed talk by would-be pres­i­dents about cli­mate jus­tice and mak­ing a ​"just tran­si­tion" off of fos­sil fuels that will pro­tect work­ers and vul­ner­a­ble com­mu­ni­ties of col­or. But the lack of fol­low through sends the oppo­site mes­sage, says Rogers-Wright of the Cli­mate Jus­tice Alliance.
"It con­tin­ues the trope that maybe black and brown com­mu­ni­ties' health is not as impor­tant [to the can­di­dates] as their votes, he says. ​"We've seen some of these can­di­dates eas­i­ly go into coal coun­try in West Vir­ginia and major­i­ty white states and coun­ties" so, he asks: Why couldn't they take 30 min­utes out of their sched­ules to meet with those on Detroit's frontlines?
"The optics alone [of last week's no-shows] don't look very good at a time when we are com­ing to grips with the fact that we have an epi­dem­ic of white suprema­cy and nation­al­ism in our coun­try," said Rogers-Wright, who says ignor­ing front­line com­mu­ni­ties feeds into a famil­iar nar­ra­tive that poor and vul­ner­a­ble com­mu­ni­ties are not a priority.
Nev­er­the­less, envi­ron­men­tal jus­tice cam­paign­ers say it's excit­ing to see many of the can­di­dates com­pet­ing for the man­tel of envi­ron­men­tal jus­tice cham­pi­on this elec­tion cycle. The mere fact that so many can­di­dates are not only talk­ing about cli­mate change but cli­mate jus­tice this elec­tion cycle is unprecedented.
Nick Leonard, exec­u­tive direc­tor of the Great Lakes Envi­ron­men­tal Law Cen­ter in Detroit, says he is grate­ful that the choice to hold debates in Detroit called atten­tion to the envi­ron­men­tal jus­tice issues fac­ing the city. But he cau­tions that a just tran­si­tion ​"can mean a lot of things," includ­ing who will get the jobs cre­at­ed to build a new renew­able ener­gy econ­o­my. While front­line com­mu­ni­ties are dis­pro­por­tion­ate­ly bur­dened with the indus­tri­al oper­a­tions and pol­lu­tion, they sel­dom get the jobs cre­at­ed in their com­mu­ni­ties by those same indus­tries. Whether that will change under a new pres­i­dent remains to be seen, he says.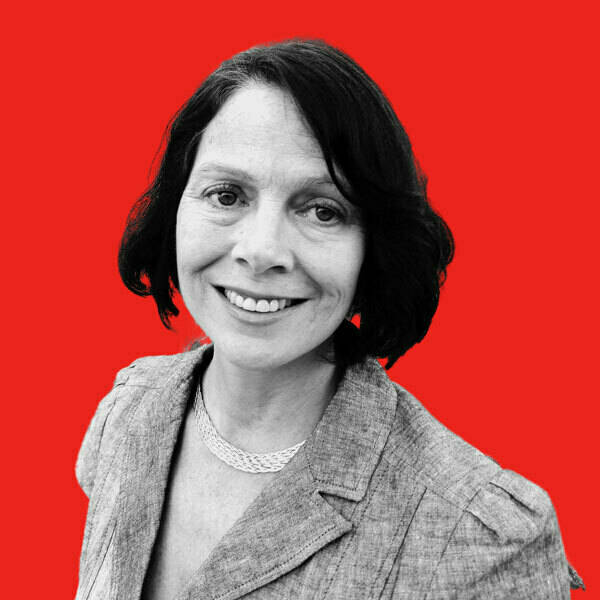 Chris­tine Mac­Don­ald is an inves­tiga­tive reporter and author, whose work focus­es cli­mate change, envi­ron­men­tal sus­tain­abil­i­ty and green­wash­ing. She was a 2019 – 2020 fel­low with the Leonard C. Good­man Insti­tute for Inves­tiga­tive Reporting.