At last week's Democratic National Convention in Charlotte, Democrats ratified a platform which once again commits to strengthen and defend workers' right to organize. As before, the platform's language on unions contrasts sharply with its Republican counterpart. But it offers fewer firm commitments than the documents ratified by Democrats in 2008, or by Republicans last week.
In a section titled ​"Standing Up For Workers," the new platform celebrates unions for helping to ​"build the greatest middle class the world has ever known," and for winning standards like the 40-hour workweek and programs like Medicare, ​"the cornerstones of middle class security." It describes ​"the right to organize and collectively bargain" as ​"a fundamental American value." Whereas the GOP platform urged Governors and legislators to follow the lead of those who've push to limit collective bargaining, this one says, ​"We oppose the attacks on collective bargaining that Republican governors and state legislatures are mounting in states around the country." It also pledges to ​"fight for collective bargaining rights" for public employees, including teachers, nurses, and police officers.
As to how it will accomplish this, however, the platform is more vague than its 2008 predecessor – and neglects to address some labor issues that have arisen in the intervening years. Here's a point-by-point comparison:
The new platform is also shaped by Obama's position as the incumbent president. Where the old one pledged ​"pro-worker" appointments to the National Labor Relations Board and National Mediation Board, and backed overturning their ​"many harmful decisions" under President Bush, the new one credits Obama with appointing members ​"who understand the importance of standing up for workers." The old platform pledged to ​"end the exploitative practice of employers wrongfully misclassifying workers as independent contractors"; the new one commits the administration to ​"continue its fight" against the practice. The party committed in 2008 to ​"adopt and enforce comprehensive safety standards"; it pledges now to ​"continue" to do so. The 2008 promise to raise and index the minimum wage remains verbatim. The section's new language also celebrates Obama's auto bailout, and – in an apparent reference to three 2009 executive orders – says he ​"rolled back harmful labor policies designed to undermine collective bargaining rights."
The platform is, however, more specific when it comes to anti-union bills the party pledges to ​"vigorously oppose," including ​"Right to work" (banning union contracts which require workers represented by unions to pay representation costs), ​"paycheck protection" (banning public unions spending spending dues money on politics unless workers specifically opt-in), and ​"Save Our Secret Ballot" (banning employers from recognizing unions without a Labor Board election).
As in 2008, other sections of the Democratic platform back comprehensive immigration reform and a federal paid sick leave requirement. Since 2008, the Party has added a pledge to support the Employment Non-Discrimination Act ("because people should not be fired based on their sexual orientation or gender identity").
After being ratified on Tuesday, the Democratic platform was amended on Wednesday to re-insert words the party had been slammed for removing since 2008. Labor provisions were not among them.
For a limited time: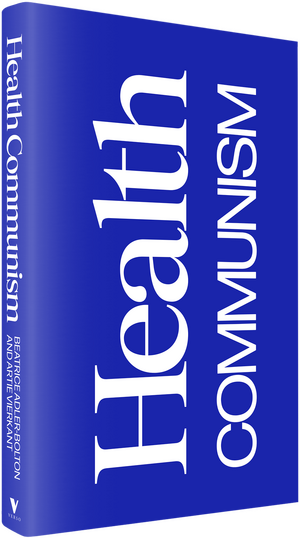 Donate $25 or more to support In These Times and we'll send you a copy of Health Communism.
A searing analysis of health and illness under capitalism from hosts of the hit podcast "Death Panel," Health Communism looks at the grave threat capitalism poses to global public health, and at the rare movements around the world that have successfully challenged the extractive economy of health.
"This is a book you should read before you die, because the ideas synthesized by Adler-Bolton and Vierkant could save our collective lives." –Jon Shaffer
Josh Eidelson
is a freelance writer and a contributor at In These Times, The American Prospect, Dissent, and Alternet. After receiving his MA in Political Science, he worked as a union organizer for five years. His website is http://​www​.joshei​del​son​.com. Twitter: @josheidelson E-mail: ​
"
jeidelson" at ​
"
gmail" dot com.