Why Did Democrats Give Trump a Win on NAFTA 2.0?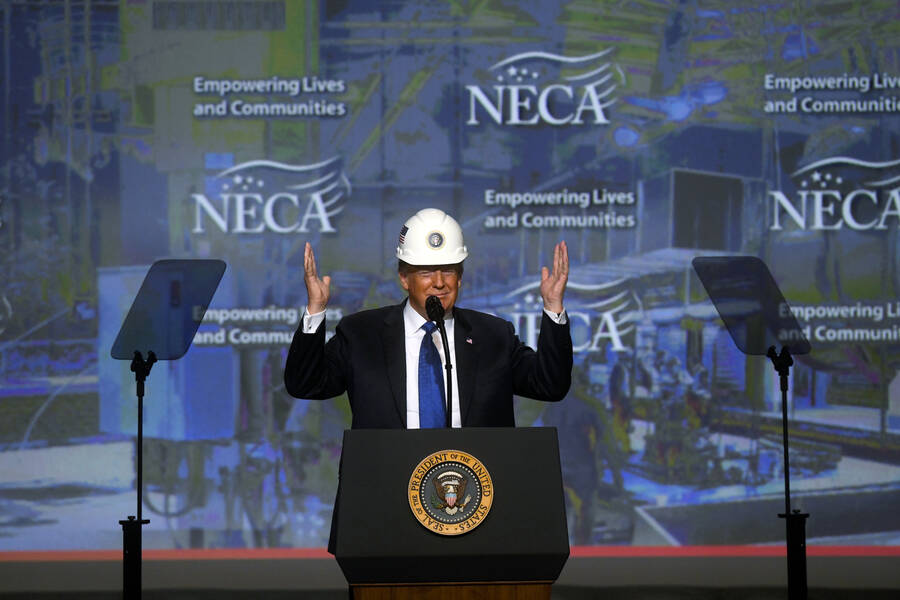 On Tues­day morn­ing, House Speak­er Nan­cy Pelosi announced that Democ­rats had reached a deal with the Trump admin­is­tra­tion to advance the Unit­ed States – Mex­i­co – Cana­da Agree­ment (USM­CA), also referred to as ​"NAF­TA 2.0." In explain­ing the deal, she said: ​"There is no ques­tion of course that this trade agree­ment is much bet­ter than NAFTA."
Pro­gres­sives have crit­i­cized Pelosi for poten­tial­ly hand­ing Pres­i­dent Trump a polit­i­cal vic­to­ry dur­ing both an impeach­ment process and an approach­ing elec­tion. After all, Trump ran on the promise that he would rene­go­ti­ate NAF­TA and now it seems that, with help from the Democ­rats, he will. That could mean more GOP votes in swing states that have been wracked by the dam­age of the orig­i­nal NAF­TA deal. ​"It does appear that if Trump gets a win on this new NAF­TA, his chances of reelec­tion go up con­sid­er­able," wrote The Inter­cept​'s Ryan Grim. ​"He can say he deliv­ered on his promis­es, and that Democ­rats don't real­ly think he's that cor­rupt after all, or they wouldn't have deliv­ered him such a major victory."
For her part, Pelosi appears to believe that the deal might ulti­mate­ly be ben­e­fi­cial for mod­er­ate Democ­rats at elec­tion time, and many House Democ­rats cer­tain­ly seem hap­py with the final ver­sion of the agree­ment. ​"You know what I've said: These have been the fights," Pelosi report­ed­ly told par­ty mem­bers dur­ing a cau­cus meet­ing after the agree­ment was secured. ​"And we stayed on this, and we ate their lunch."
The polit­i­cal impli­ca­tions of USM­CA remain to be seen and, since the final text of the agree­ment hasn't yet been released, it's hard to assess its full impact. But we already have a pret­ty good idea of what kind of relief it will sup­ply for work­ers: not much. A report by econ­o­mists Thea M. Lee and Robert E. Scott at the Eco­nom­ic Pol­i­cy Insti­tute con­cedes that USM­CA is a big improve­ment from the 2017 ver­sion, but con­cludes that it ulti­mate­ly adds up to ​"Band-Aids on a fun­da­men­tal­ly flawed agree­ment and process."
Using sta­tis­tics from the U.S. Inter­na­tion­al Trade Com­mis­sion, Lee and Scott point out that, at best, the deal will only cre­ate about 51,000 jobs over the next six years and could raise the GDP by a few tenths of a per­cent­age point. These poten­tial jobs would come in farm­ing, man­u­fac­tur­ing and min­ing. The report cites an Inter­na­tion­al Mon­e­tary Fund (IMF) work­ing paper which pre­dicts noth­ing but bad news for the (already belea­guered) auto-indus­try. That same paper con­cludes that, ​"At the aggre­gate lev­el, effects of the USM­CA are rel­a­tive­ly small…effects of the USM­CA on real GDP are negligible."
Trump con­tin­u­al­ly ref­er­enced the dev­as­tat­ing impact of NAF­TA on the cam­paign trail, while argu­ing that it des­per­ate­ly need­ed to be rene­go­ti­at­ed. How­ev­er, the new agree­ment does noth­ing to reverse the dam­age. While USM­CA might gen­er­ate 51,000 jobs, NAF­TA elim­i­nat­ed over 680,000 of them.
Still, USM­CA was ulti­mate­ly endorsed by the AFL-CIO, which also infa­mous­ly sup­port­ed the con­struc­tion of the Key­stone pipeline and has crit­i­cized the Green New Deal. Not only did the AFL-CIO back the agree­ment, its Pres­i­dent Richard Trum­ka was instru­men­tal in secur­ing an agree­ment between Democ­rats and Republicans.
A piece detail­ing the nego­ti­a­tions by Politico's Megan Cas­sel­la reveals that Pelosi refused to move the agree­ment for­ward unless Trum­ka signed off on it. She knew that an endorse­ment from the group would give pro-labor Democ­rats enough cov­er to come out in sup­port of it. ​"I think every­one would acknowl­edge that Trum­ka is key," work­ing group mem­ber Rep. John Lar­son (D‑CT) admit­ted dur­ing the process.
Cas­sel­la reports that Pelosi ulti­mate­ly had Trum­ka come to Con­gress to assure law­mak­ers that he was on the verge of sup­port­ing the deal. Ulti­mate­ly, he got on the phone with Trump and after the pres­i­dent agreed to think about mov­ing a pen­sion bill for­ward, Trum­ka slapped the deal with an AFL-CIO endorsement.
At least one AFL-CIO mem­ber isn't wait­ing for the final text to decide whether or not the agree­ment is worth sup­port­ing. The Inter­na­tion­al Asso­ci­a­tion of Machin­ists and Aero­space Work­ers (IAM) released a state­ment declar­ing its oppo­si­tion to the agree­ment, cit­ing the fact that it does noth­ing to stem the out­sourc­ing of jobs abroad. ​"Our abil­i­ty to com­ment in detail on this agree­ment is impaired because in the rush to con­sid­er such a pro­pos­al, we have not even been giv­en the oppor­tu­ni­ty to review the full agree­ment in writ­ing," said the group's Inter­na­tion­al Pres­i­dent, Robert Mar­tinez Jr. ​"U.S. work­ers have been wait­ing for over 25 years for a respon­si­ble trade deal that puts their inter­ests ahead of cor­po­ra­tions who are flee­ing our shores. They are still wait­ing. The IAM will oppose NAF­TA 2.0."
Robert E. Scott, co-author of the afore­men­tioned EPI report, told In These Times that IAM's oppo­si­tion to the deal wasn't sur­pris­ing based on what NAF­TA has done to the indus­try. ​"The aero­space has been hard hit by out­sourc­ing to Mex­i­co," said Scott, ​"Their mem­bers are very con­cerned. I don't think there's any­thing in there for them. Very trans­ac­tion­al deal."
While Pelosi worked dili­gent­ly to pass USM­CA, she's failed to move a robust pro-labor bill for­ward in the House. The Pro­tect­ing the Right to Orga­nize Act (PRO Act) was intro­duced in May by Sen. Pat­ty Mur­ray (D‑WA) and Rep. Bob­by Scott (D‑VA). The bill would make it eas­i­er for work­ers to join unions, extin­guish right-to-work laws, crack down on union-bust­ing, address employ­ee mis­clas­si­fi­ca­tion and pro­vide new pro­tec­tions for col­lec­tive bar­gain­ing. The bill already passed the House Com­mit­tee on Edu­ca­tion and Labor ear­li­er this fall.
"I don't know exact­ly what the holdup is — it is tak­ing longer than it should giv­en the num­ber of co-spon­sors that we have," Rep. Prami­la Jaya­pal (D‑WA) told The Intercept's Rachel Cohen ear­li­er this month, ​"Many oth­er bills have come to the floor with few­er co-spon­sors than this one."
"
Michael Arria
is the U.S. cor­re­spon­dent for Mon­doweiss. Fol­low him on Twit­ter: @michaelarria.