Denver Teachers Went on Strike To Be Able To Live Where They Teach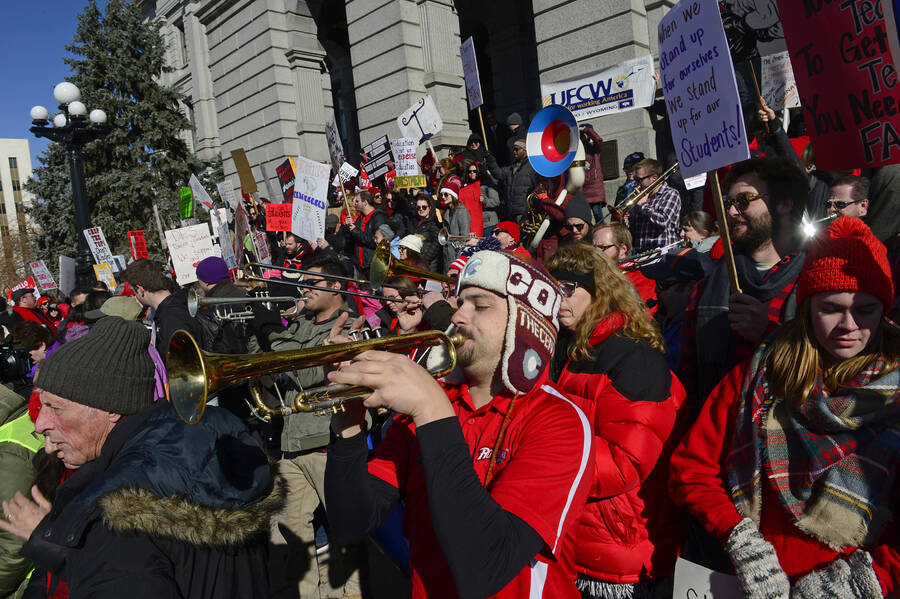 Update: On Feb. 14, Den­ver teach­ers reached a ten­ta­tive deal with the local school dis­trict that includes sig­nif­i­cant pay increas­es, and sus­pend­ed their strike.
On Mon­day, more than 5,000 teach­ers, par­ents and stu­dents from pub­lic schools across Den­ver took part in a fes­tive ral­ly on the steps of the Col­orado state capi­tol. The demon­stra­tion marked the first day of a teacher strike to demand high­er base salaries and a pay scale sys­tem that's clear, pre­dictable and that will allow teach­ers to afford to live in the neigh­bor­hoods where they work.
Despite freez­ing tem­per­a­tures, the mood at the capi­tol was ener­gized, the air filled with chants, a live­ly brass band and a stream of enthu­si­as­tic honks from pass­ing cars. Demon­stra­tors wore red hats and parkas, a nod to the grow­ing nation­al ​"Red for Ed" move­ment, and car­ried signs with slo­gans such as ​"You can't put stu­dents first if you put teach­ers last" and ​"A is for Apple. B is for Raise." Sup­port­ers offered free cof­fee, tamales and donuts, or sold snacks as fundrais­ers for school groups. One mes­sage emerged loud and clear: Teach­ers would rather be in the class­room, but the strike was too important.
After more than 15 months of nego­ti­a­tions with Den­ver Pub­lic Schools (DPS) failed to result in an agree­ment over its pay-for-per­for­mance com­pen­sa­tion sched­ule, on Jan. 22, the Den­ver Class­room Teach­ers Asso­ci­a­tion vot­ed to strike for the first time in 25 years.
"We're dis­ap­point­ed that the DCTA walked away from the table," DPS said in a state­ment, claim­ing its updat­ed pro­pos­al aligns with its val­ues of equi­ty and sig­nif­i­cant­ly increas­es base pay. The union said in a state­ment that the district's pro­pos­als ​"exac­er­bate the prob­lems edu­ca­tors are try­ing to fix" and that the salary main­tains ​"unpre­dictable bonus­es that dis­rupt our stu­dents' edu­ca­tion." While DPS claimed that 2,631 of the 4,725 teach­ers work­ing in non-char­ter schools walked off, the union says about 3,700 edu­ca­tors and spe­cial ser­vice providers have par­tic­i­pat­ed in the strike.
"We need a trans­par­ent pay sched­ule from our dis­trict so we know what to expect and when, and how to bud­get accord­ing­ly," said Shawn Hann, a dra­ma teacher at Den­ver School of the Arts. She said that the district's cur­rent incen­tive-based pay sys­tem, Pro­Comp, is unwieldy, with a com­pli­cat­ed bonus sys­tem that leads to unpre­dictable paychecks.
Hann also claimed Den­ver teacher salaries aren't keep­ing pace with the city's sky­rock­et­ing cost of liv­ing. She has a master's degree and has taught for 25 years, but hasn't got­ten a mean­ing­ful raise in ten years. She says she's lucky enough to own a small house in Den­ver that she bought in 2003, but she now lives pay­check to pay­check. In 2017, the aver­age salary for Col­orado teach­ers was $51,808, which ranks 31st in the nation. Accord­ing to USA Today, Colorado's cost of liv­ing is the 19th highest.
Hann's sto­ry isn't unusu­al. Many teach­ers con­fessed to tak­ing on mul­ti­ple side jobs to sup­port them­selves, or hav­ing to rely on a high­er-earn­ing part­ner. Kahlea Qualls, a music teacher at Car­son Ele­men­tary, works overnight shifts at a hotel to sup­ple­ment her income. Meaghan Quigley lives almost an hour away from her job at Den­ver School of the Arts and nev­er works few­er than 80 hours per week over the sum­mer. Stacey O'Neil, who works at Slavens School, said that if not for her husband's pay­check, she wouldn't be able to sup­port her kids.
One result of the strike is that teach­ers are final­ly able to dis­cuss their strug­gles open­ly. ​"That's the hard­est part. A lot of times we don't want to talk about it, to admit that this pro­fes­sion doesn't treat us with integri­ty," said Hann. ​"This is the first time I've talked about my pay­check in 25 years."
Sev­er­al demon­stra­tors held signs implor­ing DPS to respect and pro­tect immi­grant teach­ers, refer­ring to a leaked email the dis­trict sent some schools in late Jan­u­ary. The email warned schools that edu­ca­tors on cer­tain kinds of work visas would be report­ed to immi­gra­tion author­i­ties if they chose to strike. After a local racial jus­tice advo­ca­cy group pub­lished the email online, com­mu­ni­ty out­rage was swift. The dis­trict quick­ly apol­o­gized for the email, which DPS spokesper­son Will Jones said was a mis­take based on a mis­in­ter­pre­ta­tion of infor­ma­tion. But the dam­age, in the form of dis­trust and fear, was done.
Car­los Valdez, an orga­niz­er for the Inter­na­tion­al Social­ist Orga­ni­za­tion and a high school teacher for a near­by dis­trict, said that the email was an intim­i­da­tion tac­tic. ​"We saw it as [the dis­trict] try­ing to divide teach­ers when it came time to strike, and try­ing to weak­en their pow­er out here in the streets," he said. ​"They claim to sup­port equi­ty in schools with high pover­ty rates and with black and brown stu­dents, but then they attack and threat­en teach­ers who are immi­grants and who are black or brown."
In a state­ment released in Jan­u­ary, DPS super­in­ten­dent Susana Cor­do­va said, ​"As a school dis­trict, we have been res­olute in our oppo­si­tion to shar­ing any infor­ma­tion that could neg­a­tive­ly impact the rights of our immi­grant pop­u­la­tions and strong­ly believe that shar­ing such infor­ma­tion would run direct­ly counter to our core beliefs."
Valdez also com­plained about the district's high num­ber of admin­is­tra­tive posi­tions com­pared to teach­ing jobs. Col­orado Depart­ment of Edu­ca­tion data shows that DPS employs one admin­is­tra­tor for every 7.5 instruc­tion­al staff mem­bers, a rate Valdez called ​"ridicu­lous." (The state aver­age is one admin­is­tra­tive posi­tion for every 11.3 instruc­tors.) Valdez said that many of those admin­is­tra­tive posi­tions go towards the district's push for more school choice in Den­ver. ​"Choice is real­ly just a cod­ed word for pri­va­ti­za­tion," he said.
On its web­site, DPS announced that class­es would car­ry on as usu­al Mon­day for all stu­dents except preschool­ers, for whom the dis­trict doesn't have enough trained edu­ca­tors to teach dur­ing the strike. For oth­ers, it promised ​"grade- and sub­ject-spe­cif­ic les­son plans so that guest teach­ers can teach high-qual­i­ty lessons to stu­dents." But a group of stu­dents from the Den­ver School of Inno­va­tion and Sus­tain­able Design said one admin­is­tra­tor-led class was lit­tle more than a study hall — and they used it as an oppor­tu­ni­ty to prac­tice a bit of civ­il dis­obe­di­ence of their own.
"We were being loud to inten­tion­al­ly dis­rupt school," said senior Max Pliskin. ​"If it runs nor­mal­ly and the teach­ers aren't there, then the strike los­es pow­er. The whole point is that school can't run with­out teach­ers, and so by being dis­rup­tive, the goal was to make things not func­tion." Pliskin and some friends were ulti­mate­ly sus­pend­ed for their behav­ior, and chose to spend the rest of their day vis­it­ing the capi­tol in sup­port of their teachers.
Evan Shaw, anoth­er senior, said the strike offers plen­ty to learn out­side the class­room. ​"I think this is a great oppor­tu­ni­ty to show stu­dents that col­lec­tive bar­gain­ing and unions are good for peo­ple, they're good for the work­ers, they help give you more mon­ey, more rights, more free­dom. It's unions that got us the week­end and the 40-hour work­day. I think it's a great oppor­tu­ni­ty for peo­ple to see that they should be work­ing together."
Nego­ti­a­tions resumed Tues­day morn­ing, but as of pub­li­ca­tion, the strike is still ongoing.