Depleted Morality
The first signs of uranium sickness surface in troops returning from Iraq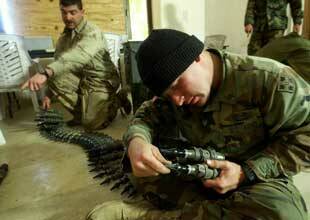 It's a year into the occupation and U.S. troops are being killed at a rate of more than four a day. These deaths from roadside bombs, suicide attackers, anti-U.S. militia and mobs of angry civilians make headlines. More quietly, American soldiers also are beginning to suffer injuries from a silent and pernicious weapon material of U.S. origin — depleted uranium (DU).
DU weaponry is fired by U.S. troops from the Abrams battle tank, A-10 Warthog and other systems. It is pyrophoric, burning spontaneously on impact, and extremely dense, making DU munitions ideal for penetrating an enemy's tank armor or reinforced bunker. It also is the toxic and radioactive byproduct of enriched uranium, the fissile material in nuclear weapons.
When a DU shell hits its target, it burns, losing anywhere from 40 percent to 70 percent of its mass and dispersing a fine toxic radioactive dust that can be carried long distances by winds or absorbed into the soil and groundwater. The U.S. Army and Air Force have fired 127 tons of DU munitions in Iraq in the last year, says Michael Kilpatrick, the Pentagon's director of the Deployment Health Support Directorate.
At the beginning of April — the deadliest month of the war and occupation so far — a New York Daily News investigation found that four National Guardsmen have been contaminated by radioactive dust.
The men were part of the 442nd Military Police Company based in Orangeburg, New York, which went to Iraq last summer to guard convoys and prisons and train the new Iraqi police. While the whole company is due back in the United States by the end of April, a number of soldiers were sent home early, suffering from persistent headaches and fatigue, nausea and dizziness, joint pain and excessive urination.
They sought medical attention and testing from the Army but were ignored. Nine of the returned soldiers, frustrated with this treatment, sought independent testing and examination from a uranium expert contracted by the New York Daily News. The independent expert's tests showed four of the soldiers had high levels of depleted uranium in their systems.
Asaf Durakovic, a physician and nuclear medicine expert with the Uranium Medical Research Center based in Washington, examined the GIs and performed the testing. The Daily News quoted him as saying: ​"These are amazing results, especially since these soldiers were military police not exposed to the heat of battle. Other American soldiers who were in combat must have more depleted uranium exposures."
Second Platoon Sergeant Hector Vega tested positive for DU exposure. He is a 48-year-old retired postal worker from the Bronx and has served in the National Guard for 27 years. After being stationed in Iraq last year, he suffers from insomnia and constant headaches.
Durakovic found that Vega and three of his fellow Guardsmen are the first confirmed cases of inhaled depleted uranium exposure from the current Iraq conflict. These cases raise the specter of much more widespread radiation exposure among coalition soldiers and Iraqi civilians than the Pentagon predicted.
Pentagon spokesmen consistently have maintained that depleted uranium is safe for U.S. troops and Iraqi civilians. In May 2003, the Associated Press quoted Lt. Col. Michael Sigmon, deputy surgeon for the U.S. Army's V Corps, saying, ​"There is not really any danger, at least that we know about, for the people of Iraq." Sigmon asserted that children playing with expended tank shells would have to eat and then practically suffocate on DU residue to cause harm.
Yet, according to a 1998 report by the Agency for Toxic Substances and Disease Registry, the inhalation of DU particles can lead to symptoms such as fatigue, shortness of breath, lymphatic problems, bronchial complaints, weight loss and an unsteady gait. These symptoms match those of sick veterans of the Gulf and Balkan wars. In November 1999, NATO sent its commanders the following warning: ​"Inhalation of insoluble depleted uranium dust particles has been associated with long-term health effects, including cancers and birth defects." A study that same year found that depleted uranium can stay in the lungs for up to two years. ​"When the dust is breathed in, it passes through the walls of the lung and into the blood, circulating through the whole body," wrote Dr. Rosalie Bertell, a Canadian epidemiologist. When inhaled, she concluded, DU ​"represents a serious risk of damaged immune systems and fatal cancers."
A four-year study released last year by the Defense Department and Centers for Disease Control and Prevention also found ​"significantly higher prevalences" of heart and kidney birth defects in the children of Gulf War veterans, though it did not mention DU specifically.
The Pentagon's professions of DU's safety also is directly contradicted by the Army's training manual, which acknowledges the hazards of DU, requiring that anyone who comes within 25 meters of DU-contaminated equipment or terrain wear respiratory and skin protection. The manual warns: ​"Contamination will make food and water unsafe for consumption."
The men of the 442nd Company said they had never heard of depleted uranium and they were not issued dust masks or other protective gear.
Responding to the New York Daily News article, and calls for testing from Democratic Senators Hillary Clinton and Charles Schumer New York, an army spokeswoman told the Associated Press that ​"the military would test any soldier that expressed concerns about uranium exposure." At the request of Representatives Ciro Rodriguez (D-Texas) and Robert Filner (D-Calif.), the General Accounting Office (GAO) now is investigating whether the Pentagon has ignored the medical consequences of depleted uranium armaments. Based on the GAO's findings, Filner and Rodruguez are considering the introduction of legislation to extend service benefits to veterans who develop health conditions that can plausibly be caused by depleted uranium exposure.
These are steps in the right direction. But the men of the 442 and the 131,000 U.S. and 24,000 Coalition soldiers serving in Iraq deserve more. They deserve a ban on Depleted Uranium.