Is Neoliberalism Making Our Depression and Anxiety Crisis Worse?
How capitalist culture is making us sick.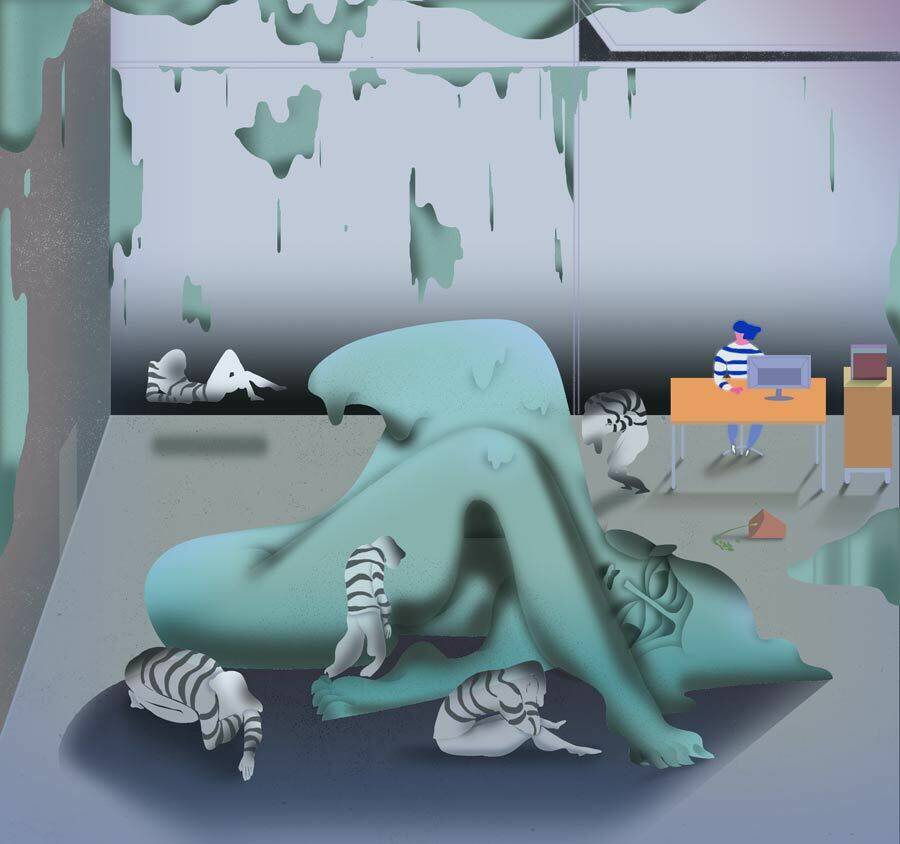 A few days before Don­ald Trump was inau­gu­rat­ed as pres­i­dent, I trav­elled to San Fran­cis­co to accept a curi­ous invi­ta­tion from one of his campaign's fun­ders. Peter Thiel, the bil­lion­aire founder of Pay­Pal, and his ven­ture cap­i­tal fund in Sil­i­con Val­ley, were orga­niz­ing a day-long con­fer­ence to help design apps that would deal with depres­sion, anx­i­ety and addic­tion — which are on the rise in the Unit­ed States.
Neoliberalism makes us miserable by creating a society designed solely for buyers and sellers. Then it uses the pain caused by such a dystopian project as an excuse to tell us our brains are broken and that they're going to have to sell us even more things—drugs—to fix them.
I was in the mid­dle of research­ing my new book, Lost Con­nec­tions: Uncov­er­ing the Real Caus­es of Depres­sion — and the Unex­pect­ed Solu­tions. Every­thing I had learned sug­gest­ed to me that the very idea that an app could solve these prob­lems was a symp­tom of the deep cul­tur­al mis­un­der­stand­ing fuel­ing these epi­demics. But I was curi­ous, so I touched down as San Fran­cis­co read­ied its protests against the incom­ing pres­i­dent. The con­fer­ence end­ed up giv­ing me a sub­tle edu­ca­tion on the rela­tion­ship between the ascen­dan­cy of neolib­er­al­ism and the Unit­ed States' bur­geon­ing men­tal health crises.
Through­out the day, some of the country's most impor­tant sci­en­tists spoke about their research into these prob­lems. Yet, as the day went on, some­thing baf­fled me. If all you knew about depres­sion, anx­i­ety and addic­tion was what was pre­sent­ed at this day-long con­fer­ence, you would have thought these con­di­tions were caused by mal­func­tions in people's brains. We looked at pic­tures of brain scans and talked about inter­nal brain mech­a­nisms. One group of sci­en­tists said they aimed to erad­i­cate depres­sion by 2050 — but the focus of their research was entire­ly biological.
The only ref­er­ence to any fac­tor out­side the human skull involved the role of child­hood trau­ma, which was men­tioned in pass­ing. I spoke last, and I wasn't sure how can­did to be. I had by that point spent three years inves­ti­gat­ing the caus­es of depres­sion and anx­i­ety. I had inter­viewed some of the world's lead­ing social sci­en­tists and learned that, in fact, there's over­whelm­ing evi­dence that depres­sion and anx­i­ety are, to a sig­nif­i­cant degree, respons­es to deep social forces. To name a few: If you are con­trolled and have lit­tle auton­o­my at your work (like life in most cor­po­ra­tions), you are more like­ly to become depressed.
As your soci­ety becomes more unequal, you are more like­ly to become depressed. If you have job inse­cu­ri­ty, you are more like­ly to become depressed. I tried to think of a metaphor to explain my puz­zle­ment at the focus of the con­fer­ence. It would be per­fect­ly pos­si­ble, I said, to describe the plot of Romeo and Juli­et using New­ton­ian physics. The atoms move in Romeo's body one way, and the atoms in Juliet's body respond, and on and on. It would all be true, but you wouldn't under­stand a thing about why any­body in the play does any­thing. It would miss the point.
Coin­ci­den­tal­ly, the con­fer­ence took place with­in walk­ing dis­tance of the Ten­der­loin dis­trict, an area where home­less peo­ple with addic­tion and depres­sion prob­lems con­gre­gate. I urged every­one to walk over there, talk to the first per­son with an addic­tion they met, lis­ten to their life sto­ry, and then come back and say the cen­tral prob­lem in that person's life was a mal­func­tion­ing brain.
Indeed, John Caciop­po, Ph.D., a pro­fes­sor at the Uni­ver­si­ty of Chica­go, had taught me that our brains change as a result of how we live our lives. Lon­don taxi dri­vers, for exam­ple, have to mem­o­rize the map of Lon­don in a fiendish­ly dif­fi­cult test to get their licens­es. Their brains look dif­fer­ent on brain scans than yours or mine not because they are dis­eased, but because they use them dif­fer­ent­ly. In a sim­i­lar way, expe­ri­enc­ing extreme inequal­i­ty, or lack of con­trol at work, or child­hood trau­ma, also caus­es your brain to change — and recov­er­ing from these blights changes your brain once again.
Caciop­po says we need to think in terms of ​"social neu­ro­science" — your brain is reshaped by social forces. It's not that the sci­en­tists speak­ing at Thiel's con­fer­ence didn't, at some lev­el, know about the social fac­tors that dri­ve depres­sion, anx­i­ety and addic­tion. I had long and inter­est­ing con­ver­sa­tions with many of them that night. But in their pub­lic pre­sen­ta­tions, these fac­tors — the most cru­cial ones — had fall­en into a cul­tur­al blind spot.
The pub­lic debate for decades now has focused on bio­log­i­cal fac­tors, like the notion that depres­sion is caused by low sero­tonin, a myth that has been shown to be demon­stra­bly false. And this is where neolib­er­al­ism comes in. Neolib­er­al­ism, a sys­tem of thought that has steadi­ly advanced through­out my life­time — I'm 39 — instructs us to build a soci­ety around one core insight: that human beings are atom­ized indi­vid­u­als who approach life by ratio­nal­ly max­i­miz­ing their own self-interest.
As Mar­garet Thatch­er put it when I was a kid, ​"There's no such thing as soci­ety. There are indi­vid­ual men and women and there are fam­i­lies." Neolib­er­al­ism pos­es many prob­lems, but per­haps the most neglect­ed is that it has super­charged our cur­rent cri­sis of depres­sion and anx­i­ety. All human beings have nat­ur­al psy­cho­log­i­cal needs: to feel we belong, to feel we are secure, to feel we are val­ued, to feel we have a secure future we can under­stand. These are ingrained in us all. Neolib­er­al­ism does a very poor job of meet­ing these psy­cho­log­i­cal needs, in part because its the­o­ry of human nature doesn't match with human nature.
All humans crave con­nec­tion — to oth­er peo­ple, to mean­ing, to the nat­ur­al world. So we have begun to live in ways that don't work for us, and it is caus­ing us deep pain. We live as deeply lone­ly indi­vid­u­als, primed to believe life is about acquir­ing the unnec­es­sary prod­ucts we see in adver­tis­ing, left to scream at each oth­er through screens to mask how dis­tressed we feel. Yet dur­ing the rise of neolib­er­al­ism, an alter­na­tive expla­na­tion for this dis­tress was sold to us, large­ly by for-prof­it drug com­pa­nies: the bio­med­ical model.
They told us our dis­tress is due to spon­ta­neous chem­i­cal imbal­ances in our brains. This was pro­mot­ed large­ly by phar­ma­ceu­ti­cal com­pa­ny PR depart­ments rather than by sci­en­tists. I believed this sto­ry for 13 years, because when I went for help with my own depres­sion a doc­tor explained my dis­tress to me this way. But as Lau­rence Kir­may­er, M.D., a pro­fes­sor at McGill Uni­ver­si­ty in Mon­tréal, told me, we have end­ed up with ​"a gross­ly over­sim­pli­fied pic­ture" of depres­sion that ​"doesn't look at social fac­tors [or] basic human processes."
So, neolib­er­al­ism makes us mis­er­able by cre­at­ing a soci­ety designed sole­ly for buy­ers and sell­ers. Then it uses the pain caused by such a dystopi­an project as an excuse to tell us our brains are bro­ken and that they're going to have to sell us even more things — drugs — to fix them. Both neolib­er­al eco­nom­ics and the bio­med­ical mod­el are now dis­cred­it­ed. Neolib­er­al­ism crashed the glob­al econ­o­my in 2008 and is on its way to crash­ing the planet's ecology.
The Unit­ed Nations — in its offi­cial state­ment for World Health Day in 2017 — explained that ​"the dom­i­nant bio­med­ical nar­ra­tive of depres­sion" is based on ​"biased and selec­tive use of research out­comes," and that this ​"caus­es more harm than good, under­mines the right to health and must be aban­doned." While chem­i­cal anti­de­pres­sants have some val­ue, they can­not solve these prob­lems for most of us; at best, they take the edge off the symp­toms for some. The U.N. state­ment added that we need to move from ​"focus­ing on ​'chem­i­cal imbal­ances' to focus­ing more on ​'pow­er imbalances.' "
Yet neolib­er­al­ism and the bio­med­ical mod­el live on as zom­bie ideas, stalk­ing our every­day lives. I'm not sug­gest­ing the rela­tion­ship between them is in any way a con­scious process — it cer­tain­ly isn't. No: neolib­er­al­ism trains us to think of our­selves as atom­ized indi­vid­u­als, and this pat­terns how every­one — includ­ing sci­en­tists — looks at the world.
Even more impor­tant­ly, it pro­vides finan­cial incen­tives only for those ways of respond­ing to dis­tress that can be mon­e­tized and sold. I learned from my research, for exam­ple, that star­tling and sol­id evi­dence shows that expo­sure to the nat­ur­al world reduces depres­sion and anx­i­ety, but since there is lit­tle mon­ey to be made in sell­ing access to the oceans, woods and moun­tains, these treat­ments are ignored. Many sim­i­lar paths out of depres­sion and anx­i­ety lie, neglect­ed, beyond the bound­aries of a neolib­er­al ide­ol­o­gy. That day in San Fran­cis­co seemed to me a per­fect expres­sion of these forces com­ing together.
It was a con­fer­ence orga­nized by one of the rich­est men in the world, preach­ing the gospel of Ayn Rand while enthu­si­as­ti­cal­ly fund­ing a project to make the world even more unequal and dom­i­nat­ed by cor­po­ra­tions — and the con­fer­ence was ded­i­cat­ed to say­ing that the thick tar of dis­tress spread­ing around us and drag­ging us down was sim­ply due to mal­func­tion­ing amyg­dalae, miss­ing brain chem­i­cals and oth­er neu­ro­log­i­cal defects.
A few days after the con­fer­ence end­ed, on the day of the inau­gu­ra­tion, I went to the Gold­en Gate Bridge. At the moment when Trump was sworn in, I took part in a long human chain, hold­ing hands, stretch­ing across the bridge, show­ing our resis­tance to the new age that is upon us. I cried as I looked out over the bay, at how beau­ti­ful it was and how fright­en­ing the com­ing four years would be.
Many oth­ers on the bridge that day wept, too. It seemed to me then — in line with all the social sci­ence I had learned — that this was a more pow­er­ful com­pass for find­ing our ways out of depres­sion and anx­i­ety than any pic­ture of an indi­vid­ual brain scan. We defied the neolib­er­al script. We didn't go shop­ping, or try to max­i­mize our eco­nom­ic self­in­ter­est. We reached out to each oth­er — to con­nect with what is tru­ly mean­ing­ful in life
Johann Hari
is a British jour­nal­ist. He has writ­ten for many of the world's lead­ing news­pa­pers and mag­a­zines, includ­ing the
New York Times, Le Monde, the Guardian
, the
Los Ange­les Times, The New Repub­lic, The Nation, Slate, El Mun­do
, and the
Syd­ney Morn­ing Her­ald
. He was a lead op-ed colum­nist for the
Inde­pen­dent
, one of Britain's lead­ing news­pa­pers, for nine years.You can fol­low him on Twit­ter at
@johannhari

101