The War on Billie Holiday
The Bureau of Narcotics' strange obsession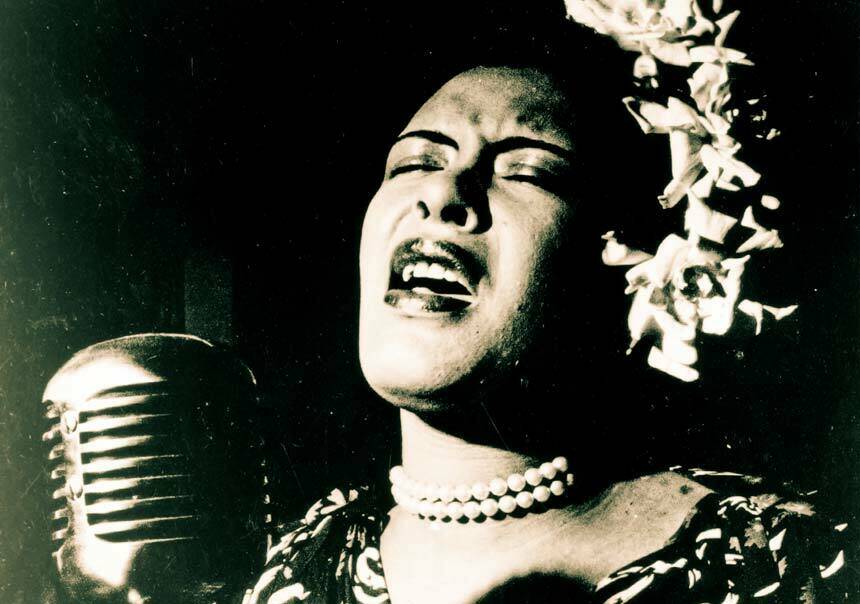 Jazz was the oppo­site of every­thing Har­ry Anslinger, the first com­mis­sion­er of the Fed­er­al Bureau of Nar­cotics (estab­lished in 1930), believed in. It is impro­vised, and relaxed, and free-form. It fol­lows its own rhythm. Worst of all, it is a mon­grel music made up of Euro­pean, Caribbean and African echoes, all mat­ing on Amer­i­can shores. To Anslinger, this was musi­cal anar­chy, and evi­dence of a recur­rence of the prim­i­tive impuls­es that lurk in black peo­ple, wait­ing to emerge. ​"It sound­ed," his inter­nal mem­os said, ​"like the jun­gles in the dead of night." Anoth­er memo warned that ​"unbe­liev­ably ancient inde­cent rites of the East Indies are res­ur­rect­ed" in this black man's music. The lives of the jazzmen, he said, ​"reek of filth."
It was more comforting to believe that a white powder was the cause of black anger, and that getting rid of the white powder would render black Americans docile and on their knees once again.
His agents report­ed back to him that ​"many among the jazzmen think they are play­ing mag­nif­i­cent­ly when under the influ­ence of mar­i­hua­na [sic] but they are actu­al­ly becom­ing hope­less­ly con­fused and play­ing horribly."
The Bureau believed that mar­i­jua­na slowed down your per­cep­tion of time dra­mat­i­cal­ly, and this was why jazz music sound­ed so freak­ish — the musi­cians were lit­er­al­ly liv­ing at a dif­fer­ent, inhu­man rhythm. ​"Music hath charms," their mem­os say, ​"but not this music." Indeed, Har­ry took jazz as yet more proof that mar­i­jua­na dri­ves peo­ple insane. For exam­ple, the song ​"That Fun­ny Reefer Man" con­tains the line ​"Any time he gets a notion, he can walk across the ocean." Harry's agents warned: ​"He does think that."
Anslinger looked out over a scene filled with men like Char­lie Park­er, Louis Arm­strong and Thelo­nious Monk, and — as the jour­nal­ist Lar­ry Slo­man record­ed—he longed to see them all behind bars. He wrote to all the agents he had sent to fol­low them and instruct­ed: ​"Please pre­pare all cas­es in your juris­dic­tion involv­ing musi­cians in vio­la­tion of the mar­i­jua­na laws. We will have a great nation­al round-up arrest of all such per­sons on a sin­gle day. I will let you know what day." His advice on drug raids to his men was always, ​"Shoot first."
He reas­sured con­gress­men that his crack­down would affect not ​"the good musi­cians, but the jazz type." But when Har­ry came for them, the jazz world would have one weapon that saved them: its absolute sol­i­dar­i­ty. Anslinger's men could find almost no one among them who was will­ing to snitch, and when­ev­er one of them was bust­ed, they all chipped in to bail him out.
In the end, the Trea­sury Depart­ment told Anslinger he was wast­ing his time tak­ing on a com­mu­ni­ty that couldn't be frac­tured, so he scaled down his focus until it set­tled like a laser on a sin­gle tar­get — per­haps the great­est female jazz vocal­ist there ever was — Bil­lie Holiday.
Har­ry had heard whis­pers that this ris­ing black star was using hero­in, so he assigned an agent named Jim­my Fletch­er to track her every move. Har­ry hat­ed to hire black agents, but if he sent white guys into Harlem and Bal­ti­more, they stood out. Jim­my Fletch­er was the answer. His job was to bust his own peo­ple. Many agents in this posi­tion would shoot hero­in with their clients, to ​"prove" they weren't cops. We don't know whether Jim­my joined in, but we do know he had no pity for addicts: ​"I nev­er knew a vic­tim," he said. ​"You vic­tim­ize your­self by becom­ing a junkie."
Danc­ing with the devil
When Bil­lie sang ​"Lover­man, where can you be?" she wasn't cry­ing for a man — she was cry­ing for hero­in. But when she found out her friends in the jazz world were using the same drug, she begged them to stop. Nev­er imi­tate me, she cried. Nev­er do this.
She kept try­ing to quit. She would get her friends to shut her away in their hous­es for days on end while she went through with­draw­al. As she ran back to her deal­ers, she cursed her­self as ​"No Guts Hol­i­day." Why couldn't she stop? ​"It's tough enough com­ing off when you've got some­body who loves you and trusts you and believes in you," she wrote. ​"I didn't have any­body." Actu­al­ly, she said, that's not quite right. She had Anslinger's agents, ​"bet­ting their time, their shoe leather, and their mon­ey that they would get me. Nobody can live like that."
The morn­ing he first raid­ed her, Jim­my took Bil­lie to one side and promised to talk to Anslinger per­son­al­ly for her. ​"I don't want you to lose your job," he said.
Not long after, he ran into her in a bar and they talked for hours, with her pet Chi­huahua, Moochy, by her side. Then, one night, at Club Ebony, they end­ed up danc­ing togeth­er — Bil­lie Hol­i­day and Anslinger's agent, sway­ing togeth­er to the music.
"And I had so many close con­ver­sa­tions with her, about so many things," he would remem­ber years lat­er. ​"She was the type who would make any­one sym­pa­thet­ic because she was the lov­ing type." The man Anslinger sent to track and bust Bil­lie Hol­i­day had, it seems, fall­en in love with her. Con­front­ed with a real addict, up close, the hatred fell away.
A qui­et holiday
But Anslinger was going to be giv­en a break on Bil­lie, one he got nowhere else in the jazz world. Bil­lie had got used to turn­ing up at gigs so bad­ly beat­en by Louis McK­ay, her pimp-turned-hus­band, that they had to tape up her ribs before push­ing her onstage. She was too afraid to go to the police — but final­ly she was brave enough to cut him off.
"How come I got to take this from this bitch here? This low-class bitch?" McK­ay raged. ​"If I got a whore, I get some mon­ey from her or I don't have noth­ing to do with the bitch. I don't want no cunt." He had heard that Har­ry Anslinger want­ed infor­ma­tion on her, and he was intrigued. ​"She's been get­ting away with too much shit," McK­ay said, adding he want­ed ​"Holiday's ass in the gut­ter in the East Riv­er." That, it seems, was the clinch­er. ​"I got enough to fin­ish her off," he had pledged. ​"I'm going to do her up so god­damn bad she going to remem­ber as long as she live." McK­ay trav­eled to D.C. to see Har­ry, and agreed to set her up.
When Bil­lie was bust­ed again, she was put on tri­al. She stood before the court look­ing pale and stunned. ​"It was called The Unit­ed States of Amer­i­ca vs. Bil­lie Hol­i­day," she said, ​"and that's just the way it felt." She refused to weep on the stand. She told the judge she didn't want any sym­pa­thy. She just want­ed to be sent to a hos­pi­tal so she could kick the drugs and get well. Please, she said to the judge, ​"I want the cure."
She was sen­tenced instead to a year in a West Vir­ginia prison, where she was forced to go cold turkey and work dur­ing the days in a pigsty, among oth­er places. In all her time behind bars, she did not sing a note. Years lat­er, when her auto­bi­og­ra­phy was pub­lished, Bil­lie tracked Jim­my Fletch­er down and sent him a signed copy. She had writ­ten inside it: ​"Most fed­er­al agents are nice peo­ple. They've got a dirty job to do and they have to do it. Some of the nicer ones have feel­ings enough to hate them­selves some­time for what they have to do. … Maybe they would have been kinder to me if they'd been nasty; then I wouldn't have trust­ed them enough to believe what they told me." She was right: Jim­my nev­er stopped feel­ing guilty for what he'd done to Lady Day. ​"Bil­lie ​'paid her debt' to soci­ety," one of her friends wrote, ​"but soci­ety nev­er paid its debt to her."
As a for­mer con­vict, she was stripped of her cabaret performer's license, on the grounds that lis­ten­ing to her might harm the morals of the pub­lic. This meant she wasn't allowed to sing any­where that alco­hol was served — which includ­ed all the jazz clubs in the Unit­ed States.
"How do you best act cru­el­ly?" her friend Yolande Bavan asked me in 2013. ​"It's to take some­thing that's the dear­est thing to that per­son away from them." Bil­lie had been able to sur­vive every thing — but this? ​"You despair because you have no con­trol. You can't do the
thing that is a pas­sion and that you made your liveli­hood at, and that has brought joy to peo­ple all over the world," Bavan says. Bil­lie was final­ly silenced.
Race war on drugs
Har­ry Anslinger was told that there were also white women, just as famous as Bil­lie, who had drug prob­lems — but he respond­ed to them rather dif­fer­ent­ly. He called Judy Gar­land, anoth­er hero­in addict, in to see him. They had a friend­ly chat, in which he advised her to take longer vaca­tions between pic­tures, and he wrote to her stu­dio, assur­ing them she didn't have a drug prob­lem at all. When he dis­cov­ered that a Wash­ing­ton soci­ety host­ess he knew — ​"a beau­ti­ful, gra­cious lady," he not­ed — had an ille­gal drug addic­tion, he explained he couldn't pos­si­bly arrest her because ​"it would destroy … the unblem­ished rep­u­ta­tion of one of the nation's most hon­ored fam­i­lies." He helped her to wean her­self off her addic­tion slow­ly, with­out the law becom­ing involved.
The argu­ments we hear today for the drug war are that we must pro­tect teenagers from drugs, and pre­vent addic­tion in gen­er­al. We assume, look­ing back, that these were the rea­sons this war was launched in the first place. But they were not. They crop up only occa­sion­al­ly, as asides. The main rea­son giv­en for ban­ning drugs — the rea­son obsess­ing the men who launched this war — was that the blacks, Mex­i­cans and Chi­nese were using these chem­i­cals, for­get­ting their place, and men­ac­ing white people.
It took me a while to see that the con­trast between the racism direct­ed at Bil­lie and the com­pas­sion offered to addict­ed white stars like Judy Gar­land was not some weird mis­fir­ing of the drug war — it was part of the point.
Cocaine was, it was wide­ly claimed in the press at this time, turn­ing blacks into super­hu­man hulks who could take bul­lets to the heart with­out flinch­ing. It was the offi­cial rea­son why the police across the South increased the cal­iber of their guns.
One med­ical expert put it blunt­ly: ​"The cocaine nig­ger," he warned, ​"sure is hard to kill."
Many white Amer­i­cans did not want to accept that black Amer­i­cans might be rebelling because they had lives like Bil­lie Holiday's — locked into Pig­towns and banned from devel­op­ing their tal­ents. It was more com­fort­ing to believe that a white pow­der was the cause of black anger, and that get­ting rid of the white pow­der would ren­der black Amer­i­cans docile and on their knees once again.
A com­pas­sion­ate response
Bil­lie didn't blame Anslinger's agents as indi­vid­u­als; she blamed the drug war itself — because it forced the police to treat ill peo­ple like crim­i­nals. ​"Imag­ine if the gov­ern­ment chased sick peo­ple with dia­betes, put a tax on insulin and drove it into the black mar­ket, told doc­tors they couldn't treat them," she wrote in her mem­oir, ​"then sent them to jail. If we did that, every­one would know we were crazy. Yet we do prac­ti­cal­ly the same thing every day in the week to sick peo­ple hooked on drugs."
Still, some part of Bil­lie Hol­i­day believed she had done some­thing evil, with her drug use and with her life. She told peo­ple she would rather die than go back to prison, but she was also ter­ri­fied that she would burn in hell.
It is easy to judge Har­ry Anslinger. But if we are hon­est, I sus­pect that every­body who has ever loved an addict — every­body who has ever been an addict — has this impulse in them some­where. Destroy the addic­tion. Kill the addic­tion. Throt­tle it with vio­lence. Har­ry Anslinger is our own dark­est impuls­es, giv­en a gov­ern­ment depart­ment and a license to kill.
This essay was adapt­ed with per­mis­sion from Chas­ing the Scream: The First and Last Days of the War on Drugs (Blooms­bury) by Johann Hari. Vis­it Chas​ingTh​e​Scream​.com for more information.
Johann Hari
is a British jour­nal­ist. He has writ­ten for many of the world's lead­ing news­pa­pers and mag­a­zines, includ­ing the
New York Times, Le Monde, the Guardian
, the
Los Ange­les Times, The New Repub­lic, The Nation, Slate, El Mun­do
, and the
Syd­ney Morn­ing Her­ald
. He was a lead op-ed colum­nist for the
Inde­pen­dent
, one of Britain's lead­ing news­pa­pers, for nine years.You can fol­low him on Twit­ter at
@johannhari

101