Despair Not
We must confront 'well-informed futility syndrome' to overcome our fossil fuel addiction.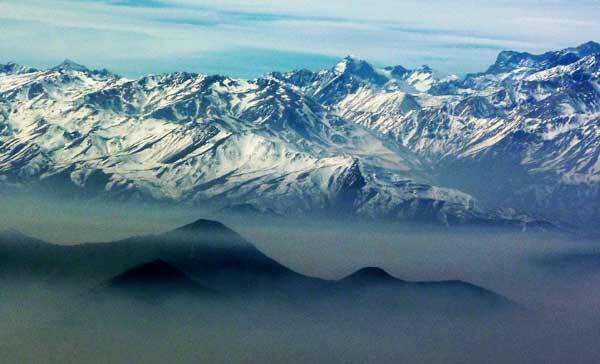 In Alton, Ill., down­stream from Peo­ria, the Illi­nois Riv­er town where I grew up, the abo­li­tion­ist Eli­jah Love­joy was pumped full of bul­lets on a dark Novem­ber night by a mob intent on silenc­ing the man once and for all. On this evening, they succeeded.
By dawn, Eli­jah was dead, and his print­ing press – the means by which he dis­trib­uted his rad­i­cal ideas – lay at the bot­tom of the Mis­sis­sip­pi Riv­er. The year was 1837. The Rev. Love­joy, a Pres­by­ter­ian min­is­ter who attend­ed Prince­ton The­o­log­i­cal Sem­i­nary, was buried on this 35th birthday.
But the sto­ry doesn't end there.
Almost imme­di­ate­ly, mem­ber­ship in anti­slav­ery soci­eties across the nation swelled. Vow­ing to car­ry on the work of his fall­en friend, Edward Beech­er, pres­i­dent of Illi­nois Col­lege in Jack­sonville, threw him­self into abo­li­tion­ist efforts and, in so doing, inspired his sis­ter, Har­ri­et Beech­er Stowe, who went on to write the most famous abo­li­tion­ist trea­tise of all: Uncle Tom's Cab­in. Mean­while, Elijah's broth­er, Owen Love­joy, turned his own house into a sta­tion along the Under­ground Rail­road. Owen went on to win a seat in Con­gress and, along the way, befriend­ed a young Illi­nois politi­cian by the name of Abra­ham Lincoln.
These facts impressed me as a child.
When I read Rev­erend Lovejoy's biog­ra­phy as a grown-up and moth­er, I found oth­er things impres­sive. Such as the fact that, at the time of his assas­si­na­tion, Eli­jah had a young fam­i­ly. And yet, in the weeks before his death – when it became clear that the mob pur­su­ing him was grow­ing bold­er by the hour – he did not desist from speak­ing out against slav­ery. So Eli­jah declared in one of his final speeches:
While all around me is vio­lence and tumult, all is peace with­in…. I sleep sweet­ly and undis­turbed, except when awak­ened by the brick­bats of the mob.
Tru­ly? With a preg­nant wife in the bed next to him and a 1‑year-old son in the next room? He wasn't worried?
A let­ter to his moth­er in Maine tells a more nuanced story:
Still I can­not but feel that it is hard­er to ​

"

fight valiant­ly for the truth" when I risk not only my own com­fort, ease, and rep­u­ta­tion, and even life, but also that of anoth­er beloved one.
And then there's this poignant aside:
I have a fam­i­ly who are depen­dent on me… And this is it that adds the bit­ter­est ingre­di­ent to the cup of sor­row I am called to drink.
Here's some­thing else that I've noticed while read­ing his words. To the slave own­ers and mur­der­ous thugs, Eli­jah spoke calm­ly. He reserved his fierce lan­guage for the mem­bers of the com­mu­ni­ty who glad­ly lived in the free state of Illi­nois but wished to remain above the fray: the ones who added their sig­na­tures to a res­o­lu­tion ask­ing him to cease pub­li­ca­tion of his news­pa­per and leave town, but would not sign a res­o­lu­tion that urged pro­tec­tion of law against mob rule; the ones who agreed that slav­ery was a homi­ci­dal abom­i­na­tion but who feared that eman­ci­pa­tion with­out rec­om­pense to slave own­ers for loss of prop­er­ty would be social­ly desta­bi­liz­ing; the ones who believed them­selves upstand­ing­ly moral but who chose to remain silent about the great moral cri­sis of the day.
Two crises, one cause
In the spir­it of Eli­jah Love­joy – the man who is the name­sake of my 9‑year-old son – the time has come for out­spo­ken, full-throat­ed hero­ism in the face of the great moral issue of our own day: the envi­ron­men­tal cri­sis – an unfold­ing calami­ty whose main vic­tims are our own chil­dren and grandchildren.
In fact, the envi­ron­men­tal cri­sis is actu­al­ly two crises, although they share a com­mon cause. You could view it as a tree with two main branch­es: One branch rep­re­sents what is hap­pen­ing to our plan­et through the atmos­pher­ic accu­mu­la­tion of heat-trap­ping gas­es (most notably, car­bon diox­ide and methane). The sec­ond branch rep­re­sents what is hap­pen­ing to us through the accu­mu­la­tion of inher­ent­ly tox­ic chem­i­cal pol­lu­tants in our bodies.
Fol­low the first branch and you find droughts, floods, acid­i­fy­ing oceans, dis­solv­ing coral reefs and fal­ter­ing plank­ton stocks (the oceans' plank­ton pro­vides half of our atmos­pher­ic oxy­gen sup­ply). Fol­low the sec­ond branch and you find pes­ti­cides in children's urine, lungs stunt­ed by air pol­lu­tants, abbre­vi­at­ed preg­nan­cies, altered hor­mone lev­els and low­er scores on cog­ni­tive tests.
The trunk of this tree is an eco­nom­ic depen­den­cy on fos­sil fuels, pri­mar­i­ly coal (plant fos­sils) and petro­le­um and nat­ur­al gas (ani­mal fos­sils). When we light them on fire, we threat­en the glob­al ecosys­tem. When we use them as feed­stocks for mak­ing stuff, we cre­ate sub­stances – pes­ti­cides, sol­vents, plas­tics – that can tin­ker with our sub­cel­lu­lar machin­ery and var­i­ous sig­nal­ing path­ways that make it run.
Biol­o­gist Rachel Car­son first called our atten­tion to these man­i­fold dan­gers in her 1962 book, Silent Spring. She wrote, ​"Future gen­er­a­tions are unlike­ly to con­done our lack of pru­dent con­cern for the integri­ty of the nat­ur­al world that sup­ports all life." Since then, the sci­en­tif­ic evi­dence for the dis­in­te­gra­tion of our world has become irrefutable, and mem­bers of the future gen­er­a­tions to whom she was refer­ring are now occu­py­ing our homes.
They are our kids.
I mean this in the most basic ways. When my son Eli­jah, at age 4, asked to be a polar bear for Hal­loween, I sewed a polar bear cos­tume – and I did so with the full knowl­edge that his cos­tume might out­last the species. No oth­er gen­er­a­tion of moth­ers before mine has ever borne such knowl­edge – nor won­dered if we should share this ter­ri­ble news with our chil­dren. Or not. It's a nov­el sit­u­a­tion. Indeed, accord­ing to the most recent assess­ment, one in every four mam­mal species (and one in every three marine ani­mals) is now threat­ened with extinc­tion, includ­ing that icon of Hal­loween itself: the lit­tle brown bat. Thus, ani­mal cos­tumes whose real-life cor­re­spon­dents have been wiped from Earth may well become commonplace.
This leads me to won­der: What will we say when our grand­chil­dren ask us the names of the depart­ed? When bats, bees, but­ter­flies, whales, polar bears and ele­phants dis­ap­pear, will chil­dren still read books about them? Will they want to dress up as van­ished species? Or, by then, will the loss of favorite ani­mals be the least of their worries?
'

New mor­bidi­ties of childhood'

Chron­ic child­hood dis­eases linked to tox­ic chem­i­cal expo­sures are ris­ing in preva­lence. Here are a few of the cur­rent trends:

1 in 8 U.S. chil­dren is born pre­ma­ture­ly. Preterm birth is the lead­ing cause of death in the first months of life and the lead­ing cause of dis­abil­i­ty. Its price tag is $26 bil­lion per year in med­ical costs, spe­cial ser­vices and lost pro­duc­tiv­i­ty. Preterm birth has demon­stra­ble links to air pol­lu­tion, espe­cial­ly mater­nal expo­sure to fine par­ti­cles and com­bus­tion byprod­ucts of the type released from coal-burn­ing pow­er plants.

1 in 11 U.S. chil­dren has asth­ma, the most com­mon chron­ic child­hood dis­ease and a lead­ing cause of school absen­teeism. Asth­ma symp­toms have been linked to cer­tain ingre­di­ents in plas­tic (phtha­lates) as well as out­door air pol­lu­tion, includ­ing traf­fic exhaust. The annu­al cost of child­hood asth­ma is esti­mat­ed at $18 bil­lion. Its inci­dence has dou­bled since 1980.

1 in 10 U.S. chil­dren has a learn­ing dis­abil­i­ty, and near­ly 1 in 10 has atten­tion deficit/​hyperactivity dis­or­der. All togeth­er, spe­cial edu­ca­tion ser­vices now con­sume 22 per­cent of U.S. school spend­ing – about $77.3 bil­lion per year at last count. Neu­rode­vel­op­men­tal dis­or­ders have sig­nif­i­cant asso­ci­a­tions with expo­sures to air pol­lu­tion, organophos­phate pes­ti­cides like diazi­non, and the heavy met­als lead, mer­cury, and arsenic, among others.

1 in 110 chil­dren has autism or is on the autism spec­trum. Annu­al costs are $35 bil­lion. Caus­es are unknown, but expo­sure to chem­i­cal agents in ear­ly preg­nan­cy is one of sev­er­al sus­pect­ed contributors.

1 in 10 U.S. white girls and 1 in 5 U.S. black girls begin breast devel­op­ment before the age of eight. On aver­age, breast devel­op­ment begins near­ly two years ear­li­er (age 9) than it did in the ear­ly 1960s (age 11). A risk fac­tor for breast can­cer in adult­hood, ear­ly puber­ty in girls is asso­ci­at­ed with increas­ing body fat as well as expo­sure to some hor­mon­al­ly active chem­i­cal agents known as ​"estro­gen mim­ic­k­ers." We have no cost esti­mates for the short­ened child­hoods of girls.

All togeth­er, asth­ma, behav­ioral prob­lems, intel­lec­tu­al impair­ments and preterm birth are among the ​"new mor­bidi­ties of child­hood." So con­cludes a 2006 fed­er­al­ly fund­ed inves­ti­ga­tion of pedi­atric envi­ron­men­tal health. Iron­i­cal­ly, by becom­ing so famil­iar a pres­ence among chil­dren, these dis­or­ders now appear almost nor­mal or inevitable. And yet, with an entire­ly dif­fer­ent chem­i­cal reg­u­la­to­ry sys­tem, farm bill and ener­gy pol­i­cy, their preva­lence might be much reduced.

The fact that we do not iden­ti­fy and abol­ish hor­mone-dis­rupt­ing, brain-dam­ag­ing chem­i­cals to which chil­dren are rou­tine­ly exposed rais­es pro­found eth­i­cal ques­tions. The authors of the pedi­atric health inves­ti­ga­tion, pub­lished in Envi­ron­men­tal Health Per­spec­tives, put it this way:
In the absence of tox­i­c­i­ty test­ing, we are inad­ver­tent­ly employ­ing preg­nant women and chil­dren as unin­formed sub­jects to warn us of new envi­ron­men­tal tox­i­cants. … Para­dox­i­cal­ly, because indus­try is not oblig­at­ed to sup­ply the data on devel­op­men­tal neu­ro­tox­i­c­i­ty, the costs of human dis­ease, research, and pre­ven­tion are social­ized where­as the prof­its are privatized.
In the absence of fed­er­al poli­cies that pro­tect child devel­op­ment and the ecol­o­gy of the plan­et on which our children's lives depend, we par­ents have to serve as our own reg­u­la­to­ry agen­cies and depart­ments of interior.
Already man­i­cal­ly busy, we are encour­aged by pop­u­lar media reports to read labels, con­sult web­sites, vet the con­tents of birth­day par­ty goody bags, shrink our car­bon foot­prints, mix our own non­tox­ic clean­ing prod­ucts, chal­lenge our school dis­tricts to embrace pes­ti­cide-free soc­cer fields and lim­it the num­ber of ounces of mer­cury-laced tuna fish con­sumed by each child per week.
What will we say when our grandchildren ask us the names of the departed? Or, by then, will the loss of favorite animals be the least of our worries?
'

Well-informed futil­i­ty'

Thought­ful but over­whelmed par­ents cor­rect­ly per­ceive a dis­con­nect between the enor­mi­ty of the prob­lem and the abil­i­ty of indi­vid­ual acts of vig­i­lance and self-sac­ri­fice to fix it. Aware­ness with­out cor­re­spond­ing polit­i­cal change leads to par­a­lyz­ing despair. And so, even­tu­al­ly, we begin to dis­count or ignore the lat­est evi­dence of harm. We feel help­less in the face of our knowl­edge, and we're not sure we want to know any­thing more. The apt term for this is ​"well-informed futil­i­ty syndrome."

"Well-informed futil­i­ty" refers to a par­tic­u­lar kind of learned help­less­ness. It's a term that was coined in 1973 by psy­chol­o­gist Ger­hart Wiebe, who was writ­ing in an age when tele­vi­sion had brought war into the liv­ing rooms of Amer­i­cans for the first time. Wiebe noticed that a steady onslaught of infor­ma­tion about a prob­lem over which peo­ple feel lit­tle sense of per­son­al agency gives rise to a sense of futil­i­ty. Iron­i­cal­ly, the more we know about such a prob­lem, the more we are filled with a par­a­lyz­ing sense of futil­i­ty. That sense, in turn, fore­stalls action. And yet, action is the cure for paralysis.

Just down the street from well-informed futil­i­ty resides denial. Accord­ing to con­tem­po­rary risk com­mu­ni­ca­tion expert Peter Sand­man, we all instinc­tive­ly avoid infor­ma­tion that trig­gers intol­er­a­ble emo­tions – such as intol­er­a­ble fear or intol­er­a­ble guilt. In the face of knowl­edge too upset­ting to bear, there is noth­ing to do but look away.

Well-informed futil­i­ty and its inat­ten­tive neigh­bor, denial, espe­cial­ly flour­ish, says Sand­man, when there are dis­con­ti­nu­ities in the mes­sages we receive, as when we are told that a prob­lem (mass extinc­tions, melt­ing ice­caps) is dire but the pro­posed solu­tions (buy new light bulbs) seem triv­ial. If the prob­lem were real­ly so dire, wouldn't we all be asked to respond with actions of equiv­a­lent mag­ni­tude? So … maybe the prob­lem isn't so dire.

It is such dis­con­ti­nu­ity that pro­vides the exit doors. And soon enough, we retreat into silent paral­y­sis rather than stand up for abo­li­tion now.
The anti­dote to despair
Action is the anti­dote to despair, and by action I do not mean shop­ping dif­fer­ent­ly. Indeed, the notion that tox­i­c­i­ty should be a con­sumer choice must be sound­ly reject­ed. Instead, we must seek the high­er ground of human rights, and from that van­tage explore sys­temic solu­tions to the ongo­ing chem­i­cal con­t­a­m­i­na­tion of our chil­dren and our biosphere.
The domes­tic rou­tines of fam­i­ly life with young chil­dren – how­ev­er iso­lat­ed and detached from pub­lic life they seem – are inex­tri­ca­bly bound to the most urgent pub­lic health issues of our time:
Risks for asth­ma are relat­ed to trans­porta­tion and ener­gy policies.
Bed­time snacks are linked to glob­al sys­tems of agri­cul­tur­al subsidies.
The high­ly explo­sive raw mate­ri­als used for man­u­fac­tur­ing my kitchen floor pose demon­stra­ble threats to nation­al security.
Sun­burn at the beach is linked to the sta­bil­i­ty of the ozone lay­er, which, in turn, is threat­ened by par­tic­u­lar pes­ti­cides used in the pro­duc­tion of toma­toes and strawberries.
The cap­ture of a rabid bat in the kids' bed­room demon­strates the pre­cau­tion­ary prin­ci­ple in action as enlight­ened pub­lic health pol­i­cy. The pro­pos­al to extract nat­ur­al gas from the Mar­cel­lus Shale that lies below my rur­al coun­ty in upstate New York demon­strates the aban­don­ment of that same principle.
From under­stand­ing the inter-relat­ed­ness of sit­u­a­tions like these, two epipha­nies emerge.
ONE: Ulti­mate­ly the envi­ron­men­tal cri­sis is a par­ent­ing cri­sis. It under­mines my abil­i­ty to car­ry out my two fun­da­men­tal duties: to pro­tect my chil­dren from harm and to plan for their future.
Cur­rent envi­ron­men­tal poli­cies must be realigned to safe­guard the healthy devel­op­ment of chil­dren and sus­tain the plan­e­tary life-sup­port sys­tems on which their lives depend.
TWO: Such a realign­ment neces­si­tates eman­ci­pa­tion from our ter­ri­ble addic­tion to fos­sil fuels in all their tox­ic forms.
Hap­pi­ly, the best sci­ence shows us that we can do so. Mark Jacob­son and Mark Deluc­chi, in their 2009 Sci­en­tif­ic Amer­i­can arti­cle, ​"A Path to Sus­tain­able Ener­gy by 2030," explain how in the course of the next 20 years, we could entire­ly meet our ener­gy require­ments with renew­able, non-car­bon-based sources, if we cut our ener­gy con­sump­tion by half. With the will­ing­ness to make deep cuts in con­sump­tion, the whole fos­sil-fuel free­dom project becomes doable. And this is a place where a thou­sand mole­hills real­ly do a moun­tain make.
Accord­ing to Paul Stern, the direc­tor of the Com­mit­tee on the Human Dimen­sions of Glob­al Cli­mate Change at the Nation­al Research Coun­cil, in the Unit­ed States, indi­vid­u­als' homes and vehi­cles are respon­si­ble for 38 per­cent of car­bon diox­ide emis­sions. There­fore, we don't have to wait around for polit­i­cal change before mak­ing imme­di­ate and rad­i­cal trans­for­ma­tions in our own lives and spheres of influence.
We should not despair. We can break the spell. We can pre­pare the way. In oth­er words, as Eli­jah Love­joy exhort­ed his fel­low cit­i­zens when encour­ag­ing them to imag­ine a U.S. econ­o­my no longer depen­dent on the unpaid labor of peo­ple held as prop­er­ty: It's time to ​"come up to the res­cue, and let it be known whether the spir­it of free­dom yet presides."
This essay was adapt­ed from Rais­ing Eli­jah: Pro­tect­ing Our Chil­dren in an Age of Envi­ron­men­tal Cri­sis (Mer­loyd Lawrence Books/​Da Capo Press, April). San­dra Steingraber's last In These Times arti­cle was ​"How Mer­cury-Taint­ed Tuna Dam­ages Fetal Brains: The Sto­ry Proc­ter & Gam­ble Cen­sored," our Jan­u­ary 17, 2005, issue's cov­er story.
Biol­o­gist
San­dra Ste­in­graber
is a vis­it­ing dis­tin­guished schol­ar at Itha­ca Col­lege in Itha­ca, New York. Her most recent book is
Hav­ing Faith: An Ecologist's Jour­ney to Moth­er­hood
.