Dethrone 'Filibuster King' Mitch McConnell
The fight is on to fix the minority's silent domination of the Senate.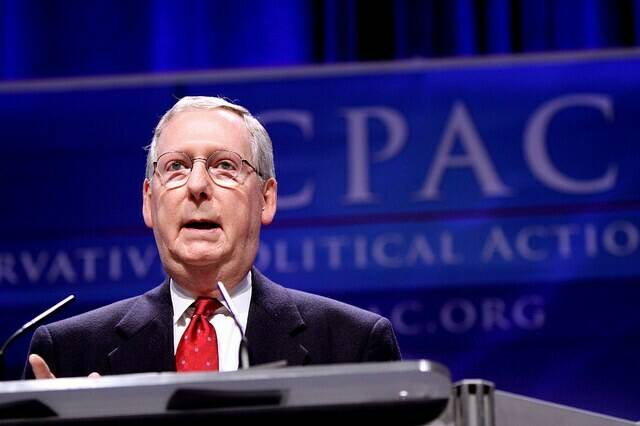 Mitch McConnell, the minor­i­ty leader of the U.S. Sen­ate, has for six years wield­ed the fil­i­buster as a weapon in his rebel­lion against a found­ing prin­ci­ple of the Unit­ed States of Amer­i­ca: self-gov­er­nance by major­i­ty rule.
The U.S. House of Representatives functions just fine without a filibuster. Supposedly the Senate needs the filibuster because it's the more deliberative body. But king McConnell has exploited the filibuster to convert the Senate into the do-nothing-at-all body.
McConnell's revolt shows he believes Amer­i­cans can­not gov­ern them­selves because, basi­cal­ly, he thinks the major­i­ty of Amer­i­cans are wrong­head­ed. As any monarch would, he believes the minor­i­ty is jus­ti­fied in over­rid­ing and rul­ing over the majority.
McConnell is the fil­i­buster king, mas­ter of all that he and his minor­i­ty min­ions can obstruct. With the fil­i­buster, he zeal­ous­ly blud­geoned to death bills passed by a major­i­ty in the House and sup­port­ed by a major­i­ty in the Sen­ate. What was intend­ed to be a pre­ci­sion tool McConnell bran­dished as a machine gun, mur­der­ing all major­i­ty-sup­port­ed leg­is­la­tion in sight. Fil­i­buster is derived from the Dutch word for thiev­ing pirates. It is the minor­i­ty steal­ing vot­ing rights from the majority.
In the old­en days, like dur­ing the time of the Clin­ton admin­is­tra­tion and ear­li­er, the fil­i­buster was rarely and judi­cious­ly used by both Demo­c­rat and Repub­li­can minori­ties. It was hauled out of the Sen­ate par­lia­men­tary rules bin only when the mea­sures under con­sid­er­a­tion were fair­ly monumental.
The 1957 Civ­il Rights bill was such a deal. South Car­oli­na Sen­a­tor and seg­re­ga­tion­ist Strom Thur­mond set the fil­i­buster record oppos­ing this mea­sure intend­ed to pro­vide equal vot­ing rights for black peo­ple. Thur­mond knew there were suf­fi­cient votes in the Sen­ate to pass it – that would be 51, a sim­ple major­i­ty. But it would take a super­ma­jor­i­ty – 67 votes at that time – for the Sen­ate to stop debate about it, essen­tial­ly to shut him up, and any­one else who would join him, and move to a vote on the bill itself. He was prob­a­bly right in think­ing pro­po­nents of the bill could not muster 67 votes to stop him.
Thur­mond failed, how­ev­er, because he couldn't go on after 24 hours of talk­ing and no oth­er Sen­a­tor stepped for­ward to con­tin­ue his tirade against civ­il rights. The Sen­ate passed the bill 62 – 15 two hours after Thur­mond vol­un­tar­i­ly stopped talking.
Just short of 20 years lat­er, the Sen­ate made it eas­i­er to end a fil­i­buster by cut­ting to 60 the num­ber of votes need­ed to end debate. But the Sen­ate has also made it much eas­i­er to con­duct a fil­i­buster. It no longer com­pels obstruc­tion­ists to do any work. All they have to do now is call a fil­i­buster. They don't have to actu­al­ly stand up and talk. At all. Ever. It's a silent fil­i­buster. It's a go-home-and-put-your-feet-up-after-stop­ping-the-work-of-the-major­i­ty filibuster.
And those lazy, silent fil­i­busters have increased dra­mat­i­cal­ly under king McConnell. Repub­li­cans have pulled 348 go-home-and-put-your-feet-up fil­i­busters since Democ­rats became the major­i­ty par­ty in the Sen­ate six years ago. In just the two years of 2009 and 2010, Repub­li­cans pulled more of these lazy, silent fil­i­busters than the total num­ber of fil­i­busters that occurred in the two decades of the 1950s and 1960s.
Fil­i­buster pow­er has so gone to the head of king McConnell that last week, he fil­i­bus­tered a mea­sure that he had pro­posed just hours before.
King McConnell's suc­cess­ful obstruc­tion has meant that Amer­i­cans who elect­ed Democ­rats as the major­i­ty par­ty in both the House and Sen­ate in 2008 did not get leg­is­la­tion that the major­i­ty of Amer­i­cans sup­port­ed then and con­tin­ue to sup­port now. Dylan Matthews of The Wash­ing­ton Post list­ed 17 mea­sures that like­ly would have become law except for the fil­i­buster. Among them were a bill that would have required cor­po­ra­tions to dis­close their polit­i­cal spend­ing, a mea­sure to end the Bush tax cut for the rich and repeal of spe­cial tax deals and sub­si­dies for oil companies.
The U.S. House of Rep­re­sen­ta­tives func­tions just fine with­out a fil­i­buster. Sup­pos­ed­ly the Sen­ate needs the fil­i­buster because it's the more delib­er­a­tive body. But king McConnell has exploit­ed the fil­i­buster to con­vert the Sen­ate into the do-noth­ing-at-all body.
Van­i­ty Fair edi­tor Bruce Handy offered solu­tions to the fil­i­buster prob­lem in a col­umn in the New York Times. He rec­om­mend­ed, for exam­ple, that if a Sen­a­tor wants to fil­i­buster, he must read aloud mate­r­i­al pro­vid­ed by sup­port­ers of the mea­sure. So, for exam­ple, Strom Thur­mond would have been required to recount inci­dents of black peo­ple pre­vent­ed from vot­ing in places like Thurmond's home state.
Among the more hilar­i­ous of Handy's sug­ges­tions is one he calls ​"strip fil­i­busters." The par­ty request­ing a fil­i­buster would be oblig­ed to remove an arti­cle of cloth­ing each time it invokes a new fil­i­buster. With the rise to more than 50 fil­i­busters a year dur­ing the Oba­ma admin­is­tra­tion, this rule would quick­ly raise a cau­tion­ary ques­tion in Sen­a­tors' minds. Tongue-in-cheek, Hardy said they'd have to ask themselves:
Do I object to this trade bill or naval yard clos­ing so stren­u­ous­ly that I'm will­ing to let Al Franken see me naked?
The genius of a ​"strip fil­i­buster" rule is that it impos­es a penal­ty on a minor­i­ty attempt­ing to seize the majority's man­date. A more real­is­tic sanc­tion would be insist­ing that any­one who wants to fil­i­buster actu­al­ly do the talk­ing. End the silent fil­i­buster. If the minor­i­ty wants to scut­tle leg­is­la­tion sup­port­ed by the major­i­ty, let the minor­i­ty stand before the Amer­i­can pub­lic and explain why.
If, like Strom Thur­mond, they can't keep the talk­ing marathon going, then the fil­i­buster ends and a sim­ple major­i­ty vote on the mea­sure occurs.
Sen­a­tors can change the fil­i­buster rules with a sim­ple major­i­ty vote on the first day of the new leg­isla­tive ses­sion. The major­i­ty must seize back con­trol from the minor­i­ty – as the found­ing fathers intend­ed. Dethrone king McConnell; make the minor­i­ty talk if they want to obstruct.
Full dis­clo­sure: The Unit­ed Steel­work­ers union is a spon­sor of In These Times.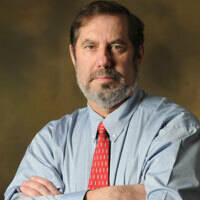 Leo Ger­ard is inter­na­tion­al pres­i­dent of the Unit­ed Steel­work­ers Union, part of the AFL-CIO. The son of a union min­er; Ger­ard start­ed work­ing at a nick­el smelter in Sud­bury, Ontario, at age
18
, and rose through the union's ranks to be appoint­ed the sev­enth inter­na­tion­al pres­i­dent Feb.
28
,
2001
. For more infor­ma­tion about Ger­ard, vis­it
usw​.org
.