Why Is Dianne Feinstein So Opposed to the Green New Deal? Look at Her Family Finances.
Sen. Feinstein has direct financial interests in the same fossil fuel companies that the Green New Deal threatens.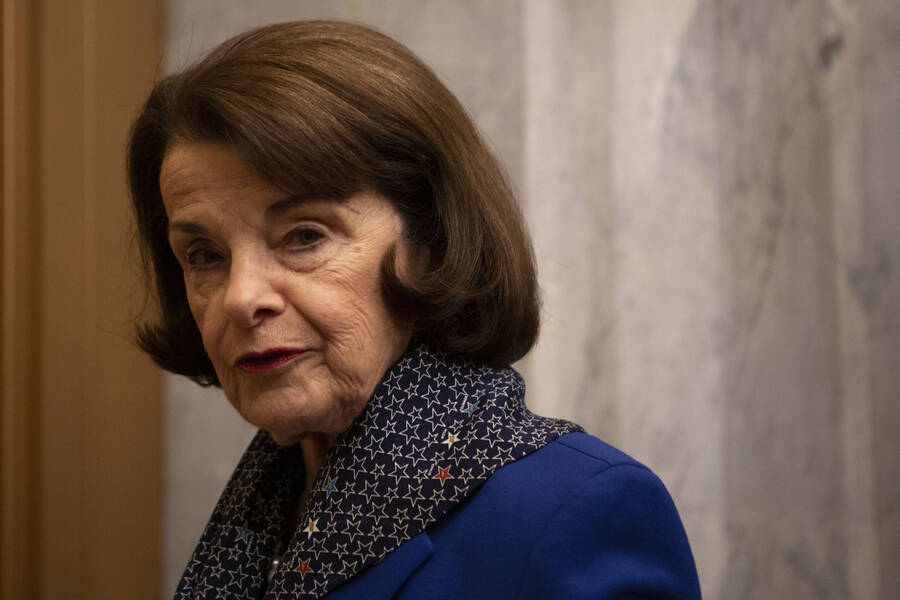 On Feb­ru­ary 22, footage of Sen. Dianne Fein­stein (D‑Calif.) lec­tur­ing plead­ing chil­dren about her oppo­si­tion to Alexan­dria Oca­sio-Cortez and Ed Markey's Green New Deal res­o­lu­tion went viral. Sev­er­al media com­men­ta­tors on both sides of the debate cast the video of the 85-year-old sen­a­tor dress­ing down the chil­dren as a case of gen­er­a­tional conflict.
The Feinstein episode points to broader tensions revealed by the Democratic Party's continued reliance on wealthy, well-connected candidates.
But the episode was also a reminder of the per­il of wealth inequal­i­ty in pol­i­tics, with Fein­stein, one of the very wealth­i­est mem­bers of Con­gress, hav­ing a per­son­al finan­cial stake in indus­tries whose bot­tom lines would be threat­ened by the mea­sures in the Green New Deal resolution.
Fein­stein, whose net worth stands at $58.5 mil­lion, has been mar­ried for near­ly 40 years to Richard C. Blum, a wealthy investor who still runs the pri­vate equi­ty firm he found­ed in 1975, Richard C. Blum & Asso­ciates, Inc. Accord­ing to Fein­stein's most recent finan­cial annu­al report, filed in May 2018 and cov­er­ing the 2017 cal­en­dar year, Blum owns 100 per­cent of Yosemite Invest­ments LLC, through which he has hun­dreds of thou­sands of dol­lars invest­ed in sev­er­al fos­sil fuel com­pa­nies, some of which he has sold off since the Green New Deal began gain­ing increas­ing nation­al attention.
Accord­ing to an amend­ment filed in Jan­u­ary, Blum in August 2017 invest­ed more than $1 mil­lion in the Oster­weis Strate­gic Income Fund, a mutu­al fund run by invest­ment firm Oster­weis Cap­i­tal Man­age­ment. Among Osterweis's top ten hold­ings are logis­tics firm XPO, a sub­sidiary of methanol pro­duc­er Con­sol­i­dat­ed Ener­gy Lim­it­ed, a sub­sidiary of com­mer­cial air­craft leas­er Ava­tion PLC, and min­ing com­pa­ny Teck Resources, which holds inter­ests in a num­ber of dif­fer­ent oil sands projects across the bor­der in Cana­da, includ­ing the con­tro­ver­sial Fron­tier project.
In the annu­al report cov­er­ing 2017, Blum report­ed hav­ing over $50,000 invest­ed in Antero Mid­stream Part­ners, which owns and oper­ates infra­struc­ture for nat­ur­al gas and nat­ur­al gas liq­uids pro­duc­tion. Trans­ac­tion reports filed in 2018 and this year show Blum has also made major invest­ments in Antero Mid­stream GP. The two com­pa­nies are expect­ed to final­ize a merg­er, form­ing Antero Mid­stream Cor­po­ra­tion, on March 12.
All of these com­pa­nies could poten­tial­ly be impact­ed by mea­sures pro­posed in the Green New Deal, such as cre­at­ing a nation­wide high-speed rail net­work, tran­si­tion­ing to a ful­ly renew­able ener­gy grid and shift­ing to elec­tric vehi­cles. These mea­sures would not only sharply cur­tail the demand for fos­sil fuels, but wean ordi­nary Amer­i­cans and busi­ness­es off their reliance on air trav­el and trucking.
The same goes for some of the Oster­weis fund's oth­er hold­ings such as Calumet Spe­cial­ty Prod­ucts, NGL Ener­gy Part­ners and Icahn Enter­pris­es. The lat­ter is the busi­ness vehi­cle for fos­sil fuel investor Carl Icahn, a Trump ally who helped shape the president's pol­i­cy on the Envi­ron­men­tal Pro­tec­tion Agency, and sub­se­quent­ly prof­it­ed from it.
Fein­stein and her hus­band haven't held on to all of their fos­sil fuel-relat­ed assets. The annu­al report cov­er­ing 2017 showed they had over $100,000 invest­ed in oil field ser­vice giant Hal­libur­ton and indus­tri­al con­glom­er­ate Dana­her, each. Among the many com­pa­nies owned by Dana­her are McCrom­e­ter, which pro­vides mea­sure­ment tech­nol­o­gy for the fos­sil fuel indus­try, and Pall, which sup­plies the oil and gas industries.
Accord­ing to trans­ac­tion reports filed dur­ing 2018, Blum sold the Hal­libur­ton stock in Feb­ru­ary 2018 and lat­er sold invest­ments in Dana­her. He also sold his over $250,000 invest­ment in oil and nat­ur­al gas pipeline com­pa­ny Enter­prise Prod­ucts Partners.
These sales don't nec­es­sar­i­ly point to any­thing nefar­i­ous. As these reports show, Blum reg­u­lar­ly buys and sells stock in a num­ber of dif­fer­ent com­pa­nies from month to month. But the dis­clo­sures also make clear that Blum and Fein­stein have a direct finan­cial inter­est in com­pa­nies linked to the fos­sil fuel industry.
Of course, it may not sim­ply be Fein­stein's hus­band's finances that led her not to ​"agree with what the res­o­lu­tion says" and threat­en to vote ​"present" on the Green New Deal. There are also cam­paign dona­tions she has received from com­pa­nies that prof­it from fos­sil fuels. Cal­i­for­ni­a's Pacif­ic Gas & Elec­tric Com­pa­ny stands as Fein­stein's sin­gle biggest con­trib­u­tor over the course of her career. And she has long been one of the Sen­ate's more con­ser­v­a­tive Democ­rats, mean­ing that she may gen­uine­ly believe ​"there's no way to pay for" the Green New Deal even as she votes for bal­loon­ing mil­i­tary bud­gets. (Inci­den­tal­ly, defense con­trac­tors have been some of Fein­stein's most gen­er­ous donors over the years).
Still, it would­n't be the first time Fein­stein's work as a leg­is­la­tor has over­lapped with her hus­band's per­son­al finances. Blum spent years heav­i­ly invest­ing in Chi­na while Fein­stein pushed for clos­er eco­nom­ic rela­tions with the coun­try. In 2007, Fein­stein intro­duced leg­is­la­tion that increased tuition aid for low-income stu­dents at for-prof­it col­leges, to the ben­e­fit of two such enti­ties owned by Blum Cap­i­tal Part­ners. That same year, Fein­stein resigned from the Mil­i­tary Con­struc­tion Appro­pri­a­tions sub­com­mit­tee after an inves­ti­ga­tion revealed she had helped dri­ve bil­lions of dol­lars worth of defense con­tracts to com­pa­nies Blum con­trolled after being explic­it­ly informed about projects involv­ing one of the companies.
The Fein­stein episode points to broad­er ten­sions revealed by the Demo­c­ra­t­ic Par­ty's con­tin­ued reliance on wealthy, well-con­nect­ed can­di­dates. The Inter­cept report­ed last year that Demo­c­ra­t­ic oper­a­tives reg­u­lar­ly ask prospec­tive can­di­dates to be able to raise a min­i­mum of $250,000 from the con­tacts in their phones alone. As cam­paigns con­tin­ue to become more cost­ly, lean­ing on con­nect­ed or inde­pen­dent­ly wealthy can­di­dates may pro­duce elec­tion vic­to­ries, but it also runs the risk of pro­duc­ing leg­is­la­tors who are finan­cial­ly invest­ed in the very indus­tries they're meant to be challenging.
"I was elect­ed by almost a mil­lion vote plu­ral­i­ty," Fein­stein told the down-heart­ed group of chil­dren after assur­ing them envi­ron­men­tal cat­a­stro­phe was ​"not going to get turned around in ten years." Indeed, Fein­stein beat back her pro­gres­sive chal­lenger Kevin de Leon last year even after the Cal­i­for­nia Demo­c­ra­t­ic Par­ty aban­doned her.
With Feinstein's open oppo­si­tion to the Green New Deal, her vot­ers may well ques­tion whether her family's per­son­al finances are help­ing to dri­ve her more timid posi­tions around the life-threat­en­ing issue of cli­mate change.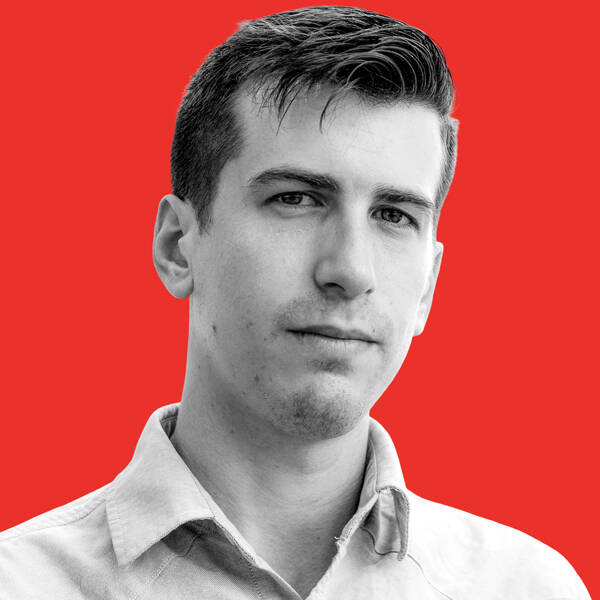 Branko Marcetic
is a staff writer at Jacobin mag­a­zine and a
2019
 – 
2020
Leonard C. Good­man Insti­tute for Inves­tiga­tive Report­ing fel­low. He is work­ing on a forth­com­ing book about Joe Biden.