Yes, 'Diary of a Teenage Girl' Is Empowering. No, Having Sex with Your Stepdaughter Is Not Okay.
The film is rightly being cheered for showing a 15-year-old girl claiming sexual power. But the film—and its rave reviews—sometimes shy away from how rape culture and patriarchy can pervert that claim.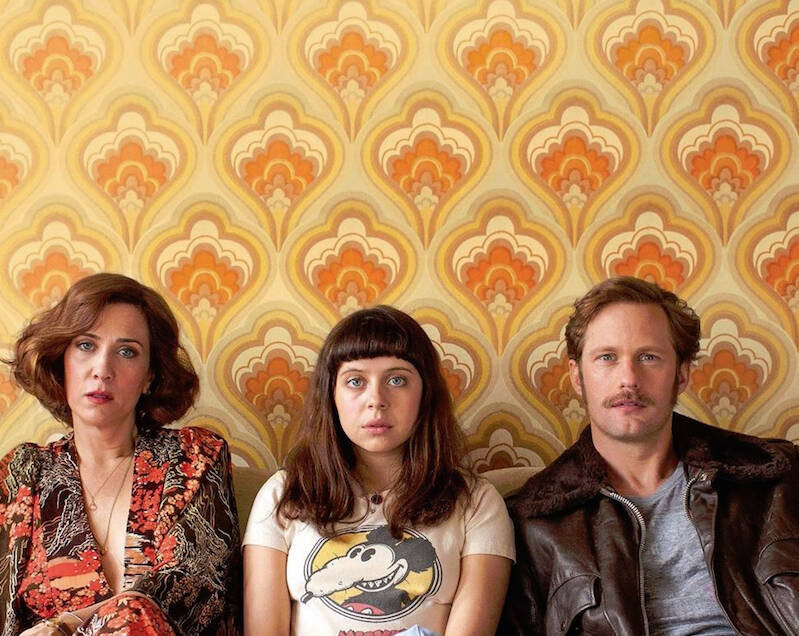 Phoebe Gloeckner's The Diary of a Teenage Girl, was one of the hard­est reads of my life. Adapt­ed from Gloeckner's teenage jour­nal, the nov­el-slash-graph­ic-nov­el begins with a 15-year-old girl describ­ing what it's like to be fon­dled through her night­gown by her mother's 35-year-old boyfriend, and it doesn't real­ly get any nicer or less com­pli­cat­ed from there. It's dark. It's fright­en­ing. It's vio­lent. And it's utter­ly unsen­ti­men­tal. No pop-ther­a­py clich­es, and no guar­an­tee of a hap­py ending.
Many in the movie try to take Minnie's sexual curiosity and pleasure and warp it into something that renders her powerless, and passive.
Marielle Heller's film Diary of a Teenage Girl—which fea­tures amaz­ing per­for­mances from Bel Pow­ley as the 15-year-old Min­nie, Alexan­der Skars­gård as the 35-year-old Mon­roe, and Kris­ten Wiig as Minnie's moth­er — is get­ting rave reviews, with at least one pub­li­ca­tion call­ing it ​"The Most Impor­tant Fem­i­nist Film of 2015." It is also much brighter than Gloeckner's book. This may have been the only way to make Diary tol­er­a­ble in movie form; if it's hard to deal with the words and hand-drawn pic­tures of the book, see­ing real peo­ple act out these events could be unbear­able. Still, by remov­ing some of what makes the book so excru­ci­at­ing, the movie also los­es some of the polit­i­cal con­text that makes Diary such an impor­tant work.
The aching heart of the sto­ry is still there: Since her mother's divorce, Min­nie is liv­ing with essen­tial­ly no adult super­vi­sion. Her moth­er, Char­lotte, is an alco­holic who bare­ly holds down her job, has row­dy drug-fueled par­ties with her friends while the kids are home, and occa­sion­al­ly cleans the house, if she's on the good coke. She doesn't touch her daugh­ter because her ex-hus­band (a con­trol­ling, short-tem­pered piece of work) found Minnie's child­hood desire for cud­dling ​"sex­u­al" and unnat­ur­al. Despite her occa­sion­al stabs at fem­i­nism, Charlotte's main advice and guid­ance for her daugh­ter is to wear sex­i­er clothes: ​"You've got a kind of pow­er. You don't know it, but you do."
Sex is pow­er, affec­tion is unnat­ur­al, and bound­aries don't exist. And into all this swings the new father fig­ure Mon­roe, instant­ly iden­ti­fi­able (to us) as a dirt­bag, and instant­ly valu­able (to Min­nie) as the only adult in her life who is will­ing to pay her any kind of sus­tained atten­tion. Or to touch her. Which he starts doing. A lot. Too much.
Here's where Diary the book and Diary the movie sharply diverge.
In the book, Mon­roe starts every­thing by rub­bing Minnie's breast through her night­gown ("It makes you look like a lit­tle girl. But you're fif­teen right now Jesus Christ") and con­tin­ues it at a bar, where he feeds her alco­hol. And then, this happens:
He was feel­ing my tits but I kept inter­rupt­ing him to stum­ble over to the ladies' room. He was say­ing ​"Oh look you're giv­ing me a hard-on oh look you're giv­ing­mea­hardon." Then he put my hand down his pants but it didn't feel too hard to me.
Min­nie says ​"I want you to fuck me." Again, inner mono­logue is every­thing here: ​"I didn't even know if I was seri­ous but it was a fun­ny game and I was total­ly drunk." He decides she's into it — because, of course, if you take a child, intox­i­cate her, molest her and even­tu­al­ly jam that child's hand down your pants, you should feel very con­fi­dent that informed con­sent can occur — and they dri­ve home. ​"I had that cold chill grip­ping my heart and my teeth start­ed chat­ter­ing like I was cold or scared," Min­nie says.
In the movie, all of these details are sig­nif­i­cant­ly changed. The breast-grab on the couch looks acci­den­tal. At the bar, Min­nie is light­ly buzzed, not stum­bling drunk. Mon­roe does not grab Minnie's breasts there; in fact, Min­nie makes the first move, suck­ing on his fin­ger. And when Mon­roe pulls away — in this ver­sion, Mon­roe is the one who pulls away — Min­nie is the one who insists on touch­ing his erection.
In the book, we see Mon­roe's groom­ing, coer­cion and molesta­tion of Min­nie. In the movie, we see Min­nie's seduc­tion of Mon­roe. The end result is to give Min­nie more agency, some­thing the film­mak­ers have stressed is tremen­dous­ly impor­tant to them. Still. About halfway through this scene, I found myself count­ing the num­ber of mid­dle-aged men who had come to the movie alone, and winc­ing. But most peo­ple (I hope) are going to under­stand, no mat­ter what, that Mon­roe is doing the wrong thing. (For that mat­ter, it's Gloeck­n­er's life and/​or sto­ry to approve, and she's giv­en it a qual­i­fied thumbs up: ​"I real­ly like the movie a lot but it's a lot eas­i­er to take. The movie is less upset­ting.") And, giv­en how rad­i­cal­ly sen­si­tive the rest of the movie is to Min­nie and her per­son­hood and her awak­en­ing sex­u­al­i­ty, they're going to under­stand why Min­nie doesn't see it.
Just as in the book, Min­nie is able to roman­ti­cize the rela­tion­ship; she has an over­whelm­ing crav­ing for love, or more specif­i­cal­ly, a crav­ing to be loved. She wants to be touched, she wants some­one to love her so much that they'd die if she left. (I'd say she wants a damn par­ent.) And sex is, among oth­er things, a way to crack through her iso­la­tion. ​"Some­body wants me. Some­body wants to have sex with me," Min­nie thinks, at one point, and like most of us, she's got her whole life to fig­ure out the dif­fer­ence between those two statements.
It also feels good. This is where Diary of a Teenage Girl is get­ting the most praise, and per­haps deserved­ly so: Min­nie is unre­pen­tant­ly clear that she ​"likes to fuck," and she does so, with sev­er­al part­ners, and for her own plea­sure. What makes Diary of a Teenage Girl dif­fer­ent than your stan­dard ​"sex is neat, yay" movie—Amer­i­can Pie, but for ladies! — is that it's clear that being a girl who likes to fuck is often much lone­li­er and scari­er than being a boy who feels the same.
At one point, she teach­es an overea­ger teenage boy how to have sex so that it's not an ordeal for his female part­ner. Her reward is to be told that she's ​"too intense" and fright­ens him. He would have been hap­pi­er if she'd just lain there and tak­en it. Many oth­ers in the movie try to take Minnie's sex­u­al curios­i­ty and plea­sure and warp it into some­thing that ren­ders her pow­er­less, and pas­sive, in that same way.
Through­out, I kept com­ing back to Charlotte's insis­tence that Min­nie ​"has a kind of pow­er." The pow­er of female sex­u­al­i­ty, or beau­ty, is an endur­ing trope of cod-fem­i­nism: Camille Paglia loves to talk about it, and so did Sex and the City. Just look pret­ty and make boys like you, and you can get any­thing you want! Etc. But it's easy to swing too far in the oppo­site direc­tion: An endur­ing trope of pater­nal­is­tic fem­i­nism at its worst is that sex­u­al women are frag­ile vic­tims or ​"brain­washed" slaves to the patriarchy.
What Diary of a Teenage Girl does best is to carve out a place of hon­esty between those two lazy, half-true takes. Min­nie is on her way to claim­ing her body's capac­i­ty and right for plea­sure. And that, in its way, is pow­er­ful. But Min­nie is not ​"claim­ing female sex­u­al pow­er," full stop. She's attempt­ing to claim female sex­u­al pow­er, with­in rape cul­ture and with­in patri­archy. Both of those are engines designed to ensure that, if Min­nie ever feels hon­est­ly pow­er­ful or joy­ful in her body, she will be ground down and have it tak­en away from her. Women carve out their indi­vid­ual lives and rela­tion­ships with­in this con­text, and often they man­age to carve out hap­py ones, but it's a tri­al by fire that most straight men – whose sex­u­al­i­ty is usu­al­ly seen as ​"healthy" by default – nev­er have to face.
It's incred­i­bly rare to see a movie take on that process with hon­esty, and with respect and care for the girl at the cen­ter of it. There, Diary of a Teenage Girl is very brave, and very new. I wish Diary of a Teenage Girl had been even braver in depict­ing that tri­al by fire. Nev­er­the­less, it shines a valu­able light on the girl at the heart of the story.