Yes, 'Diary of a Teenage Girl' Is Empowering. No, Having Sex with Your Stepdaughter Is Not Okay.
The film is rightly being cheered for showing a 15-year-old girl claiming sexual power. But the film—and its rave reviews—sometimes shy away from how rape culture and patriarchy can pervert that claim.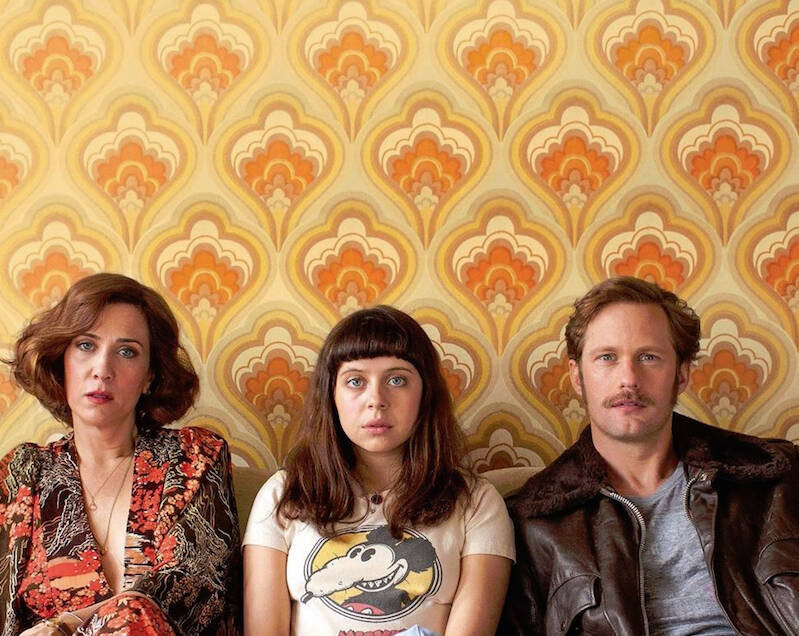 Phoebe Gloeckner's The Diary of a Teenage Girl, was one of the hardest reads of my life. Adapted from Gloeckner's teenage journal, the novel-slash-graphic-novel begins with a 15-year-old girl describing what it's like to be fondled through her nightgown by her mother's 35-year-old boyfriend, and it doesn't really get any nicer or less complicated from there. It's dark. It's frightening. It's violent. And it's utterly unsentimental. No pop-therapy cliches, and no guarantee of a happy ending.
Many in the movie try to take Minnie's sexual curiosity and pleasure and warp it into something that renders her powerless, and passive.
Marielle Heller's film Diary of a Teenage Girl—which features amazing performances from Bel Powley as the 15-year-old Minnie, Alexander Skarsgård as the 35-year-old Monroe, and Kristen Wiig as Minnie's mother — is getting rave reviews, with at least one publication calling it ​"The Most Important Feminist Film of 2015." It is also much brighter than Gloeckner's book. This may have been the only way to make Diary tolerable in movie form; if it's hard to deal with the words and hand-drawn pictures of the book, seeing real people act out these events could be unbearable. Still, by removing some of what makes the book so excruciating, the movie also loses some of the political context that makes Diary such an important work.
The aching heart of the story is still there: Since her mother's divorce, Minnie is living with essentially no adult supervision. Her mother, Charlotte, is an alcoholic who barely holds down her job, has rowdy drug-fueled parties with her friends while the kids are home, and occasionally cleans the house, if she's on the good coke. She doesn't touch her daughter because her ex-husband (a controlling, short-tempered piece of work) found Minnie's childhood desire for cuddling ​"sexual" and unnatural. Despite her occasional stabs at feminism, Charlotte's main advice and guidance for her daughter is to wear sexier clothes: ​"You've got a kind of power. You don't know it, but you do."
Sex is power, affection is unnatural, and boundaries don't exist. And into all this swings the new father figure Monroe, instantly identifiable (to us) as a dirtbag, and instantly valuable (to Minnie) as the only adult in her life who is willing to pay her any kind of sustained attention. Or to touch her. Which he starts doing. A lot. Too much.
Here's where Diary the book and Diary the movie sharply diverge.
In the book, Monroe starts everything by rubbing Minnie's breast through her nightgown ("It makes you look like a little girl. But you're fifteen right now Jesus Christ") and continues it at a bar, where he feeds her alcohol. And then, this happens:
He was feeling my tits but I kept interrupting him to stumble over to the ladies' room. He was saying ​"Oh look you're giving me a hard-on oh look you're givingmeahardon." Then he put my hand down his pants but it didn't feel too hard to me.
Minnie says ​"I want you to fuck me." Again, inner monologue is everything here: ​"I didn't even know if I was serious but it was a funny game and I was totally drunk." He decides she's into it — because, of course, if you take a child, intoxicate her, molest her and eventually jam that child's hand down your pants, you should feel very confident that informed consent can occur — and they drive home. ​"I had that cold chill gripping my heart and my teeth started chattering like I was cold or scared," Minnie says.
In the movie, all of these details are significantly changed. The breast-grab on the couch looks accidental. At the bar, Minnie is lightly buzzed, not stumbling drunk. Monroe does not grab Minnie's breasts there; in fact, Minnie makes the first move, sucking on his finger. And when Monroe pulls away — in this version, Monroe is the one who pulls away — Minnie is the one who insists on touching his erection.
In the book, we see Monroe's grooming, coercion and molestation of Minnie. In the movie, we see Minnie's seduction of Monroe. The end result is to give Minnie more agency, something the filmmakers have stressed is tremendously important to them. Still. About halfway through this scene, I found myself counting the number of middle-aged men who had come to the movie alone, and wincing. But most people (I hope) are going to understand, no matter what, that Monroe is doing the wrong thing. (For that matter, it's Gloeckner's life and/​or story to approve, and she's given it a qualified thumbs up: ​"I really like the movie a lot but it's a lot easier to take. The movie is less upsetting.") And, given how radically sensitive the rest of the movie is to Minnie and her personhood and her awakening sexuality, they're going to understand why Minnie doesn't see it.
Just as in the book, Minnie is able to romanticize the relationship; she has an overwhelming craving for love, or more specifically, a craving to be loved. She wants to be touched, she wants someone to love her so much that they'd die if she left. (I'd say she wants a damn parent.) And sex is, among other things, a way to crack through her isolation. ​"Somebody wants me. Somebody wants to have sex with me," Minnie thinks, at one point, and like most of us, she's got her whole life to figure out the difference between those two statements.
It also feels good. This is where Diary of a Teenage Girl is getting the most praise, and perhaps deservedly so: Minnie is unrepentantly clear that she ​"likes to fuck," and she does so, with several partners, and for her own pleasure. What makes Diary of a Teenage Girl different than your standard ​"sex is neat, yay" movie—American Pie, but for ladies! — is that it's clear that being a girl who likes to fuck is often much lonelier and scarier than being a boy who feels the same.
At one point, she teaches an overeager teenage boy how to have sex so that it's not an ordeal for his female partner. Her reward is to be told that she's ​"too intense" and frightens him. He would have been happier if she'd just lain there and taken it. Many others in the movie try to take Minnie's sexual curiosity and pleasure and warp it into something that renders her powerless, and passive, in that same way.
Throughout, I kept coming back to Charlotte's insistence that Minnie ​"has a kind of power." The power of female sexuality, or beauty, is an enduring trope of cod-feminism: Camille Paglia loves to talk about it, and so did Sex and the City. Just look pretty and make boys like you, and you can get anything you want! Etc. But it's easy to swing too far in the opposite direction: An enduring trope of paternalistic feminism at its worst is that sexual women are fragile victims or ​"brainwashed" slaves to the patriarchy.
What Diary of a Teenage Girl does best is to carve out a place of honesty between those two lazy, half-true takes. Minnie is on her way to claiming her body's capacity and right for pleasure. And that, in its way, is powerful. But Minnie is not ​"claiming female sexual power," full stop. She's attempting to claim female sexual power, within rape culture and within patriarchy. Both of those are engines designed to ensure that, if Minnie ever feels honestly powerful or joyful in her body, she will be ground down and have it taken away from her. Women carve out their individual lives and relationships within this context, and often they manage to carve out happy ones, but it's a trial by fire that most straight men – whose sexuality is usually seen as ​"healthy" by default – never have to face.
It's incredibly rare to see a movie take on that process with honesty, and with respect and care for the girl at the center of it. There, Diary of a Teenage Girl is very brave, and very new. I wish Diary of a Teenage Girl had been even braver in depicting that trial by fire. Nevertheless, it shines a valuable light on the girl at the heart of the story.