Herbicide Drift: EPA's Weak Dicamba Regulations Ensure the Damage in 2018 Will be Widespread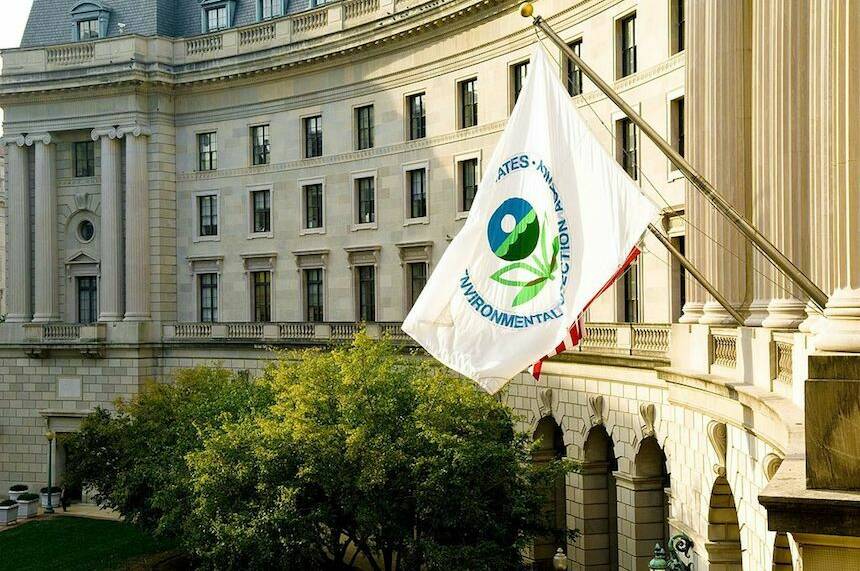 Edi­tor's note: Her­bi­cides used to kill weeds before they emerge from the soil are known as ​"pre-emer­gents." Her­bi­cides applied to crops after weeds have already sprout­ed are called ​"post-emer­gents." Dicam­ba-based her­bi­cides kill broadleaf weeds and woody plants both ways — pre- and post-emer­gent — by affect­ing the growth of the plants' vas­cu­lar tis­sue. They also kill or dam­age count­less oth­er plant species that are not genet­i­cal­ly engi­neered to tol­er­ate them.
On Octo­ber 13, an EPA press release announced the agency's deci­sion to allow the use of dicam­ba her­bi­cides dur­ing the 2018 grow­ing sea­son for post-emer­gent weed con­trol in genet­i­cal­ly engi­neered, dicam­ba-resis­tant soy­beans and cot­ton. Pri­or to crop year 2017, there were no reg­is­tered post-emer­gent uses of dicam­ba on any crops — GMO or con­ven­tion­al. The first labels autho­riz­ing post-emer­gent appli­ca­tions of the new, sup­pos­ed­ly less volatile for­mu­la­tions of dicam­ba were issued in mid-Novem­ber of last year.
Seri­ous crop dam­age prob­lems from dicam­ba drift and volatiliza­tion occurred in 2017 through­out the South­east­ern and Mid­west­ern Unit­ed States, impact­ing many mil­lion acres. Both state reg­u­la­tors and the EPA have been debat­ing for near­ly a year what restric­tions, if any, to place on post-emer­gent dicam­ba use in 2018. In its Octo­ber announce­ment, the EPA dis­cuss­es its work with dicam­ba reg­is­trants to craft a set of uncon­test­ed, post-emer­gent label changes that will be enforced in 2018. The most impor­tant include:
Post-emer­gent dicam­ba her­bi­cides will be clas­si­fied as ​

"

restrict­ed use," requir­ing that appli­ca­tors must be cer­ti­fied (or work under the super­vi­sion of a cer­ti­fied applicator);
Applicators/​farmers must receive spe­cial train­ing, and main­tain more detailed records of when, where, and under what atmos­pher­ic cir­cum­stances appli­ca­tions are made;
Appli­ca­tions are lim­it­ed to when max­i­mum wind speeds are below

10

miles per hour (mph) (down from

15

mph);
Reduc­ing the times dur­ing the day when appli­ca­tions can be made; and
More rig­or­ous tank-clean out require­ments to pre­vent cross contamination.
Before com­ment­ing on the sub­stance of the EPA deci­sion, I thought I would review what we learned in 2017, because those who fail to learn from his­to­ry are des­tined to repeat it.
We con­fi­dent­ly knew, and report­ed repeat­ed­ly, that despite the new for­mu­la­tions intend­ed to reduce volatil­i­ty, dicam­ba is uncon­trol­lable due to its ten­den­cy to volatilize and move into areas where it was not meant to go. But now we have the sci­ence behind our procla­ma­tions. The Uni­ver­si­ty of Arkansas has deter­mined that while the rate of volatil­i­ty might be dif­fer­ent in the ini­tial 24-hours fol­low­ing appli­ca­tion of the new for­mu­la­tions, over a few days the total amount of volatil­i­ty was not all that dif­fer­ent than the old­er formulations.
This came as quite a shock to the pro­po­nents of the new ​"safer" for­mu­la­tions. But see­ing how Mon­san­to con­trac­tu­al­ly pre­vent­ed uni­ver­si­ty researchers from test­ing the com­pounds for volatil­i­ty pri­or to their approval, this find­ing that the new for­mu­la­tions only alter the tim­ing of volatiliza­tion — not the amount that volatilizes — rein­forces how dan­ger­ous dicam­ba tru­ly is to any sen­si­tive crops, vines, or trees grow­ing with­in a cou­ple miles. If con­di­tions are right (i.e. a severe storm accom­pa­nied by tor­na­does), dicam­ba drift can cov­er even greater distances.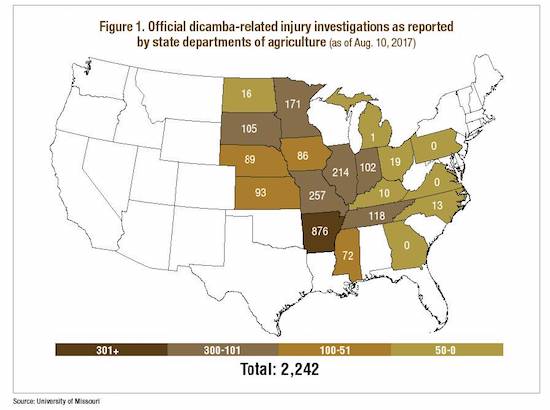 (Source: agnews​feed​.com)
In 2012, Save Our Crops Coali­tion (SOCC) peti­tioned the EPA for an Envi­ron­men­tal Impact Study (EIS) to deter­mine the envi­ron­men­tal effects of wide­spread plant­i­ng of dicam­ba-resis­tant crops and the asso­ci­at­ed increased use of dicam­ba her­bi­cide. We were ahead of our time.
There is now ample evi­dence that dicam­ba drift — a con­di­tion also referred to as ​"atmos­pher­ic load­ing" — occurred in Arkansas this year. The basis of our peti­tion, which was grant­ed in 2013 and final­ized in 2016 (at which time the EPA erro­neous­ly con­clud­ed that there were no con­cerns), was that with wide­spread use of dicam­ba, we would be see­ing a phe­nom­e­non that we had nev­er seen before. That is, a local envi­ron­ment so filled with dicam­ba vapor that it would dam­age all sus­cep­ti­ble plants in an area.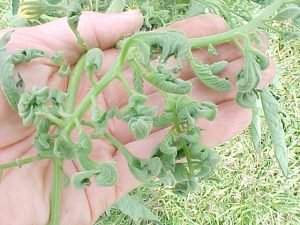 Spe­cial­ty crops like the toma­toes Red Gold process­es are espe­cial­ly vul­ner­a­ble to dam­age by dicam­ba drift. The toma­to ​"leaf curl­ing" evi­dent above is caused by low-lev­el expo­sure to dicam­ba her­bi­cide. (Image: Inde­pen­dent Sci­ence News)
In addi­tion, when a giv­en crop field or orchard is dam­aged, it will gen­er­al­ly not be pos­si­ble to deter­mine the point source of the dicam­ba because it could have orig­i­nat­ed from sev­er­al miles away. Hence the euphemism of the ​"blob that ate Tokyo" that SOCC has repeat­ed­ly used to describe the sit­u­a­tion. We now know that SOCC was right to high­light the dif­fi­cul­ty in deter­min­ing the source of dicam­ba trig­ger­ing crop or tree dam­age. We also know that prov­ing causal­i­ty will again be very dif­fi­cult and more wide­spread in crop year 2018, due to the increase in acreage plant­ed with dicam­ba-resis­tant crops.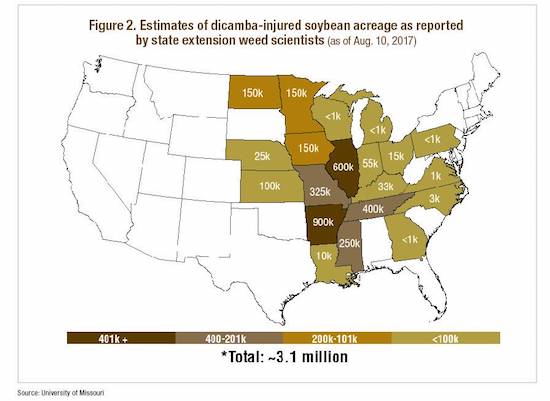 (Source: agnews​feed​.com)
SOCC nego­ti­at­ed with Mon­san­to and BASF to achieve our label pro­tec­tions requir­ing that the wind be blow­ing away from cer­tain spe­cial­ty crops. It was a major and hard-fought con­ces­sion from Mon­san­to, who was on the record repeat­ed­ly pro­claim­ing it wasn't nec­es­sary. From the start of our dis­cus­sions, BASF was more will­ing to acknowl­edge and address the risk of off-tar­get move­ment. In the case of the crop we're involved with — pro­cess­ing toma­toes — we worked very hard to make sure that neigh­bors knew where our crop was locat­ed, and that if they dam­aged our crop, there would be a tremen­dous price to pay.
Red Gold and its grow­ers escaped the sea­son with no sig­nif­i­cant dicam­ba prob­lems because of that atten­tion. Oth­er spe­cial­ty crop grow­ers were not so lucky. With the pro­ject­ed soy­bean seed mar­ket pen­e­tra­tion for 2018 at lev­els approach­ing 70 per­cent for dicam­ba-resis­tant and 2,4‑D resis­tant soy­beans, the dam­age poten­tial will be extreme for all sen­si­tive crops. Off-tar­get move­ment and expo­sure to sen­si­tive plants and trees next year will be much greater.
Also unfor­tu­nate­ly, we know from past expe­ri­ence that not all appli­ca­tors are will­ing, able, or con­cerned about fol­low­ing label direc­tions and restric­tions. Plus, mis­takes hap­pen and their cumu­la­tive impact in 2018 will like­ly be much greater than in 2017, despite the EPA's recent­ly announced label changes.
Last year taught us that some grow­ers would will­ing­ly not fol­low label direc­tions and rules, since there were no dicam­ba labels autho­riz­ing post-emer­gence dicam­ba appli­ca­tions on any soy­beans or cot­ton. With wish­ful think­ing, the Depart­ment of Agri­cul­ture (USDA) had dereg­u­lat­ed dicam­ba-resis­tant seeds, and Mon­san­to and Pio­neer began com­mer­cial sales in the win­ter and spring, pri­or to the 2016 grow­ing sea­son. Plus, dicam­ba her­bi­cide reg­is­trants (espe­cial­ly Mon­san­to) promised grow­ers that nec­es­sary approvals would be grant­ed by the EPA in time to allow post-emer­gent appli­ca­tions of the new, sup­pos­ed­ly low-volatil­i­ty dicam­ba for­mu­la­tions. But these reg­is­tra­tions did not hap­pen until mid-Novem­ber of 2016 — months after the last ille­gal dicam­ba appli­ca­tions had been made.
A video explain­ing the use of dicam­ba her­bi­cides, off-tar­get crop dam­age and the gov­ern­men­t's response to com­plaints through­out the 2016 and 2017 grow­ing sea­sons. (Source: Dicam­ba Watch / Rachel Ben­brook / Vimeo)
The mas­sive extent of crop dam­age in 2017 proved, unfor­tu­nate­ly, that the new, sup­pos­ed­ly low-volatil­i­ty for­mu­la­tions did not per­form as adver­tised. Even the strict, lengthy restric­tions on when, where, and how dicam­ba can be applied post-emer­gence were not effec­tive in pre­vent­ing off-tar­get move­ment and dam­age to mil­lions of acres of non-tar­get plants and trees. A lengthy list of use restric­tions, spec­i­fy­ing when appli­ca­tions can legal­ly be made, are now on the new EPA-approved dicam­ba labels. The most impor­tant vari­ables addressed are wind speed and direc­tion, prox­im­i­ty to sen­si­tive crops, weed size, rain­fall pat­terns and the noz­zles used to spray.
One of the rules most egre­gious­ly bro­ken in 2017 calls for weeds to be sprayed pri­or to reach­ing 4 inch­es high. My obser­va­tions would be that the appli­ca­tors must have mis­read that rule and thought it was 4 feet high. This lat­er post-emer­gent spray­ing will ulti­mate­ly cause a resis­tance prob­lem with dicam­ba much ear­li­er than pre­dict­ed (i.e., with­in a few years, instead of five to eight). Going for­ward with the new EPA label restric­tions and rules, we will once again be depen­dent upon appli­ca­tors fol­low­ing the rules that they have demon­strat­ed in the past they are either not able, or not will­ing to follow.
Arkansas has it right, assum­ing their pro­posed rule of no in-sea­son appli­ca­tions is final­ized, in rec­og­niz­ing that the nature of dicam­ba is uncon­trol­lable no mat­ter the care and efforts of appli­ca­tors. Research con­duct­ed in 2017 esti­mat­ed the num­ber of avail­able spray days dur­ing which an appli­ca­tor would be in full com­pli­ance with all label rules. Dur­ing the prime dicam­ba spray sea­son there was, on aver­age, only a few days per week when dicam­ba could be sprayed post-emer­gence and in accord with all label restric­tions — not near­ly enough time for many grow­ers to cov­er the acreage they had plant­ed with dicam­ba-resis­tant seeds. With the new addi­tion­al restric­tions, on-label spray days will be even few­er, forc­ing the hand of appli­ca­tors to make appli­ca­tions out­side of label guide­lines. For some odd rea­son, the EPA seems to believe the new restric­tions will both be ful­ly adhered to, and suc­cess­ful in reduc­ing volatil­i­ty in 2018. His­to­ry would sug­gest otherwise.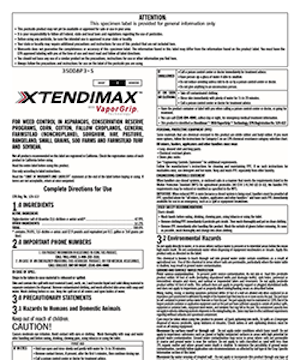 Label direc­tions and restric­tions for new dicam­ba her­bi­cides (such as Mon­san­to's Xtendi­max) are lengthy and com­plex, and pose chal­lenges for farm­ers and appli­ca­tors striv­ing to remain in com­pli­ance with them. (Image: Inde­pen­dent Sci­ence News)
There was always a fear that with wide­spread crop injury, the crop insur­ance indus­try might in the future refuse to pro­vide cov­er­age for dicam­ba injury, and that those injured would have no recourse to col­lect their dam­ages. We were right, but also wrong — it was not in the future, it already hap­pened this year.
In Illi­nois, the Farm Bureau Insur­ance sys­tem has denied all dicam­ba claims that didn't involve direct drift. As a prac­ti­cal mat­ter, I am told that almost all crop-dam­age claims arise, at least in part, from volatil­i­ty move­ment. As a result, impact­ed farm­ers are get­ting no com­pen­sa­tion. This bor­ders on insur­ance fraud and is uncon­scionable. Appar­ent­ly, if Farm Bureau Insur­ance is told that an appli­ca­tor fol­lowed the label guide­lines, they are deny­ing all claims. Fam­i­ly farms will feel this effect, and with the finan­cial stress on farms with today's low com­mod­i­ty prices, it may cost some of them their farms.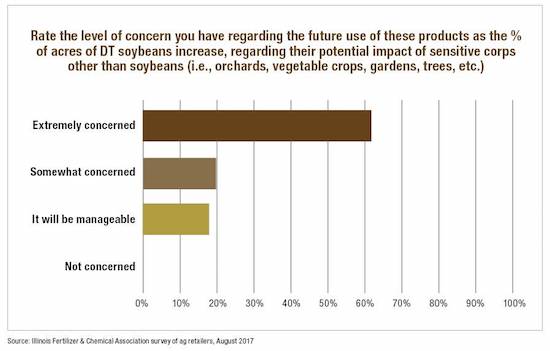 A 2017 sur­vey of ag retail­ers finds grow­ing con­cern over dicam­ba cross con­t­a­m­i­na­tion. (Source: agnews​feed​.com)
One of the many warn­ings that the SOCC has con­tin­u­al­ly repeat­ed is that it is not only crops that will be dam­aged by dicam­ba. This has become extreme­ly appar­ent, and will give agri­cul­ture a ​"black-eye." When rur­al home­own­ers begin to see their gar­dens and land­scap­ing destroyed, the neg­a­tive reac­tions will spread far beyond the dis­cus­sions that are cur­rent­ly tak­ing place with­in the agri­cul­tur­al com­mu­ni­ty. It will become a pub­lic pol­i­cy deba­cle that might affect the safe and approved use of all crop pro­tec­tants in the future. Pol­li­na­tor habi­tats will be affect­ed, draw­ing atten­tion from groups who do not nor­mal­ly get involved in her­bi­cide deci­sions and dis­cus­sions. The chem­i­cal prun­ing of fence rows is poten­tial­ly a real prob­lem, as habi­tat for pol­li­na­tors and oth­er ben­e­fi­cial insects is impaired.
Addi­tion­al­ly, evi­dence is mount­ing of sig­nif­i­cant dicam­ba-casued dam­age to trees in 2017. (On my trav­els last year it was very easy to observe tree dam­age any­where dicam­ba was used. I'm sure many home­own­ers looked at their trees and scratched their heads won­der­ing what was wrong with them, not hav­ing any idea about the dicam­ba appli­ca­tions that had occurred near­by two or more weeks previously.)
In our own area, there is a small rur­al church where their trees appear to be severe­ly injured, but I'm sure the con­gre­ga­tion has no idea about why or what is hap­pen­ing. If we think the prob­lem is bad now, then hold onto your hats for its wide­spread use in 2018 and the push back that is bound to come from out­side — and inside — the agri­cul­tur­al com­mu­ni­ty. The lit­i­ga­tion carousel is now start­ing. It began with the Mis­souri peach orchard dam­age episode in 2016. The class action suits are com­ing fast and furi­ous. What can't be tak­en care of from a reg­u­la­to­ry stand­point could even­tu­al­ly be tak­en care of, at least to some extent, from an eco­nom­ic stand­point. But at what cost to indi­vid­u­als and rur­al communities?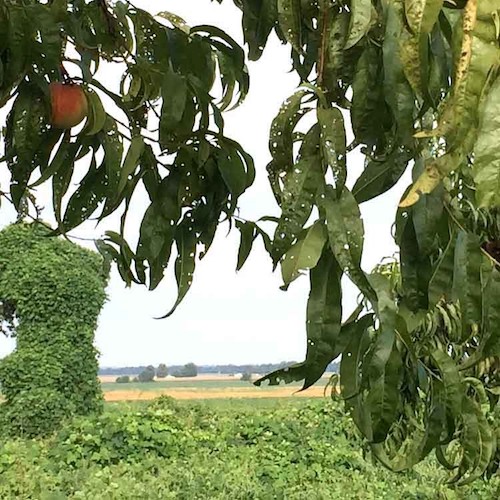 In 2016, the ille­gal use of dicam­ba-based spray­ing on near­by farms dam­aged tens of thou­sands of peach trees in Mis­souri when the volatile her­bi­cide spread. (Image: Kade McB­room / nationofchange​.org)
To com­plete my list of lessons learned in 2017, Mon­san­to will con­tin­ue to give lip ser­vice to their dicam­ba stew­ard­ship plans — plans they too often fail to back up with action. If you ever get the chance to speak with a rep­re­sen­ta­tive, ask them this sim­ple ques­tion: ​"How many tech­ni­cal use agree­ments with grow­ers or appli­ca­tors did Mon­san­to can­cel in 2017 because of off-label appli­ca­tions in 2016?" I could ven­ture a guess, but I think you get the point.
The EPA failed agri­cul­ture mis­er­ably in their Octo­ber 13 rul­ing. The SOCC was not alone in repeat­ed­ly rec­om­mend­ing that the EPA dis­al­low any in-sea­son dicam­ba appli­ca­tions. While we appre­ci­ate the bet­ter-late-than-nev­er ​"restrict­ed use" des­ig­na­tion, it is now clear that dicam­ba is uncon­trol­lable in an envi­ron­ment of high tem­per­a­tures and atmos­pher­ic con­di­tions that pro­mote volatil­i­ty. Unfor­tu­nate­ly, such con­di­tions fre­quent­ly occur in the Mid­West and Mid­South regions from mid-April through mid-July.
(​"Dicam­ba Her­bi­cide Drift: A Dis­as­ter in 2017, Will Be Much Worse in 2018" was orig­i­nal­ly pub­lished on Inde­pen­dent Sci­ence News and is repost­ed on Rur­al Amer­i­ca In These Times with per­mis­sion. Maps, graphs and some images were added. To view the EPA's Octo­ber 13 press release announc­ing its deci­sion to allow the use of dicam­ba her­bi­cides in the 2018 grow­ing sea­son, click here. To learn more about the Save Our Crops Coali­tion, click here.)
Steve Smith
is direc­tor of agri­cul­ture for Red Gold of Indi­ana, the world's largest pri­vate­ly held canned toma­to proces­sor. He is also the founder and chair­man of the Save Our Crops Coali­tion (SOCC), a grass­roots coali­tion of farm inter­ests orga­nized for the spe­cif­ic pur­pose of pre­vent­ing injury to non-tar­get plants from expo­sure to
2
,
4
‑D and dicam­ba. Steve is an agri­cul­tur­al­ist, born and raised on a Mid­west­ern fam­i­ly farm that has con­tin­ued for more than
100
years.