'Dirty War' Questions for the New Pope
Pope Francis needs to come clean about his role in Argentina's bloodiest war.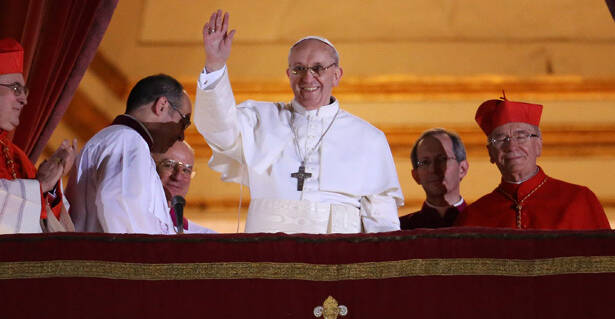 If one won­ders if the U.S. press corps has learned any­thing in the decade since the Iraq War — i.e. the need to ask tough ques­tion and show hon­est skep­ti­cism — it would appear from the ear­ly cov­er­age of the elec­tion of Pope Fran­cis I that U.S. jour­nal­ists haven't changed at all, even at ​"lib­er­al" out­lets like MSNBC.
Instead of happy talk about how Bergoglio seems so humble and how he seems so sympathetic to the poor, there might have been a question or two from the press about what he did to stop the brutal repression of poor people and activists who represented the interests of the poor, including 'liberation theology' priests and nuns, during the dirty war.
The first ques­tion that a real reporter should ask about an Argen­tine cler­ic who lived through the years of grotesque repres­sion, known as the ​"dirty war," is, ​"What did this per­son do? Did he stand up to the mur­der­ers and tor­tur­ers, or did he go with the flow?" If the likes of Chris Matthews and oth­er com­men­ta­tors on MSNBC had done a sim­ple Google search, they would have found out enough about Car­di­nal Jorge Bergoglio to slow their bub­bling enthusiasm.
Bergoglio, now the new Pope Fran­cis I, has been iden­ti­fied pub­licly as an ally of Argentine's repres­sive lead­ers dur­ing the dirty war when some 30,000 peo­ple ​"dis­ap­peared" or were killed, many stripped naked, chained togeth­er, flown out over the Riv­er Plate or the Atlantic Ocean and pushed, sausage-like, out of planes to drown.
The ​"dis­ap­peared" includ­ed women who were preg­nant at the time of their arrest. In some bizarre nod to Catholic the­ol­o­gy, they were kept alive only long enough to give birth before they were mur­dered and their babies were farmed out to mil­i­tary fam­i­lies, includ­ing to peo­ple direct­ly involved in the mur­der of the babies' mothers.
Instead of hap­py talk about how Bergoglio seems so hum­ble and how he seems so sym­pa­thet­ic to the poor, there might have been a ques­tion or two from the press about what he did to stop the bru­tal repres­sion of poor peo­ple and activists who rep­re­sent­ed the inter­ests of the poor, includ­ing ​"lib­er­a­tion the­ol­o­gy" priests and nuns, dur­ing the dirty war.
Here, for instance, is an eas­i­ly retriev­able sto­ry from Guardian colum­nist Hugh O'Shaughnessy from 2011, which states:
​"To the judi­cious and fair-mind­ed out­sider it has been clear for years that the upper reach­es of the Argen­tine church con­tained many ​'lost sheep in the wilder­ness', men who had com­muned and sup­port­ed the unspeak­ably bru­tal West­ern-sup­port­ed mil­i­tary dic­ta­tor­ship which seized pow­er in that coun­try in 1976 and bat­tened on it for years.

​"Not only did the gen­er­als slaugh­ter thou­sands unjust­ly, often drop­ping them out of aero­planes over the Riv­er Plate and sell­ing off their orphan chil­dren to the high­est bid­der, they also mur­dered at least two bish­ops and many priests. Yet even the exe­cu­tion of oth­er men of the cloth did noth­ing to shake the sup­port of senior cler­ics, includ­ing rep­re­sen­ta­tives of the Holy See, for the crim­i­nal­i­ty of their leader Gen­er­al Jorge Rafael Videla and his minions.

​"As it hap­pens, in the week before Christ­mas [2010] in the city of Cór­do­ba Videla and some of his mil­i­tary and police cohorts were con­vict­ed by their country's courts of the mur­der of 31 peo­ple between April and Octo­ber 1976, a small frac­tion of the killings they were respon­si­ble for. The con­vic­tions brought life sen­tences for some of the military.

​"These were not to be served, as has often been the case in Argenti­na and neigh­bour­ing Chile, in com­fy armed forces retire­ment homes but in com­mon pris­ons. Unsur­pris­ing­ly there was danc­ing in the city's streets when the judge announced the sentences.

​"What one did not hear from any senior mem­ber of the Argen­tine hier­ar­chy was any expres­sion of regret for the church's col­lab­o­ra­tion … in these crimes. The extent of the church's com­plic­i­ty in the dark deeds was excel­lent­ly set out by Hora­cio Ver­bit­sky, one of Argentina's most notable jour­nal­ists, in his book El Silen­cio (Silence)," which alleges Bergoglio's com­plic­i­ty in human right abuses."
The Guardian arti­cle also stat­ed: ​"The most sham­ing thing for the church is that in such cir­cum­stances Bergoglio's name was allowed to go for­ward in the bal­lot to chose the suc­ces­sor of John Paul II. What scan­dal would not have ensued if the first pope ever to be elect­ed from the con­ti­nent of Amer­i­ca had been revealed as an acces­so­ry to mur­der and false imprisonment.
​"One would have thought that the Argen­tine bish­ops would have seized the oppor­tu­ni­ty to call for par­don for them­selves and put on sack­cloth and ash­es as the sen­tences were announced in Cór­do­ba but that has not so far hap­pened. … Car­di­nal Bergoglio has plen­ty of time to be mea­sured for a suit of sack­cloth — per­haps tai­lored in a suit­able cler­i­cal grey."
Now, instead of just putting for­ward Bergoglio's name as a can­di­date for Pope, the Col­lege of Car­di­nals has actu­al­ly elect­ed him. Per­haps the hap­py-talk­ing cor­re­spon­dents from the U.S. news media will see no choice but to join in the cov­er-up of what Pope Fran­cis did dur­ing the dirty war. Oth­er­wise, they might offend some peo­ple in pow­er and put their careers in jeopardy.
In con­trast to the super-upbeat tone of Amer­i­can TV cov­er­age, the New York Times did pub­lish a front-page analy­sis on the Pope's con­ser­vatism, cit­ing his ​"vig­or­ous" oppo­si­tion to abor­tion, gay mar­riage and the ordi­na­tion of women. The Times arti­cle by Emi­ly Schmall and Lar­ry Rohter then added:
​"He was less ener­getic, how­ev­er, when it came to stand­ing up to Argentina's mil­i­tary dic­ta­tor­ship dur­ing the 1970s as the coun­try was con­sumed by a con­flict between right and left that became known as the Dirty War. He has been accused of know­ing about abus­es and fail­ing to do enough to stop them while as many as 30,000 peo­ple were dis­ap­peared, tor­tured or killed by the dictatorship."
This piece was reprint­ed with per­mis­sion from Con­sor­tium News.
Robert Par­ry
broke many of the Iran-Con­tra sto­ries in the ​
'
80
s for the Asso­ci­at­ed Press and Newsweek. He is the author of
Neck Deep: The Dis­as­trous Pres­i­den­cy of George W. Bush
and
Secre­cy and Priv­i­lege: Rise of the Bush Dynasty from Water­gate to Iraq
. He is the edi­tor of
Con­sor­tium News
.