In Libya, a Bloodbath Looms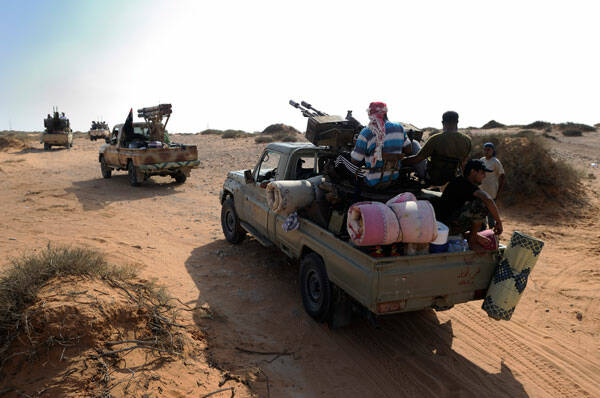 NATO's war in Libya, which began with high-mind­ed dec­la­ra­tions about ​"pro­tect­ing civil­ians," now appears like­ly to end with a blood­bath that will claim the lives of many civil­ians, albeit pro-Gaddafi civil­ians, not the ear­li­er threat­ened anti-Gaddafi civilians.
NATO's war in Libya now appears likely to end with a bloodbath that will claim the lives of many civilians.
Ali Tarhouni, a senior offi­cial of the NATO-backed Libyan rebels, summed up this Orwellian real­i­ty with a phrase rem­i­nis­cent of the famous Viet­nam War quote that ​"we had to destroy the vil­lage in order to save it."
Tarhouni was quot­ed by the Asso­ci­at­ed Press as say­ing ​"Some­times to avoid blood­shed you must shed blood – and the faster we do this the less blood will be shed."
So, NATO's rebels set a four-day dead­line for Muam­mar Gaddafi's remain­ing trib­al strong­holds, includ­ing his native Surte, to sur­ren­der or face a final crush­ing mil­i­tary strike, which the rebels pre­sum­ably will mount as NATO air­craft pound Surte's defenses.
NATO spokesman Col. Roland Lavoie explained that NATO still con­sid­ered Gaddafi as a threat and thus NATO's war­planes were still attack­ing his forces, espe­cial­ly on ​"a cor­ri­dor to the east­ern edge of Surte."
In oth­er words, even though Gaddafi's loy­al­ists have retreat­ed to a few towns where he appears to retain strong pop­u­lar sup­port, NATO is paving the way for the rebels to over­run these com­mu­ni­ties. The mis­sion ​"to pro­tect civil­ians" has evolved into an oper­a­tion designed to open pro-Gaddafi civil­ians to a hos­tile conquest.
New evi­dence also has sur­faced show­ing that Gaddafi's ear­li­er claims that the rebel forces were per­me­at­ed by Islamist extrem­ists with ter­ror­ist affil­i­a­tions were not just words, that he had rea­son and evi­dence to believe it.
The Wash­ing­ton Post report­ed Wednes­day that ​"doc­u­ments unearthed from the archives of Libya's secu­ri­ty ser­vice show the for­mer gov­ern­ment deeply wor­ried about an Islamist threat to the régime, con­cerns that rever­ber­at­ed this week as vet­er­an jihadists claimed cred­it for lead­ing last week's rebel takeover of Tripoli."
In an arti­cle by Thomas Erd­brink and Joby War­rick, the Post said it had obtained doc­u­ments reveal­ing that Gaddafi had assigned his Inte­ri­or Secu­ri­ty Agency to mon­i­tor the actions of Islam­ic extrem­ists, includ­ing some who had fought against the Unit­ed States in Iraq and Afghanistan.
"In the records, Libyan secu­ri­ty offi­cials elab­o­rate­ly map the move­ments of sus­pect­ed al-Qae­da fight­ers and reg­u­lar­ly share infor­ma­tion on Islamist cells with for­eign intel­li­gence agen­cies," the Post report­ed, not­ing that some of these jihadists have now emerged as key fight­ers in oust­ing Gaddafi from power.
"The régime fell to rebel fight­ers led in part by a self-pro­claimed for­mer Islamist, Abdelka­rim Bel­hadj," the Post wrote. ​"He has declared him­self the leader of the ​'Tripoli Brigade' that spear­head­ed the defeat of Gaddafi loy­al­ists in the capital."
Bel­hadj was pre­vi­ous­ly the com­man­der of the Libyan Islam­ic Fight­ing Group, which has been asso­ci­at­ed with al-Qae­da in the past, main­tained train­ing bases in Afghanistan before the 9⁄11 attacks, and was list­ed as a ter­ror­ist orga­ni­za­tion by the U.S. State Department.
Though Bel­hadj and the Libyan Islam­ic Fight­ing Group deny cur­rent alle­giance to al-Qae­da, Bel­hadj was arrest­ed in Afghanistan in 2004 and was briefly inter­ro­gat­ed by the CIA in Thai­land at a ​"black site" prison before being hand­ed over to Libyan author­i­ties, the Post reported.
Jihadist warn­ings
Con­cerns about vio­lent jihadists in the ranks of NATO's Libyan rebels are not entire­ly new. In March, as NATO was ramp­ing up its aer­i­al cam­paign against Gaddafi's gov­ern­ment, there were warn­ings – both from Gaddafi and from inde­pen­dent ter­ror­ism experts – about this infil­tra­tion. How­ev­er, amid the excite­ment about over­throw­ing Gaddafi, those con­cerns were suppressed.
For all his eccen­tric behav­ior and past links to ter­ror­ism, Gaddafi had become a staunch ene­my of rad­i­cal Islamists, explain­ing why his régime was embraced by Pres­i­dent George W. Bush last decade. Both lead­ers had mutu­al enemies.
Sim­i­lar­ly, Syria's embat­tled dic­ta­tor Bashar al-Assad has been anoth­er bul­wark against Islam­ic extrem­ism inside his country's bor­ders, in part, because Islam­ic fun­da­men­tal­ists despise Assad's Alaw­ite reli­gion, con­sid­er­ing it a form of apos­ta­sy that must be stamped out.
As ana­lysts Joseph Fel­ter and Bri­an Fish­man wrote in a report for West Point's Com­bat­ing Ter­ror­ism Cen­ter, ​"the Syr­i­an and Libyan gov­ern­ments share the Unit­ed States' con­cerns about vio­lent salafi‐​jihadi ide­ol­o­gy and the vio­lence per­pe­trat­ed by its adherents."
In their report enti­tled ​"Al-Qaeda's For­eign Fight­ers in Iraq," Fel­ter and Fish­man ana­lyzed al-Qae­da doc­u­ments cap­tured in 2007 show­ing per­son­nel records of mil­i­tants who flocked to Iraq for the war. The doc­u­ments revealed that east­ern Libya (the base of the anti-Gaddafi rebel­lion) was a hotbed for sui­cide bombers trav­el­ing to Iraq to kill Amer­i­can troops.
Fel­ter and Fish­man wrote that these so-called Sin­jar Records dis­closed that while Saud­is com­prised the largest num­ber of for­eign fight­ers in Iraq, Libyans rep­re­sent­ed the largest per-capi­ta con­tin­gent by far. Those Libyans came over­whelm­ing­ly from towns and cities in the east.
"The vast major­i­ty of Libyan fight­ers that includ­ed their home­town in the Sin­jar Records resided in the country's North­east, par­tic­u­lar­ly the coastal cities of Dar­nah 60.2% (53) and Beng­hazi 23.9% (21)," Fel­ter and Fish­man wrote, adding:
"Both Dar­nah and Beng­hazi have long been asso­ci­at­ed with Islam­ic mil­i­tan­cy in Libya, in par­tic­u­lar for an upris­ing by Islamist orga­ni­za­tions in the mid‐​1990s. … One group — the Libyan Fight­ing Group … — claimed to have Afghan vet­er­ans in its ranks," a ref­er­ence to muja­hedeen who took part in the CIA-backed anti-Sovi­et war in Afghanistan in the 1980s, as did al-Qae­da founder Osama bin Laden, a Saudi.
The authors added that Abu Layth al‐​Libi, Emir of Libyan Islam­ic Fight­ing Group (LIFG), ​"rein­forced Beng­hazi and Darnah's impor­tance to Libyan jihadis in his announce­ment that LIFG had joined al‐Qa'ida.
"'It is with the grace of God that we were hoist­ing the ban­ner of jihad against this apos­tate [Gaddafi] régime under the lead­er­ship of the Libyan Islam­ic Fight­ing Group, which sac­ri­ficed the elite of its sons and com­man­ders in com­bat­ing this régime whose blood was spilled on the moun­tains of Dar­nah, the streets of Beng­hazi, the out­skirts of Tripoli, the desert of Sab­ha, and the sands of the beach.'"
Libyans with al-Qaeda
Some impor­tant al-Qae­da lead­ers oper­at­ing in Pakistan's trib­al regions also are believed to have come from Libya. For instance, ​"Atiyah," who was guid­ing the anti‑U.S. war strat­e­gy in Iraq (and was recent­ly report­ed killed by a U.S. drone strike), was iden­ti­fied as a Libyan named Atiyah Abd al-Rahman.
It was Atiyah who urged a strat­e­gy of cre­at­ing a quag­mire for U.S. forces in Iraq, buy­ing time for al-Qae­da head­quar­ters to rebuild its strength in Pak­istan. ​"Pro­long­ing the war [in Iraq] is in our inter­est," Atiyah said in a let­ter that upbraid­ed Jor­dan­ian ter­ror­ist Abu Musab al-Zar­qawi for his hasty and reck­less actions in Iraq.
As in the anti-Islamist crack­down of the 1990s, Gaddafi used harsh rhetoric in vow­ing to crush the Beng­hazi-based rebel­lion when it began ear­li­er this year. Those threats were cit­ed by Pres­i­dent Barack Oba­ma and oth­er West­ern lead­ers as a key rea­son for secur­ing a Unit­ed Nations res­o­lu­tion and estab­lish­ing a no-fly zone over Libya ​"to pro­tect civil­ians" in east­ern Libya.
In a per­son­al let­ter to Oba­ma, Gaddafi cit­ed the role of ter­ror­ists in this new uprising.
"We are con­fronting al-Qae­da in the Islam­ic Maghreb, noth­ing more," Gaddafi wrote. ​"What would you do if you found them con­trol­ling Amer­i­can cities with the pow­er of weapons? Tell me how would you behave so that I could fol­low your exam­ple?" (Oba­ma did not respond.)
Today, how­ev­er, the tables have been turned on Gaddafi. After months of U.S.-guided NATO airstrikes incin­er­at­ing his troops and bat­ter­ing his defens­es in Tripoli, he has been dri­ven from pow­er by the rebels. His remain­ing loy­al­ists have fled to Surte and a few oth­er Gaddafi strongholds.
If these loy­al­ists don't sur­ren­der to the rebels, Bel­hadj and oth­er jihadists are like­ly to spear­head the final assaults – again backed by NATO airstrikes. The troops and civil­ians still loy­al to Gaddafi don't expect much mercy.
Or, in the words of rebel leader Tarhouni, ​"some­times to avoid blood­shed you must shed blood."
This arti­cle was orig­i­nal­ly pub­lished by Con­sor­tium News.
Robert Par­ry
broke many of the Iran-Con­tra sto­ries in the ​
'
80
s for the Asso­ci­at­ed Press and Newsweek. He is the author of
Neck Deep: The Dis­as­trous Pres­i­den­cy of George W. Bush
and
Secre­cy and Priv­i­lege: Rise of the Bush Dynasty from Water­gate to Iraq
. He is the edi­tor of
Con­sor­tium News
.