It's Still Their Party: What the DNC Purge Means for the Democrats' Left Flank
By removing Ellison and Sanders backers from DNC leadership, the Democratic establishment is ruthlessly tightening its grip on the party. Progressives should take a lesson.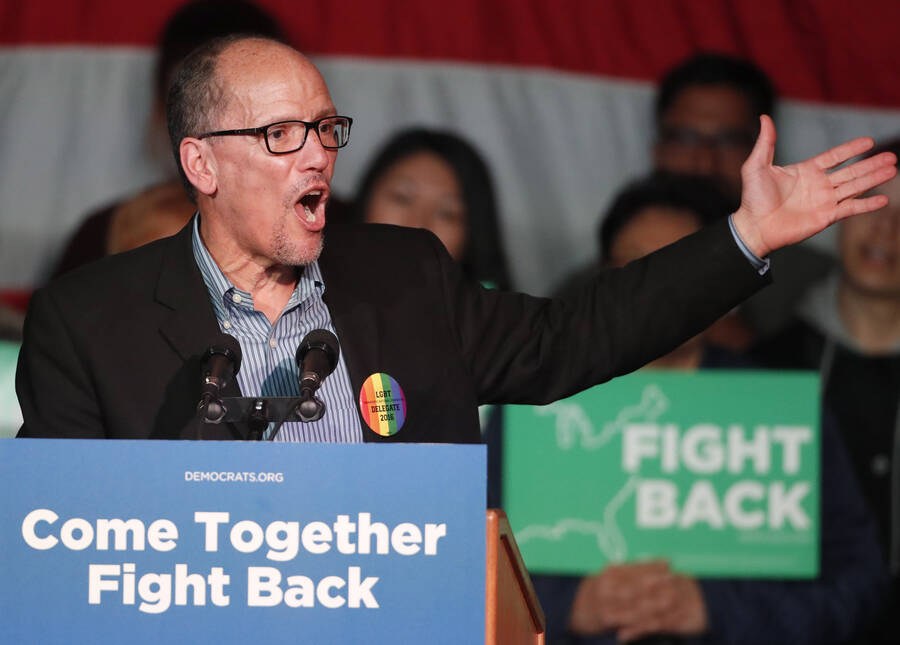 Ever since the 2016 pres­i­den­tial pri­ma­ry, ​"uni­ty" has been the watch­word of Demo­c­ra­t­ic Par­ty pol­i­tics. As soon as it became appar­ent that Hillary Clin­ton had clinched the nom­i­na­tion, estab­lish­ment Democ­rats warned the party's grass­roots that the stakes were now too high for intra­party bick­er­ing. In that spir­it, at the Demo­c­ra­t­ic Nation­al Con­ven­tion, a Uni­ty and Reform Com­mis­sion was estab­lished to help bridge the rift between the Sanders and Clin­ton wings of the party.
For all the talk of party unity and compromise, the Democratic establishment has shown time and again that it knows exactly is at stake in the current contest between the party's progressive and corporate wings, and that it will always act with sufficient ruthlessness to maintain its hold over the party.
Yet, at its meet­ing last week in Las Vegas, the Demo­c­ra­t­ic estab­lish­ment, under the lead­er­ship of Demo­c­ra­t­ic Nation­al Com­mit­tee (DNC) Chair Tom Perez, demon­strat­ed yet again that for all its vaunt­ed talk about ​"uni­ty," it remains com­mit­ted to rel­e­gat­ing Berniecrats and oth­er pro­gres­sive Democ­rats to the margins.
The purge
At that meet­ing, Perez oust­ed from lead­er­ship posi­tions four long-serv­ing offi­cials who rep­re­sent the so-called ​"Sanders wing" of the Demo­c­ra­t­ic Par­ty. These offi­cials all had backed Min­neso­ta Rep. Kei­th Elli­son over Perez, the Oba­ma Admin­is­tra­tion labor sec­re­tary who had pre­vi­ous­ly been elect­ed to a seat on the Mont­gomery Coun­ty Coun­cil in Mary­land, in the tus­sle over the DNC chairmanship.
The list includes Ray Buck­ley — the New Hamp­shire Demo­c­ra­t­ic Party's chair since 2007 — who was kicked off the DNC rules com­mit­tee, long­time par­ty sec­re­tary Alice Ger­mond who was removed from her at-large appoint­ment to the DNC, and James Zog­by, the pres­i­dent of the Arab Amer­i­can Insti­tute and out­spo­ken crit­ic of Israel, who has been tak­en off the res­o­lu­tions and exec­u­tive com­mit­tees. While removed from their com­mit­tee seats, Buck­ley and Zog­by remain on the DNC.
Perez has attempt­ed to pre­vent the change-up from look­ing like a whole­sale purge. He appoint­ed Lar­ry Cohen, chair of the Sanders-backed Our Rev­o­lu­tion PAC, to an at-large posi­tion, along with Bernie Sanders' for­mer press sec­re­tary Symone Sanders and a num­ber of high-pro­file union lead­ers. And both Elli­son and Royce West, an Elli­son backer, have joined the exec­u­tive com­mit­tee. Still, these are rel­a­tive­ly minor ges­tures when com­pared to the uncer­e­mo­ni­ous removal of long-serv­ing, Elli­son-sup­port­ing fig­ures from key roles.
It's also clear that those who were removed view the move less charitably.
"There's a lot of upset about the peo­ple who were appoint­ed, and I am, too," Zog­by told Vox.
Buck­ley called it ​"very dis­ap­point­ing." Ger­mond, who had served on the DNC since the 1980s, told Van­i­ty Fair that she had been ​"left out in the cold with­out even a call from the chair­man" despite serv­ing on the DNC for ​"for­ev­er," a state of affairs she called ​"quite unusual."
Same rules
Per­haps even more impor­tant­ly, the DNC's pow­er­ful Rules and Bylaws Com­mit­tee, which deter­mines how par­ty pri­maries are run, is now heav­i­ly weight­ed against the Sanders wing. It is the Rules and Bylaws Com­mit­tee that will first con­sid­er the rec­om­men­da­tions made by the Uni­ty Reform Com­mis­sion that has been meet­ing this year, pri­or to a vote on the rec­om­men­da­tions by the whole DNC.
"Not a sin­gle per­son from the Bernie camp is in the new bylaws groups, but five peo­ple from the Clin­ton side are," said Zog­by in Vox.
Indeed, of the 30 names on the Rules and Bylaws Com­mit­tee, 11 have worked for Clin­ton in the past, either as staffers or sur­ro­gates on her 2016 and 2008 cam­paigns. Among them is Jeff Berman, a for­mer lob­by­ist for the Key­stone pipeline who was being paid by Clinton's cam­paign for work on del­e­gate-count­ing strat­e­gy at the same time he him­self was a superdel­e­gate. Also includ­ed are vet­er­ans of Bill Clinton's admin­is­tra­tion, such as Elaine Kamar­ck and long­time Clin­ton oper­a­tive Harold Ickes.
Sev­en mem­bers of the Rules and Bylaws Com­mit­tee were pro-Clin­ton superdel­e­gates in the pri­maries, and near­ly all endorsed Clin­ton in the pri­ma­ry. Some who didn't offi­cial­ly endorse Clin­ton, such as for­mer Deputy Labor Sec­re­tary Chris Lu, were ear­ly donors to her campaign.
The list also includes Don­na Brazile, who noto­ri­ous­ly used her posi­tion at CNN in March 2016 to feed debate ques­tions and top­ics to the Clin­ton cam­paign in advance, an inter­est­ing choice for a com­mit­tee that focus­es on ​"rules."
Promi­nent union offi­cials appoint­ed to the com­mit­tee have also been big Clin­ton boost­ers, such as AFSCME pres­i­dent Lee Saun­ders and AFT pres­i­dent Ran­di Wein­garten, who was a Clin­ton sur­ro­gate in all but name and promised to ​"go after" Nation­al Nurs­es Unit­ed for its ear­ly endorse­ment of Sanders, but who backed Elli­son over Perez for chair­man of the DNC. The clos­est one gets to a Sanders backer on the Rules and Bylaws Com­mit­tee is Indi­ana Demo­c­ra­t­ic Par­ty Chair John Zody, who was pub­licly uncom­mit­ted.
This is bad news for any­one hop­ing the par­ty would change the superdel­e­gate sys­tem to make it fair­er, as Sanders had talked about doing last year and the rules com­mit­tee agreed to last July. Kamar­ck, for instance, had a hand in cre­at­ing the superdel­e­gate sys­tem in 1982, when it was first intro­duced. She pre­vi­ous­ly told In These Times that superdel­e­gates were cre­at­ed to stop ​"out­lier candidates."
The new batch of superdel­e­gates appoint­ed to lead­er­ship posi­tions at the DNC includes a num­ber of lob­by­ists, includ­ing Joanne Dowdell, who lob­bies for Rupert Murdoch's News Corp., and Manuel Ortiz, who counts Cit­i­group as a client.
A his­to­ry of slights
These are just the lat­est in a series of ongo­ing slights by estab­lish­ment Democ­rats toward the party's ​"Sanders wing." Not long after the des­e­lec­tion of Ellison's back­ers, Cal­i­for­nia Demo­c­rat Bob Mul­hol­land — a Clin­ton sup­port­er dur­ing the pri­ma­ry — put for­ward a res­o­lu­tion urg­ing Sanders to join the par­ty, argu­ing that the Demo­c­ra­t­ic Par­ty should be con­trolled by Democrats.
"Sanders runs around the coun­try scream­ing at peo­ple to adopt his poli­cies," Mull­hol­land told The Hill. ​"The least the DNC can do is urge him to run as a Demo­c­rat in 2018 in the era of Don­ald Trump."
That res­o­lu­tion was defeat­ed in committee.
Ear­li­er in Octo­ber, Perez appoint­ed Dan Halpern, an oppo­nent of rais­ing the min­i­mum wage, to the DNC's finance com­mit­tee, and has resist­ed the push among pro­gres­sives in the par­ty to back a Medicare for All health­care sys­tem as a flag­ship pol­i­cy. To be sure, such impuls­es aren't unique to Perez: back in June, Cal­i­for­nia Democ­rats in the leg­is­la­ture blocked a sin­gle-pay­er health­care bill that had been sup­port­ed by grass­roots advo­cates in the state.
In fact, Perez's chair­man­ship of the DNC itself is an ever-present rebuke of the party's left flank. Perez was recruit­ed specif­i­cal­ly by for­mer Pres­i­dent Oba­ma to ​"stop the the Sanders wing of the par­ty from tak­ing over," as one Oba­ma admin­is­tra­tion offi­cial explained to Andrew Cock­burn. Elli­son had once been the obvi­ous choice for the DNC chair­man­ship, endorsed by both left-wing and cen­trist Democ­rats, before Perez joined the race.
Soon after, sto­ries began appear­ing that brought up Ellison's past asso­ci­a­tion with Louis Far­rakhan and the Nation of Islam. Elli­son was derid­ed as a ​"lack­lus­ter black Mus­lim," and hit with the none-too-sub­tle insin­u­a­tion that he still car­ried the group's anti-Semit­ic atti­tudes. Demo­c­ra­t­ic megadonor and Mighty Mor­phin' Pow­er Rangers mogul Haim Saban declared Elli­son ​"an anti-Semi­te and anti-Israel indi­vid­ual," while the Anti-Defama­tion League decid­ed that Ellison's com­ments claim­ing Israel has a dis­pro­por­tion­ate influ­ence on U.S. for­eign pol­i­cy were ​"dis­qual­i­fy­ing."
Oth­ers took a dif­fer­ent tack. ​"There's too much at stake for us not to have some­body work­ing in a full-time capac­i­ty," Michael Blake, an Oba­ma cam­paign vet­er­an, told the New York Times, echo­ing Perez's own words on the sub­ject. The crit­i­cism sug­gest­ed that Ellison's job as a sit­ting Con­gress­man meant he would be unable to devote his full atten­tion to the DNC chair role. Six months into his tenure head­ing the DNC, Perez took on a side-gig at Brown University.
Chair prob­lems
As DNC chair, Perez's per­for­mance so far has been less than stel­lar. Fundrais­ing num­bers have plum­met­ed to dire lows, Perez was booed by crowds on his and Sanders' uni­ty tour in April, and even main­stream Democ­rats are already com­plain­ing about his leadership.
But per­haps that was nev­er the point. As Alex Law­son, exec­u­tive direc­tor of Social Secu­ri­ty Works, char­ac­ter­ized it back in Feb­ru­ary, pri­or to the DNC elec­tion, Perez's vic­to­ry would send a mes­sage to unions and the grass­roots that ​"their voic­es, their mus­cle, their enthu­si­asm, and turnout doesn't matter."
The Sanders wing could field the ide­al can­di­date in Elli­son, some­one who added to the party's diver­si­ty, had a proven track record, and was accept­able to the party's cen­trists — and the par­ty estab­lish­ment would still ensure he lost, sim­ply because they could.
You can trace such slights against the party's left flank back to 2016, when the DNC made a series of now infa­mous attempts to halt Sanders' momen­tum dur­ing the primaries.
For all the talk of par­ty uni­ty and com­pro­mise, the Demo­c­ra­t­ic estab­lish­ment has shown time and again that it knows exact­ly what is at stake in the cur­rent con­test between the party's pro­gres­sive and cor­po­rate wings, and that it will always act with suf­fi­cient ruth­less­ness to main­tain its hold over the party.
Pro­gres­sives should take note and fol­low the establishment's lead. To repur­pose a famous say­ing, a well-behaved grass­roots sel­dom makes history.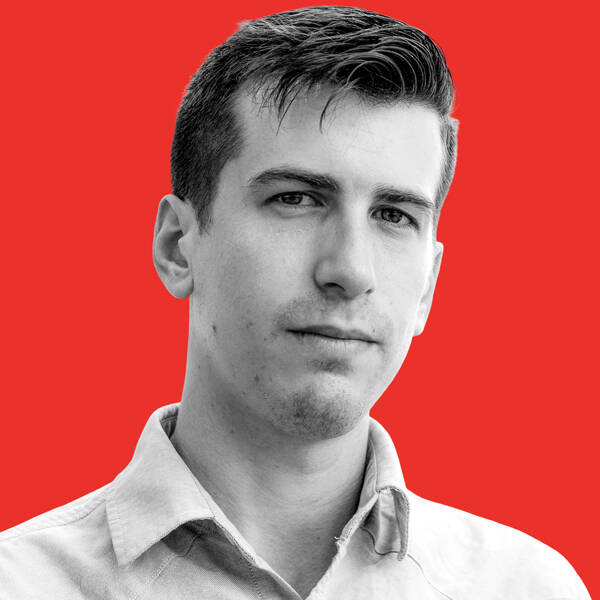 Branko Marcetic
is a staff writer at Jacobin mag­a­zine and a
2019
 – 
2020
Leonard C. Good­man Insti­tute for Inves­tiga­tive Report­ing fel­low. He is work­ing on a forth­com­ing book about Joe Biden.