Why the DNC's Superdelegate Reforms Were a Major Victory for the Sanders Wing
From stripping power from superdelegates to enforcing financial oversight, backers of Bernie Sanders scored a number of huge wins at the DNC summer meeting. And they could have a major impact in 2020.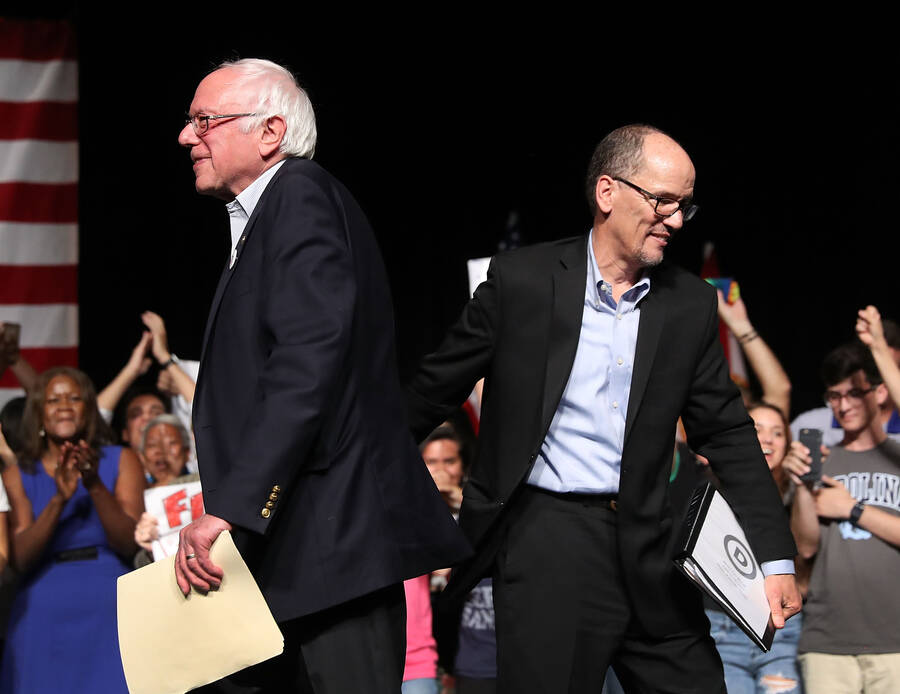 This past week­end was an aus­pi­cious date for the Demo­c­ra­t­ic Par­ty to attempt to come togeth­er in the name of uni­ty. As DNC mem­bers gath­ered at the Hyatt Regency Chica­go to dis­cuss whether or not to pass a pack­age of reforms spurred by the tur­bu­lent 2016 pri­ma­ry con­test, it couldn't have escaped them they were doing so not only in the same city that 50 years ago saw par­ty divi­sions boil over into bat­tles between demon­stra­tors and Chica­go police, but on the very same date this chaos began to unfold.
This package of reforms is just a starting point for a wholesale transformation of the party.
Five decades lat­er, with nary a brawl in sight, the par­ty suc­cess­ful­ly put in place a hand­ful of sweep­ing reforms that its mem­bers hope will move the Democ­rats' two pre­dom­i­nant wings — those rep­re­sent­ed chiefly by Hillary Clin­ton and Bernie Sanders — toward greater uni­ty and, more impor­tant­ly, serve as the first step toward fix­ing what some pro­gres­sives say is a bro­ken party.
While the result is clear­ly a major vic­to­ry for the Sanders wing of the par­ty, Lar­ry Cohen — for­mer Sanders cam­paign advi­sor, chair­man of the Sanders-aligned Our Rev­o­lu­tion, and the vice-chair of the Uni­ty Reform Com­mis­sion — was quick to offer cred­it to the oth­er side.
"While Our Rev­o­lu­tion helped lead the allies sup­port­ing this active­ly, it would not have been pos­si­ble with­out DNC Chair­man Tom Perez and his all-out mobi­liza­tion," he says.
The most atten­tion-grab­bing mea­sure was the deci­sion to strip so-called superdel­e­gates — the 700 or so elect­ed offi­cials and par­ty appa­ratchiks whose out­size influ­ence over the nom­i­nat­ing sys­tem became a flash­point for pro­gres­sive frus­tra­tion dur­ing 2016 — of sig­nif­i­cant pow­er. While superdel­e­gates still hang on to their perks and their vot­ing pow­er on issues like the par­ty plat­form, as a result of the DNC deci­sion, they are now barred from vot­ing on the first bal­lot, and can only deter­mine the elec­toral out­come in the case of a con­test­ed primary.
Rein­ing in of superdel­e­gates' pow­er was a key pri­or­i­ty for the Sanders wing of the par­ty, which views their exis­tence with sus­pi­cion. As I report­ed for In These Times in May 2016, superdel­e­gates were express­ly cre­at­ed by the par­ty estab­lish­ment in 1980 as a way to stop what one of their cre­ators termed ​"out­lier can­di­dates," such as George McGov­ern and Jim­my Carter.
While defend­ers of superdel­e­gates often claim the group has nev­er decid­ed a race, this isn't strict­ly true: Superdel­e­gates open­ly boast­ed in 1984 that they had used their influ­ence in that year's pri­ma­ry to ensure Wal­ter Mon­dale, the par­ty estab­lish­ment choice, end­ed up the nominee.
Superdel­e­gates were not near­ly as influ­en­tial in 2016, yet their over­whelm­ing sup­port for Hillary Clin­ton — along with the media's habit of count­ing them in the del­e­gate totals through­out the race — cre­at­ed an aura of inevitabil­i­ty for Clin­ton that crit­ics feared was dri­ving down vot­er par­tic­i­pa­tion. The Asso­ci­at­ed Press infa­mous­ly called the race for Clin­ton on the back of superdel­e­gate totals just one day before vot­ing in the Cal­i­for­nia pri­ma­ry began.
The mea­sure was the most fierce­ly con­test­ed one. Cal­i­forn­ian Bob Mul­hol­land, a mem­ber of the DNC and as such him­self a superdel­e­gate, had ear­li­er charged that the attempt to elim­i­nate superdel­e­gates was a ​"Putin oper­a­tion," and insist­ed in advance of the meet­ing that ​"we're going to fight it like hell." Oth­er elect­ed offi­cials called it an ​"insult" and said it would ​"do ter­ri­ble dam­age to par­ty har­mo­ny." Con­gres­sion­al Black Cau­cus Chair­man Cedric Rich­mond, a pro-Clin­ton superdel­e­gate in 2016 who had likened Sanders' poli­cies for tuition-free col­lege and uni­ver­sal health­care to ask­ing for a ​"free car and a free home," called it a ​"solu­tion in search of a problem."
Yet while oppo­nents attempt­ed to throw pro­ce­dur­al road­blocks to the reforms, they were sound­ly beat­en back, with DNC mem­bers over­whelm­ing­ly vot­ing in their favor. Crit­ics spent much of Sat­ur­day insist­ing on a two-thirds vote to enact the mea­sures, yet they ulti­mate­ly passed with around 75 per­cent support.
While the Sanders wing of the par­ty count­ed superdel­e­gate reform as a key vic­to­ry, its mem­bers stress that it was nei­ther the only one, nor even the most important.
"That's not the crux of what's hap­pen­ing in the par­ty," says Nomi­ki Kon­st, a for­mer Sanders del­e­gate and mem­ber of the DNC Uni­ty Reform Com­mis­sion, even as she calls the superdel­e­gate sys­tem ​"an embar­rass­ment to the party."
Sanders back­ers point to the reforms around trans­paren­cy as at least equal­ly impor­tant, requir­ing the DNC to be more trans­par­ent around its finances, oper­a­tions and rela­tion­ship with pres­i­den­tial can­di­dates. The reform was part­ly a response to the rev­e­la­tions last year by for­mer inter­im DNC chair Don­na Brazile that the DNC and Clin­ton cam­paign had secret­ly signed a joint fundrais­ing agree­ment in 2015 giv­ing the cam­paign con­trol of key aspects of the DNC in exchange for rais­ing and invest­ing mon­ey for it. In prac­tice, much of the cash Clin­ton raised for the DNC end­ed up being spent on her own cam­paign, with only a trick­le mak­ing it to state par­ties—less than half of one per­cent.
Kon­st also sees this as a cru­cial step toward build­ing a nation­wide pres­ence for the par­ty, and reori­ent­ing it from the almost exclu­sive­ly pres­i­den­tial focus it took under Pres­i­dent Obama.
"That's a bil­lion-dol­lar indus­try," she says of this laser focus on the pres­i­den­tial race. ​"The Demo­c­ra­t­ic Par­ty has become an extra­or­di­nary mon­ey-mak­er for consultants."
"The biggest thing here is that we get rid of can­di­date addic­tion and start talk­ing about par­ty-build­ing," says Cohen
Also sig­nif­i­cant are the reforms around pri­maries and cau­cus­es. Cau­cus­es, which favored Sanders dur­ing the 2016 pri­ma­ry, have long been crit­i­cized as flawed and unde­mo­c­ra­t­ic, and the lat­est reforms man­date cau­cus­es include absen­tee vot­ing mea­sures, as well as a process for a writ­ten vote in the case of a recount.
"The cau­cus states will do it because they won't get seat­ed oth­er­wise," says Lar­ry Cohen.
Mean­while, the pack­age of reforms also encour­ages state par­ties to run pri­maries instead of cau­cus­es, and urges state par­ties to work to imple­ment mea­sures such as same-day par­ty switch­ing and same-day auto­mat­ic registration.
This was a major demand from Sanders back­ers owing chiefly to what Cohen calls the ​"shenani­gans" in the 2016 New York pri­ma­ry, when more than 125,000 Demo­c­ra­t­ic vot­ers were stripped from the rolls, and frus­trat­ed Sanders vot­ers found on elec­tion day that they had the missed the dead­line to reg­is­ter as Democ­rats in the state. New York is the only state where reg­is­tered vot­ers have to declare their par­ty affil­i­a­tion more than six months in advance, and there is no in-per­son reg­is­tra­tion — all pro­vi­sions that crit­ics say dis­en­fran­chise younger vot­ers par­tic­u­lar­ly. But while New York is a dra­mat­ic exam­ple, numer­ous oth­er states set dead­lines for par­ty reg­is­tra­tion well before elec­tion day.
"If you want to build a par­ty, you don't throw up road­blocks to join it," says Cohen.
But chang­ing these pro­vi­sions won't be easy. Pri­maries are gov­erned by state gov­ern­ments, many of which are under the con­trol of Repub­li­can gov­er­nors and leg­is­la­tures, iron­i­cal­ly a con­se­quence of the very decline of the Demo­c­ra­t­ic Par­ty crit­ics say such road­blocks reinforce.
Cohen says pres­sur­ing state gov­ern­ments to open up pri­maries will be a pri­or­i­ty of Our Rev­o­lu­tion and oth­er groups from here on out. But activists like Kon­st are skep­ti­cal about the planned push to replace cau­cus­es with pri­maries, giv­en Repub­li­can con­trol of the leg­is­la­tures that will gov­ern the new pri­maries in some of these states.
"It was not some­thing we pushed for," she says.
Both agree, how­ev­er, that this pack­age of reforms is just a start­ing point for a whole­sale trans­for­ma­tion of the par­ty. Cohen says the next step will be return­ing to the issue of cor­po­rate influ­ence, one that flared up recent­ly after the DNC, at Chair­man Perez's urg­ing, reversed a ban on fos­sil fuel indus­try dona­tions. Cohen ulti­mate­ly wants to see a turn to a small donor base, and for DNC offi­cials to start telling can­di­dates they'll only get pop­u­lar sup­port by refus­ing cor­po­rate money.
The ulti­mate goal, how­ev­er, is to restore the party's nation­al pres­ence and grass­roots support.
"What this is about is to say ​'Hey, this par­ty is open­ing up to par­ty-build­ing'," says Cohen. ​"Run peo­ple not only for the precinct, but at the coun­ty lev­el, and from there. That's real­ly the build­ing block."
He points to Texas as a par­tic­u­lar­ly strik­ing exam­ple, claim­ing that dozens of the state's 254 coun­ties have no Demo­c­ra­t­ic Par­ty pres­ence at all. While Texas Demo­c­ra­t­ic Par­ty chair Gilber­to Hino­josa did­n't respond to queries to con­firm this, the Texas Democ­rats' web­site cur­rent­ly has 26 coun­ty par­ties with ​"Call Texas Demo­c­ra­t­ic Par­ty" in lieu of any name and num­ber of an offi­cial in its list of coun­ty parties.
"The Demo­c­ra­t­ic Par­ty doesn't exist in most parts of Amer­i­ca, hon­est­ly," says Kon­st, cit­ing research under­tak­en by the Uni­ty Reform Com­mis­sion. She urges pro­gres­sives and Demo­c­ra­t­ic Social­ists of Amer­i­ca (DSA) mem­bers to get involved in the Demo­c­ra­t­ic Par­ty and try to become DNC mem­bers as a first step toward revers­ing this process. Such a strat­e­gy could help engi­neer a shift in the par­ty from the inside, while also pres­sur­ing it from the outside.
"This is a fun­da­men­tal change in the way we nom­i­nate our pres­i­dents," Don Fowler, the ​"nation­al chair­man" of the DNC from 1995 to 1997 and an oppo­nent of the reforms, said on Sat­ur­day. But if the Sanders wing has its way, it will only be the first step toward mak­ing the Demo­c­ra­t­ic Par­ty more inclu­sive, demo­c­ra­t­ic and engaged with its grass­roots base.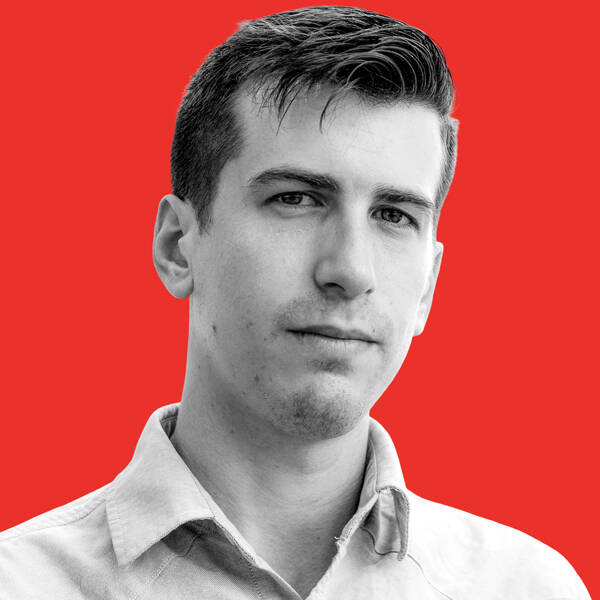 Branko Marcetic
is a staff writer at Jacobin mag­a­zine and a
2019
 – 
2020
Leonard C. Good­man Insti­tute for Inves­tiga­tive Report­ing fel­low. He is work­ing on a forth­com­ing book about Joe Biden.