The Historical Roots of American Domestic Worker Organizing Run Deep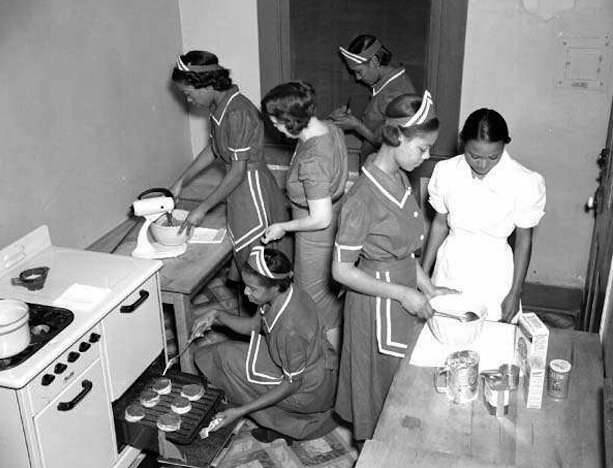 Domes­tic work­ers and their advo­cates have been mak­ing an increas­ing num­ber of head­lines since 2010, when New York became the first state to pass a Domes­tic Work­ers Bill of Rights. Guar­an­tee­ing over­time and time off, such leg­is­la­tion has spread to four oth­er states and is being fought for in many more. But orga­niz­ing around domes­tic work has been ongo­ing since at least the 1930s, an often for­got­ten cor­ner of the labor movement.
The decades-long strug­gle for domes­tic work­er pro­tec­tions, and for recog­ni­tion of domes­tic work­ers' basic dig­ni­ty, is doc­u­ment­ed in Pre­mil­la Nadasen's new book, House­hold Work­ers Unite: The Untold Sto­ry of African Amer­i­can Women Who Built a Move­ment. Nadasen, who is a his­to­ry pro­fes­sor at Barnard Col­lege, pro­vides a series of vignettes cov­er­ing such peri­ods as com­mu­nist-led orga­niz­ing in 1930s New York and the unsung domes­tic labor­er activists of the Mont­gomery bus boycott.
Nadasen has a long his­to­ry of activism as well, begin­ning dur­ing her youth in South Africa where she was involved in the move­ment against apartheid. Her pre­vi­ous book, Wel­fare War­riors: The Wel­fare Rights Move­ment in the Unit­ed States, focused on the activists on the front­lines of rad­i­cal orga­niz­ing in the late 1960s and ear­ly 1970s in the wake of urban riots and social unrest that helped (briefly) gal­va­nize increased fed­er­al largesse to poor families.
In These Times caught up with Nadasen to dis­cuss the lega­cy of slav­ery in domes­tic work, the inequities of the Fair Labor Stan­dards Act and what con­tem­po­rary move­ments can learn from their forbearers.
What was the lega­cy of slav­ery in the domes­tic labor sec­tor, espe­cial­ly in the first half of the 20th century?
After the end of slav­ery, African-Amer­i­can women increas­ing­ly became paid domes­tic work­ers. The image that came to dom­i­nate their labor in this occu­pa­tion was the fig­ure of the mam­my, an African-Amer­i­can woman loy­al to the fam­i­ly for whom she worked and hap­pi­ly served. The image of the mam­my becomes essen­tial in the ear­ly 20th cen­tu­ry to jus­ti­fy an unequal racial order in the South and as an apol­o­gy for slav­ery, with its assump­tion that African Amer­i­cans were con­tent to serve white families.
The real­i­ty is that their work was not treat­ed as real work. They were very often framed by their employ­ers as ​"one of the fam­i­ly." That meant they would work longer hours and take hand-me-downs instead of pay­ment because the assump­tion built into the ​"one of the fam­i­ly" phrase was that they were work­ing out of love. But Car­olyn Reed, an orga­niz­er in New York City, put it best when she said ​"I don't need a fam­i­ly, I need a job."
In the begin­ning of the book you talk about com­mu­nists and oth­er rad­i­cal activists who tried to orga­nize with domes­tic labor­ers. How suc­cess­ful were those 1930s efforts?
Con­sid­er­ing that the occu­pa­tion was so dif­fi­cult to orga­nize, I think they were enor­mous­ly suc­cess­ful. They were iso­lat­ed employ­ees who often worked alone in a home and were invis­i­ble from the pub­lic eye and labor orga­niz­ers. When com­mu­nists, the Women's Trade Union League, and the Urban League all decid­ed to orga­nize domes­tic work­ers, they actu­al­ly brought these women togeth­er in a col­lec­tive space. Some­times they reached out to them in the ​"slave mar­kets," the name that Ella Bak­er and Mar­vel Cooke gave to these street cor­ners in New York City where African-Amer­i­can women wait­ed to be hired as day work­ers. The Bronx Slave mar­kets became sites of orga­niz­ing. Then domes­tic work­ers and their sup­port­ers devel­oped hir­ing halls where domes­tic work­ers could be pro­tect­ed from exploita­tive employers.
With all this orga­niz­ing were there any leg­isla­tive vic­to­ries at the local or state level?
The biggest vic­to­ry at that time was when New York May­or Fiorel­lo La Guardia tried to end the street cor­ner mar­kets and reg­u­late the hir­ing of domes­tic work­ers. The city of New York cre­at­ed hir­ing halls as well where domes­tic work­ers and employ­ers could nego­ti­ate wages.
But then on the nation­al lev­el, they were left out of the Fair Labor Stan­dards Act?
There were a num­ber of exclu­sions from the FLSA, includ­ing agri­cul­tur­al and domes­tic work­ers. Both were sec­tors African Amer­i­cans dom­i­nat­ed at the time. There was a tremen­dous fear among South­ern Democ­rats about grant­i­ng min­i­mum wage pro­tec­tions to African Amer­i­cans and how that would dis­rupt the eco­nom­ics of the South­ern social order.
Mov­ing into the 1950s, how did the broad­er deval­u­a­tion of work at home affect the wages and pro­tec­tions of domes­tic workers?
A cou­ple of things shaped the val­u­a­tion of domes­tic work. In addi­tion to the African-Amer­i­can women who are the sub­ject of my book, there were Puer­to Rican and Chi­cana women, too. The racial com­po­si­tion of the work­force was part of the rea­son the occu­pa­tion was deval­ued, and because of the asso­ci­a­tion with women's unpaid labor in the home. Women had been doing this work for cen­turies for no pay, and this fur­ther con­tributed to a notion that it wasn't real work.
It goes back to the lan­guage of ​"care work": If one does this kind of labor because they care it sug­gests that the rea­son they are doing it is because of an emo­tion­al con­nec­tion, not nec­es­sar­i­ly for the paycheck.
How did the women's lib­er­a­tion move­ment affect those dynam­ics? Were there instances where domes­tic labor­ers tried to build alliances with white mid­dle white fem­i­nist move­ments? Or was there too much of a class divide?
Many who were a part of the women's move­ment advo­cat­ed leav­ing the home to secure job oppor­tu­ni­ties, and in mak­ing those argu­ments they very often den­i­grat­ed domes­tic work. They talked about how domes­tic work, house­hold work, was sim­ply unful­fill­ing. That was very dif­fer­ent from what domes­tic work­ers who were argu­ing for how and why it need­ed to be rec­og­nized as labor and paid adequately.
There were ele­ments in the women's move­ment who did ally with domes­tic work­ers. The Nation­al Orga­ni­za­tion for Women was one of those groups that thought the reval­u­a­tion of domes­tic work would ben­e­fit both mid­dle class women as well as domes­tic employ­ees. There were social­ist fem­i­nists or the wel­fare rights move­ment, both of which sug­gest­ed the work done in the home was valu­able and should be rec­og­nized and paid by the gov­ern­ment. There were cer­tain fem­i­nists who tes­ti­fied on behalf of Fair Labor Stan­dards Act amend­ments in the ear­ly 1970s to include domes­tic work under the min­i­mum wage laws.
Glo­ria Steinem was one of the most impor­tant. She agreed in the 1970s, after the pas­sage of the amend­ments, to launch a cam­paign to encour­age mid­dle class women to abide by the new law and pay their domes­tic work­ers min­i­mum wage.
What can the cur­rent domes­tic work­er advo­cates learn from strate­gic suc­cess­es and fail­ures of past movements?
I see a lot of par­al­lels between the domes­tic work­ers rights move­ment of the 1960s and 1970s and the con­tem­po­rary domes­tic work­er rights move­ment. Both have a notion of shift­ing the site of orga­niz­ing away from the work­place into the pub­lic realm. Women like Dorothy Lee Bold­en in Atlanta orga­nized women on the bus­es; now Domes­tic Work­ers Unit­ed in New York City orga­nizes domes­tic work­ers in pub­lic parks.
Also, in the ear­li­er peri­od and the con­tem­po­rary peri­od, domes­tic work­ers did not advo­cate for pro­tec­tions from indi­vid­ual employ­ers, because domes­tic work­ers changed employ­ers so fre­quent­ly. Instead, they advo­cat­ed for the state step­ping in and tak­ing care of these work­ers who might be work­ing for mul­ti­ple employ­ers. It's impor­tant because work­ers would have these guar­an­tees regard­less of who they worked for, regard­less of if they were part of the orga­ni­za­tion or the move­ment. It's a dif­fer­ent mod­el of labor and union organizing.
I think there's a les­son here not just for domes­tic work­ers. This occu­pa­tion can offer some guid­ance about the con­tem­po­rary moment, how work­ers in oth­er occu­pa­tions can begin to orga­nize, whether Uber dri­vers or adjunct fac­ul­ty. Mod­els of labor orga­niz­ing that have a broad­er vision of mobi­liz­ing work­ers not just based on their employ­er but their occupation.
Jake Blum­gart
is a free­lance reporter-researcher based in Philadel­phia. You can fol­low him on Twit­ter
here
.