How One City Is Making Sure Bosses Comply With Wage Theft and Paid Sick Leave Laws
Seattle's labor regulators are now under one roof.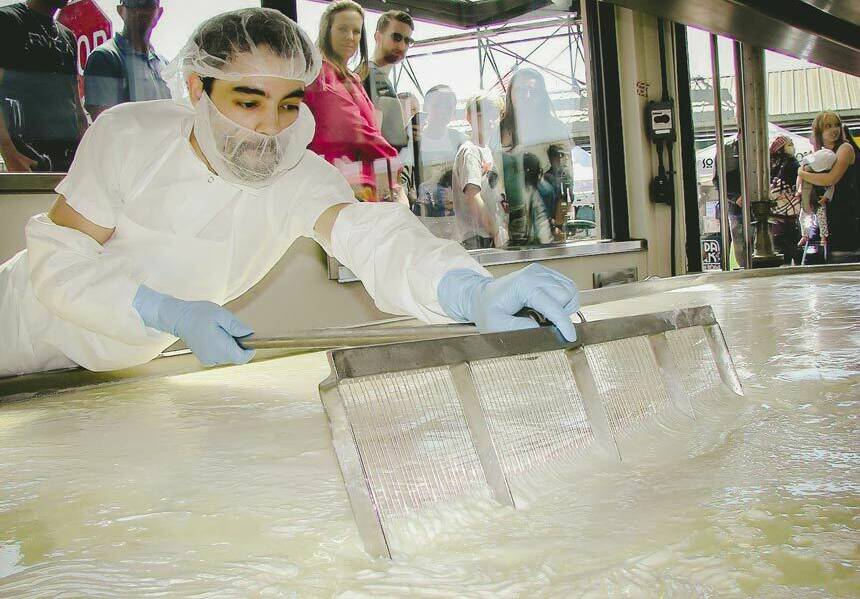 Beecher's Hand­made Cheese, a cor­ner­stone of Seattle's Pike Place Mar­ket, claims (with good rea­son) that its penne mac and cheese is the finest in Amer­i­ca. Din­ing at Beecher's is a must.
Seattle's new endeavor could push other cities to adopt enforcement mechanisms for local labor laws.
Work­ing there may be less advis­able. Der­ic Cole, an Army vet, worked at Beecher's for sev­en months, begin­ning in 2014. He says that turnover was so high that when he quit, he was a senior employ­ee. Shifts var­ied from day to day, he adds, some­times start­ing at 3 a.m. and occa­sion­al­ly last­ing up to 15 hours. Cole says that while Beecher's tech­ni­cal­ly offered over­time, those who man­aged to accrue it were pun­ished, and employ­ees were even asked to work off the clock. Cole also alleges that Beecher's ignored Seattle's 2012 paid sick leave ordi­nance and refused to grant any paid time off for illness.
Fed up, Cole even­tu­al­ly brought these com­plaints to a new city agency designed to help in cas­es like his: the Office of Labor Stan­dards (OLS), one of the first of its kind in the Unit­ed States.
Over the past five years, Seat­tle has imple­ment­ed sweep­ing labor laws, insti­tut­ing paid sick leave, dis­cour­ag­ing dis­crim­i­na­tion against those with prison records, incre­men­tal­ly rais­ing the min­i­mum wage to $15 by 2017 and strength­en­ing wage-theft pro­tec­tions.
But these new laws can't enforce them­selves. One year after OLS's cre­ation, peo­ple like Cole will be among the first to test Seattle's exper­i­ment. Although San Fran­cis­co orig­i­nat­ed the mod­el over a decade ago, it has been slow to catch on. Seattle's new endeav­or could push oth­er cities to adopt enforce­ment mech­a­nisms for local labor laws.
Munic­i­pal labor laws are a recent phe­nom­e­non, too. In the 1990s, the liv­ing wage move­ment began win­ning ordi­nances that set wage floors for busi­ness­es receiv­ing gov­ern­ment con­tracts. In the ear­ly 2000s, cities like San­ta Fe and San Fran­cis­co began set­ting their own min­i­mum wages for busi­ness­es under their juris­dic­tion. A wave of munic­i­pal paid sick leave laws fol­lowed in cities like San Fran­cis­co and Wash­ing­ton, D.C.
Seat­tle joined the trend in 2011 with paid leave and an anti-wage-theft ordi­nance. In 2013, it passed ​"ban the box" leg­is­la­tion that restricts the use of crim­i­nal records in hir­ing pro­ce­dures. In 2014, May­or Ed Mur­ray insti­tut­ed the $15 min­i­mum wage after a union­backed bal­lot ini­tia­tive cam­paign in near­by SeaT­ac, aid­ed by the insur­gent City Coun­cil cam­paign of social­ist Kshama Sawant, pushed the pol­i­cy to the cen­ter of the 2013 elections.
The enforce­ment of these new laws, how­ev­er, has been lax. In 2014, Seattle's audi­tor inves­ti­gat­ed the city's Office of Civ­il Rights, tasked with enforc­ing the paid leave law, and found that inves­ti­ga­tions were defined by a ​"non-adver­sar­i­al approach." In 70 per­cent of cas­es reviewed, there was no proof that busi­ness­es changed their poli­cies. In 2014, the Seat­tle Times report­ed three years after the anti-wage-theft law passed that it had led to no prosecutions.
That year, Seat­tle estab­lished the Labor Stan­dards Advi­so­ry Group, com­posed of rep­re­sen­ta­tives from unions, busi­ness­es and com­mu­ni­ty groups. Know­ing the $15 min­i­mum wage was soon to pass, group mem­bers agreed on the need for a cen­tral­ized office to enforce new labor stan­dards. OLS was born.
OLS has a $1.3 mil­lion bud­get and employs sev­en peo­ple to cov­er a work­force of 500,000: four inves­ti­ga­tors, an ana­lyst, a com­mu­ni­ty liai­son and a direc­tor, Dylan Orr, appoint­ed in May. Orr has more than five years of expe­ri­ence in the Oba­ma administration's Depart­ment of Labor. While one inspec­tor for every 125,000 work­ers may not seem like enough, it's an improve­ment on the fed­er­al Depart­ment of Labor's capac­i­ty in metro Seat­tle — one inves­ti­ga­tor for every 171,744 work­ers — and Wash­ing­ton state's one inves­ti­ga­tor for every 157,337 workers.
Still, ​"we are real­ly focus­ing on high­im­pact enforce­ment," says Kari­na Bull, senior pol­i­cy ana­lyst at OLS. For exam­ple, the agency often launch­es com­pa­ny­wide inves­ti­ga­tions. ​"We want to make sure that we are using those four inves­ti­ga­tors as effi­cient­ly as pos­si­ble," explains Bull. ​"If we get a com­plaint from one per­son in a busi­ness with 500 employ­ees, there are like­ly vio­la­tions across that entire workforce."
Cur­rent­ly, OLS has 81 open labor stan­dards cas­es. The office has so far assessed a total of $213,000 in back pay and $1,350 in penal­ties from employers.
OLS also expands its reach by enlist­ing com­mu­ni­ty groups to alert inspec­tors of work­place abus­es. The groups are sup­port­ed by a com­mu­ni­ty fund, pro­vid­ed by the city, of $700,000 through August 2016. The mon­ey is shared by 10 orga­ni­za­tions, includ­ing the NAACP, Chi­nese Infor­ma­tion and Ser­vice Cen­ter, Casa Lati­na, Eritre­an Asso­ci­a­tion and the new­ly cre­at­ed Fair Work Center.
"For some folks there might not be as much trust [in a gov­ern­ment agency], espe­cial­ly if they don't have their papers," says Nicole Valles­tero Keenan, exec­u­tive direc­tor of the Fair Work Cen­ter, which began tak­ing cas­es in July. ​"We help peo­ple … so when they reach the inves­ti­ga­tors they have their infor­ma­tion ready and accessible."
Work­ers who approach OLS have the option to remain anony­mous in their com­plaint, and most say yes. Inves­ti­ga­tors ask work­ers a com­pre­hen­sive set of ques­tions to iden­ti­fy any poten­tial vio­la­tions of Seattle's labor ordi­nances. If OLS decides to inves­ti­gate, the employ­er is giv­en 10 days to pro­vide pay­roll records and an employ­ee ros­ter, among oth­er information.
The com­mu­ni­ty groups also work to edu­cate work­ers about their rights. Although munic­i­pal labor laws have caught the imag­i­na­tions of labor activists and pol­i­cy ana­lysts across the nation, most work­ers remain unaware of the new stan­dards in their cities. Cole says that nei­ther he nor oth­ers who worked for Beecher's knew much about Seattle's work­er pro­tec­tions. "[Beecher's] always just told me you can't take a sick day, or if you do you are not going to get paid for it," says Cole. ​"I didn't even know that was illegal."
Beecher's dis­putes these claims. Own­er Kurt Dammeier tells In These Times that while cheese­mak­ing is phys­i­cal­ly demand­ing, employ­ees in Cole's posi­tion stay for more than a year, on aver­age, and that Beecher's has pro­vid­ed a ​"great train­ing ground" for the state's grow­ing arti­sanal cheese indus­try. He says that sched­uled shifts for cheese­mak­ers are not longer than 10 hours and that the com­pa­ny has paid out more than 1,600 hours of over­time to its cheese­mak­ers thus far in 2015. He also denies that Beecher's refus­es employ­ees paid sick time, stat­ing that the com­pa­ny offers paid time off (PTO) to all employ­ees and has paid out more than 1,000 hours of PTO to employ­ees in the Cheese­mak­ing depart­ment so far this year.
Cole thought about remain­ing anony­mous when offered the choice by OLS. But now that he no longer works at Beecher's, he feels he has noth­ing to lose. Win­ning back pay is a pos­si­bil­i­ty, ​"but that's not real­ly the point," he says. ​"It's about mak­ing things bet­ter for the next people."
Cor­rec­tion: This piece orig­i­nal­ly stat­ed that Beecher's own­er Kurt Dammeier told In These Times that the com­pa­ny has paid out more than $1,600 of over­time to employ­ees so far in 2015. The actu­al fig­ure giv­en by Dammeier is 1,600 hours of over­time. The sto­ry has been cor­rect­ed to reflect this, and to clar­i­fy Beecher's response regard­ing paid time off.
Jake Blum­gart
is a free­lance reporter-researcher based in Philadel­phia. You can fol­low him on Twit­ter
here
.