Donald Trump and the Aesthetics of Fascism
What a 20th-century Marxist art critic can teach us about a very 21st-century candidate.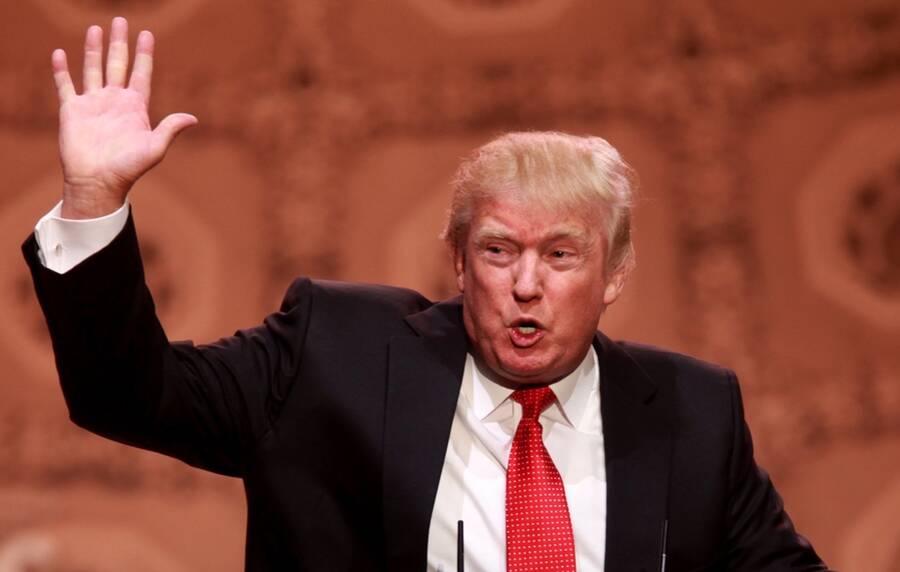 Don­ald Trump does not make it easy to refrain call­ing him a fascist.
More than any other American presidential candidate in recent memory, Donald Trump understands the ideological power, the raw manipulative magic, in politics as aesthetics.
To be sure, peo­ple have been will­ing to call him that well before Demo­c­ra­t­ic non-enti­ty Mar­tin O'Malley called him that. Since then, the debate has not so much boiled over as been reduced to a sim­mer, per­co­lat­ing and wait­ing for the bil­lion­aire-can­di­date to say or do some­thing that would once again push it back up over the top.
Enter the ​"Free­dom Kids," three adorable lit­tle girls who opened up Trump's cam­paign stop in Tam­pa, Flori­da. To the tune of the ​"Over There" — the feel-good hit of trench­es and mus­tard gas—they invit­ed the audi­ence to join them in cel­e­brat­ing as America's ene­mies ​"face the music." Behold:
Cow­ardice

Are you serious?

Apolo­gies for free­dom, I can't han­dle this.

When free­dom rings, answer the call!

On your feet, stand up tall!

Free­dom's on our shoul­ders, USA!

Ene­mies of free­dom face the music, c'mon boys, take them down

Pres­i­dent Don­ald Trump knows how to make Amer­i­ca great

Deal from strength or get crushed every time
This is a car­toon ver­sion of Amer­i­can nation­al­ism. The sheer absur­di­ty of the per­for­mance is stun­ning. And yet, Trump's sup­port­ers will sure­ly both love it and accuse any­one who doesn't of being a ter­ror­ist and a communist.
All of this points to one of the rea­sons why the dis­cus­sion about Trump and fas­cism is such a dif­fi­cult one to resolve. More than any oth­er Amer­i­can pres­i­den­tial can­di­date in recent mem­o­ry, Don­ald Trump under­stands the ide­o­log­i­cal pow­er, the raw manip­u­la­tive mag­ic, in pol­i­tics as aesthetics.
The phrase ​"the aes­theti­ciza­tion of pol­i­tics" is bor­rowed from the late Marx­ist philoso­pher and cul­tur­al crit­ic Wal­ter Ben­jamin. Benjamin's work has expe­ri­enced a resur­gence in inter­est over the past year. Par­tial­ly, this has to do with the 75th anniver­sary of his death (sui­cide, poignant­ly enough after the news that he was about to be basi­cal­ly hand­ed over to the Nazis). But what real­ly ani­mates the time­li­ness of his writ­ings is the bril­liant way he was able to diag­nose just how cap­i­tal­ism sat­u­rates itself into the fab­ric of culture.
In his 1936 essay ​"The Work of Art In the Age of Mechan­i­cal Repro­duc­tion," Ben­jamin chart­ed the way in which tech­nol­o­gy had for­ev­er changed art. The abil­i­ty to repro­duce an image or a sound count­less times had cre­at­ed the poten­tial for the democ­ra­ti­za­tion of art. But that democ­ra­ti­za­tion was pre­vent­ed by the means for that repro­duc­tion remain­ing the hands of a few. Thus, it was pos­si­ble for unde­mo­c­ra­t­ic regimes and gov­ern­ments to use art for their own ben­e­fit the way it hadn't been pre­vi­ous­ly feasible.
Ben­jamin was writ­ing with Nazi Ger­many in mind. This was a régime that knew how to deploy aes­thet­ics inge­nious­ly. Even as Hitler and the Third Reich railed against the poi­sons of moder­ni­ty, they both used the lat­est tech­nol­o­gy to relay their mes­sage. They grabbed people's atten­tion and held it, ignit­ing their imag­i­na­tions and pro­vid­ing them with a sense of own­er­ship over a sys­tem that would just as soon see them dri­ven into dirt. Says Benjamin:
Fas­cism attempts to orga­nize the new­ly cre­at­ed pro­le­tar­i­an mass­es with­out affect­ing the prop­er­ty struc­ture which the mass­es strive to elim­i­nate. Fas­cism sees its sal­va­tion in giv­ing these mass­es not their right, but instead a chance to express them­selves. The mass­es have a right to change prop­er­ty rela­tions; Fas­cism seeks to give them an expres­sion while pre­serv­ing prop­er­ty. The log­i­cal result of Fas­cism is the intro­duc­tion of aes­thet­ics into polit­i­cal life.
The crisp, angu­lar uni­forms for par­ty mem­bers cranked out by the thou­sands, the mas­sive orches­trat­ed ral­lies, the tech­no­log­i­cal­ly inno­v­a­tive films of Leni Riefen­stahl—these are all per­fect exam­ples of how fas­cism aes­theti­cized pol­i­tics to its own end. All employed the rhyth­mic reg­i­men­ta­tion of life, the fetishiza­tion of raw pow­er and sac­ri­fice for the Father­land. Vio­lence was not cel­e­brat­ed for its own sake, but was seen as a nec­es­sary and fas­ci­nat­ing virtue, even beau­ti­ful for its abil­i­ty to mobi­lize people's minds and bodies.
The resem­blance between these and the Free­dom Kids per­for­mance, or Trump's descrip­tions of a ​"great, beau­ti­ful wall" along the Mex­i­co bor­der, are clear. All equate free­dom with the abil­i­ty to exert absolute pow­er. All are the intend­ed sub­stance of the vague slo­gan ​"Make Amer­i­ca Great Again."
But the aes­theti­ciza­tion of pol­i­tics does not (by itself) equal fas­cism. Benjamin's argu­ment is that fas­cism rep­re­sents mere­ly theintro­duc­tion of aes­thet­ics into pol­i­tics. On the one hand, he is argu­ing that the manip­u­la­tive link between pol­i­tics, art and fas­cism is not strict­ly causal. On the oth­er, he's say­ing that the abil­i­ty to make human suf­fer­ing pret­ty for polit­i­cal gain is some­thing that can per­sist well beyond the decline of clas­sic fas­cist dic­ta­tors like Hitler, Mus­soli­ni or Franco.
In fact, if there is any­thing we can say about the aes­theti­ciza­tion of pol­i­tics in our own age, it is that it's alarm­ing­ly quo­tid­i­an. Con­tem­po­rary cul­tur­al crit­ics like Ter­ry Eagle­ton, Mar­tin Jay and oth­ers have observed this in their own writ­ings. David Har­vey, in his 1990 book The Con­di­tion of Post­moder­ni­ty, argues that neolib­er­al­ism and its post­mod­ern cul­tur­al log­ic have made mean­ing and coher­ence flex­i­ble, rel­a­tive, account­able not to facts, but to sub­jec­tive feel­ings. In this land­scape, the aes­theti­ciza­tion of pol­i­tics is more effort­less than ever.
Tele­scope this for­ward to today. Social media has made the indi­vid­ual per­sona or nar­ra­tive, regard­less of truth, end­less­ly repro­ducible through the elec­tron­ic chan­nels of Twit­ter and Face­book. Trump clear­ly knows this. And his time on The Appren­tice proved that his Lifestyles of the Rich and Famous man­ner was ulti­mate­ly adapt­able to a 21st-cen­tu­ry cul­tur­al tenor. He has a bot­tom­less bank account to back it up. Add in a white, increas­ing­ly old mid­dle class, pal­pa­bly anx­ious about whether their days are num­bered that can seal them­selves in a media bub­ble echo cham­ber should if they real­ly want to, and you've gone a long way toward explain­ing what's under­neath Trump's poll num­bers — and what makes him some­what exceptional.
His media strate­gists are mas­ters at detach­ing mean­ing from fact, mak­ing words account­able only to them­selves and how loud­ly they're shrieked. This makes him a quin­tes­sen­tial­ly post­mod­ern can­di­date con­trast­ed to an age when the cold, every­day facts of col­lapse, cri­sis and apoc­a­lypse are unavoidable.
Trump taps into a vein of very real fear, and uses vir­tu­al­ly any unmoored fact he can find to mobi­lize it. It is pre­cise­ly why, though it is quite incor­rect to label his right-wing pop­ulism as ​"fas­cist," it is not impos­si­ble that he could pull a Father Cough­lin. That there are open white suprema­cists cam­paign­ing for him shows that the raw mate­ri­als are there, wait­ing to be pieced togeth­er. That his cam­paign is able to employ an ​"aes­thet­ic strat­e­gy" — though they would like­ly nev­er acknowl­edge it — reveals an abil­i­ty to do so.
What can be done then? Ben­jamin, in his essay, posits an intrigu­ing alter­na­tive to an obvi­ous ​"any­body but Trump" vot­ing strat­e­gy: Against the aes­theti­ciza­tion of pol­i­tics, the left ​"responds by politi­ciz­ing art." It sound likes clas­sic aca­d­e­m­ic hair­split­ting, but what each rep­re­sents is one of the ele­ments that has set apart our side as more thor­ough­ly demo­c­ra­t­ic and bottom-up.
The Free­dom Kids' song employs a beat that is sim­ple and one-dimen­sion­al, easy to fol­low, lulling the lis­ten­er into a sense of secu­ri­ty and pre­dictabil­i­ty. It uses buzz­words and phras­es that occu­py a spe­cif­ic place in the heads of Trump's tar­get audi­ence and are guar­an­teed to get a rise: ​"cow­ardice," ​"apol­o­gize for free­dom," ​"c'mon boys," ​"ene­mies of free­dom," and yes, ​"make Amer­i­ca great."
Nev­er is there any men­tion of what these mean or the poten­tial human toll under­neath them. That's delib­er­ate. They are intend­ed to whip res­ig­na­tion and fear into a high­ly emo­tion­al and irra­tional pow­der-keg that can be ignit­ed or damp­ened as those as the front of it see fit. Trump is in con­trol, and he wants us to both know this and take com­fort in it.
By con­trast, the left has a rich and vibrant his­to­ry of using art, music, lit­er­a­ture and per­for­mance to gain crit­i­cal dis­tance, to ques­tion why life is the way it is, to make it weird, unfa­mil­iar, anar­chic and aton­al so that we might see just how lit­tle our present con­di­tion makes sense. This is art intend­ed to chal­lenge and polar­ize. It is a dis­rup­tion; a fun­da­men­tal­ly demo­c­ra­t­ic dis­rup­tion that pulls back the wizard's cur­tainand reveals the cold, Machi­avel­lian machi­na­tions of polit­i­cal and eco­nom­ic elites for what they are. It is a tra­di­tion that runs through the rev­o­lu­tion­ary roman­ti­cism of William Blake, social­ist sur­re­al­ists like André Bre­ton, Ben­jamin Péret, Franklin and Pene­lope Rose­mont, and the best exam­ples of psy­che­delia, graf­fi­ti art and punk rock.
It is an alter­na­tive that flips Trump's log­ic upside down, be it through indi­vid­ual pranks or con­cert­ed mobi­liza­tion. It can be found in the counter-protests that are start­ing to fol­low him wher­ev­er he goes. Or in work­ers' union­iza­tion efforts and threats of strikes at his casi­nos (a fit­ting rebuke to a man whose solu­tion to the Greek debt cri­sis is to build a hotel on top of the Parthenon). Or the work of Sarah Levy, the Port­land, Ore­gon artist whose paint­ing ​"What­ev­er" took the Donald's words about Meg­yn Kelly's men­stru­al cycle and turned them (lit­er­al­ly!) inside out.
The Free­dom Kids' han­dlers would love noth­ing more than for us to smile glee­ful­ly when the dooms­day but­ton is final­ly pushed. Our side, con­verse­ly, must regain the con­fi­dence to smash and reshape real­i­ty, and push back against the Right's weaponized fatalism.
Alexan­der Bil­let
is a writer, poet and cul­tur­al crit­ic liv­ing in Chica­go. He is a found­ing edi­tor at
Red Wedge
mag­a­zine and has writ­ten for
The Nation
,
Jacobin
,
New Pol­i­tics
and oth­er out­lets. Fol­low him on Twit­ter: @UbuPamplemousse.