The New Anthems of Resistance: Hip-Hop and Black Lives Matter
Black Lives Matter and hip-hop have taken the omnipresent tensions around racism in America and put them into the center of mainstream consciousness.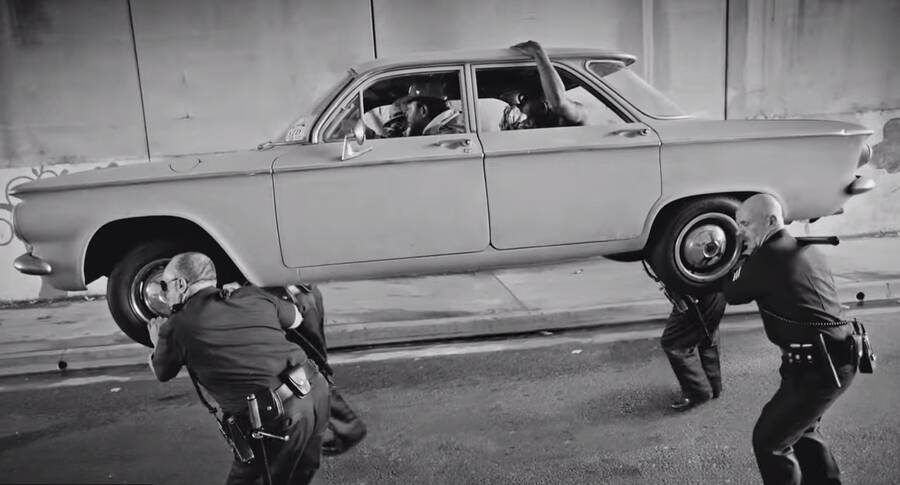 It's been a year since the death of Michael Brown, a year since the rebel­lion in Fer­gu­son, a year since the Black Lives Mat­ter move­ment began to shift the con­ver­sa­tion in just about every avenue of Amer­i­can life. That shift can be seen in pol­i­tics (from #Bow­Down­Bernie to Don­ald Trump's threats to beat up pro­test­ers) and eco­nom­ics (the Black Youth Project's embrace of the Fight for 15). It can also be seen, per­haps most obvi­ous­ly, in our cul­ture — and in music, in particular.
It would be too simplistic to say that songs like these are somehow "radicalizing" mainstream music. But the past year has shown that a movement can permeate ideas into a mainstream that is usually able to keep such ideas at bay.
Not sur­pris­ing­ly, hip-hop has led the way — not just through a pre­dictable bar­rage of tweets by musi­cians and artists, but a sus­tained, mean­ing­ful wave of cre­ativ­i­ty and out­spo­ken­ness engag­ing with a bold, some­times chaot­ic movement.
The exam­ples are many: Run the Jew­els' sec­ond album, record­ed months before the ver­dict let­ting Offi­cer Dar­ren Wil­son off the hook, which tapped into the pro­found anx­i­eties of ​"post-racial" seg­re­ga­tion, sur­veil­lance and police bru­tal­i­ty. We've seen R&B artist D'Angelo's return from a 15-year hia­tus with an album some are com­par­ing to Mar­vin Gaye's What's Going On. Kendrick Lamar's W.E.B. Du Boisian To Pimp a But­terfly is being hailed as a mas­ter­piece and is even being taught in col­lege cours­es. Jay‑Z and Bey­once paid bail for sev­er­al demon­stra­tors arrest­ed dur­ing the Bal­ti­more rebel­lion. It is no coin­ci­dence that per­form­ers like Killer Mike and Tal­ib Kweli have emerged as de fac­to artis­tic spokes­peo­ple for this moment.
Those with an aware­ness of hip-hop his­to­ry might answer such obser­va­tions by say­ing that there are always artists in rap and R&B seek­ing to dis­till the spir­it of the time down to some­thing poignant and fresh, if one sim­ply looks beyond ​"what the radio is play­ing." These com­men­ta­tors are, of course, cor­rect. But the con­text of a move­ment in the streets has put all of this on a dif­fer­ent level.
Black Lives Mat­ter has tak­en the ever-present ten­sions per­co­lat­ing from cen­turies of Amer­i­can racism and put them into the cen­ter of main­stream con­scious­ness. The same has hap­pened at sev­er­al key points in mod­ern music's his­to­ry (with hip-hop, in par­tic­u­lar). Pop­u­lar artists make them­selves mean­ing­ful again — not to the direc­tives of a prof­it-hun­gry music indus­try but to the log­ic of a move­ment. That move­ment, in turn, has engaged with music in a conversation.
First came an inci­dent of heavy polic­ing at the Black Lives Mat­ter con­fer­ence in Cleve­land. When police bore down on atten­dees in response to an alleged inci­dent of pub­lic intox­i­ca­tion with pep­per spray and hand­cuffs, demon­stra­tors chant­ed back the refrain of the most recent sin­gle from Lamar's To Pimp a But­ter­fly: ​"We gon' be alright! We gon' be alright!"
The inci­dent was more than a sim­ple act of defi­ance. ​"Alright" is some­thing of a key­stone on To Pimp, bring­ing togeth­er the album's tropes — the pain, inner tur­moil and rage of Amer­i­can racism — and invert­ing them into a dec­la­ra­tion of uncer­tain hope. The sur­re­al video fol­lows suit: Lamar and his friends in a car car­ried by LAPD offi­cers in place of wheels, the artist bal­anc­ing atop a street­light before being shot down by a surly cop.
The per­for­mance of the sin­gle at the BET Awards pushed fur­ther in that same direc­tion, with Lamar per­form­ing in front of Jum­botron footage of a wav­ing Amer­i­can flag while stomp­ing on a graf­fi­toed police car. On Fox News, Ger­al­do Rivera was char­ac­ter­is­ti­cal­ly quick to raise the alarm, claim­ing that the per­for­mance ​"incit­ed vio­lence." Lamar replied, ​"How can you take a song that's about hope and turn it into hatred?"
What hap­pened in Cleve­land brought Rivera's worst fears to life. Here was a con­tin­gent of mil­i­tant Africans and African Amer­i­cans, as con­fi­dent as they were angry, declar­ing defi­ant­ly against state repres­sion that they will be ​"alright" — sure­ly enough to make any Fox News anchor squirm in their seat.
From music find­ing res­o­nance in the streets, we go the next stage in the call-and-response: the noise of the streets being echoed back in music. Last week, Janelle Mon­ae, Jiden­na and oth­er mem­bers of Monae's Won­da­land Records col­lec­tive released their sur­prise sin­gle ​"Hell You Talm­bout." The day before, they had per­formed the song a capel­la at a march against police bru­tal­i­ty in Philadel­phia (the Won­da­land ros­ter was in Philly for a con­cert to pro­mote their Eep­hus EP, released on Friday).
Won­da­land artists per­form ​"Hell You Talm­bout" at a con­cert in Philadel­phia on August 12, after the march against police brutality.
The col­lec­tive has per­formed sim­i­lar con­certs and at demon­stra­tions since, sig­nal­ing that the song has been com­posed with the clear intent that it be used, lit­er­al­ly, as a ral­ly­ing cry.
The record­ed song isn't too far from the live ver­sion; the only instru­men­ta­tion comes in the form of march­ing band drums, which is rather unchar­ac­ter­is­tic of an artist known for com­plex and cre­ative pro­duc­tion. The only cho­rus is the refrain of the title; the only lyrics for the vers­es are the names of those mur­dered by the police or vig­i­lantes— Wal­ter Scott, Fred­die Gray, Aiyana Jones, Amadou Dial­lo, San­dra Bland, Miri­am Carey, Eric Gar­ner, Michael Brown, Trayvon Mar­tin, Emmett Till and oth­ers — fol­lowed by the com­mand ​"say her name" or ​"say his name." The song's inclu­sion of female vic­tims is sig­nif­i­cant: A com­mon crit­i­cism of the move­ment against police bru­tal­i­ty is that the treat­ment of black women doesn't as often pro­voke the same response as that against black men.
Giv­en the song's sim­plic­i­ty, it may sound tedious, but it is any­thing but. The past year has seen the com­mand of ​"say her/​his name" become a reg­u­lar fix­ture at protests and vig­ils against police killings of African Amer­i­cans. Any­one who has seen it done with pur­pose can attest to its emo­tive pow­er. Mon­ae, Jiden­na and Won­da­land under­stood that the tar­get audi­ence for this song would know what they were hearing.
And the inclu­sion of the sharply rhyth­mic march­ing drums is delib­er­ate. Ver­sions per­formed in dif­fer­ent cities have includ­ed dif­fer­ent names, from Ramar­ley Gra­ham to slain Black Pan­ther leader Fred Hamp­ton. This isn't just an encap­su­la­tion of the aes­thet­ics of protest, but a skill­ful chan­nel­ing of the rage under­gird­ing them — which, despite the song's sev­en-minute length, nev­er dies away.
In a state­ment released on Instra­gram, Mon­ae declared:
This song is a ves­sel. It car­ries the unbear­able anguish of mil­lions. We record­ed it to chan­nel the pain, fear, and trau­ma caused by the ongo­ing slaugh­ter of our broth­ers and sis­ters. We record­ed it to chal­lenge the indif­fer­ence, dis­re­gard, and neg­li­gence of all who remain qui­et about this issue. Silence is our ene­my. Sound is our weapon. They say a ques­tion lives for­ev­er until it gets the answer it deserves. … Won't you say their names?
The song has, sim­i­lar to Lamar's ​"Alright," put cer­tain media gate­keep­ers on edge. The deci­sion of ​"Today Show" pro­duc­ers to cut to com­mer­cial right as Mon­ae launched into a speech against police bru­tal­i­ty on Friday's tele­cast is sad­ly pre­dictable. So is the network's excuse that ​"the per­for­mance was not inten­tion­al­ly cut off."
In both of these songs and their real-world echoes, there is a strong sense of con­ver­gence, a reminder that what hap­pens in the under­ground doesn't always stay under­ground and that the main­stream isn't impen­e­tra­ble. It would be too sim­plis­tic to say that songs like these are some­how ​"rad­i­cal­iz­ing" main­stream music. But the past year has shown that a move­ment can per­me­ate ideas into a main­stream that is usu­al­ly able to keep such ideas at bay. Times of strug­gle make col­li­sion inevitable. Nowhere is that per­haps more true than the Unit­ed States, which seems to spe­cial­ize in defer­ring dreams bound to explode.
Alexan­der Bil­let
is a writer, poet and cul­tur­al crit­ic liv­ing in Chica­go. He is a found­ing edi­tor at
Red Wedge
mag­a­zine and has writ­ten for
The Nation
,
Jacobin
,
New Pol­i­tics
and oth­er out­lets. Fol­low him on Twit­ter: @UbuPamplemousse.