Trump's Deranged Border Wall Plan, In 11 Statistics
As Congress debates Trump's "national emergency" declaration, here's what you need to know about the proposed border wall.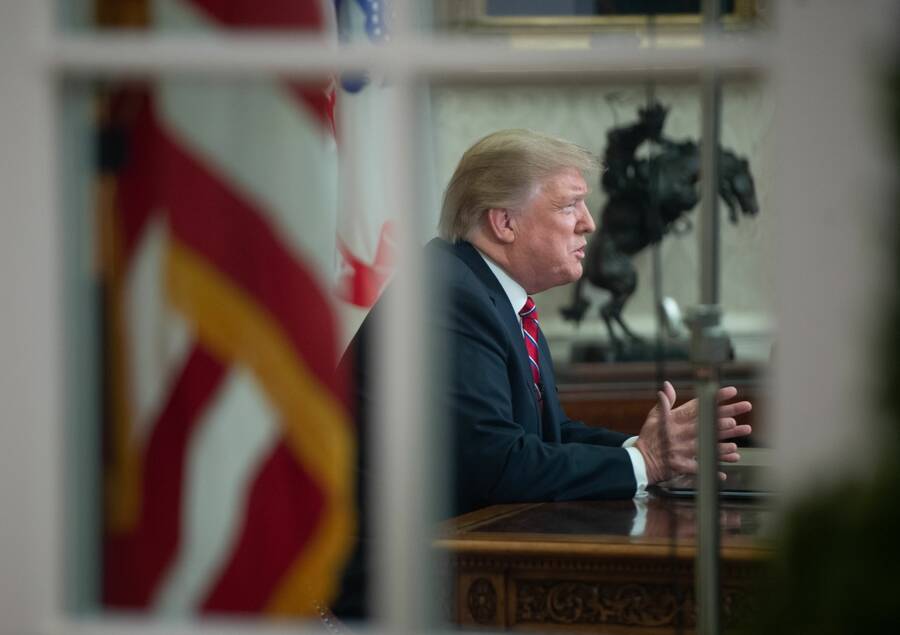 Pres­i­dent Don­ald Trump's myopic push to build a wall along the U.S.-Mexico bor­der reveals the vio­lence and bru­tal­i­ty at the cen­ter of his bor­der policies.
Families are still being torn apart, and migrants seeking their legal right to asylum are being forced to live in dire conditions due to Trump's new "remain in Mexico" policy.
At the end of the longest U.S. gov­ern­ment shut­down in his­to­ry, Con­gres­sion­al nego­tia­tors ear­li­er this month approved the allo­ca­tion of around $1.4 bil­lion to bor­der secu­ri­ty, a num­ber much low­er than the $5.7 bil­lion Don­ald Trump orig­i­nal­ly demand­ed, green­light­ing the build­ing of 55 miles of new fenc­ing in the Rio Grande Val­ley in Texas.
In response, Trump declared a nation­al emer­gency in order to bypass Con­gress and com­man­deer $8 bil­lion dol­lars to pay for 234 miles of addi­tion­al fenc­ing.
But on Feb­ru­ary 26, in a deci­sive 245 – 182 vote, the U.S. House of Rep­re­sen­ta­tives passed a res­o­lu­tion to over­turn Trump's nation­al emer­gency dec­la­ra­tion. While the res­o­lu­tion did not receive the two-thirds vote required to over­ride a pres­i­den­tial veto, 13 Repub­li­cans did vote with Democ­rats to pass the mea­sure, which now goes to the Sen­ate to be vot­ed on in with­in the next 18 days.
This is not the only oppo­si­tion Trump's nation­al emer­gency has faced. A coali­tion of 16 states filed a fed­er­al law­suit against Trump's plan to build his wall, claim­ing it uncon­sti­tu­tion­al. It is also unclear if the Supreme Court will sup­port the president's actions. What is clear is that 58 per­cent of Amer­i­cans are opposed to an expan­sion of the wall, and not a sin­gle mem­ber of Con­gress rep­re­sent­ing a dis­trict along the U.S.-Mexico bor­der sup­ports fund­ing the wall (although sev­er­al GOP mem­bers in these dis­tricts want increased bor­der sur­veil­lance and oth­er forms of militarization).
The unfor­tu­nate irony of Trump's announce­ment is that there is a seri­ous cri­sis at the bor­der. Fam­i­lies are still being torn apart, and migrants seek­ing their legal right to asy­lum are being forced to live in dire con­di­tions due to Trump's new ​"remain in Mex­i­co" pol­i­cy. Trump's con­stric­tion of legal entries through the bor­der, known as a meter­ing pol­i­cy, is also extend­ing migrants' wait times — and forc­ing many to go through with dan­ger­ous bor­der cross­ings.
While neg­a­tive rhetoric against immi­grants has esca­lat­ed dur­ing the Trump era, and many new pol­i­cy actions have been tak­en to stop immi­grants from legal­ly enter­ing the Unit­ed States, the project of crim­i­nal­iz­ing migra­tion in Amer­i­can began long before Trump.
In 1996, Pres­i­dent Bill Clin­ton signed the Ille­gal Immi­gra­tion Reform and Immi­grant Respon­si­bil­i­ty Act, which increased the num­ber of immi­grants eli­gi­ble for depor­ta­tion, made it eas­i­er to deport immi­grants who com­mit­ted minor crimes, and then increased the dif­fi­cul­ty for immi­grants liv­ing in the Unit­ed States to obtain legal status.
In 2006, Pres­i­dent George W. Bush enact­ed the Secure Fence Act, which built almost 700 miles of fenc­ing along the bor­der, reduc­ing immi­gra­tion by less than one per­cent, and pro­vid­ed Trump with a legal frame­work to con­struct his wall. At the time, the act had sup­port from both Democ­rats and Repub­li­cans. Then-Sen­a­tor Barack Oba­ma even stat­ed that ​"the bill before us will cer­tain­ly do some good," and that more fenc­ing would ​"help stem some of the tide of ille­gal immi­gra­tion in this country."
Under Pres­i­dent Oba­ma, the num­ber of depor­ta­tions con­tin­ued to increase, and his ​"smart enforce­ment" pol­i­cy helped fos­ter deep­er con­nec­tions between ICE, the FBI and local police.
The Trump administration's zero-tol­er­ance pol­i­cy and mali­cious meter­ing of legal immi­gra­tion build from the Unit­ed States' decades-long pol­i­cy of crim­i­nal­iz­ing migra­tion. If the Supreme Court is to approve of Trump's nation­al emer­gency dec­la­ra­tion, it will not only be a waste of mon­ey, but it will also con­firm the most destruc­tive cur­rents of anti-migrant nativism with­in the Unit­ed States.
Below is a sta­tis­ti­cal snap­shot of the pre­vi­ous and ongo­ing bor­der wall con­struc­tion at the US-Mex­i­co border.
1

,

954

- Miles of U.S.-Mexico border.
$

2

,

300

,

000

,

000

- Cost of the

2006

Secure Fence Act, which added

548

miles of bor­der fencing.

0

.

6

% - Result­ing reduc­tion in Mex­i­can-born work­ers com­ing into the Unit­ed States.

90

- Demo­c­ra­t­ic Con­gress mem­bers who vot­ed for the Secure Fence Act.
$

7

- Per capi­ta cost of the Secure Fence Act expansion.
$

0

.

36

- Gain in high­er wages annu­al­ly by low-skilled U.S. work­ers from the Secure Fence Act.

658

- Total miles of fence on the bor­der today.
$

5

,

700

,

000

,

000

- Fund­ing request­ed to build an addi­tion­al

330

miles of bor­der wall.
$

21

,

600

,

000

,

000

- Home­land Security's cost esti­mate to build it.

2

,

737

- Con­firmed cas­es of par­ent-child sep­a­ra­tions at the bor­der as of Decem­ber

2018

.
Unknown - Thou­sands more chil­dren sep­a­rat­ed, accord­ing to Health

&

Human Ser­vices as of January.
Con­ner Mar­tinez
is study­ing polit­i­cal sci­ence at the Grad­u­ate Cen­ter, CUNY. You can find him on Twit­ter @MartinezConner.